4 Reasons Why You Need Mobile App Reviews
4 Reasons Why You Need Mobile App Reviews
63% of companies collect and implement the feedback from mobile app reviews. Learn why mobile app reviews matter and how to use them to improve your app store ranking.
App reviews and rankings help people choose the most valuable apps. In fact, 75% of people surveyed by HubSpot consider app rankings to be the main driver of downloads. Despite this, collecting app reviews is difficult for businesses. Around 1% of users will leave a review and most of those reviews will be negative.
You must manage both your mobile product and your brand reputation to achieve app success. This requires you to collect and integrate feedback while fostering a dialogue around your mobile product.
Here four reasons why you need mobile app reviews. Use these to guide you toward creating the app users want to download and review favorably:
Reviews determine app visibility
Reviews guide purchasing behavior
Reviews boost conversion rates
Reviews improve your product
1. Reviews Determine App Visibility
Until your app accumulates enough reviews for a high ranking, it will be largely invisible. As your app rank improves, you can expect your exposure and downloads to increase. Though the subtleties of app store search algorithms are concealed, what succeeds is obvious. You need a high volume of both total and positive reviews to gain exposure and drive downloads.
Unfortunately, a single negative or one-star review can only be offset by 10 positive reviews. You shouldn't expect an immaculate rating, so accept the law of averages and aim to generate a large number of positive reviews.
Seen below, the app Layout from Instagram suffered from a large number of one-star reviews until it addressed user concerns.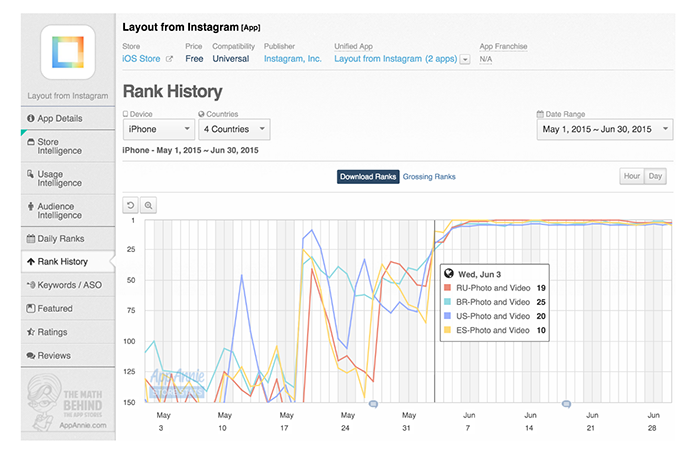 Once the company resolved the negative feedback, its ranking and visibility improved dramatically.
App store optimization (ASO) – the process of boosting app visibility in the app store – can help. Follow ASO best practices to ensure that your app store listing creates the best impression possible. If you've attended to these various factors, you'll be better able to persuade shoppers and drive downloads
2. Reviews Guide Purchasing Behavior
People value the opinions of others when choosing apps. 70% of people read at least one app review before installing an iPhone or iPad app, according to Apptentive, a mobile feedback platform. Looking to others to affirm the making of a smart decision is what's known as social proof. The more positive social proof you can display, the more likely shoppers are to purchase your app.
To collect the greatest number of user reviews, build feedback channels into your app. The ideal time to ask for a review is following an in-app success, such as a completed purchase or a level win. Catching people at an upbeat moment lets you gather the greater quantity of the most positive feedback.
Offering incentives will enhance the appeal of reviewing your app.
"Have good UX and a smart, small gamification. Most people need more motivation to leave a review," said Anastasiia Marushevska of the web development agency Django Stars. For example, you could offer in-app rewards such as loyalty points or a discounted item or service. The more rewarding the feedback process, the more replies you'll receive.
You should also encourage app reviews from outside of the app. Try to reach users on every relevant channel to give yourself the best chance of getting a response.
The following graph shows how businesses solicit app reviews from customers.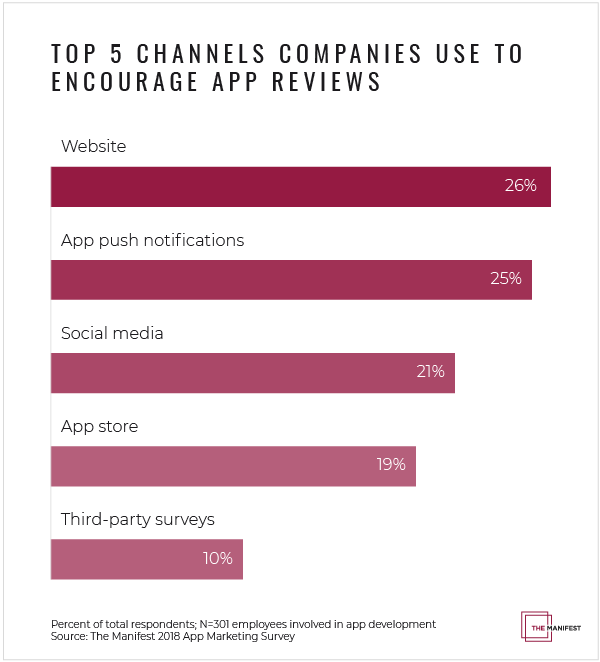 If users have numerous ways to leave a review, you'll be more likely to hear from them.
3. Reviews Boost Conversion Rates
Responding to reviews can improve your app's appeal and discoverability. When you reply to user feedback, it demonstrates that the development team is listening. If users feel heard, they'll be more likely to engage in a dialogue about your product. This can increase your number of positive reviews and, in turn, lift your conversion rates.
"The result of that is you're going to build a lot better rapport with your current customer set," said Jason Curry of the digital agency Mutual Mobile. "For any historical customers, it potentially builds a new channel to have additional conversations."
This helps you generate more favorable reviews but can also help to counterbalance negative reviews. Consider that 97% of Google Play reviews receive no reply. By responding to comments, your company becomes a customer service all-star. After you've resolved a specific issue – let the user know. If you've personally remedied the issue for someone, they'll be impressed and perhaps mention the positive interaction.
In the following example, the game Forest Explorer quickly acknowledges and fixes an issue with one of its levels. In turn, they're rewarded by a glowing review from the user.
When shoppers scroll past a stream of positive reviews like this, downloads will follow.
Both Apple and Google offer best practices for engaging with reviews in the app store:
Respond to all negative reviews promptly and professionally
Never ignore a negative review
Reply to some positive reviews to generate goodwill
4. Reviews Improve Your Product
The best apps integrate user feedback. Users want an efficient app experience, so any bugs or lagging will damage your app store ranking. Gathering reviews and integrating the recommended changes will help you to create an app that inspires loyalty.
As shown below, research from The Manifest found that 63% of companies read their user reviews and actively implement the feedback. Of those surveyed, 25% only sometimes read and implemented feedback, while only 10% rarely read and implemented feedback.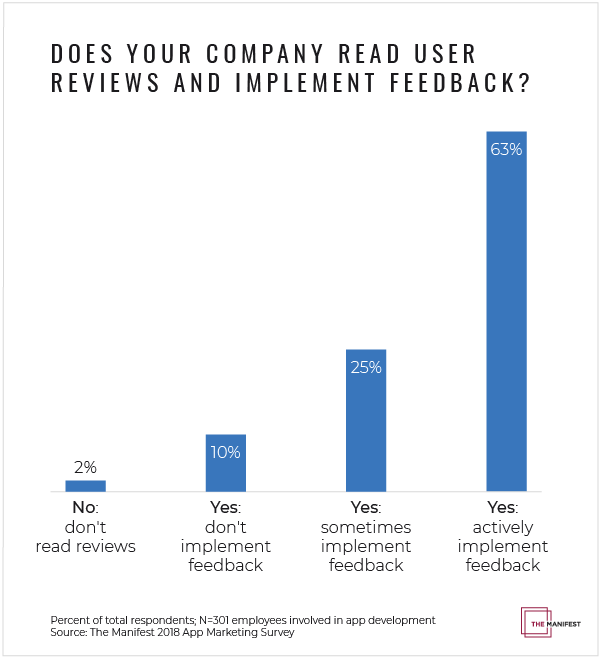 Implementing feedback is more than fixing errors – it means aligning your app to your user base. "Feedback is super crucial in the same way that if you were optimizing a conversion funnel," said Curry. "That data, if taken and used and executed against, is always going to be what makes customers better and what makes products better." A quality app experience is continuously refined to meet the motivations and desires of its audience.
Attention to detail will also help you to mitigate the risk of future negative reviews. For example, you should prioritize any repetitive feedback. This indicates an issue common amongst all users, though only a handful chimed in.
Learn 5 proven strategies for increasing your mobile app reviews.
Why Mobile App Reviews Matter
The app store is a popularity contest where only the well-reviewed succeed.
Reviews don't write themselves, so create opportunities for leaving feedback and incentivize this process. If you treat app reviews as a cornerstone of success, your reviews, ranking, and download volume will benefit.