How to Earn Quality Backlinks With Guest Posting
How to Earn Quality Backlinks With Guest Posting
Contributed Content
Improving your site's visibility takes more than just hitting keywords. Off-page search engine optimization (SEO) tactics like guest posting on other blogs can be a great way to win high-quality backlinks and funnel new leads.
Backlinks are essential factors in increasing a website's authority. Search Engines discover fresh web pages through the links provided by existing sites. And, for a search engine like Google to track your page, it is essential that you are discoverable.
If you do not have any backlinks, it can become complicated for Google to find your site. Thus, backlinks lead to a quicker revelation. Once Google has crawled your site for information (looking at your site's content, keywords, and engagement), it will index your site. In other words, it will add your website to the web search.
Out of all the ways to receive backlinks from other sites, guest posting can be a particularly fruitful approach.
It may sound crazy to many to provide their hard-written content to other bloggers, but it's a proven technique that's quite effective in generating authoritative backlinks.
How to Earn Quality Backlinks With Guest Posting
What are backlinks and guest posting?
Guest write for strong blogs
Find websites that allow guest posting

Search in Google
Search within relevant sites
Follow other guest bloggers
Pitch blogs via email

Choose websites with good domain authority
What Are Backlinks and Guest Posting?
Guest posting (also known as guest blogging) is the process of writing blogs for other websites to be published. It's a method of getting backlinks from blogs to your own website in exchange for an article.
Links can be mentioned in different places in the post. You could place a link in the body of the article anchored to a related keyword or phrase. People often put links in the author bio attached at the end of the article, too.
Internal links prove to be more helpful because they have a higher click-through rate as users read the blog, rather than once the information has been received.
Moreover, there are 2 main types of links that foreign sites allow:
Do-follow - Any link, by default, is a do-follow link. They enable search engines to discover you, which helps to get you added to the search engine's index.
No-follow - A do-follow link can be manually changed to a no-follow one. These types of tags prove to be of no value. They do not help increase your page ranking. On the contrary, they show the webmaster that your site is unreliable or "do not visit this site." It is better to avoid sharing your precious content with these sites since the returns are limited.
The link you insert on certain target words is known as a hyperlink. Anchor text is the clickable text that's connected to your actual link.
The best anchor text typically uses the most relevant keywords for that link. For example, you could have the text be "best SEO company" to prompt the reader to click for more information.
The hyperlink would then take them to a relevant page for your company that's related to SEO services. That could be your own blog post, a services page, or something else.
The most common format for anchor text is underlined blue text, in contrast to the plain background for other words.
This convention is standardized by the webmaster, though it is possible to use HTML code to change the font and color of the anchor text.
Guest Write for Strong Blogs
To get good results, it is essential to submit well-written content that provides valuable information to readers.
But sometimes you might not get the results you were expecting, even with the best content. Therefore, you need to take into consideration every minor detail while carrying out guest posts.
By using different approaches when guest writing, you can build a relationship with other bloggers. This will help you get more referrals to your blog. Also, bloggers might ask you for more content or may provide some suggestions to improve your writing. Free expert advice is never a waste.
Of course, the main benefit of posting on popular sites is that you'll expose your writing to a wider audience. It's an easy way to gain new readers. And, eventually, they might start visiting your website regularly for more quality content, converting into loyal readers.
More credibility can be gained by guest blogging on high authority websites. If these sites have mentioned you, it indicates to Google that they trust you. This will end up increasing trust among visitors on others' sites, too.
Find Websites That Allow Guest Posting
There are 4 ways to find out which sites are accepting guest posts:
1. Search in Google
First, to find blogs that allow guest posting, you can search on Google. For example, you could search "digital marketing guest posting sites" to see a list of high-domain platforms.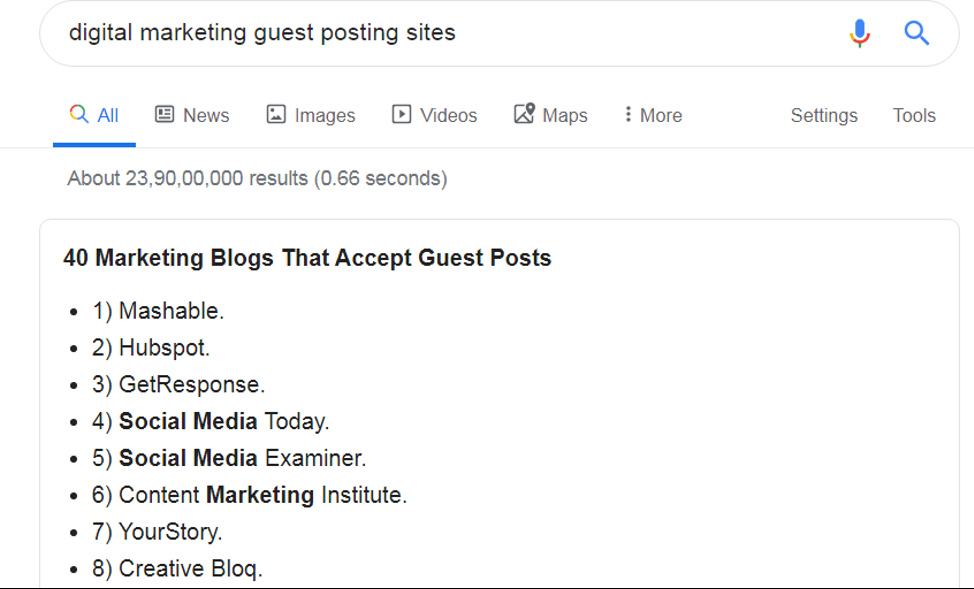 The most common ones would be Mashable, HubSpot, GetResponse, and more.
Another way is to search for certain keywords related to guest posting such as:
Write for us
Contribute
Guest Post
Guest Contribution
Guest Post Guidelines
Editorial Guidelines
Contribution Guidelines
Submit a post
Submit an article
Once you have done this, there will be ample of suggestions for you to choose from.
2. Search Within Relevant Sites
An alternative to the previous process is searching for the similar keywords in the search bar provided by websites that have the same niche as yours.
For example, if you are a digital marketing company, you could make a list of sites that provide digital marketing services, website development services, or other businesses that write articles on SEO and social media.
Search on their site for guest blogging opportunities by typing "write for us" in the search bar. It should take you to the right landing page.

However, if the webpage does not show a search bar, you can also type the domain name along with the keywords mentioned above in Google. For a site named Thrillax, searching for "thrillax.com write for us" would give expected results.
3. Follow Other Guest Bloggers
When you see posts on some blogs, check if there are other guest bloggers. You can list some authors that you notice frequently posting on various sites. Searching for them on Google will show you some of the other sites that they have been posting on. Then, just write content to populate those sites.
4. Pitch Blogs Via Email
Even after all of these options, if you are short of host websites, there is one more method.
If a site does not seem to be accepting guest posts, you can directly email the webmaster with blog pitches. Politely ask them through email or the contact forms provided.
But be prepared for rejection. Good blogs continuously get such requests, and they might not even reply to you. Do not let your spirits get low. Keep pitching to different sites continuously. The worst that could happen is that they say "no." There's no harm in trying.
Choose Websites With Good Domain Authority
Once you are ready with a list of websites, you can check the authority of their domain. This can be done through free tools such as Small SEO tools. However, paid tools like SemRUSH or Ahrefs will get you more accurate details about the domain.
Check for the domain authority of the page. The minimum must be 25. Sites with an authority lower than that will not be very credible in Google's eyes.
Try to approach websites having the same target audience as that of yours. This will build relevancy and enhance the quality of your referral traffic as more people click on the links to your site.
Having an understandable domain name is a sign of a good website. Moreover, such webpages will allow you to interact with polished and sophisticated readers, giving you exposure to an already established community that will actually benefit you.
Supplying content to authentic blogs will position you as a credible source of information. Your audience will then trust you more because you're being acknowledged by reputable brands. As a result, you're generating increased trust on your own blog (and brand).
Be careful — Some domains will have a group of websites under a similar IP. These are the sites that you might want to avoid. The host will typically provide you with a list of other websites that they control, which might seem helpful. However, they're more likely to only publish your content in exchange for money.
Write Useful Content and Insert Your Links in the Body
To get your post published on a high authority website, it must provide value to its readers.
You must link back to reliable sources when stating a fact. Also, insert links to your own blogs if they are relevant to the topic and provide a deeper insight. 
Having links in the body of the post is better for SEO compared to those placed below in the author's bio. Host bloggers will usually tell you that you can only place your link in the author bio. In that case, try to convince them that the link will add relevant information to the post and benefit the readers.
Collaborating with other bloggers will help build your influence over a new group. This will ideally lead to new subscribers over time. It's a golden opportunity to show new readers your value-add by providing actionable advice that is not shared elsewhere.
Moreover, building better relations with fellow bloggers will help you improve your content. They will give suggestions on your content, and you can discuss different strategies to try or find new topics to write on.
Backlinks Are an Essential Component of SEO
When authoritative sites link back to your site, it will do wonders for your site's search ranking. Backlinking to reputable sites will make your content more recognizable, aiding Google and other search engines in indexing your blog.
Guest posting will reward you with quality backlinks, developing your trustworthiness to Google, other search engines, and end users alike. The higher the number of backlinks to your website, the better its ranking on search engines. So, start contributing to different websites and gain as many new backlinks as you can.