How Important Is It to Keep Your E-Commerce Homepage Updated?
How Important Is It to Keep Your E-Commerce Homepage Updated?
Contributed Content
Businesses can build a loyal customer base and highlight their newest products by regularly updating their website homepage.
The homepage of any e-commerce website is the gateway for telling visitors what the brand is about, facilitating the shopping journey, and establishing a rapport with customers. 
The secondary goals of any e-commerce homepage are to promote offers, display new product categories and collections, and convert customers into email sign-ups. 
As an SEO and SEM specialist at PNC Solutions, I've seen e-commerce website owners build great websites and employ a great SEO team to optimize websites for the Search Engine Result Pages (SERPs), but most often they suffer from 'build-and-forget' syndrome. 
Web designers emphasize the importance of regularly updating websites to keep visitors engaged. If the e-commerce website languishes, visitors, even if they are returning customers, will lose interest over time. 
Here are 4 reasons it is very important to keep your e-commerce homepage updated. 
Ensure a Good Impression of Your Business
Your homepage is your customers' first impression of your company. 
Let's suppose that someone visits your website in December. It would give a bad impression if the homepage wasn't updated and still showed your business's Halloween offer instead of winter holiday offers. 
For example, in December 2018, Joules USA's homepage perfectly targeted people looking for warm Christmas wear.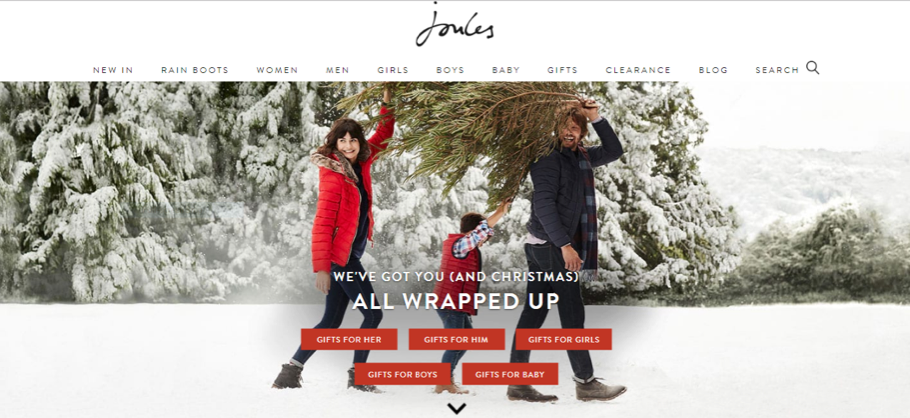 Joules USA updates its website regularly to reflect the present and its customers' present needs. 
A website's homepage creates the impression of the business's overall brand. It establishes trust among visitors and helps returning customers stay updated with the latest products and offers. 
Give Your Visitors a Reason to Come Back
Everyone loves fresh content and updates from their favorite brands, and it is commonly understood that it is easier to retain a customer than acquire one. 
The people who are familiar with your brand will frequent your website often. Consistently feeding them fresh content and displaying it on your homepage will keep them updated and engaged with your brand.
For example, Offer Factor always updates its homepage to reflect the season. Customers can expect to see its fall collection in the fall and its spring collection in the spring.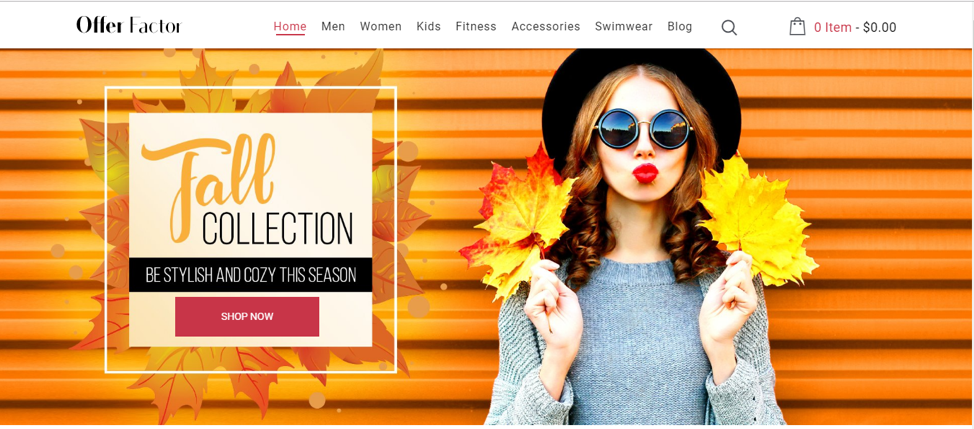 If the homepage still had the previous season's collection on display, it would send the wrong message to returning and new visitors. 
By keeping your homepage active and updated, you establish trust among your visitors and customers. 
Regular Updates Boost SEO
Google also loves fresh content. 
The more often you update your website, the more often search engines crawl your website.
Conversely, the less you update your website, the less often search engines will crawl your website. This might result in losing rankings for your keywords, decreasing visibility on SERPs.
Google's affinity for fresh content must be considered when you're updating the homepage of your e-commerce website. 
Updating Your Website Can Show Your Company's Creativity
Regular updates can reflect recent trends and current interests of your visitors. Through these updates, you can also let your brand's personality and creativity shine. 
Updating your website can mean anything from adding new visuals to adding customer testimonials. 
1.  Add Images or Videos to Your Homepage
An image gallery is a great way to add content to your homepage and can also help demonstrate what your company is about. 
Videos are another way to keep your homepage content updated and fresh. Video clips can be anything from brand identity videos to product videos. This is a great way of promoting your brand and establishing a trust factor among customers. 
Search engines can't search photos and videos, but you can add keywords to the image's description to provide content for search engines to crawl.
2. Include Reviews and Testimonials on Your Homepage
Adding reviews or client testimonials on your homepage is a great way to keep your website updated and further establish trust with your customers. 
According to Invespro, 90% of people read reviews before completing a purchase, and 72% of people say they trust a local business more based on the reviews of the business. 
GoTags is an e-commerce store that sells tags for pets and people. It has incorporated customer reviews and testimonials on its website as a way to promote its products.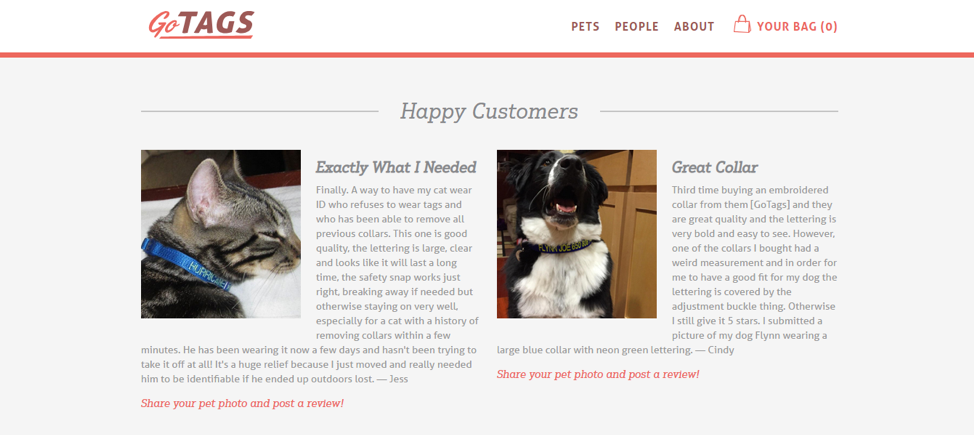 You can create a sense of transparency around your brand by adding reviews and testimonials to your homepage. 
Customers don't have search for answers they have about your products or services, easing their shopping journey.  
3. Update and Display Your Contact Information
Your homepage should always include contact information that is easy to find.  
If your store has recently moved or you've changed your business phone numbers, you should clearly and prominently display them on your website. 
Jenier does it perfectly on the top left of its homepage, and it helps the company connect with customers.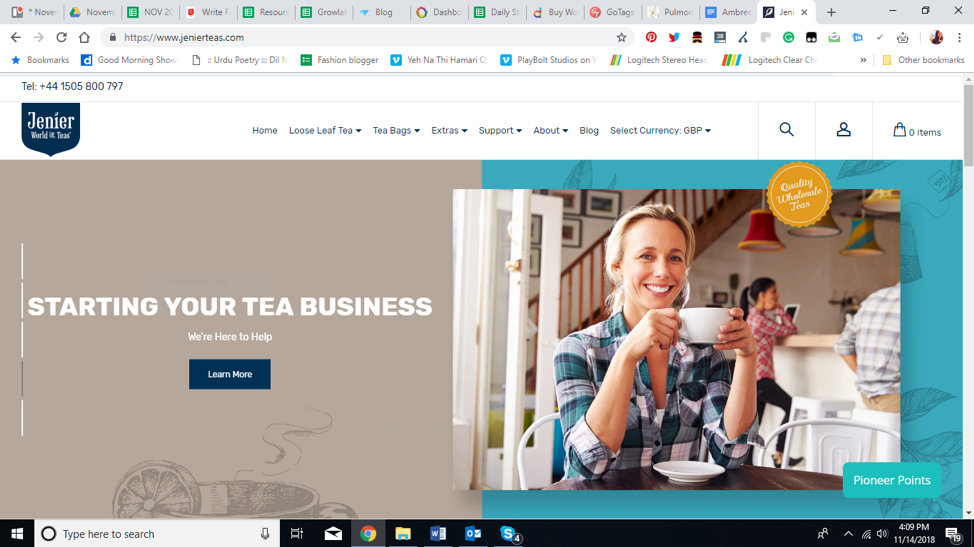 Displaying contact information helps customers know right away how to reach you.
The ability of the customer to reach out to you is extremely important, and keeping that information up to date is even more important. 
If customers are unable to reach your business for a query, they are less likely to follow through with the transaction.
4. Update Your Social Media Links
Displaying social media streams on your homepage is also a great way to keep it updated and customers engaged. 
Integrating social media streams on your website's homepage is also a great way to keep your homepage updated without having to constantly update on your website.  
Sophie and Trey, for example, has a whole section on its website called 'Shop The Gram,' where it posts user-generated content sourced from Instagram.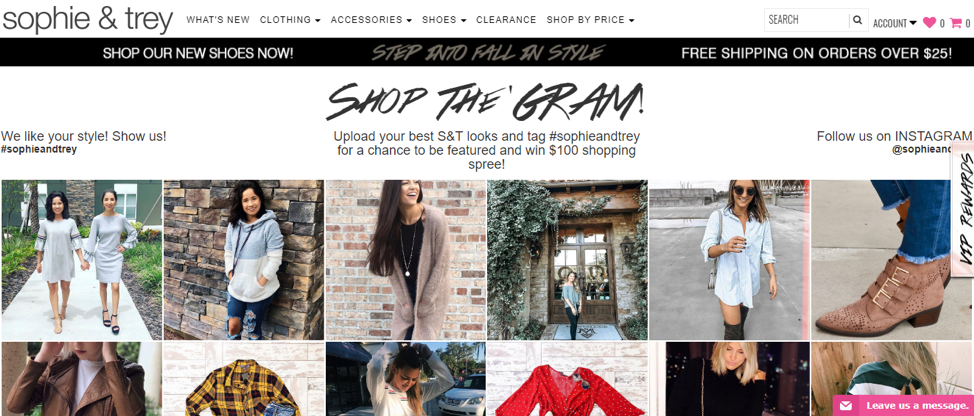 Integrating social media streams helps prolong the time spent on the website and reduces the bounce rate. 
If customers like what they see on your website, they'll also be more likely to check out your social media channels and connect with you for the latest news and updates. 
Updating Your E-Commerce Website Will Allow You to Control People's Impressions of Your Company
Keeping your e-commerce website homepage updated is essential for any business. 
Whether it's to establish trust, keep users engaged and updated, attract new customers, or retain existing ones, updating your website will allow you to make a good impression every time someone visits your website.