Small Business Digital Marketing Resources
Small Business Digital Marketing Resources
Small businesses focus on increasing revenue with digital marketing campaigns but don't recognize the effort required to keep current customers and increase search rankings. Our survey of 529 small businesses found that companies have limited budgets for digital marketing and rely on in-house teams to effectively meet their goals. Small businesses should invest in digital marketing resources to increase the return on their budget.
Digital marketing continues to provide value for small businesses that wish to increase their sales, brand awareness, and traffic to their website.
Small businesses must allocate the appropriate resources and budgets to get the most value out of digital marketing, though.
The Manifest surveyed 529 small businesses across the U.S. about the marketing resources they use and their marketing budget for the year. 
Small businesses are defined as having limited revenue and between 1 and 500 employees, which aligns with the Small Business Administration's definition of small business. 
We discovered that small businesses are primarily trying to increase sales with digital marketing while neglecting more specific strategies like SEO and customer retention. Small businesses continue to rely on in-house teams for marketing efforts as most businesses have a limited budget. 
Use this article to learn how to choose the best resource for your digital marketing efforts. 
Our Findings
Almost one-third of small businesses' (31%) primary digital marketing goal is to increase sales, but only 6% of businesses are focused on retaining customers. Small businesses are potentially missing out on easier sales that come from engaging current customers. 
Only a small percentage (6%) of small businesses are concentrating their efforts on improving search rankings, although SEO can be a valuable marketing tool. 
Most small businesses (60%) use an in-house team to promote their digital marketing strategy, but only 33% of small businesses use marketing software. Marketing software can help employees schedule content, organize projects, and track metrics. 
About the same number of small businesses are likely to hire a digital marketing agency (40%) or freelancer (39%), as they both offer similar value. 
More than half of small businesses (55%) spend less than $50,000 on marketing efforts every year, with 36% spending less than $10,000. Small businesses expect different results depending on the amount of money they invest in a campaign.
Small Businesses Hope to Increase Sales and Revenue With Digital Marketing 
Small businesses search for direct value from their digital marketing efforts as they focus on increasing sales and revenue. They may neglect engaging their current customers, though, missing out on easier sales opportunities. 
Almost one-third of small businesses (31%) are looking for a financial return on their digital marketing investment.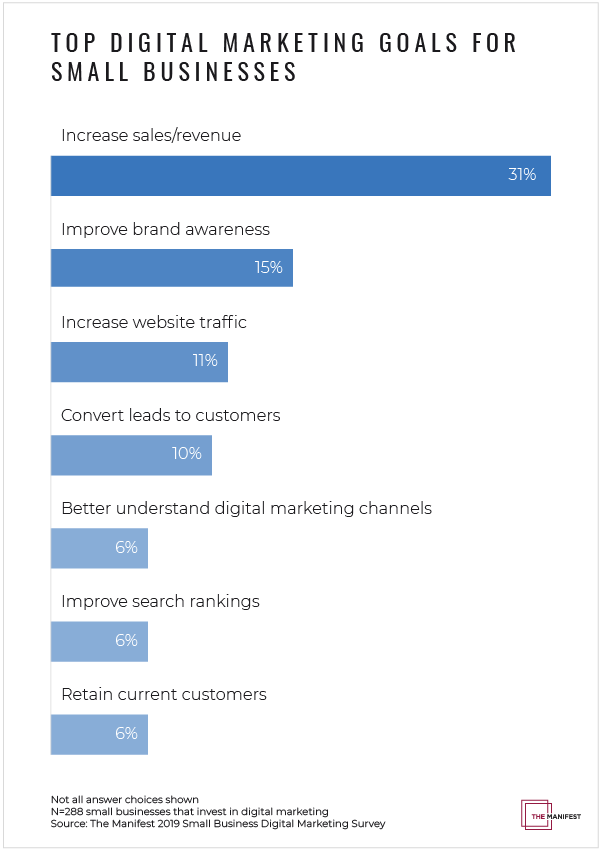 In contrast, only 6% of these companies are focused on retaining their current customers. Finding new customers and retaining old customers requires different levels of investment. 
Customer acquisition can be an expensive endeavor. It takes money and time to generate interest, direct people to your website, and then motivate a customer to buy one of your products. 
While selling to a new customer only has a success rate of 5% to 20%, between 60 and 70% of sales to an existing customer succeed. Still, only 6% of small businesses are focused on continuing to retain these already familiar and interested buyers.

Lauren Douglas, chief marketing officer of FountainheadME, a marketing agency in California, said it's important to create a relationship with current customers to retain them. 
"Make them feel that you are talking to them personally, and you will improve brand loyalty," Douglas said.
By continuing to communicate with customers, businesses make people feel valued and wanted, enticing them to come back.
If small businesses neglect their current customers, they miss out on an opportunity to make easier sales with people who have already expressed interest in their services. 
Small Businesses Should Focus on Customer Retention Strategies
Companies can invest in customer retention strategies by incorporating relevant digital marketing efforts into their business plans.
Digital marketing for current customers should emphasize:
A company mission
Convenience 
Personalization
1. Incorporate a Mission
People prefer brands that have a mission and brands that are tied to other nonprofit or charitable organizations. 
For example, TOMS, the popular shoe brand, offers a "one for one" policy, which means for every pair of shoes a person buys, the company donates one to charity. TOMS has donated over 60 million pairs of shoes. 
As such, customers continue to return to the shoe brand because they feel that their purchase is giving value to someone else's life. TOMS gives customers not only shoes but also a feeling of pride in their contribution. 
2. Make Your Service Convenient 
Creating more convenient options for your customers is crucial to retaining them. 
Consider online shopping. If the process of purchasing items takes too long or has too many windows, customers may grow frustrated with the process and close the company page.
Customers are unlikely to return to your site if they had an unpleasant first-time experience.
Around 75% of shoppers abandon their cart online. Any added complexity will result in a higher likelihood of leaving products unbought. 
To streamline online shopping, you can create a payment gate for customers where they can easily save their credit card information and shipping address for later purchases. 
Fast food restaurants have begun integrating convenient app features so people can engage more frequently with their brand. 
Chipotle offers an "order ahead" option where people can place their food order online and schedule it for pickup.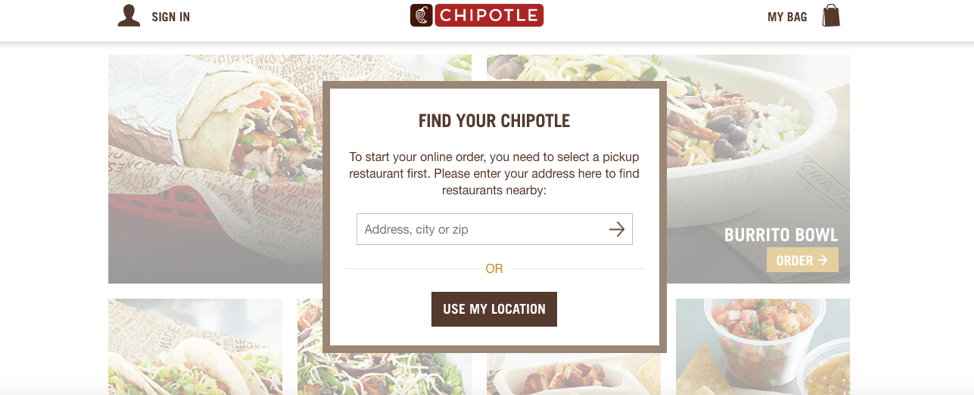 This feature decreases wait times as people can simply run into the store and grab their meal before heading out to do their next task.
If you can create a better and more convenient service than others, then people will be more willing to return to your company.
3. Personalize Your Service 
Customers want to feel valued, and offering people a customized experience can build loyalty. 
By welcoming customers to a website using their name or sending them emails with recommended products based on previous searches, small businesses can offer more relevant content and demonstrate that they "know" the customer. 
A personalized rewards program can be an opportunity to incentivize people to continue returning to your site for more discounts and free items. 
The North Face offers a loyalty program, which is directly tailored to the customer's lifestyle.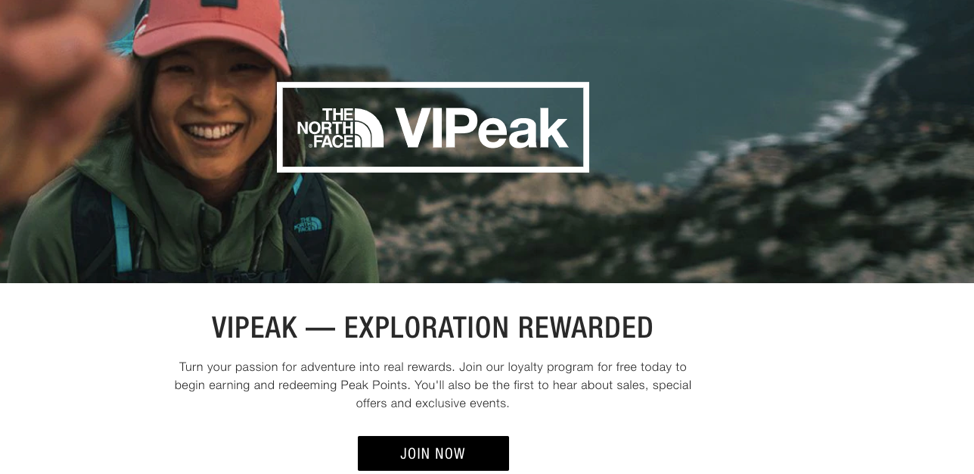 As people continue to buy items and attend events, they increase their points and have the opportunity to redeem these points based on their interests.
These purchases motivate people to spend more money at the store and continue to return to purchase more items.
Retaining current customers can seem less important to a business than finding new ones. Still, neglecting your old customers can be costly for your business. 
One-third of small businesses may be focused on increasing sales, but they are missing out on opportunities for revenue by not engaging their current customers. 
Only 6% of Small Businesses' Primary Goal Is to Improve Search Rankings 
Small businesses seek new ways to increase traffic to their site, but very few are focused on improving their search rankings. If a business' revenue is based largely on web traffic, though, then search engine optimization (SEO) is vital to creating demand for its website.
Only 6% of small businesses concentrate their digital marketing efforts on SEO as they look for more direct means of increasing sales or revenue. 

Some small businesses balance their digital marketing efforts between organic SEO and pay-per-click (PPC) advertisements. SEO and PPC both offer different advantages to businesses, but SEO is a better strategy for long-term results. 
SEO sends organic traffic to a company's website through non-paid efforts. Small businesses can optimize their websites for search rankings by targeting keywords, building backlinks, writing high-quality content, and improving site speed.
While PPC traffic can create a faster influx of people to your site, the advertisements cost money and the quality of leads to your site may not be as good as those that come from organic traffic. 
More than 70% of users scroll past ads to see the organic search results because people trust these sites more than paid ads. 
Jill Callan, chief marketing officer of Beautiful.ai, a presentation design software startup, said her number one priority for her company is driving organic traffic.
"We are in the process of building out content on our website and blog that will result in solid SEO strategies that should help solve user's challenges with traditional presentation software and build brand awareness and traffic for our company," Callan said. 
Small businesses can gain recognition and authority in the industry by optimizing their search rankings organically. 
Only One-Third of Small Businesses Invest in Marketing Software 
Small businesses should complement their in-house digital marketing resources by investing in marketing software. 
More than half of small businesses prefer to use in-house employees (60%) to help with their digital marketing efforts.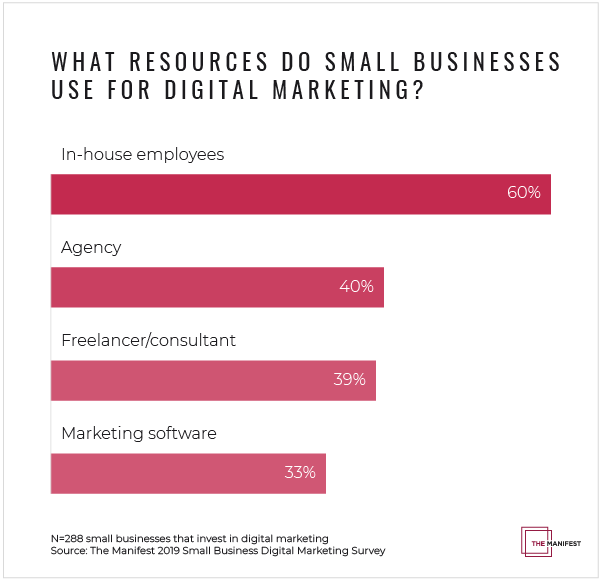 Yet, only 33% of small businesses use marketing software to help with these efforts.
Small businesses prefer an in-house team because it is more sustainable financially and can provide more complex insights into the business than outside parties. 
Kelsey Dickinson, a marketer for Abby Sparks Jewelry, a jewelry brand in Denver, said her business uses an in-house team because they've encountered challenges working with agencies.
"We've worked with digital marketing agencies in the past but had trouble with an outside agency understanding the nuances of our business and that translated to wasted marketing budget being put toward campaigns that didn't get us more clients, or the right clients," Dickinson said. 
While an in-house team can be a great solution for small businesses, marketing tools can also provide benefits. 
Marketing software can help:
Share content
Organize projects
Track metrics
1. Share Content With Your Audience
As small businesses attempt to draw more traffic to their site and increase sales, marketing software can help small businesses focus their efforts on creating shareable content that leads back to their product pages. 
Social media can be a great asset for businesses as platforms like Facebook, Twitter, and LinkedIn dominate with global audiences. However, it can be challenging to schedule content or campaign posts across channels. 
Tools like Buffer or Sprout Social can help businesses plan when they want to share certain posts on social media.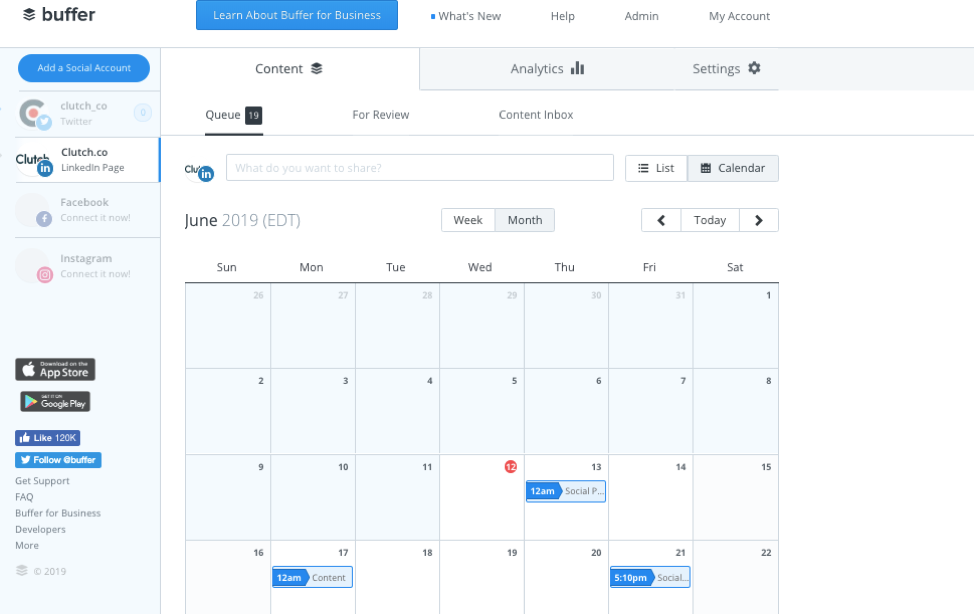 These calendar tools allow companies to plan their social media posting weeks in advance and create a strategic campaign for when they would like certain news to be released. 
2. Organize Digital Marketing Projects
Marketing software can help businesses manage their projects using one platform to communicate and track progress. 
Small businesses with an in-house team usually have more than one digital marketing project occurring at once. 
At times, it can be confusing to know who to assign certain tasks to and how these projects are doing. 
Tools like Asana and Trello can make tracking progress easier for teams that are completing multiple assignments at the same time. 
Asana creates tasks lists and charts for people who want to manage their workflow better. 
Asana even has a specific template for marketing teams that want to plan their campaigns from idea to launch. 
When small businesses invest in content management tools, they can improve efficiency and gain valuable time lost in failed communication. 
3. Analyze Campaign Metrics
Marketing software can help businesses measure the effect their marketing efforts have on the overall business. 
Metrics can provide constructive feedback about marketing strategies that aren't working. The detailed information highlights when marketers should fix certain campaigns and intensify others. 
Pedro Copelmeyer, a digital marketing consultant, said that measuring the effectiveness of digital marketing efforts with key performance indicators (KPIs) is essential to track what is working. Businesses need to determine a healthy conversion rate based on the budget outlined for the process. 
To analyze these KPIs, businesses can invest in marketing software that tracks backlinks and engagement rates automatically. 
Google Analytics, Ahrefs, and MailChimp all provide great tools for businesses looking to measure patterns and success.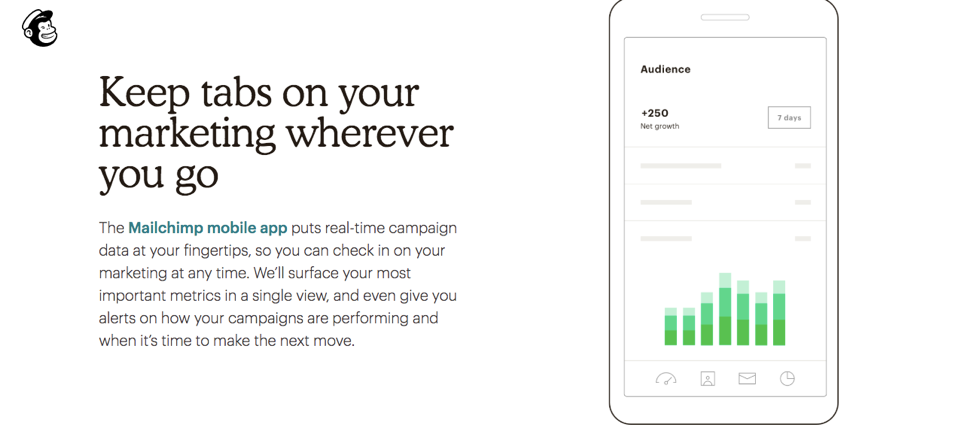 Source
MailChimp allows users to access marketing data at any time and organizes it into easily readable graphs. 
Small businesses rely on in-house employees to market their services but should also support these efforts with software. By sharing unique content, planning projects, and analyzing metrics with these tools, small businesses can better succeed at their goals. 
Small Businesses Equally Likely to Hire a Digital Marketing Agency or Freelancer
While most small businesses prefer to use an in-house team, an equal percentage see as much financial and creative value in hiring an agency or freelancer. Agencies and freelancers offer expertise and resources to support a small business's marketing vision. 
More than one-third of small businesses hire an agency (40%) or freelancer (39%) for digital marketing efforts. 
Robert Weiss, president of MultiVision Digital, a New York video production company, said it's challenging to find high-quality outsourcing partners, but the search is worth it. 
"There is a lot to gain from an outside marketing agency or a person that is skilled in that specific skillset because they know what you don't," Weiss said.
A third-party digital marketing agency or freelancer usually has more experience in a particular field of marketing than an in-house team. 
Hiring a noted expert in the community can ensure that businesses receive the best results on their projects.
More Than Half of Small Businesses Spend Less Than $50,000 on Marketing Efforts Annually 
Small businesses strive to balance the cost of campaigns and the expected return. Although almost one-third of companies want to increase their sales, they are not spending large amounts of money on their efforts. 
More than half of small businesses (55%) spend less than $50,000 on marketing annually, with 36% spending less than $10,000.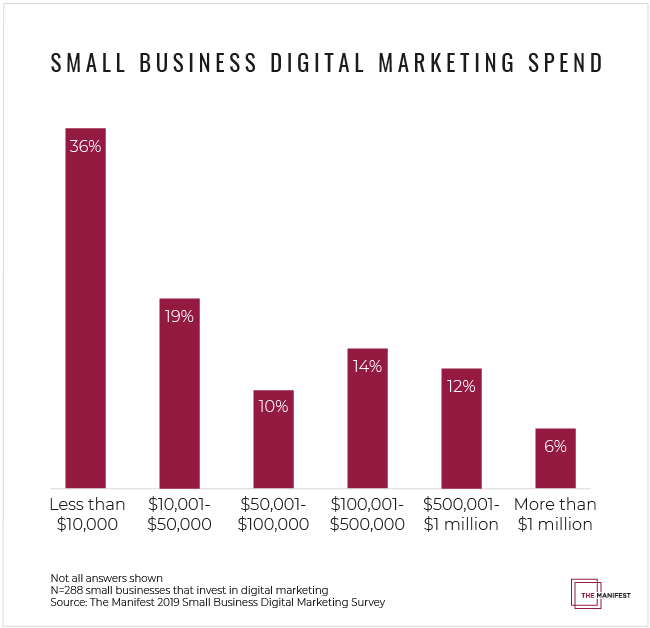 Meanwhile, 24% spend between $50,000 and $500,000 each year, which demonstrates the disparity between small business budgets. 
Considering this data also accounts for marketing employees' salaries, 36% of businesses are either paying a marketer $10,000 a year or do not have marketing employees at all. 
Small businesses have different goals for their marketing efforts, and these different goals largely relies on what they expect from the money they budget. For example, a company that spends $10,000 may not expect $10,000 in direct sales in return. 
Instead, this $10,000 may funnel into an SEO or social media campaign that spreads the company's message to a larger audience to increase interest. This audience then signs up for the service and becomes loyal customers. The company, in turn, makes the money back on the initial spend. 
Weiss explained how the goal of marketing is not necessarily to make money directly but to convince a person to become a long-term client. 
"We just want a 1 to 1 ratio because for us, once we acquire a client, there's a strong long-term value proposition because we keep clients," Weiss said. 
Digital marketing budgets vary depending on what companies expect to see from these campaigns, such as brand awareness, lead generation, or sales. 
Small businesses have different budgetary constraints, but the value of marketing is essential to all companies trying to increase sales and grow an audience. 
Small Businesses Understand the Value of Digital Marketing but Lack the Resources
Small businesses recognize the importance of investing in digital marketing but do not always have the tools or budget to implement campaigns.
Companies are focused on increasing their revenue but don't spend enough effort on retaining current customers. As such, small businesses do not always explore the benefits of different marketing strategies like SEO.
Small businesses also prefer in-house teams to outside agencies but should invest in more marketing software solutions. 
Digital marketing strategies require a carefully planned budget that allows companies to create unique content without losing money. Still, more than half of businesses invest less than $50,000 into these efforts, including employee salary. 
Small businesses realize the value of digital marketing but can improve their strategy with better resources and goals. 
About the Survey 
The Manifest Surveyed 529 small business owners and managers across the U.S. 
Small businesses are defined as having between 1 and 500 employees and limited revenue. 
More than half of small businesses (54%) have between 1 and 10 employees, and 46% have between 11 and 500 employees. 
Most respondents are male (52%), and 48% are female. 
Millennials make up 29% of the respondents; 45% are Generation Xers; 27% are baby boomers.