How Customers Use Food Delivery and Restaurant Loyalty Apps
How Customers Use Food Delivery and Restaurant Loyalty Apps
Food delivery apps and loyalty rewards apps offer value to customers seeking to get more out of their engagement with a restaurant. The Manifest's survey of more than 500 smartphone owners reveals that users prefer food delivery apps with better restaurant options and that Starbucks has the most popular restaurant loyalty app.
Apps are revolutionizing the food and restaurant industry. 
Food delivery used to require a phone call, which took up time. Now, mobile apps allow users to order food directly to their homes, sometimes with the click of just a button.
Meanwhile, restaurant loyalty apps allow users to easily accumulate rewards points and get a free drink, meal, or discount.
What trends exist among users of food delivery and restaurant loyalty apps?
The Manifest surveyed more than 500 smartphone owners to analyze their behaviors and opinions on different categories of mobile apps.
This article offers insight into how people use food delivery and restaurant loyalty apps and who prefers to use them. Restaurants can use the data to determine whether food delivery or loyalty apps are useful marketing tools.
Our Findings
Nearly one-quarter of smartphone owners (24%) regularly use food delivery apps, such as Postmates and Uber Eats.
The largest percentage of respondents (20%) use their preferred food delivery app because it has better restaurant options.
Half of smartphone owners (50%) use branded restaurant loyalty apps, such as the McDonald's or Domino's apps.
Starbucks has the most popular (48%) restaurant loyalty rewards app.
Smartphone owners use restaurant loyalty apps primarily to build up points or "stars" for rewards (72%), such as free drinks and birthday meals.
Food Delivery App Preferences Differ by Location
Use of food delivery apps is common but not particularly high.
Almost one-quarter (24%) of smartphone owners regularly use food delivery apps.

This low percentages shows that food delivery apps are the least popular. In comparison, 82% of respondents regularly use social media apps and 77% regularly use navigation apps.
Smartphone owners in the Northeast most commonly use food delivery apps – 30% say they regularly use them.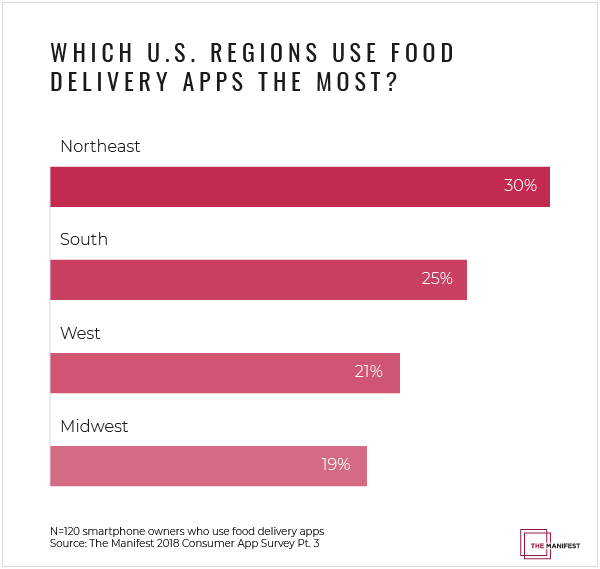 Areas such as New York City and Washington, D.C., feature a high number of professionals with disposable incomes living in neighborhoods saturated with food options – the perfect candidates to take advantage of the convenience of food delivery.
The Northeast also includes 4 of the 5 top cities with the lowest car ownership – New York City, Washington, D.C., Boston, and Philadelphia. When you need to walk, bike, or ride the subway to find food, you may be more likely to simply have your meal delivered.
Given food delivery apps' need to offer on-the-ground services, not every brand is offered in every region. 
Even when multiple brands exist in the same region, preferences differ. While a New Yorker may exclusively order from Seamless, someone from Los Angeles may instead swear by Postmates.
Some food delivery options are surprising – Uber Eats is offered in Vancouver, even though Uber's ride-sharing arm is not yet legal there, said Chris Hobbs, president of Two Tall Totems, a Vancouver-based mobile app and software development firm.
If a restaurant wants to deliver its products through a food delivery app, it should research if its area's population actively uses these types of apps and which brand consumers typically prefer.
Options Matter for Food Delivery Apps
Several elements, such the availability of restaurant options, discounts, and features, influence why smartphone owners use their preferred food delivery app the most.
One-fifth of smartphone owners (20%) primarily use their favorite food delivery app because it offers better restaurant options.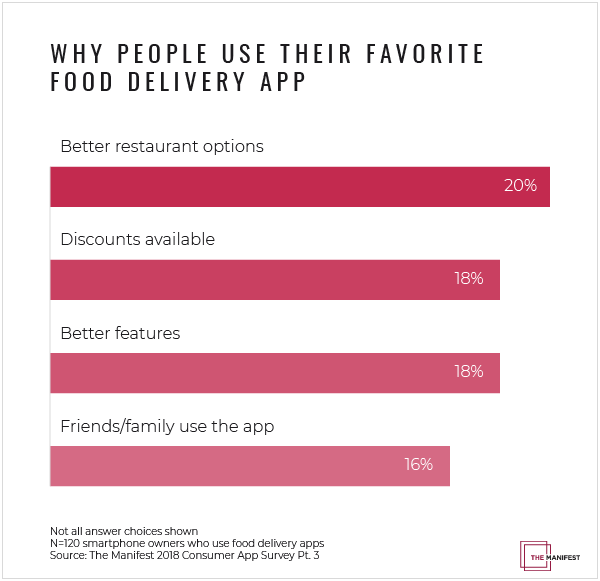 Some food delivery apps form partnerships with popular restaurants to increase the number and quality of available food options.
DoorDash frequently uses this strategy, such as when it partnered with Wendy's to deliver the popular fast-food chain's products.
Meanwhile, Postmates sends someone to a restaurant to order in your place, instead of having restaurants sign up for the service like with other food delivery apps. This greatly increases the options available.
Users also prefer if the app offers discounts (18%) or better technological features (18%).
For example, while many food delivery apps will simply give users an estimated time of arrival for their delivery, Postmates allows users to track the exact location of their delivery.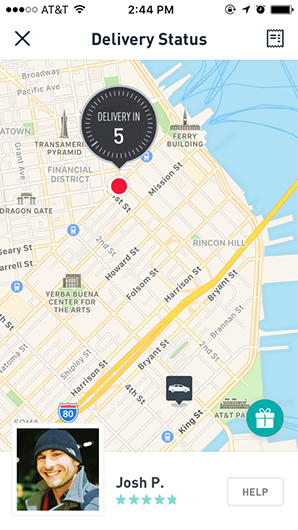 Users see a map, their Postmate, and an estimated time-to-delivery. Some users may prefer this exact tracking or other specific features.
More Consumers Use Restaurant Loyalty Apps Than Food Delivery Apps
Smartphone owners use restaurant loyalty apps over 2x more than food delivery apps.
Exactly 50% of smartphone owners say they regularly use branded restaurant loyalty apps.

Restaurant loyalty apps encourage users to stay engaged with a restaurant's brand typically through a concept known as "gamification" – turning the brand experience into a game. This inspires greater participation and engagement. 
"Gamification makes users return to the app," said Olexandr Leuschenko, head of mobile stack at Ciklum, a digital solutions company. "Gamification revolves around social actions and receiving awards – badges, likes, leaderboards, and other things that give the user a special status. People like to be the best in something almost as much as they like to get a free product."
Rewards systems are built around the idea of gamification: You may earn a free point or product with every purchase. This feels like a game and encourages you to continue using the app and patronizing the restaurant. 
Almost three-quarters of restaurant loyalty app users (72%) use apps to collect points for rewards.
When buying something means you're closer to getting a free drink in the future, you'll likely think less about spending $4 on that cappuccino.
The UX of Starbucks' App Stands Out
Among the well-known restaurant loyalty apps in the survey, Starbucks far outshines the others.
Almost 50% of smartphone owners who regularly use restaurant loyalty apps use the Starbucks app. This is significantly higher than the second-place finisher, Domino's, at 34%.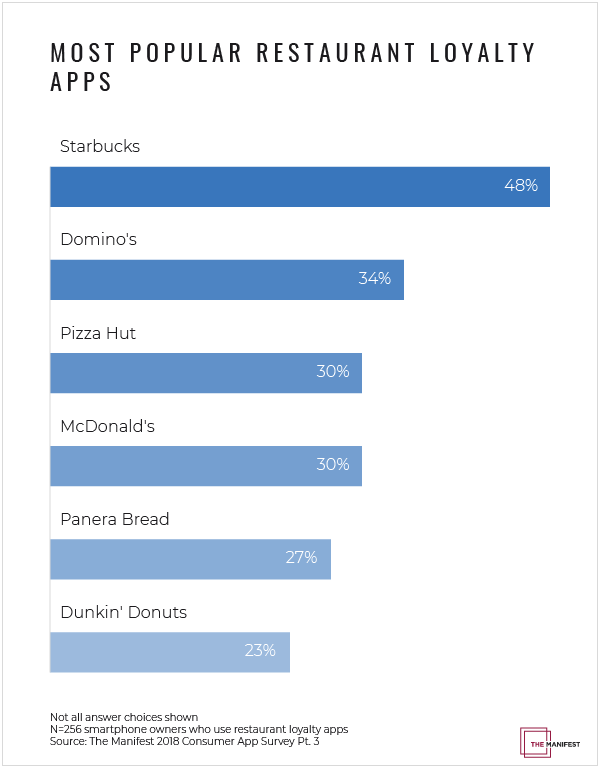 Experts say the Starbucks app exemplifies good user experience (UX) for a loyalty app.
There are several aspects of the Starbucks app's UX that experts point out as effective:
The need to pre-load money on the app
The app's ability to communicate clearly with the user
GPS alerts that let the user know when they are near a Starbucks
The real value offered to the user
Pre-Loading Money on a Starbucks App Keeps Users Invested
You cannot directly connect the app to your debit or credit card. Instead, you are required to "load up" your Starbucks card on the app, and then you can order from the app or use it to pay at the register.
This means that once you've loaded money on the Starbucks card, you have no excuse but to go to Starbucks and spend that money.
"You've already pre-spent the money," Hobbs said. "I think that's what makes it so sticky."
When you pre-load money onto the Starbucks app, it's money you've invested, but you can only spend it at Starbucks.
A Well-Communicated Rewards System Entices Users
Starbucks clearly communicates how you earn rewards points (or "stars") and what you'll get with them. 
For example, the app offers a progress bar to track the stars needed for a reward.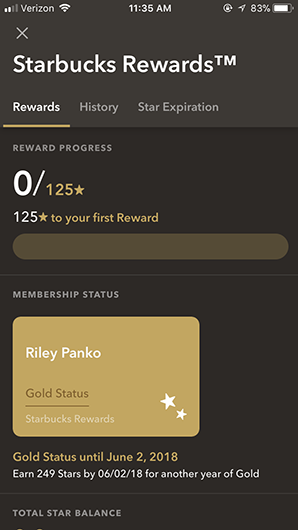 The app makes it easy to see how close you are to earning your next reward.
Further within the app, instructions clearly communicate how to earn stars.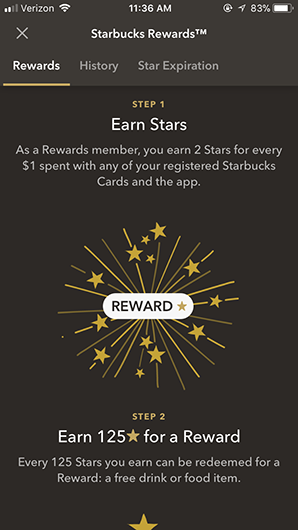 A streamlined restaurant loyalty app should leave users with no questions regarding how to earn points, order food, or do any other task they seek to complete. 
Users may not come back if they get annoyed or frustrated with your app. Starbucks does an exemplary job explaining its app, which decreases potential user frustration.
GPS Alerts Let You Know When You're Near a Starbucks
The Starbucks app offers GPS location services, alerting you when you're near a Starbucks. If you are at a location, you can swipe up on your lock screen to open your Starbucks app.
This means that the app constantly alerts you to the presence of a Starbucks, making you more likely to go to one.
The Starbucks App Offers Real Value
Many loyal Starbucks app users look forward to their free drink. It's a perk that excites them and keeps them returning to the store.
Starbucks also offers free goodies beyond drinks.
"They offer a lot of free stuff just for having the app – free songs, free games," said Zack Drew, head of business development at Blue Label Labs. "There's free stuff that's expensive for anybody to give away. But they've got the dollars to do it."
Starbucks' status as a huge chain allows it to offer rewards through its app that other restaurants may not be able to afford. 
But restaurants with smaller budgets still can replicate Starbucks' desire to offer an in-depth and addictive app experience.
For example, sandwich shop Potbelly, a chain that is significantly smaller than Starbucks, offers free first tastings and discounts on a random basis through its rewards app.
Users appreciate free items, even if a restaurant can't offer them consistently. 
Apps Keep Restaurants' Customers Happy and Full
Participating in a food delivery app or launching a loyalty rewards app can boost a restaurant's customer engagement.
Nearly a quarter of smartphone owners use food delivery apps and half use loyalty rewards apps. 
Smartphone owners prefer food delivery apps that offer better restaurant options but are also enticed by discounts and better features.
Meanwhile, the Starbucks app is by far the most regularly used loyalty rewards app in the survey. The Starbucks app exemplifies good UX for a loyalty rewards app through its clear communication, ability to keep users invested, and the real value it offers users.
If your business is seeking to better engage customers, consider adding your products to a food delivery app or launching a loyalty rewards app.
About the Survey
The survey includes responses from 511 smartphone owners who use at least three different apps daily.
The respondents were primarily female (72%). Age was split among respondents: 18 to 24-years-old (15%), 25 to 34 (28%), 35 to 44 (21%), 45 to 54 (18%), 55 to 64 (12%), and 65 and over (5%)