9 Risks and Rewards of Using Social Media Instead of a Website
9 Risks and Rewards of Using Social Media Instead of a Website
More than 20% of small businesses use social media in place of a website. Here are the relevant facts you need to decide between a social media profile and a dedicated website for your small business.
Imagine that the internet is a physical place where you do business. All the products and services available online are found in one large building.
To establish your business here, you must choose between two relatively inexpensive leasing options.
The first option offers variable rent and a completely customizable business space. However, it's a bit of a fixer-upper. 
In the online world, this is a website.
The second option is free, plus your business is part of a vast consumer network. However, your business space is subject to 3rd-party control and no design modifications are allowed. 
This is your business's social media profile.
Which do you choose? 
Over 20% of small businesses use social media in place of a website, according to a recent survey from the B2B research firm, Clutch.
Gearing your web presence toward social media gives you easy, direct access to an engaged audience. But should you forgo a dedicated website for the convenience and accessibility of social media?
Today we discuss 9 risks and benefits of using social media instead of a website for your small business:
Rewards of Using Social Media Instead of Website
Social media is free 
Social media is easy to use
Social media fosters engagement
Social media caters to visual content
Social media excels at customer service
Risks of Using Social Media Instead of Website
Social media limits your lead generation
Social media diminishes your branding
Social media is out of your control
Social media lacks credibility
The Rewards of Using Social Media Instead of a Website
Social media platforms allow users to access peer groups and businesses with equal ease. 
According to Statista, 81% of the U.S. population has at least one social media account, and more users sign up every day.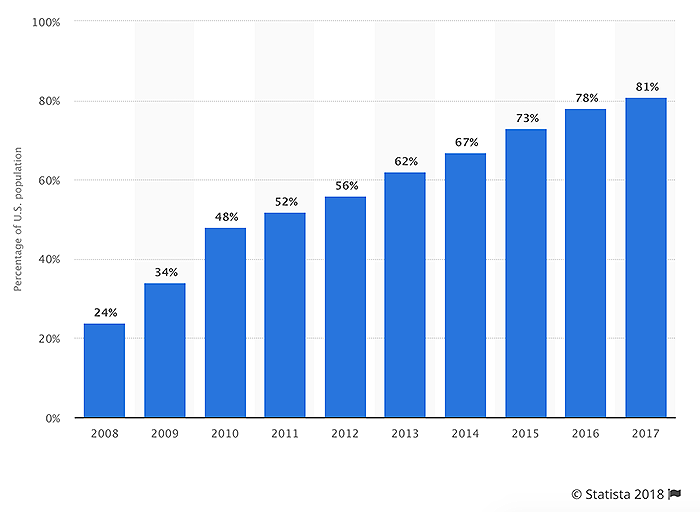 Positioning your business near so many active users can be advantageous. Here's how.
1. Social Media Is Free
Creating a business profile on social media is free. You'll never incur the cost of web hosting, site maintenance, or other tech-related headaches. 
By comparison, the price of a website ranges from cheap to expensive, depending on the desired functionality. Using social media for your online profile may be helpful for small businesses with small budgets and few resources.
2. Social Media Is Easy to Use
Setting up a business page on social media is quick and easy. No technical expertise or coding is required. Simply fill out a few forms, upload your photos and company information, and you're set. 
For example, Facebook walks you through most of the steps to set up a page for your business.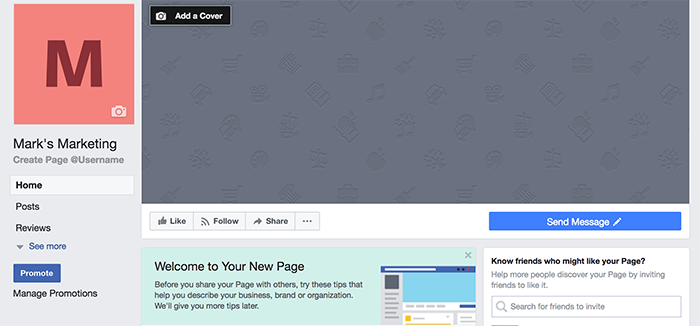 Adding apps, joining groups, and running paid ads is also straightforward. If you encounter any snags, plenty of self-help resources are available to guide you.
3. Social Media Fosters Engagement
Social media encourages back and forth interaction and these conversations can be both casual and humanizing for brands. This helps when you're trying to build relationships and communicate with customers. 
Sprout Social found that over 79% of consumers prefer when brands share their personalities on Facebook.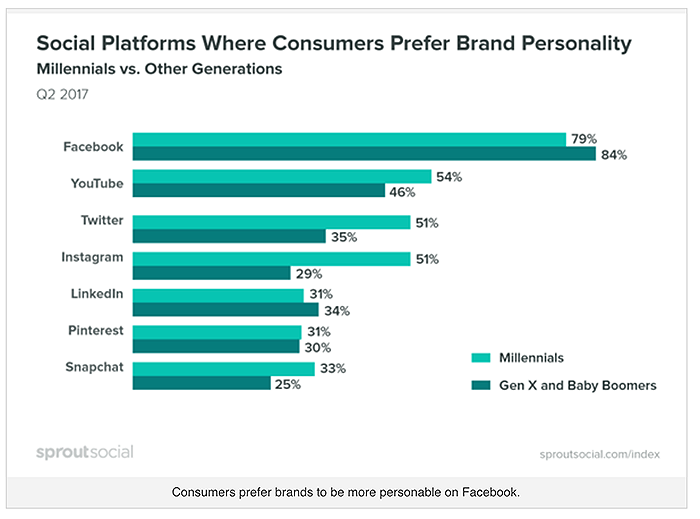 Since users value authenticity and transparency, brands that leverage their voice on social media can easily generate likes and shares within their audience. 
Leveraging this goodwill helps social brands generate awareness, foster loyalty, and drive revenue through their network.
4. Social Media Caters to Visual Content
Social media is ideal for products or services that can be communicated visually. 
These days, people favor visual content across most platforms. Tweets with images receive 1.5x more retweets, and Facebook posts with images receive almost 40% more engagement. 
But what if your product or service doesn't translate well to images?
If this is true, then you can educate your audience with blogs posts and gated content that's hosted on your website. This will allow you to create an immersive buyer's journey, free from the distractions of social media.
5. Social Media Excels At Customer Service
Social media is an increasingly popular resource for customer support. 
According to J.D. Power, 67% of consumers use social media for customer service. However, users also expect a rapid response, as this chart shows.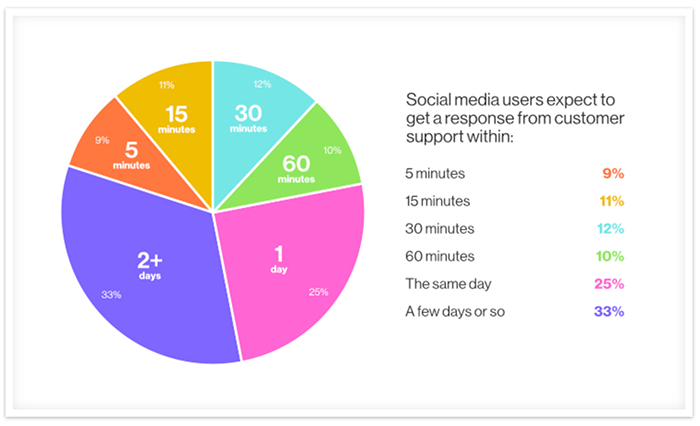 Tools like Social Mention can help you monitor your social accounts for the best response times.
The benefit of providing a positive customer support experience on social media is huge. According to the Harvard Business Review, customers who enjoy a positive support experience are 3x more likely to recommend your brand. 
However, 50% of consumers will stop doing business with a brand after poor customer support. 
Using social media as customer service is risky because your feed is an open forum, effectively advertising each interaction. However, attending to service requests in a timely and courteous fashion will help cement your good reputation on social media.
The Risks of Using Social Media Instead of a Website
Websites are a business staple because they allow you to design and optimize every element of your online presence. 
Consider that customer experience – the sum of all user interactions throughout a brand relationship – is predicted to surpass both price and product as the key differentiator between brands by 2020.
Do you want to limit your influence over the customer journey by using social media? Keep these hazards in mind.
1. Social Media Limits Your Lead Generation
Social media platforms offer a full suite of marketing features and integrations. You can track the performance of your content, gauge your reach, and create native advertising campaigns. 
However, these functionalities pale in comparison to a website. As a result, lead generation can suffer on social media.
For example, social media platforms don't allow:
Landing pages
Email capture popups
Gated content
These highly effective lead generation tools are only available on a website. 
Social media profiles lack the features needed to optimally communicate your message, nurture your leads, and convert your customers.
2. Social Media Diminishes Your Branding 
The basic design of a social media profile can interfere with your branding. 
The photo and header can be customized but the overall page layout is static. This basic template hurts companies in need of a strong brand identity to differentiate themselves from the competition.
A study by Stanford found that 75% of consumers assess a company's credibility based on its web design. In fact, 94% of website first impressions are design-related.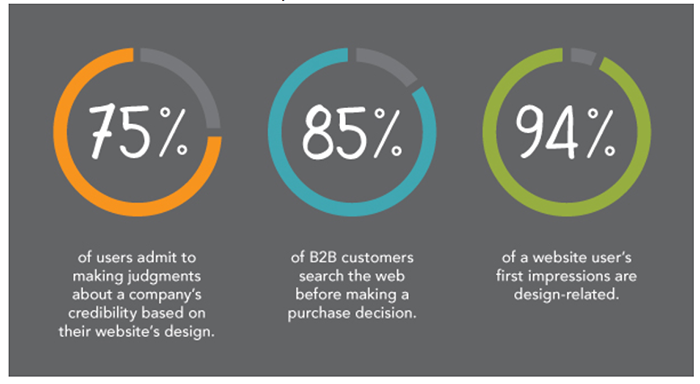 While social media profiles can look polished, a website enables you to impress prospects, maximize your brand recall, and drive a unique customer experience.
3. Social Media Is Out of Your Control
Social media providers are free to alter their rules of engagement. When this happens, businesses often suffer.
For example, Facebook recently updated its algorithm to prioritize content shared between users. To the detriment and frustration of many companies, this further diminishes the organic reach of business posts on Facebook. 
Seen below, the average organic reach for Facebook content posted on business pages is around 6% – and falling.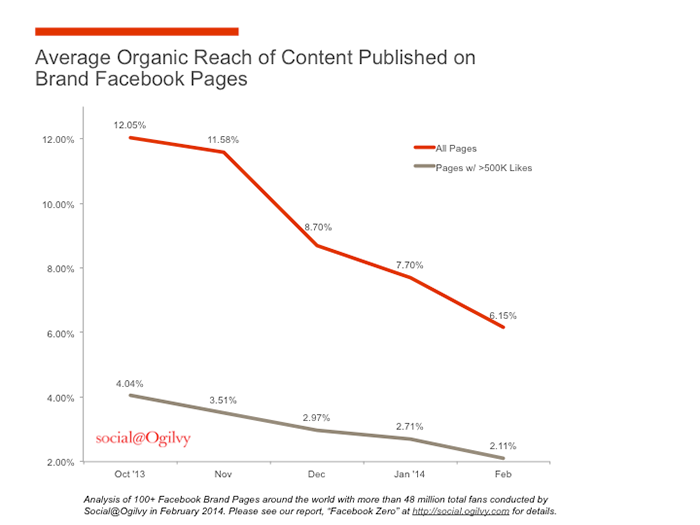 A website is immune to such fluctuations. You can host and promote content as you please, run contests according to your own rules, and set the terms of engagement. 
Taking full and predictable ownership of your online presence requires a website.
4. Social Media Lacks Credibility
Ultimately, most consumers expect a business to have a website. 
It shows that your company is established and trustworthy, plus it serves as the primary resource for online research.
Over half of consumers (52%) go directly to a company website to learn about a brand, according to the American Marketing Association. By comparison, only 25% use social media as their first stop for research. 
If you use social media as the face of your business, you risk losing prospects who only consider websites to be credible.
Given the longer research process in the B2B marketing funnel, business-facing brands should be cautious when considering a social media profile over a website.
Social Media or a Website For Business?
At the outset, choosing a few social media platforms can be a great way to test your marketing strategy. 
Ideally, however, your business has a social media presence in addition to its website. 
Integrating your social media platforms and website can double the impact of all your marketing efforts – from awareness to sales to customer retention.