How to Create the Best Instagram Bios for Businesses
How to Create the Best Instagram Bios for Businesses
Contributed Content
Though the Instagram bio is a small space, it holds limitless opportunities for businesses looking to stand out and let their personality shine through, but only if it is used strategically. 
People love Instagram and businesses should, too: it is the most effective social media channel for interacting with your brand followers through visuals. 
Six in ten adults who regularly spend time online have an Instagram account and 32% of teenagers think that Instagram is the best social media network. Out of 500 active million Instagram accounts, around 80% of the users regularly follow one or more businesses. 
Instagram can help you turn cold viewers into potential loyal customers and build close and personal connections with your brand followers. It can also improve your website's traffic over time if it is used appropriately.  
This abundance of traffic means businesses have more opportunity to connect with customers, but they must showcase an exceptional Instagram bio.
Crafting the perfect Instagram bio is challenging, but it is one of the most critical elements that will make your brand stand out from the crowd. You only get 150 characters to play around with, so you'll need to make each of them count. 
By using these strategic tips and the best practices I employ as a professional writer at EssayOnTime UK, you can overcome these challenges and create an Instagram bio that best reflects your business and brand. 
Show Your Unique Value Proposition
The purpose of your Instagram bio is to illustrate exactly who you are and what you do as a brand. Although the 150-character limit presents challenges, it actually serves a good purpose by helping you stay concise.  
Tell what you do
Tell why you do it
Show why you're better than others
Show why you're the best choice for your target audience
Your unique value proposition is what sets you apart from the competition. A clearer and more concise value statement will make you stand out from the crowd and positively impress your newest page visitors. 
For example, HubSpot is already reputable in its niche market, so they chose to keep their Instagram bio simple. 

Hubspot's bio briefly describes what they offer and how customers can benefit from their services. 
Businesses can use their Instagram bio to show people the value of their products and services, all in 150 characters or less. 
Show Some Personality
Instagram is the place where you can show the "intimate" sides of your business, like your team's composition, behind-the-scenes moments, and brand culture.
Jessi Fearon, the owner of a lifestyle blog, uses her Instagram bio to illustrate both what she does and who she is.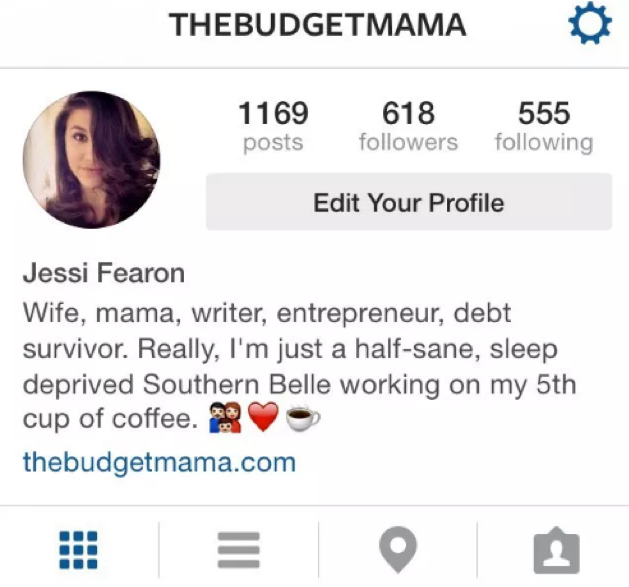 Her bio shows who she is as a person, which makes it easy for other wives, mothers, and entrepreneurs to relate to her and see more of her content. 
People want to feel like they're connecting with a person, not a soulless corporation. By showing your personality in your bio, you can give existing and potential followers the impression that you're relatable and authentic. 
Leverage a Branded Hashtag
Branded hashtags have been widely used during the last several years, mostly because they work. 
A branded hashtag is an opportunity for your brand to go viral. Even if that doesn't happen, employing a unique hashtag that represents a movement, a trend, or a brand slogan is a terrific method that helps you get user-generated content. 
Just like #IceBucketChallenge or #ShareaCoke campaigns, PayPal tries to hit the spotlight with their #paypalit hashtag. 



 

This branded hashtag encourages users to share stories about their experiences using PayPal. 
Using branded hashtags can increase awareness of a movement and encourage users to engage with your brand, especially if the branded hashtag includes a call-to-action.
Use the Bio-Link Wisely
The only place on Instagram that allows you to place clickable links is the bio section, so use it wisely. 
Think carefully about how you will use this coveted opportunity. The most obvious choice would be a link to your website's homepage, however, you can get creative and use your link in a way that most benefits your business's needs.
For example, if your primary marketing goals are to improve the number of email subscribers, you should link to a squeeze page that leads your Instagram traffic directly into your newsletter.
Every brand does it differently, but there's one thing in common: every respectable brand has specific priorities. 
Decide what your priority is (e.g., sales, brand awareness, event promotions) and decide what link will best support your objectives.
Craft a Strong Call-to-Action
Online users are constantly reacting on impulse and an effective call-to-action (CTA) is an element that can boost the clickability rate of your Instagram bio link. 
In the CTA, let your prospects know why they should bother clicking. 
For example, HelloFresh is doing it right. 

 

In their bio, they introduce their brand's value proposition in a single sentence, and they encourage you to immediately order their products, offering a $30 discount on the first order.
Give your audience the impression that if they don't click, they might be missing out on a huge opportunity. Great CTAs lead to a great click performance.
Don't Neglect Emojis
Instead of writing a block of plain text, take advantage of emojis. These little symbols can diversify and enhance your Instagram bio. 
Emojis can help you convey your brand's culture and personality while being a great reinforcer for your brand's message.
Gilit Cooper, a woman entrepreneur, uses emojis to convey her brand's personality. 

 

The emojis she uses are attractive for a specific type of audience, an audience probably composed of more women than men. 
Keep in mind that while emojis represent a good choice for spicing up your Instagram bio, they aren't effective for every type of brand. 
If your target audience doesn't regularly use emojis when they write text messages or while they type, you should definitely keep them out of your bio.
Include Niche Keywords
Use relevant keywords to help your prospects understand what your brand page is about. This will help your target audience quickly recognize that your content is right for them.
Of course, the keywords you list should make sense. 
For example, Dean Jacobs uses keywords that are interconnected.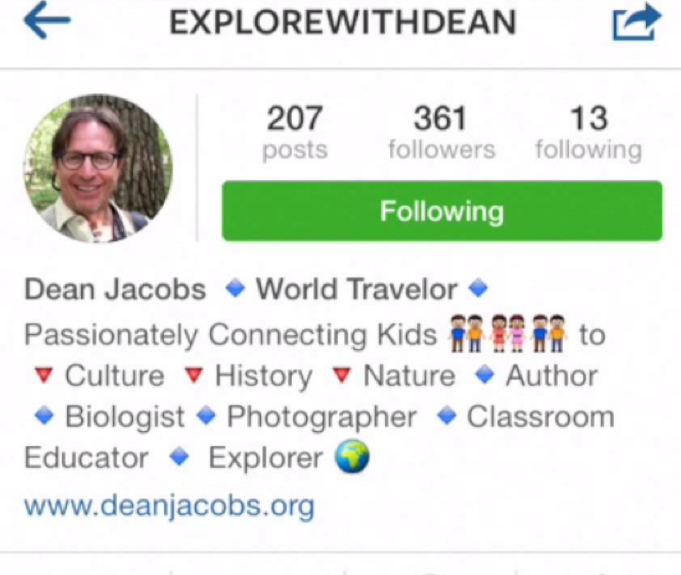 His Instagram bio reflects interests, passions, and occupations. It also includes a website link that allows followers to get access to additional information instantly. 
Making sure that your Instagram bio conveys the type of content you share is key to attracting new customers. 
The Instagram Bio Presents Opportunities for Distilling Your Brand Message
Social media marketing agencies say businesses that want to grow their online presence need to focus on developing a stronger relationship with their followers. 
Even though it maxes out at 150 characters, the Instagram bio presents your business with infinite opportunities if approached creatively and with the targeted audience in mind.