PPC Agency Onboarding Checklist for Small Businesses
PPC Agency Onboarding Checklist for Small Businesses
PPC marketing is essential in many ways. If done successfully, it can deliver critical metrics such as improved average cost per click (CPC), average click-through rate (CTR), and solid return on ad spend (ROAS). Take a deep dive into our PPC agency onboarding checklist if you plan to hire a dedicated partner soon.
As small business owners, you constantly look for ways to get the most value out of your spending, especially for marketing and advertising initiatives. Every penny counts is the mindset, thus, most new managers and business owners mistake pay-per-click (PPC) as an expensive option.
Hiring a PPC agency isn't an option exclusive to bigger companies. In fact, many small businesses can benefit from its accurate targeting nature, providing a bigger bang for your buck.
PPC can be paired with other digital marketing channels, such as social media management, SEO, and content marketing to produce better results. It can help brands spread awareness, precisely reach their target audience, and drive traffic to their websites.
In some cases, what prevents small businesses from enlisting the help of a full-service partner is their lack of experience working with service providers. If you feel intimidated by the entire selection, hiring, and onboarding processes, continue reading this onboarding checklist to better understand what to expect and prepare.
Filter the options quicker by viewing The Manifest's list of the top PPC services providers.
When Do You Need PPC?
PPC can be the best friend of a local or small business. According to Think with Google, 76% of customers that searched for a nearby business or product on their smartphones visit the store within the day.
In recent years, marketers have emphasized their preference for PPC because of its effectiveness, and they've also helped small businesses understand if they need to include it in their budgets. It's always on a case-by-case basis, but the common indicators businesses need PPC is when:
You're having trouble reaching their ideal audience
If your SEO and other digital marketing efforts aren't producing optimal results
If you're struggling to raise brand awareness
Your online engagement is low or steadily decreasing
There are plenty of advantages and success stories with PPC. But as alluring as it looks, success isn't straightforward or immediately guaranteed because it's still up to the partner or strategy you go with.
Read more about PPC here: "5 Reasons Small Businesses Should Use PPC Advertising"
PPC Agency Onboarding Checklist for Small Businesses
The onboarding journey is important because it gives the agency a good first impression of its new clients. They have their responsibilities on their end to ensure they can serve you to the best of their abilities, but you, as a small business owner, also have tasks to complete.
The onboarding experience can be divided into three main stages: reviewing, hiring, and commencement. Splitting them will help make the process more manageable and less complicated. Being knowledgeable and knowing what to expect are essential to ensuring everything runs accordingly. Let's take a deep dive into each stage and give you a comprehensive checklist for each.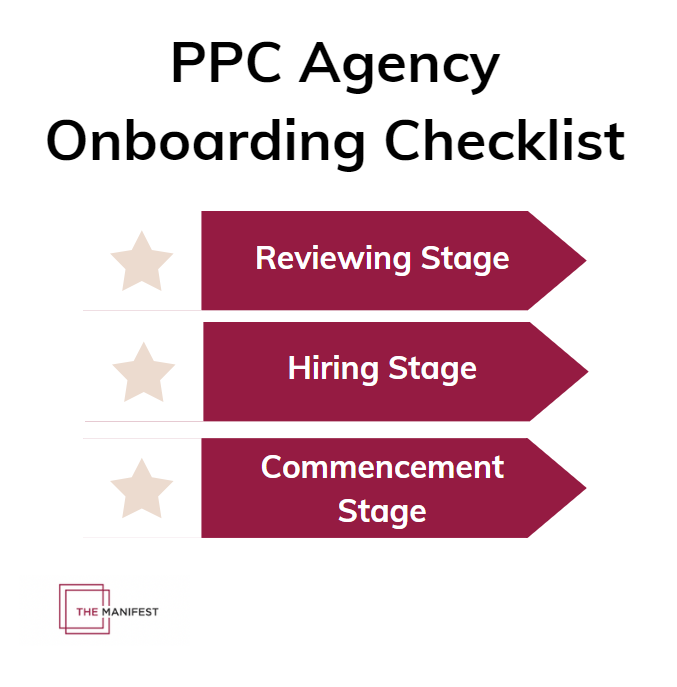 Reviewing Stage
The first stage after deciding to hire a professional PPC agency for your small business is the reviewing stage. During this period, you will need to carefully consider the reputed service providers in the market, assess their skills, and see if they're the right fit for your project.
Here's the checklist for this stage:
Go to The Manifest and Clutch to view their directories of the leading PPC agencies
Filter the options by:

Reviewing their client testimonials
Checking their case studies
Seeing the type of PPC they focus 
Comparing their work against other PPC agencies 
Researching if there are complaints about their services
Cross-check their references
Verifying their credentials

Contact the vendors to inquire more about the details of their services
After you've narrowed the options to two or three vendors, do your due diligence and request or check the following:

Certification of good standing
Proof of tax compliance
Insurance
Business permits 
Business licenses

Request a quote or proposal for your project
Examine their non-disclosure agreements
Once you're confident they're the right service provider for your small business, reach out to them again to officially request the contract. However, if you're still having trouble narrowing the options or finalizing which service provider to go with, reach out to The Manifest's team for a consultation.
If you're unsure about how much budget you should allocate for PPC, read this: "How to Create a PPC Budget [With Template]"
Hiring Stage
The initial stage is where you filter the options in the market, but the hiring stage is where you look out for your business. This second stage is essential to ensure you get the most from your investment and that you don't end up with unfair risks.
It's alright to be extra cautious because investing in a service provider isn't a small feat for small businesses. Check out our checklist for the hiring stage:
Free your schedule to read and review the contract they've sent. Make sure to check everything before you sign: 

The contract must have well-defined terms and conditions for their services
The language used must be clear and understandable
The responsibilities of both parties are stated in the contract
It has a fair indemnification clause and dispute resolution
The partnership's key metrics and benchmarks are stated
The deliverables are indicated
The renewal clause and retention provisions are transparent
The payment terms are clear 

Once you've reviewed the contract, discuss it with your leadership team or co-owner
If there are still concerns regarding the contract, take a moment to consult a lawyer
Don't hesitate to negotiate if you require some changes to the document
Signing the contract is the natural step after you've ticked all the boxes in the second stage. No business owner wants to put their signature if they're unsure of the terms, especially if they look like another template contract. The biggest mistake any business owner can do is to sign a paper that has not undergone a thorough review.
Additionally, most agencies will immediately introduce the account manager or point of contact from there on after the contract signing. Ensure you get all the crucial contact details because they will mostly entertain your inquiries and follow-ups.
Commencement Stage
It's not time to celebrate the start of your working relationship yet. Before you sit back and let them do their job, you'll officially welcome them into your business. This last stage sets the tone for your collaboration.
Tick all the boxes in this last checklist:
Hold a meeting with your team to assign responsibilities and discuss matters such as:

If you aren't the main point of contact, assign someone from your internal marketing team that will serve as the vendor's contact
A teammate who will oversee metrics
A teammate that will host regular check-ins

Prepare a presentation deck with slides about the following:

Introduction to your business
FAQs about your organization
Introduction to the PPC agency
FAQs about the PPC agency
Basic FAQs or intro about key team members from both ends
Project outline, scope, and objectives
Expected deliverables and milestones
Regular workflows
Responsibilities of both parties
Ideal timelines

Prepare a login or access spreadsheet with the following:

Social media accounts
Your website's CRM
Google Analytics account
Login credentials to other PPC software you've initially tried in the past

Coordinate the preferred or ideal cadence for holding regular check-in meetings
Choose a communication tool or platform for the project (i.e. Slack, Google Chats, and Skype)
Determine the project management tool/s required for the project (i.e. Trello, Hubspot or Asana)
Prepare another spreadsheet with the contact information of every team member involved for easy access (e.i. Phone number and email addresses)
Send welcome emails inviting everything to the kickoff meeting\
Host the kickoff meeting
Prepare an exit strategy
An exit strategy is meant to help avoid or minimize losses in case of the worst-case outcome. If your partnership doesn't go as planned, an exit strategy will ensure you can protect your small business. Having it in place is an additional peace of mind for any business owner.
PPC Traffic Converts Better
Every business owner just wants the best for their business. PPC is proven to deliver great results if done right. It produces tangible results quickly, it's cost-effective, it's easy to control, and it can supplement your marketing strategy.
Compared to organic traffic, PPC traffic converts 50% better. Despite many misconceptions about it, marketers prefer PPC because it brings good value to your business.
With an experienced and proven partner, you don't need to worry about your PPC. Work with capable hands and connect with the leading PPC agencies on The Manifest.
Additional Readings: