7 Social Media Management Benefits for Small Businesses
7 Social Media Management Benefits for Small Businesses
It's already 2023, if you're still not maximizing social media for your small business, then you're not doing it right. Whether it's just on Facebook, TikTok, or even LinkedIn, managing a social media account can help you take your business to greater heights. 
According to Oberlo, the number of social media users worldwide is expected to climb to around 4.89 billion in 2023, representing a 6.5% jump from last year. From remote areas to major cities, you can see microcosms on any platform, making social media vital to the success of local and small businesses.
Despite this, some people have pushed back against investing in social media and not seeing its benefits. For the case of small business owners, it's given that budget isn't as abundant as bigger enterprises — but that's the beauty of social media. You don't need to spend thousands upon thousands of dollars to make a mark.
Social media doesn't require you to have a boatload of resources allocated. It's not simple but the merits it brings make it worth it. Monitoring online conversations, posting or creating content, working with influencers, and developing strategies are some social media management responsibilities.
To take care of the confusion, social media management leans more towards maximizing and handling social media accounts. Meanwhile, social media marketing focuses on executing strategy and generating leads. Those two have overlapping tasks and goals but are very distinct in their rights. 
Social media management takes care of your demographics, ensuring your target audience feels that you're using your social networks to make genuine relationships. That's not cheesy — your audience can tell if you're not listening and connecting with them.
This piece will discuss the benefits of social media management to your small business.
7 Social Media Management Benefits
Social media for business is a low-cost way to make new connections with customers and tap into lifecycle marketing more effectively. 
Here are our top 7 advantages for social media marketing:
Social media can spread your reach in ways not possible through other outlets. 
1. Builds Online Brands
Increasing brand awareness is often talked about when it comes to digital marketing, and it's also a huge gain of effective social media management. Taking care of your social media profiles won't cost you a fortune; unless you hire a high-end marketing agency.
Social media platforms are natural places for reputation management in the digital age. Potential customers will always take a moment to look up your business and see your services or products.  
Staying active and curating well-produced content keeps you on your customers' minds in real time. Your small business needs to build brand awareness to complement lead generation and attract new customers in a world full of all kinds of businesses. 
In fact, 55% of consumers learn about brands or companies on social media.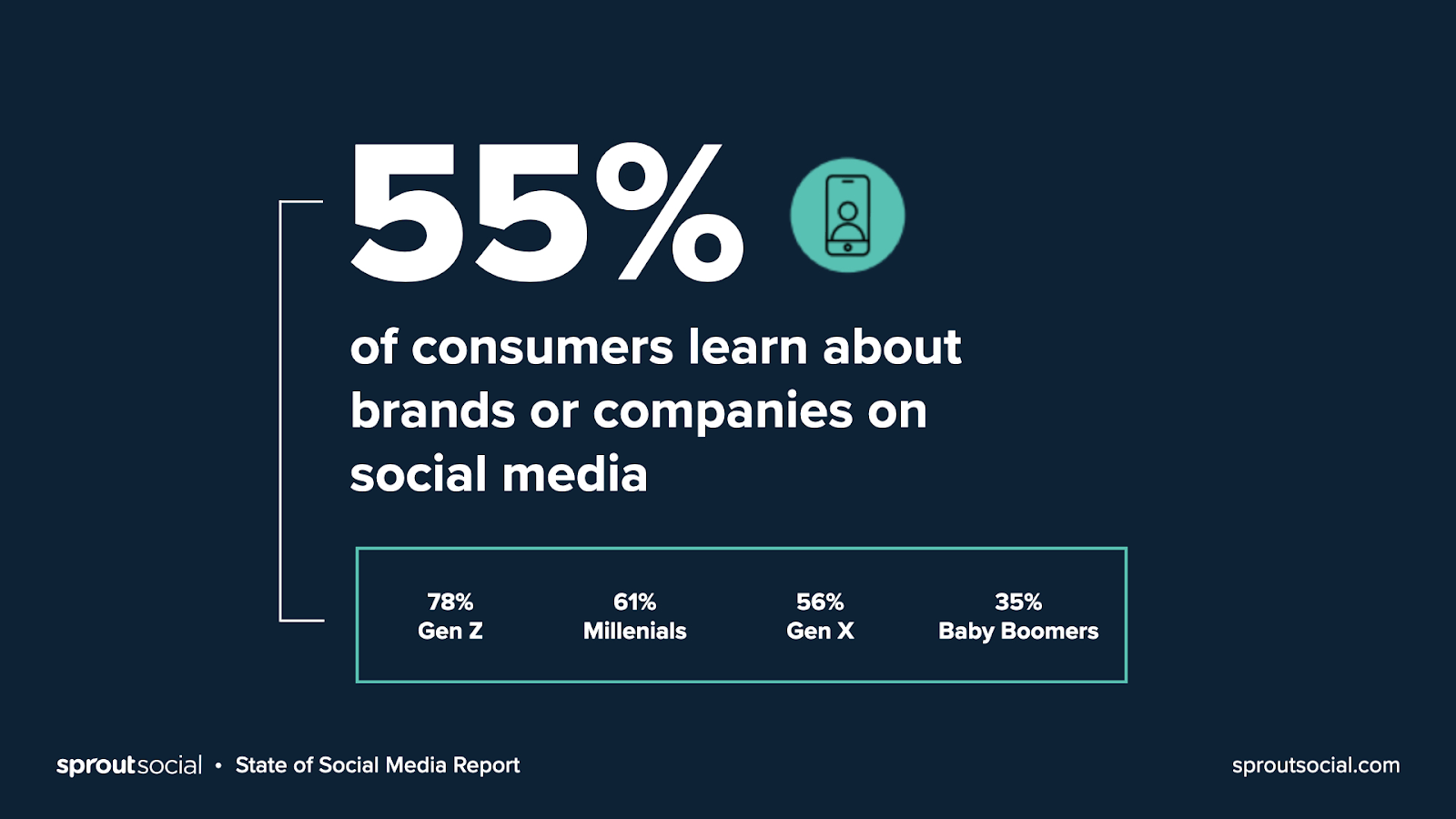 ​
Source: sproutsocial
2. Boosts Web Traffic
Website traffic is a necessary metric, especially in the e-commerce space. The more legitimate your business looks on social media, the higher chances that potential customers will visit your website to see more of your products. What better way to keep your accounts in tip-top shape than social media management?  
If you're mainly selling your products from your website, make sure that your social media profiles complement your website — they're not replacements for your website.
Some of the most popular social media platforms can help direct traffic to your business website. Facebook, for example, can increase web referrals by nearly 75%.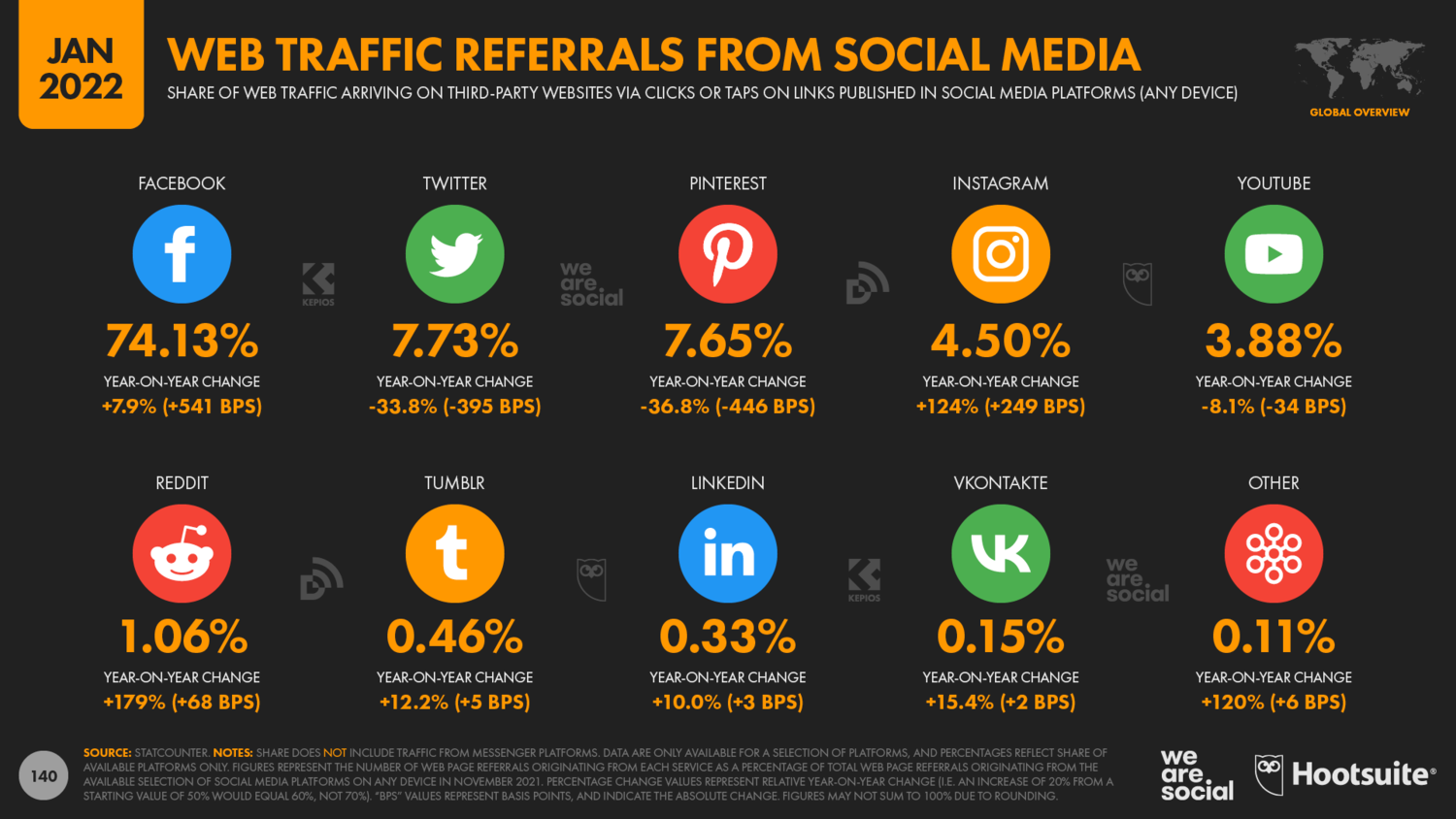 ​
Source: DataReportal
To be crystal clear, social media management does not directly impact your SEO efforts or search engine ranking. However, the links you share on your social media posts can increase your website's exposure. The links then add up and can eventually support your marketing plan.
Interested in additional data about the relationship between social media and web traffic? Check out this piece from Visual Objects: "Data: Increase Website Traffic With Social Media"
3. Cost-Effective Advertising
This piece emphasizes that you won't need to break the bank with social media management. Optimizing content, studying the algorithm, and controlling your social media channels don't cost a lot.
According to Statista, the average time spent by social media users daily is more than 2 hours or 147 minutes. These users consume content, and that provides a plethora of opportunities for businesses. Using relevant hashtags, consistently pushing content, and updating your profiles help keep your brand on top of their minds. 
This doesn't necessarily mean that you need to be active online 24/7 but rather seizing the tools available like scheduled posting and automated response on Facebook.
On another note, the rise of micro-influencers and trends in recent years brought the wave of user-generated content (UGC)-centric strategies. UGC is a prime example of cost-effective advertising but it doesn't fit all businesses — so if it suits your brand, don't hesitate to incorporate it into your marketing efforts.
4. Improves Communication with Customers
Social media offers a swift way to connect with customers, unlike email or calls. For customers, it's easier to just reach out by messaging a brand's social media account if they have simple inquiries. They don't have to open another app to access their emails, search for a business email address, and compose an email. 
Consumers expect your brand to be responsive and available on social media. They assume you can provide customer service through chats or sometimes even in comments. Thus, social media management should prioritize maintaining good communication and relationships with your target audience.
It's common for consumers to use social media platforms to engage with brands. Their reasons include resolving customer-care-related concerns and inquiring about your products or services.
Make sure that no message goes unanswered. Not responding to your customers can lead to bad relationships with them. It's easy for them to think you don't care about keeping good ties if you lack social media management.
5. Collects Feedback and Insights from Your Customers
In conjunction with communication, social media management allows you to streamline the process of directly accumulating data and comments from your demographic. You can see which posts get more attention or interactions without directly chatting with them. 
When you keep an eye on metrics, you'll be able to optimize the content you produce, which leads to consistent interactions. More engagement will signal the algorithm to continue showing your brand to their social media feeds.
Feedback can also come in other forms like ratings or reviews on Facebook. Business pages allow customers to write feedback regarding their experiences with the products, services, or customer experience. Wouldn't it be nice if you could gather more reviews and maintain a high rating? 

​
Read more about the importance of feedback to your business' success: "Why Listening to Customer Feedback Matters"
6. Better Market Research
Social media management, over the years, has become a means to research the market. Gathering different insights and data about new products or the demand for your products is made easier by social networking platforms. You can see how many consumers are looking for the product, understand your demographic's lifestyle preferences, and see what customers like about rival products.
Research involves looking at the competition. Social media management enables you to keep an eye on their reach, what type of content they produce, and what strategies they apply to attract their customers. You can study those and apply them to your small business.
There are already tools available that allow you to conduct direct research on social platforms like Sprout Social. 
With social media management's help, you'll see if your product fits the engagement or community you're cultivating around your social media channels. You can find both quantitative and qualitative data when researching through Facebook, TikTok, or Instagram.
7. Growth and Increase in Sales
One of the biggest benefits of social media management is support for sales funnels. You need to get the word out about your brand as a small business. Maintaining good relationships and a strong online presence can help you; social selling is a term for this.
In essence, it refers to establishing relationships as an invaluable component of the sales process. Through social selling, your business focuses on retargeting using social media platforms and establishing rapport with a community of potential customers. Your small business can replace other strategies like cold calling when done correctly.
Social selling is more important than ever since social media is now used by over half of the world's population. Business leaders who innovate rather than follow trends invest in social media management to support social selling and sales. 
Level Up Your Social Media Game
Whichever way you look at it, social media management is good for small businesses. The only negative about social media management is the risk of negative reviews that can damage reputation. However, that's not a concern if you're confident with your product and customer support. Supplementing your efforts with social media management can lead to great results.
One more thing, social media management requires care and attention. Before you expect good results, you need to put in the work. 
Work with a reliable service provider to get the best possible benefits from social media management. 
Additional Reading: