A Nonprofit's Guide to Choosing the Right IT Provider
A Nonprofit's Guide to Choosing the Right IT Provider
Just like startups and businesses, nonprofit organizations need IT solutions to supplement their growth. In this digital age, it will be hard for any NGO to succeed in its mission if they fail to embrace new technologies. Here is our guide to helping nonprofits choose the right IT provider.
While nonprofits generally have simpler information technology (IT) needs than for-profit businesses, that doesn't mean they don't need IT services to improve their operations. Technology is an essential part of a modern nonprofit organization as it allows organizations to optimize their efficiency and secure important data.
The common misconception is that since nonprofits don't aim to sell their products, they don't need to invest in cutting-edge systems for their growth. That's a grave mistake.
In actuality, not having proper IT systems in place can hold back nonprofits, preventing them from maximizing their reach. Solutions like the cloud and Internet of Things (IoT) systems can significantly help organizations gain the competitive edge they need.
However, choosing the right IT provider for your organization can be overwhelming, especially for those with limited knowledge and experience within the industry. Here's our in-depth guide to help your nonprofit organization connect with the perfect IT service provider.
After you read this guide, you can also find the leading IT service providers here on The Manifest.
What Value Can Nonprofits Gain from IT Providers? 
Essentially, IT brings a plethora of advantages to nonprofit organizations, helping them weather industry trends and innovations. Investing in the right IT solution and service provider can help non-governmental organizations (NGOs) with the following:
Improved Transparency
Stakeholders look to support NGOs that are fully transparent with their expenses and operations. Investing in IT solutions can help organizations store records of their spending, allowing people to see where their fundraising efforts and donations go.
Better visibility and transparency give potential donors more confidence and motivation to support your cause.
Access to Real-Time Data
Relying on monthly and periodic reports can hold your productivity back, limiting your view of how your organization is operating. Having access to real-time data is one of the biggest benefits of investing in the best technologies like donor management systems and workflow apps.
Real-time data can help you make better decisions, enabling your organization to pivot anytime needed or position itself to overcome upcoming challenges. 
Streamlined Productivity
IT service providers can give you access to important tools to help you with automation and system integrations. Experienced IT professionals have insights into which nonprofit CRMs to use, how to include accessible donation forms, and introduce new technology to help your organization be more productive.
With a streamlined IT system in place, you basically save your staff time and energy, reduce overhead costs, and improve work accuracy.
Better Security
Compared to traditional means of storing data, the cloud has better security and accessibility. Working with an IT partner to help migrate, store, and optimize your cloud operations can give you the peace of mind you need as you focus on your initiatives.
Additionally, IT service providers usually offer cybersecurity services essential to all types of operations. Nonprofits are also the target of vile online attacks. Cybersecurity is important when it comes to safeguarding sensitive data, protecting different assets, and avoiding malicious cyber threats.
What's the Difference Between IT for Nonprofits and Forprofits?
There are several differences between how nonprofit organizations and for-profit businesses view IT solutions. The main distinction stems from their purpose and function.
Basically, for-profit businesses and institutions aim to reach more people in order to close more sales and earn more. Because of that, they need IT solutions that can support their sales, marketing, and operations.
On the other hand, nonprofit organizations strive to help different causes and advocacies, and they don't intend to earn profits.
As of 2022, the global nonprofit software market is valued at a whopping $4145.24 million, and experts predict that it will continue to grow at a CAGR of 7.07%. Its expansion can be attributed to more organizations using technology to gain strategic advantages, minimize risks, and understand their markets.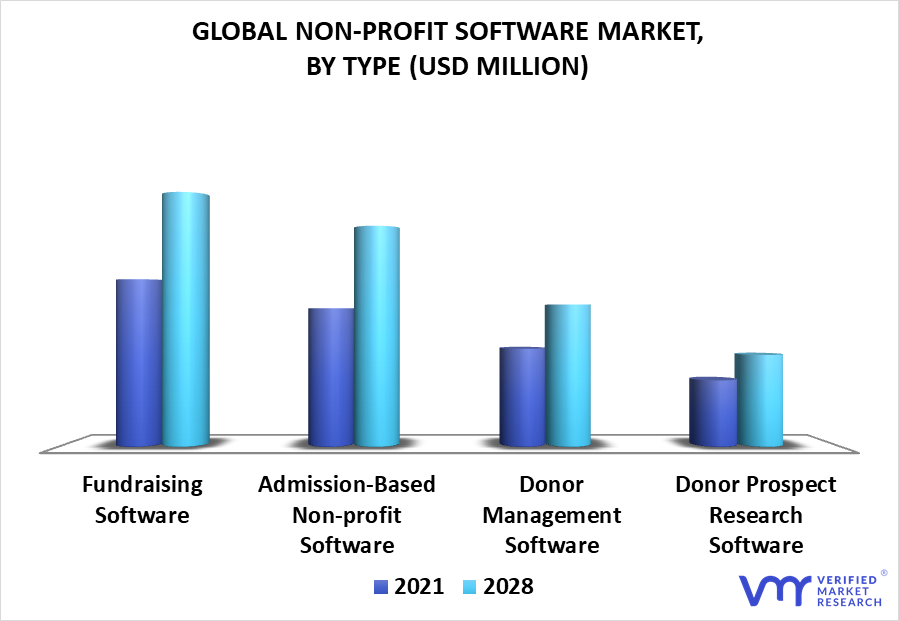 Source: Verified Market Research
Nonprofit organizations need IT solutions to help them do their job better, be more productive, and improve transparency.
How to Choose the Right IT Provider
There are no exemptions; nonprofit organizations need technology to continue their pursuit of helping marginalized communities and causes. Let's break the process into four main stages to help make the selection journey feel less intimidating. 
Understand Your Nonprofit
The first and most important stage of the journey is understanding your nonprofit and its needs. Take a moment to assess your organization's financial situation and identify current challenges.
That knowledge will be crucial when setting a budget and allocating resources for your project. Being prepared is miles better because you know that service providers won't be able to upsell their services to you.
Moreover, your assessment can help you find out which type of IT services you should avail. Remember, there are tons of different IT services, and every organization has its own unique needs.
Once you add up everything, it's easier to decide whether you will need a long-term or short-term partner and a remote or nearby service provider.
It's important to have a good grasp of what your nonprofit needs to know how to approach it. You will struggle with the upcoming stages if you don't complete this stage.
Read more here: "IT Services Pricing Guide 2023"
Vet the Options
Now that you understand your organization's need, you should take advantage of that knowledge to make the vetting process easier and less overwhelming. Carefully screening the options available in the market ensures that you don't end up with an irresponsible or dodgy IT partner.
During this stage, it's your responsibility to ask your network for trusted recommendations, read different reviews about service providers, and assess portfolios.
First-hand testimonials from people you personally trust are invaluable, but if you don't feel confident with their suggestions, there are also B2B directories like Clutch or The Manifest that are designed to help you narrow the options and connect with the ideal IT service provider for your needs.
Budget is among the biggest concerns of any nonprofit organization. Typically, clients want to work with service providers that have flexibility within their budget range. However, that's not the only factor you need to consider.
When vetting firms, avoid service providers that offer complicated subscription plans and payment terms. Make sure you know that there are no hidden fees and costs that can give you headaches.
Schedule a Consultation
After the vetting stage, you still won't know if that firm is the perfect match for your organization. That's why the initial consultation or discussions with your selected IT provider is important.
The first conversation can help you gauge their work, know more details about their expertise, and learn more about their priorities. In this stage, you'll share more information about your organization, ask them critical questions, and see whether they're the right fit for the job.
It's alright to schedule multiple appointments with one or more service providers, especially if you don't immediately feel confident about the decision. Don't feel pressured to sign an agreement with the vendor quickly and don't shy away from negotiating with them. 
Sign the Contract
After you've negotiated and agreed on your partnership, the next step is to put ink on paper. However, before you put your signature on your contract, make sure to carefully read every line and detail.
Don't just assume that the copy they've put in front of you is fully aligned with what was discussed. The contract legally binds you after you've signed it. It won't hurt to take a moment to comprehensively look through the terms and conditions within the fine print.
Contract signing is the final stage in this piece — however, it's just the beginning of your journey with your chosen IT partner.
To know more about the onboarding process, read here: "IT Services Onboarding Checklist For Small Businesses"
When Should Nonprofits Outsource their IT Needs
Lack of internal resources and growing IT challenges are the two main signs that indicate whether your nonprofit organization needs to outsource its technology needs.
As NGOs expand, they eventually reach a point where their internal IT team members can't grow as fast and handle their unique needs. Sometimes, the bandwidth of responsibilities goes beyond the expertise of their internal staff, that's a clear indication that it's time to consider outsourcing.
If that's not the case for your organization, perhaps you have persistent IT challenges that hinder your ability to expand. Headaches brought by downtime, failure to maximize new software and hardware, and influxes of repetitive tasks are all IT problems that a dedicated partner can solve.
Often, the good rule of thumb is when you see an opportunity for an IT partner to bring value to your organization.
Nonprofits Benefit from IT Support
There are different types of IT solutions for all kinds of challenges. Be particular when choosing a partner for your journey. Consider their experience, model of operation, price point, and customer retention rate.
The key to maximizing your investments is making sure that you hire an IT partner that is transparent and a good communicator. There will be tons of service providers that will try to lure you, but go with the ones that you know listen and understands.
We hope this guide helps you know what to look for when choosing the right IT provider. Check out our list of the leading IT service providers here on The Manifest.
Additional Reading: