IT Services Onboarding Checklist for Small Businesses
IT Services Onboarding Checklist for Small Businesses
Successful onboarding can foster a great relationship between your team and your chosen IT partner. It's easy to feel engulfed by the preparation, especially for those without experience in outsourcing. Our client onboarding checklist can help you prepare and know what to expect when starting a new partnership.
As your small business grows, the more unique IT-related problems you will encounter. There are many benefits that small businesses can reap by working with a reliable IT team. However, finding the right service provider to be your partner is just the start of your journey.
After you've identified the perfect IT firm for your needs, the next challenge is the onboarding process. It is often considered an overwhelming and stressful time because there are several tasks and elements to remember.
Many small and even mid-sized businesses don't have extensive experience working with a third-party service provider. Some may not know what to prepare for their onboarding program and expect during the process.
Asking a few questions won't cut it. To make sure you get the most out of your investment, having a checklist during the onboarding phase will be handy.
In this piece, we'll break down everything you need to know during the onboarding process. Here's our IT services onboarding checklist for small businesses.
Having trouble searching for a reliable partner? Find the leading IT services providers and consulting firms on The Manifest.
Why Do Small Businesses Need IT Solutions?
Every business, big or small, can benefit from IT services, but investing in state-of-the-art technology solutions isn't just for large corporations. Many small businesses can also invest in IT to improve their operations, automate processes, and secure their invaluable data.
There are tons of technology-related problems that can plague a small business.
In a study conducted by CloudRadar, it was found that the average cost of data crashes for small businesses is $10,000 every hour. The cost raises concerns over mismanaging and unprotected data.
Additionally, Verizon reported that 43% of cyber-attacks targeted small businesses. This is because most cybercriminals know that big corporations have well-structured cybersecurity measures in place so they commonly target smaller shops that they believe have fewer security protocols.
Instead of building an in-house IT department, small businesses can save plenty of resources by hiring a credible IT service provider. In this age where business owners and entrepreneurs are constantly looking for a competitive edge, having an IT partner behind your back can help you scale your business in every aspect of its operations.
IT Services Onboarding Checklist for Small Businesses
Onboarding a service provider into your business is important and stressful. It's their first impression, setting the initial tone of your partnership and the stage for what you can achieve together. Typically, the IT services onboarding process can be split into four major phases — research, signing, introduction, and integration.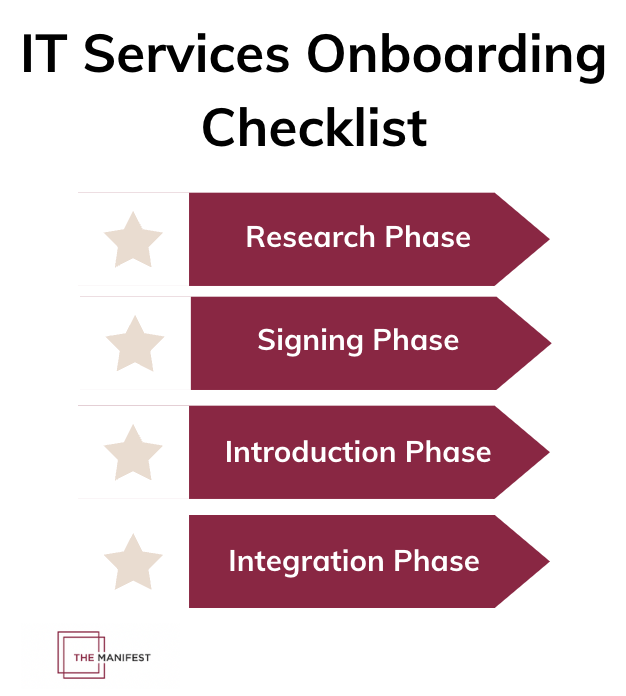 As mentioned above, there are several moving components to keep in mind when onboarding. If there are misunderstandings, the service provider might now give you the value you deserve for your investment. To help you be more prepared, let's dive into each phase of the process.
Research Phase
After you've decided that you need an IT partner for your business, the research phase immediately commences. During this period, you're responsible for thoroughly looking through the options in the market, evaluating service providers, and understanding more about your business.
Take a look at our checklist for this phase:
Identify which type of IT services your small business needs
Look at The Manifest's directory to find the leading IT services providers
Carefully assess their company profiles
Read and verify their client testimonials 
Review their case studies or portfolios
See if there were complaints about their work
Request for a proposal or quote (RFP)
Do a thorough background check of the company

Check their business permit and licenses
Check their accreditations and certifications
Check their proof of tax compliance
Check their certificate of good standing
Check their insurance 
Check their confidentiality agreement or non-disclosure agreement
During this phase, always look for service providers that can accommodate your needs within your allocated budget. You should also consider their location — should you hire a nearby partner or does a remote partnership work for you? Consider their flexibility, responsiveness, and even their reputation.
Read here: "How to Create an IT Budget [With Template]"
Signing Phase
After you've gone through the first phase and identified which service provider best suits your company, the stress doesn't end. The first phase isn't the only phase where you'll be required to read and review documents. In fact, the signing phase requires you to be more aware and vigilant.
Here is our checklist to guide you during this phase:
Schedule an appointment with the vendor

If needed, take a moment to negotiate the costs

Consult with a lawyer if needed
Consult with the rest of your leadership team or co-owners
Thoroughly review the contract before signing

Look at the terms and conditions
See if the language is clear and not ambiguous
Make sure termination and exit details are defined
Review clauses like indemnification and dispute resolution
Make sure that both party's obligations are defined
Look at the payment terms
Confirm the renewal or retention provisions
Define the benchmarks and metrics for the project
Outline expected milestones
Clarify the Service-Level agreement

Sign the contract
Whether the service provider used an automated template or drafted a contract from scratch, make sure you're avoiding any unfair risks. You can't afford to miss even the most minute detail because it can be costly in case you face the worst-case scenario in the future. 
Introduction Phase
After signing the contract, don't call for a celebration just yet. The IT onboarding process just gets busier following that. The introduction phase allows your new partner to get acclimated to your company and its culture. Perhaps, it's the biggest phase as it sets the early chemistry between your team and their team.
 
This is our checklist for this phase:
Prepare everything you'll need for the kickoff meeting and create a presentation including the following:

Project outline
Your company's introduction and FAQs
An introduction about the IT service provider
Main contact points
Project purpose
Project objectives
Project scope
Expected milestones
Target KPIs and results
Workflows and responsibilities

Send out welcome emails and invite everyone to the kickoff call
Conduct the kickoff meeting
Coordinate what is the best time to hold regular check-ins and meetings
This phase passes by quickly. Everything happens during the first day or first week of the partnership. The presentation should be ready before or on the start date and the kickoff call should immediately follow.
Integration Phase 
Following the kickoff meeting, the next and final phase of the onboarding process is the integration phase. This time should be dedicated to transferring access, observing how the initial workflows run, and wrapping up the onboarding process.
Take a look at our checklist for this phase:
Determine which platform will be used to communicate, i.e., Slack or Skype
If needed, decide which project management tool/s will be used for the project i.e., Trello or Asana
Create an access permission and information sheet for the IT service provider that includes the following:

Switches 
Servers
Email portals
Firewall
Gateway routers
Workstations
Domains

Prepare docs or sheets that include the following:

Contact information of who will be the point of contact for your business
Contact details of who will be the point of contact from their end
License information of your existing software
An inventory of all hardware and devices used in your business

Allow them to set up a remote monitoring and management system
Schedule a training session for you and your team for new software that the service provider will set up
Prepare an exit strategy
Having an exit strategy in place doesn't indicate that you're not confident in your partnership. It is crucial that you have that as a measure to minimize your losses and retrieve your data securely in case something doesn't go according to plan.
Don't Be Intimidated by IT Services Onboarding
Onboarding an IT service provider into your small business may seem like a stressful and time-consuming task. With everything happening fast after you've signed that contract, remember that clear communication is the biggest factor that influences the onboarding experience.
It's okay to ask them questions if you still feel overwhelmed. Being transparent with your IT service provider makes them feel that they are trusted, helping you build a stronger relationship.
Making sure that the new team feels comfortable with your team and company culture is essential. Don't be nervous, though, because as their new client, they also want to impress you and deliver good results.
An IT partner with a proven track record can give you the peace of mind you deserve. Connect with the leading IT service providers on The Manifest.
Additional Readings: