4 Ways to Convert Freemium App Users to Paid Customers
4 Ways to Convert Freemium App Users to Paid Customers
The "freemium" model is often used to build up a loyal app fan-base before generating revenue through a paid app. This article will discuss four ways companies can successfully encourage free users to convert to paid subscribers and provide a few examples of apps with highly successful conversion rates.
One of the greatest words in the English language is "free." You can put that label on just about anything and garner some interest.  But for a business to offer something for free, there has to be something gained in return. 
That is especially true when it comes to a mobile app, which costs a significant amount of time and money to develop and launch. Monetizing your app can help to offset development costs, but there are limits to those strategies.
The alternative is to charge for the app, but that can be a risky proposition for businesses. After all, many potential users won't spend their hard-earned cash on an unfamiliar download.
That is where the "freemium" model comes in—it allows a company to build a loyal app fan-base before generating revenue through a paid version of the app. But how can a company successfully convert free users to paid subscribers? 
This article will discuss several ways to convert your freemium app to a paid model:
Getting rid of intrusive advertising
Making premium features/content desirable
Creating a sense of urgency
Using a rewards program
We will also look at some prime examples of companies that have successfully converted free users to paid users.
Explaining the Freemium Model
The freemium business model, which mixes free and premium services, is dominating the app market. Users don't have to pay to download your app, but they will have to eventually pay to access more valuable features.
There are three different types of freemium apps, and each type has its own unique benefits:
Apps with premium upgrades – Users are able to purchase advanced (and non-consumable) features within the app, such as additional filters in a photo sharing app. These purchases occur only once and do not expire.
Apps with subscriptions – Users are able to access premium services, like additional storage or monthly access to exclusive content, by paying a fee charged on a recurring basis. These purchases are typically renewed automatically.
Apps with consumable goods – Users are able to purchase different types of consumables to further their progress within the app, such as extra lives, temporary power-ups, or credits to purchase upgrades. These in-app purchases have a limited shelf life or can only be used once, but they can be purchased again as the need arises.
Getting free users to make those in-app purchases can be a challenge. Typical conversion rates range anywhere from .5% to 2%.
Strategy 1: Charge to Remove Ads from the App
One of the most popular ways to monetize your app is to include advertising. However, to the app user, ads can be intrusive and unwelcome, especially if they come at an inopportune time.
Imagine you're eating a slice of pizza, but you have to stop every 2 bites to watch a 30-second advertisement. How mad would that make you?
Mad enough to pay an extra $1.99 to be able to eat your slice in peace? Very possibly, which makes removing ads as a paid premium a valid strategy.
Offering users the ability to turn off advertising within your app allows you to trade one revenue stream for another. 
One of the more successful apps to convert freemium users to the paid model is Spotify, which boasts a massive 27% conversion rate. 
The free version of Spotify includes advertisements every few songs.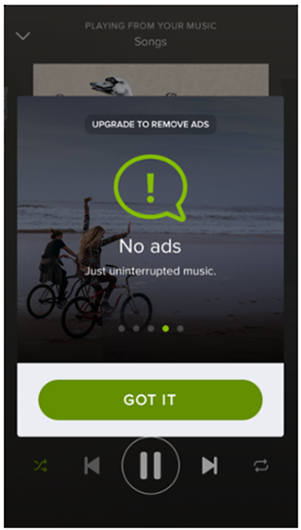 When a user tries to skip an advertisement, Spotify provides a gentle (but not too subtle) reminder that only paid users can enjoy an ad-free playlist.
Strategy 2: Make the User WANT to Upgrade to Access Premium Content
Most of us at some point have become intensely immersed in an app. Whether we are chasing invisible Pokémon characters or snapping puppy-face pictures of ourselves, we find joy and comfort within the app.
A smart company will use that immersion as an opportunity to nudge a free user to upgrade.
This can be as simple as setting a "freemium limit" on functionality. Once that threshold is reached, your user finds him or herself at a crossroads deciding whether or not to upgrade.
It's all a matter of knowing which features to withhold, and the right time to prompt the user to upgrade.
For example, Hootsuite—the popular social media management tool, only allows free users to manage up to three social profiles. This freemium approach allows users to get familiar with the benefits of using Hootsuite in order to drive users to upgrade.
Hootsuite's conversion approach works because most social media users have more than three social media profiles, so upgrading is necessary to use the app to its full potential.
Strategy 3: Add a Time Limit to Create Urgency
We've all heard the announcer on those commercials: "Act now! This is a limited time offer!"
Those words can have an impact for many users, but a subtler approach can provide even more success for your conversion rate.
Rather than setting a "doomsday timer" on your app, you can often win over free users by giving the full premium version away for free within a trial period. This allows the user to realize all of the benefits of the app, which should easily make the case for spending the money on the upgrade.
One app that uses the trial period strategy successfully is TuneIn Radio, which offers its Premium tier for a limited time so customers can experience the full functionality of the app. TuneIn also makes it seamless to convert the free trial to a paid subscription.

This strategy can also help with user retention. Free users in a trial period will often use the app more to take advantage of the premium features, while paying users are more likely to return to a mobile app to get their money's worth.
Strategy 4: Offer Exclusive Paid Content
Many freemium-to-paid app users upgrade to unlock premium content or functionality within the app, playing on the psychology of, "We crave most what we cannot have."
Exclusive content is a way to reward users for converting to the paid version. This exclusive content should be highly engaging and provide the user with justification for the purchase.
Additionally, the exclusive content for paid users should be recurring, such as adding a special section that is only available to those who make the purchase--a "VIP area," so to speak.
There are a number of rewards your app can offer to those who upgrade from the free version:
In-app currency – Users are granted extra tokens, lives, power-ups, and the like for completing the purchase.
Customization – Users gain the ability to change the app's appearance through the use of colors or decorations without changing the app's functionality. 
Loyalty discounts – Users who subscribe for longer periods of time (e.g., annual vs. monthly) are offered a discounted rate to incentivize the larger purchase.
The bulk subscription strategy worked well for Newton, a clean-looking email app with a considerable amount of powerful features, such as read receipts, scheduling, cross-platform snoozing, rich sender profiles, and connections to third-party apps.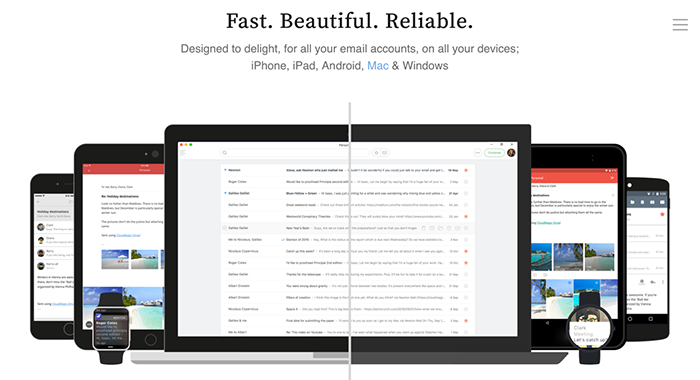 Newton reportedly offered a $10 per year savings for users to purchase an annual subscription.
Seeing Conversion Through the Users' Eyes
The freemium model is a popular way to monetize your mobile app while gaining valuable downloads and usage. Distributing your app for free can generate revenue from the 2% of users who are willing to enhance their experience by converting to the paid version.
In order to convert those users, you need to employ strategies that provide tangible benefits. Removing ads, increasing interest in paid features, and setting time limits are just a few of the ways that you can turn your freemium app into a premium app.