Web Development Agency Onboarding Checklist for Small Businesses
Web Development Agency Onboarding Checklist for Small Businesses
Onboarding web developers for small businesses can be a daunting task that requires thoughtful consideration. With the right approach, however, it can be an effective way to ensure your business's success in the long term. Learn how to have an effective onboarding process for a web development agency.
Your company needs a website to have a competitive advantage in your industry.
Websites are crucial for small businesses looking to increase visibility, support their branding efforts, and attract customers.
Hiring web developers is an essential part of any small business's success.
Web developers can create a website that evolves and grows with a business, opening the company up to new opportunities and credibility for their target audience or new potential clients.
How do small businesses find the best developer for their website project?
The onboarding process is the first opportunity to see if a web development company and that small business will have a good, long-lasting client relationship.
Onboarding web developers for a small business can be a daunting task, from finding the right individual to understanding the necessary technical skills. Fortunately, there are steps that can be taken to make sure that the onboarding process goes smoothly and quickly.
This article will explore key tips and best practices for onboarding web developers into a small business.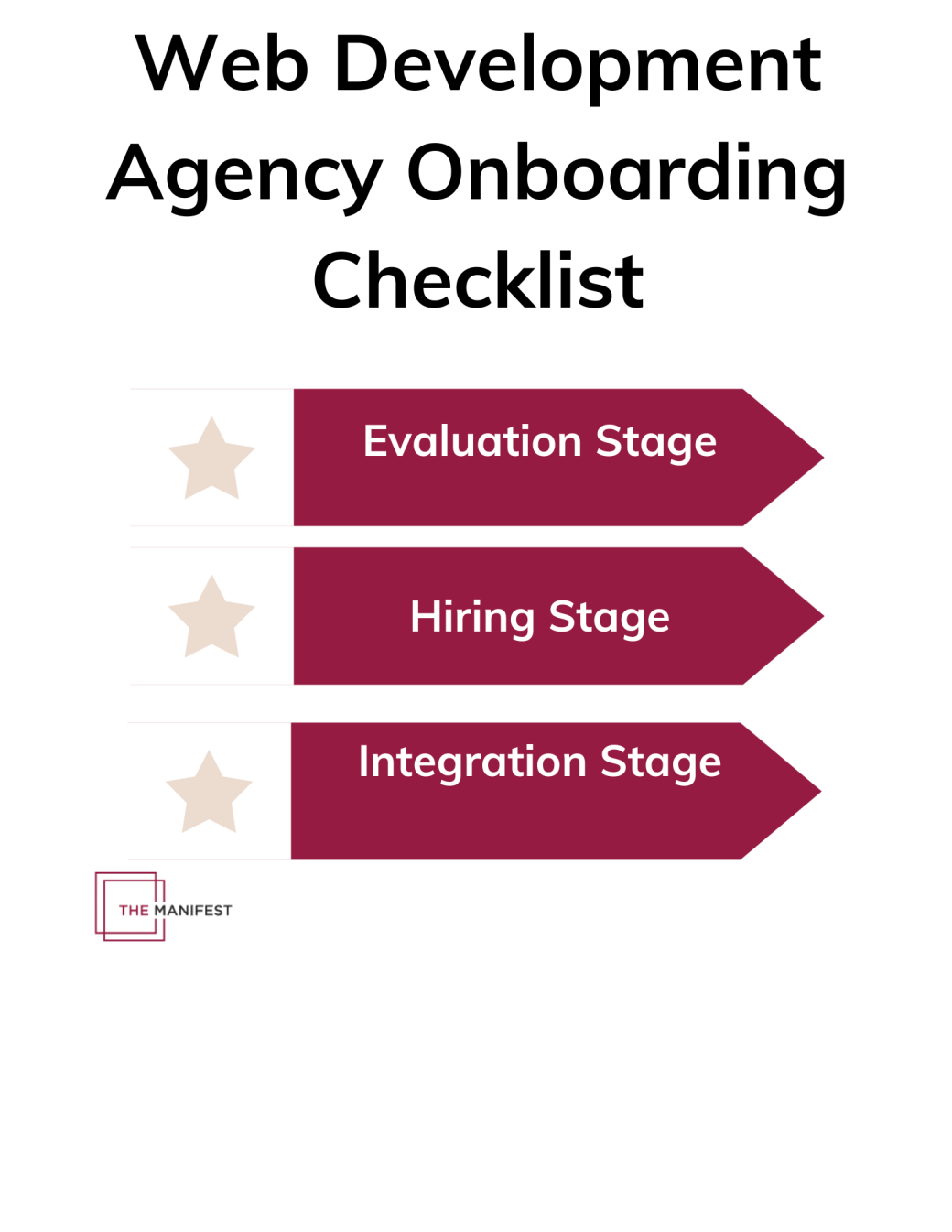 Web Development Agency Onboarding Checklist for Small Businesses
Evaluating
Hiring
Integration
Evaluating
Once your team determines that your small business needs a website, the first step is to select and evaluate the right company.
It seems like a simple process that could include a questionnaire and a quick interview, but there are plenty of factors to consider in order to receive the best value for your business.
Start with:
Exploring The Manifest to view their directories of the leading web developers

Filter options by:

Reviewing client testimonials
Looking at their industry focuses
Exploring their website
Verifying their credentials

Contact the web developers directly to receive more details about their services
Openly seek out referrals from others in your industry
Ask questions about:

Their expertise and technical skills
Their past deliverables
Their communication and collaboration style
Their approach to project management
Their tools, systems, workflows
Their ideal pricing structure
Their additional services outside of web development (SEO, digital marketing, etc.)
If a web development company meets all of your requirements and client expectations, you can request a proposal and set up an agreement.
Additional Reading: 'How to Choose a Web Developer [Checklist]'
Hiring
Once you've figured out which web developer best fits your company's needs, the next step is to hire them. Remember to tailor this process to your specific needs and company culture. It's also a good idea to involve other team members or stakeholders in the hiring process to gather different perspectives.
Evaluate the following during the hiring process:
Get all stakeholders and team members in a room to read and review the contract before signing

Ensure that the contract is well-defined with responsibilities, clear payment and project scope terms and that all deliverables are indicated.
If there are any concerns regarding the contract, be upfront and take the time to consult a lawyer.
 
Once your organization is confident in the terms laid out, it is time for the signed contract. During this process, the web development company will typically introduce you to the team or your account manager so the work can finally begin.
Additional Reading: 'How to Create a Budget for a New Website [With Template]'
Integration
The onboarding process isn't over once the web development company is hired. To ensure a seamless onboarding experience, complete the following:
Determine the main points of contact for your team and theirs to ensure the onboarding process runs smoothly.
Have a kickoff call that goes through the following:

Introductions
Project overview
Communication and timeline plans
Questions
Next steps for each target milestone

Provide them with a clear and structured plan that outlines the tasks, gives expectations, and a creative brief, if needed. This will help them understand their role and responsibilities from the start.
Ensure that all necessary resources for a new project, such as hardware, software, and access to relevant systems, are available before the developer joins. This will allow them to hit the ground running and start working on projects immediately.
Offer documentation, tutorials, style guides, and training materials to help the developer familiarize themselves with your company's development processes, coding standards, and technologies.
Clearly communicate your expectations regarding work hours, deadlines, and performance standards. Make sure you provide guidance on communication styles when it comes to project management tools (Asana, Trello, Monday, etc.), communication channels (Slack, Zoom, Google Docs, Teams, etc. ), team meetings, and more.
Foster collaboration by encouraging your team members to build relationships with the web developers.
It is important to note that web development teams and their developers have different preferences regarding onboarding or in other areas. While your team has hired them, try to treat them like a new client. Be flexible and adaptive to streamline the onboarding experience.
Even if a partnership has just begun, it is also key to developing an exit strategy. Don't think the worst, but do what is necessary to protect your business if an issue occurs.
Throughout the entire onboarding process, offer ongoing feedback and support. Encourage them to ask questions and seek clarity whenever needed. Your web development company needs to feel supported and valued as part of your team.
Essential Steps to Follow When Onboarding a Web Development Agency
Web development companies offer a great opportunity to help small businesses achieve their goals. By leveraging the latest technologies, project management systems, and best practices, these firms can provide value by creating bespoke websites that meet each customer's unique web design needs.
By providing a structured onboarding process and ongoing support, you can help the web developer integrate smoothly into your team and contribute effectively to your projects.
Businesses should consider onboarding a web development company to help them create an impressive and functional website for their business. With the right team in place, launching a successful website is achievable.
Get the right first impression by viewing our list of the top web development companies on The Manifest.