10 Benefits of Hiring a Virtual Receptionist
10 Benefits of Hiring a Virtual Receptionist
Increase office availability, streamline internal processes, and more by hiring a virtual receptionist company. Learn more about the benefits of hiring a virtual receptionist. 
 
When somebody calls your business, what do they hear? 
A busy signal? Someone saying "Please Hold?" Or a friendly professional, ready to help with whatever they need? 
When a potential customer or existing client calls your business, their interaction with your business impacts how they perceive your company. 
That's where a virtual receptionist comes in. By hiring a professional service provider to answer phones, you can provide better customer support and improve your brand image. Learn more about the benefits of hiring a virtual receptionist in this article.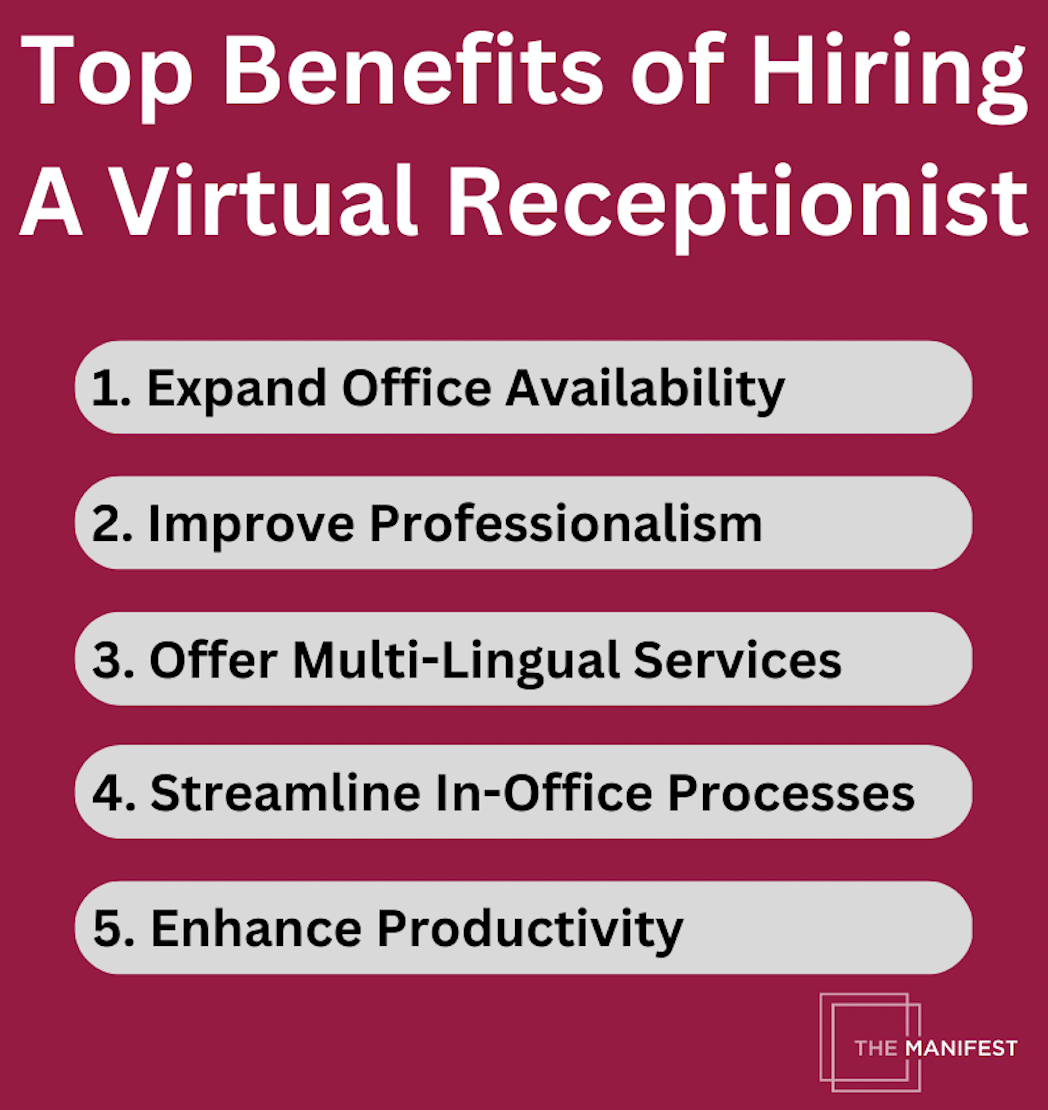 Looking to hire a virtual receptionist? Search top service providers on The Manifest. 
What is a Virtual Receptionist? 
Virtual receptionists are third-party service providers who answer calls for your business. In doing so, they improve your business's customer service and help you appear more professional. 
While most virtual receptionists are real people who answer the phone remotely, some service providers offer an automated answering system to accept inbound calls, route callers, and take messages. Determining which one is right for your business depends on your business's needs, preferences, and budget.  
What Services Do Virtual Receptionists Provide? 
Virtual receptionists offer a wide variety of services, including:
Phone answering 
Taking messages 
Routing calls 
Customer support 
Email management
Virtual receptionists do much more than answer phones. When hiring one for your business, make sure to get the most value for your dollar by investing in additional services. 
10 Benefits of Virtual Receptionists
Extend Office Availability
When you don't have anyone picking up your phone, you miss calls from potential buyers, existing customers, and other partners. But having round-the-clock in-office support is expensive and unrealistic. 
Virtual receptionists can increase your business's office hours by providing additional support. By having a receptionist available 24/7, companies can avoid missing customer calls and any missed business opportunities or sales. 
Many virtual receptionist companies have staff in different areas of the world, so your business can have someone answering phones at all times of the day or night. This also helps businesses with international reach connect with consumers in different time zones. 
Even if your business doesn't need someone answering phones in the middle of the night or on weekends, extending your availability by just a few hours can help you provide better service for your existing and potential customers. 
Increase Professionalism 
As we discussed before, how your business interacts with customers can have a huge impact on your brand image. With a professional answering service, you can make a better first impression and improve customer loyalty.  
Many virtual receptionist companies provide training for their employees, ensuring that customers have the best experience possible when they call your offices. 
Virtual receptionists are also well-versed on your brand guidelines and tone of voice so that their messaging is consistent with yours. They will be able to handle customer queries, present solutions, and hold friendly conversations. 
By providing a more professional image and better support for your customers, you'll be able to build stronger relationships with your customers. 
Provide Multi-Lingual Services 
One of the best reasons to hire a virtual receptionist is that you can hire teams who are capable of handling calls in multiple different languages. For businesses that are expanding globally, this can be a game-changer. By offering customer support in several different languages, you can provide a better customer experience overall. 
Streamline In-Office Processes 
Virtual receptionists do more than answer phone calls. They can also handle emails, take messages, route calls, and provide additional customer support. Essentially, they're trained to handle administrative tasks that can make your office run more smoothly. 
They can even help with scheduling to ensure your time is optimized. For example, if you own a private practice, a virtual assistant can schedule all patient appointments so there is minimal downtime between patients. This way, patients don't have to wait as long and you can see more people each day. 
Also, because they're well-trained, they can answer questions and direct callers to the right person, making sure that no one is spending more time on the phone than they have to. 
With more resources able to handle administrative tasks like this, you can make your business more efficient. 
Enhance Productivity
With a virtual answering service handling inbound calls and emails, you and your internal team will also be free to focus on more pressing tasks like business strategy, meeting with suppliers and clients, or simply producing more work. 
By freeing up your time to focus on important tasks, your staff can focus on more essential responsibilities. As a result, you're likely to see your business's productivity increase. 
Prompt Answering
With a virtual receptionist, your customers will no longer have to hear a busy signal or sit on hold for too long when they call your business. You can trust that your virtual receptionists will quickly answer your phone calls and respond to emails. This ensures that you don't miss any important calls or business opportunities. It will also provide your customers with a better customer experience. 
Provide Quick Resolutions
When you onboard a virtual receptionist, you will discuss your business needs. Most businesses can expect certain frequently asked questions or problems from their callers, which they can then provide to their virtual receptionists. This prepares them to deal with any customer complaints or issues in a timely manner. By resolving customer complaints quickly, you can make the customer experience better. 
Work With Trained Experts
Virtual assistant companies vet, screen, and train all virtual assistants to ensure that you have the most qualified professionals representing your business. Without outsourcing, this onboarding process would be time-consuming and exhaust many of your resources. By working with a virtual assistant company, you can take all of that off of your plate without sacrificing the quality of your hires. 
Scale Your Business Flexibly 
Hiring an in-house receptionist can be a grueling task, but companies that provide answering services and virtual receptionists already have a full staff of experts trained and ready to go. By working with them, you can get the support you need right away. Additionally, they will help you replace a receptionist if you need to.
They can provide more flexibility than an in-house receptionist. For example, an in-house receptionist would need to go home at the end of the day, but a virtual receptionist company can provide additional support for a few hours if needed. 
You may also find you need more support at different times of the year, such as around the holidays. Accounting companies, for example, may need more support around tax season.
This flexibility can be very beneficial for businesses that may need more or less reception support at different times. 
Become More Cost-Effective
Finally, hiring a virtual receptionist is more cost-effective than hiring a full-time in-house receptionist. You can avoid paying a fixed salary and benefits by hiring a virtual assistant rather than an in-house receptionist. Instead, you only have to pay for the hours when you have a receptionist working. 
Additionally, you can save money by avoiding costs like a physical reception desk, computer, and more. Often, these items are supplied by the virtual receptionist companies and are a part of your hourly rate. 
Hire a Virtual Receptionist For Better Support
Virtual receptionists provide various services that can make your business more efficient, cut costs, and provide a better experience for your customers or clients. 
By hiring a professional receptionist for your business, you'll enhance your brand image and appear more professional. Additionally, their support with administrative tasks like scheduling, routing calls, and replying to emails can ensure that your business provides the best customer support possible. 
Looking to hire a virtual receptionist? Search top service providers on The Manifest.