The Manifest Spotlights the Most Reviewed Service Providers from Orlando for 2023
The Manifest Spotlights the Most Reviewed Service Providers from Orlando for 2023
Following extensive assessment, The Manifest releases its final rankings of the most reviewed and recommended B2B providers from Orlando, Florida this 2023.
FOR IMMEDIATE RELEASE
Media Contact
Deesha Laxsav
Senior Manager, Brand Marketing
Washington, D.C., February 1, 2023 — The Manifest, a B2B news and step-by-step website, announces its data-driven rankings of Orlando, Florida's most recommended and reviewed B2B companies for 2023.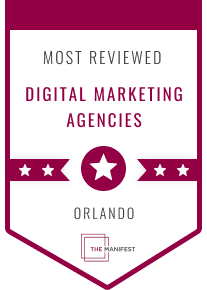 Orlando's economy and labor markets are on positive trajectories in the coming years. A report published by the Orlando Economic Partnership predicts that there could be upwards of 500,000 new jobs created by 2030 as industry employment is expected to increase by 19%, a full 10% points higher than the U.S. average.
The Manifest recognizes the deserving businesses from Orlando's vibrant B2B industries after conducting a thorough analysis. The firms in the list specialize in digital marketing and design.
What are The Manifest Awards?
The Manifest's Most Reviewed Company Award recognizes the good relationships that B2B companies have with their customers. The top 15 award recipients from each category received the most referrals and recommendations over the previous year.
"Having the confidence of your clients shouldn't feel like weights. True leaders carry trust with grace and dedication," said Clutch Senior Customer Experience Representative Nate Weavill. "These leaders inspire us. We are delighted to see how their journey changes the B2B scene."
Get listed on The Manifest and earn positive reviews to get included in your community's and category's rankings.
Top Service Providers
Design Companies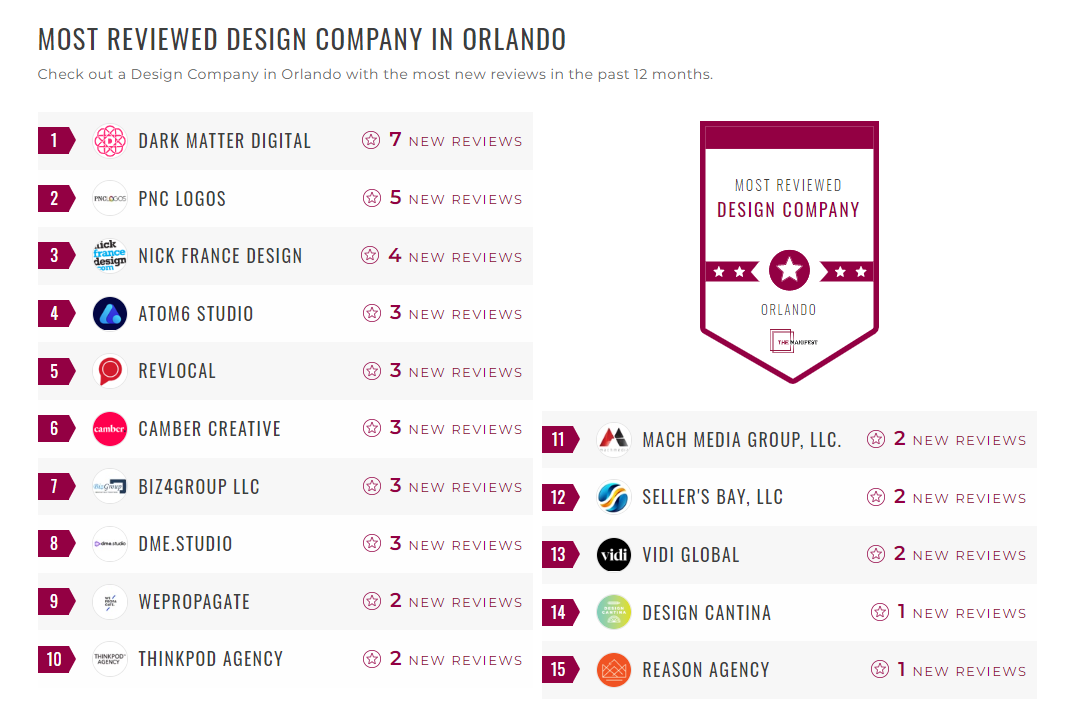 Digital Marketing Companies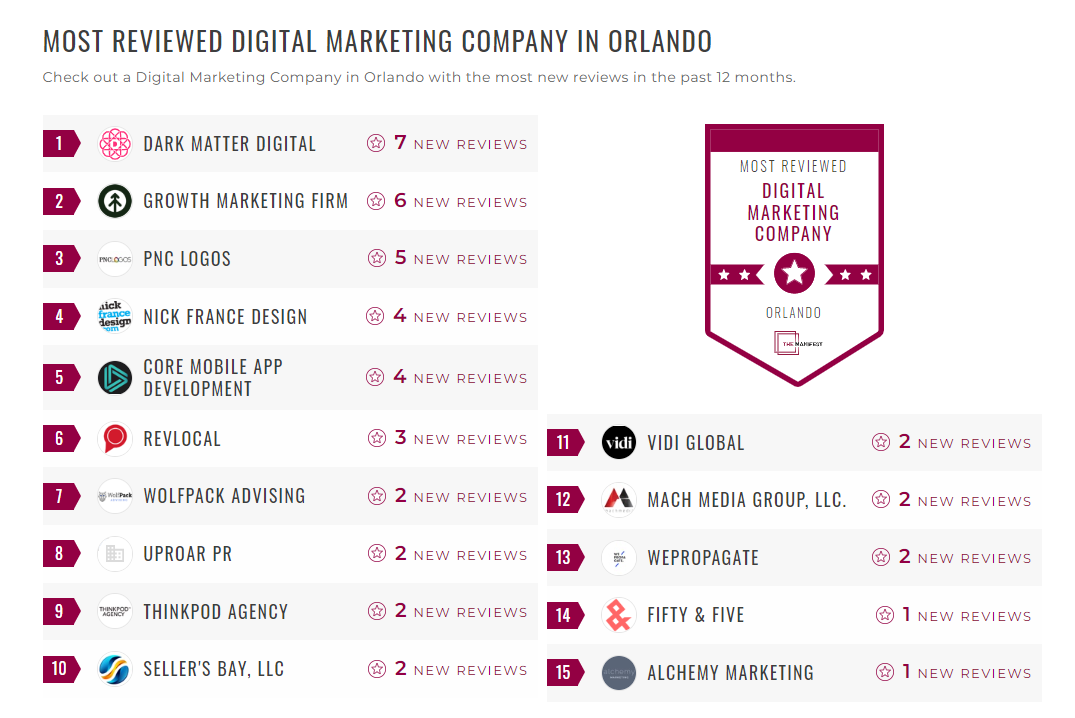 Results are a snapshot of The Manifest's most recommended companies on January 25, 2023. Rankings are dynamic, and this report may not reflect the rankings as they are currently listed. 
About The Manifest
The Manifest is a business news and how-to site that compiles and analyzes practical business wisdom for innovators, entrepreneurs, and small and mid-market businesses. Use The Manifest as an approachable tour guide through every stage of the buyer journey. With three main offerings – data-driven benchmarks, step-by-step guides, and agency shortlists – The Manifest strives to make your business goals a reality.