The Manifest Honors the Most Reviewed Advertising & Marketing Agencies for 2023
The Manifest Honors the Most Reviewed Advertising & Marketing Agencies for 2023
In this annual report, The Manifest celebrates the most reviewed advertising and marketing agencies for 2023. The firms spotlighted in this list went through extensive year-long evaluation.
FOR IMMEDIATE RELEASE
Media Contact
Deesha Laxsav
Senior Manager, Brand Marketing
Washington, D.C., November 1, 2023 — The Manifest, a Washington DC-based company listing resource, announces its official rankings for the global most reviewed advertising and marketing leaders for 2023.
The global market for digital advertising and marketing is on a bullish growth trajectory as more businesses invest in quality services and solutions. According to experts, the market is expected to be worth approximately $1.5 trillion by 2023, recording an impressive CAGR of 13.9%.
The Manifest takes a moment to commemorate the successful partnerships and dedication of trusted leaders around the world. Each firm in this list is exceptional when it comes to services like social media marketing, SEO, and PPC.
What are The Manifest Awards?
The Manifest's esteemed Most Reviewed Company Award annually spotlights the importance of nurturing impactful relationships with clients. The top 15 leaders for every category are chosen based on the number of recommendations and testimonials they've earned over the past year.
"After seeing the hard work of these leaders throughout the year, we feel genuinely excited to share and celebrate this award with them," said Clutch Sales Development Manager Tim Wells. "Congratulations! We're happy for your success and we're proud of your hard work."
Know more about the qualifications and see if your firm qualifies for next year's award. Sign up on The Manifest right away.
Top Service Providers
Advertising Companies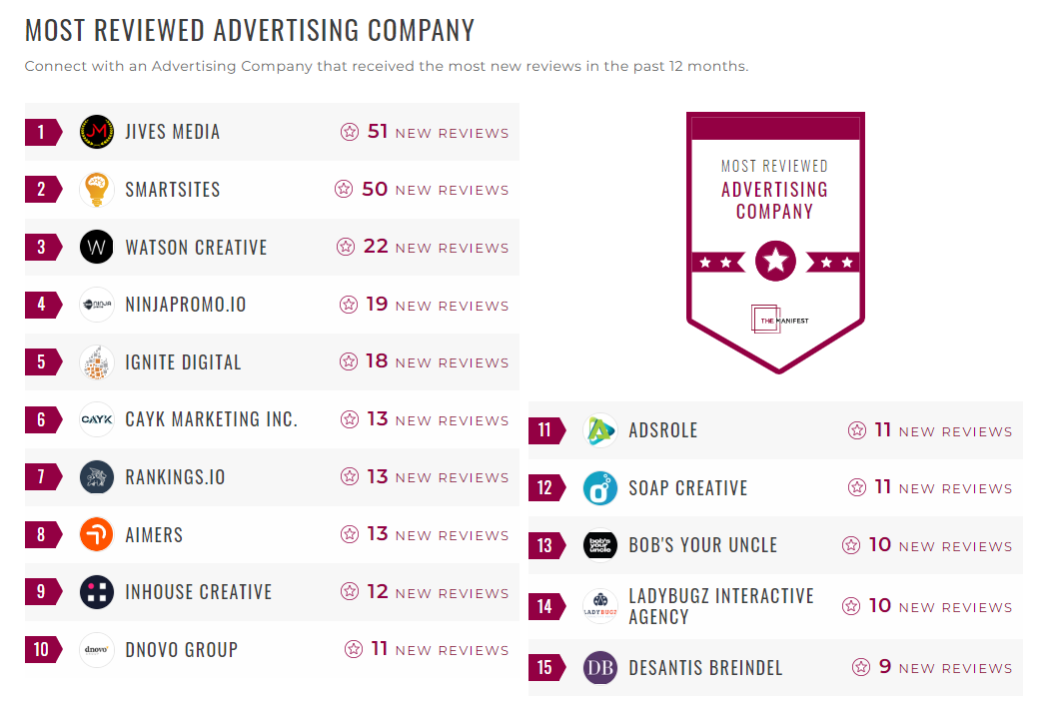 Affiliate Marketing Companies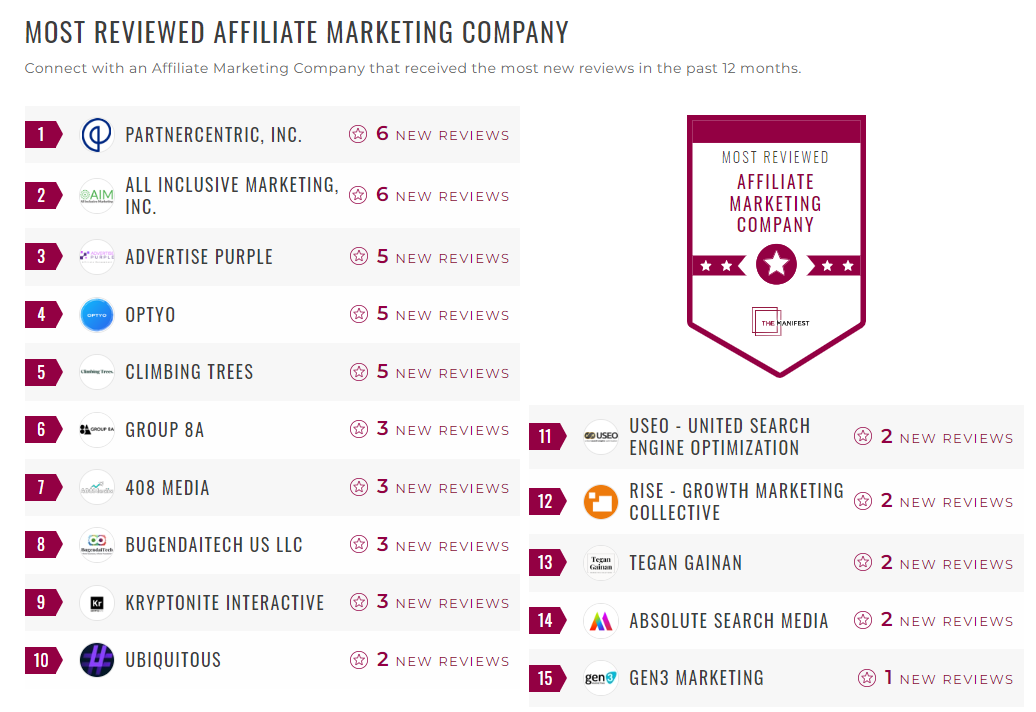 Content Marketing Companies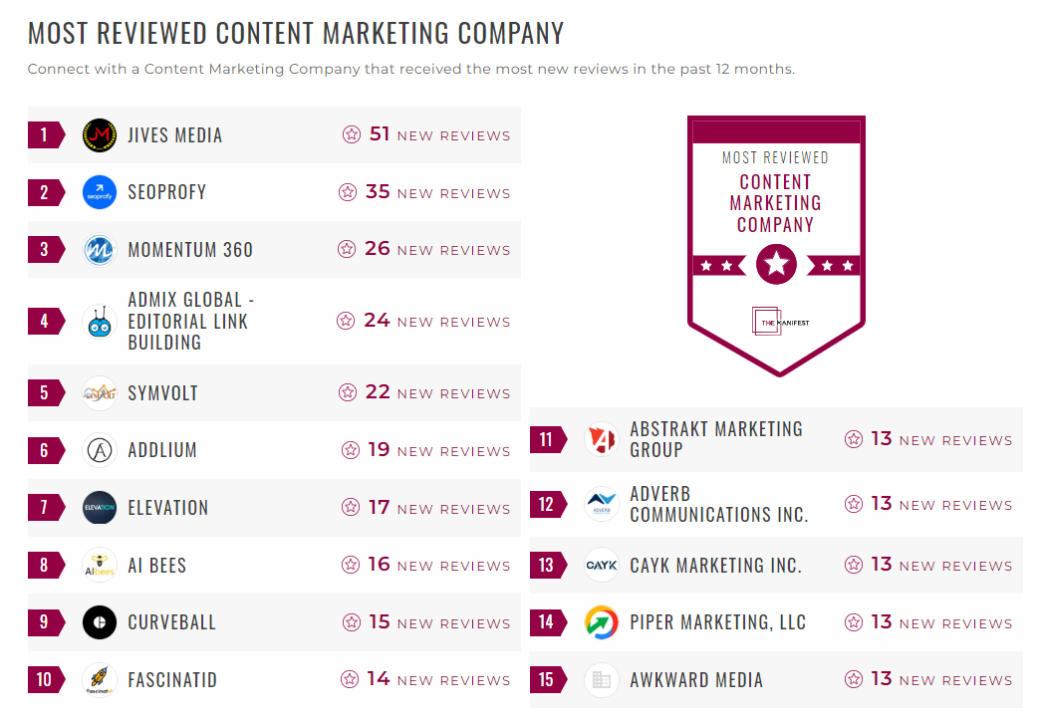 Digital Marketing Companies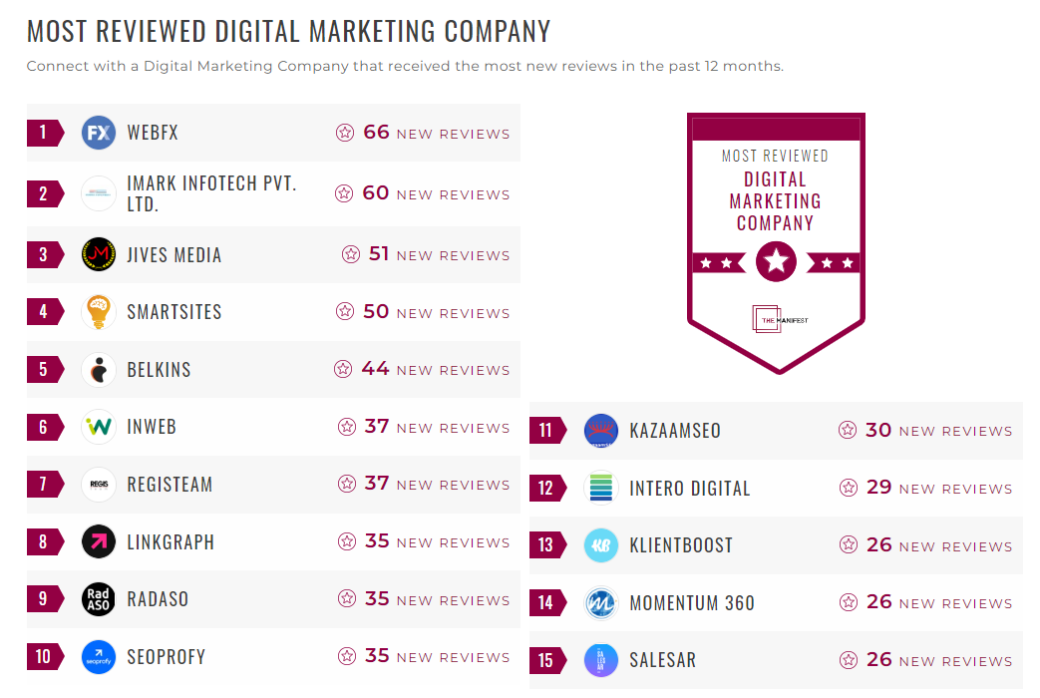 Email Marketing Companies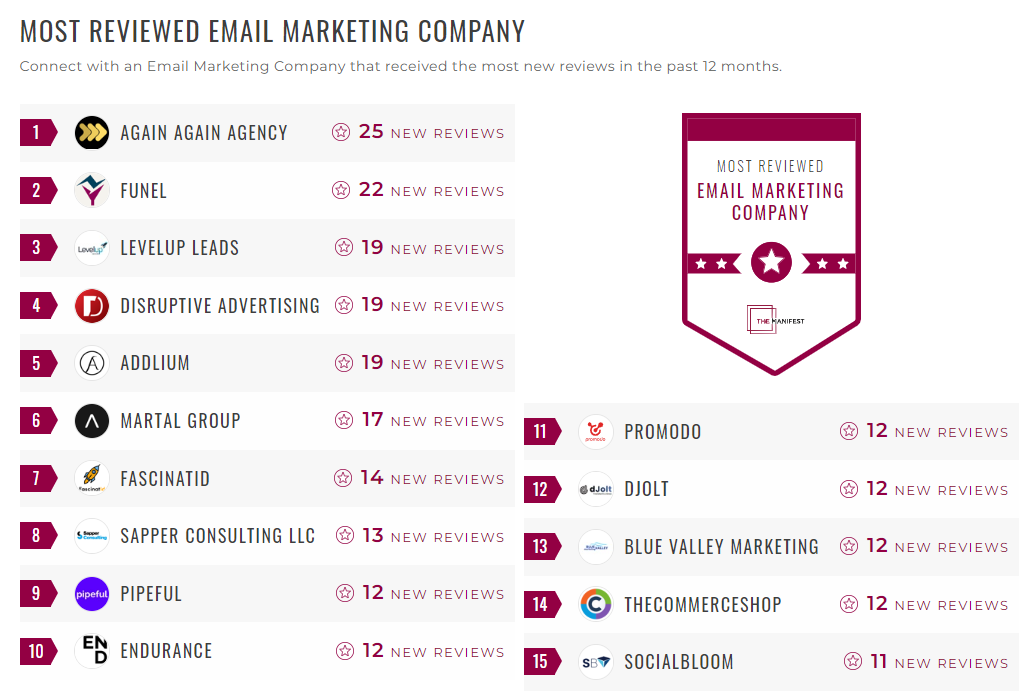 Event Marketing Companies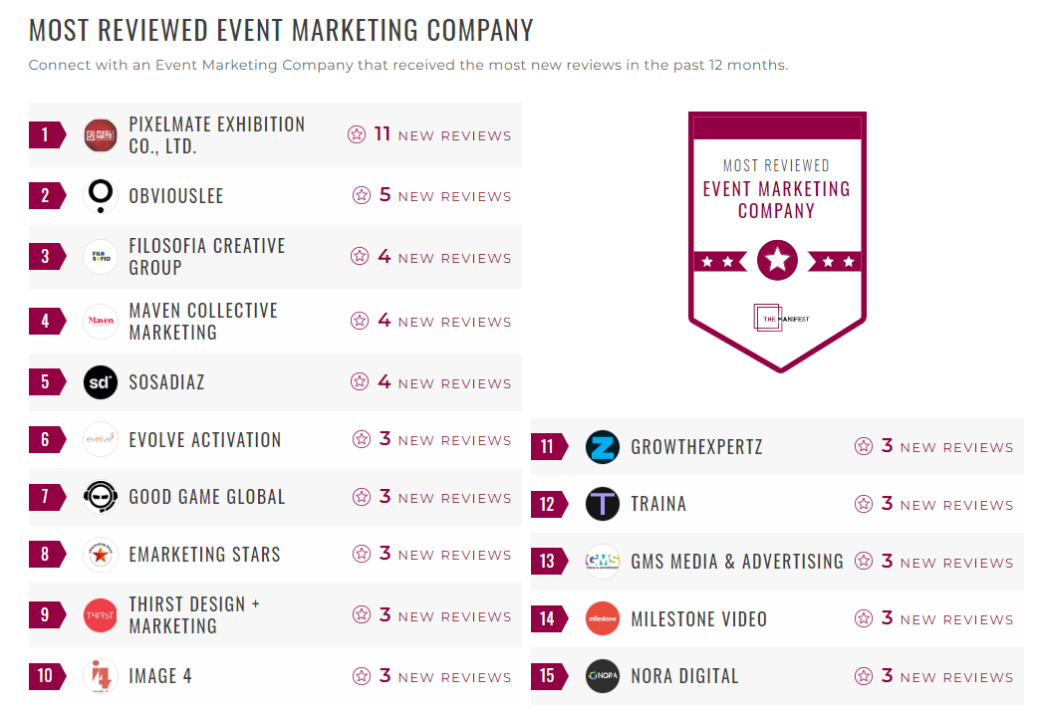 Facebook Advertising Companies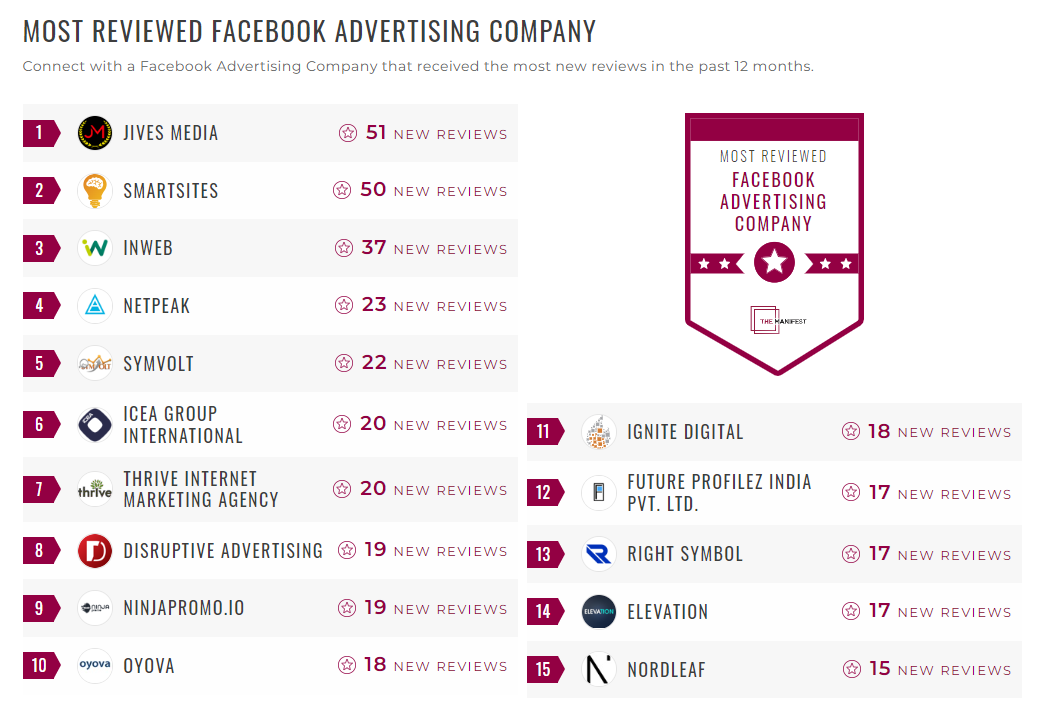 Influencer Advertising Companies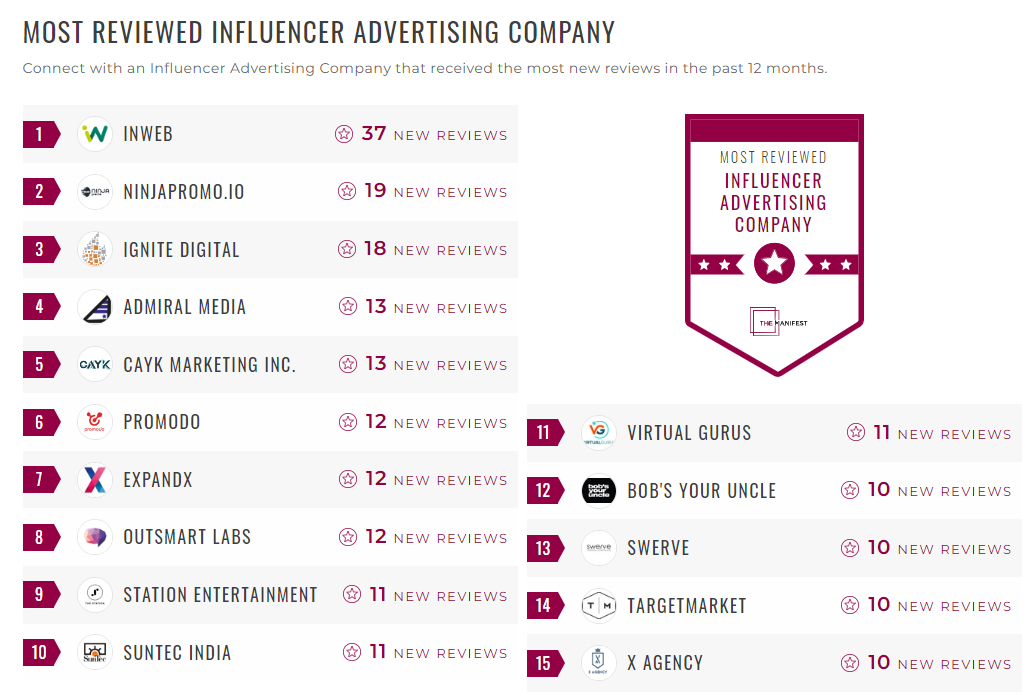 Instagram Advertising Companies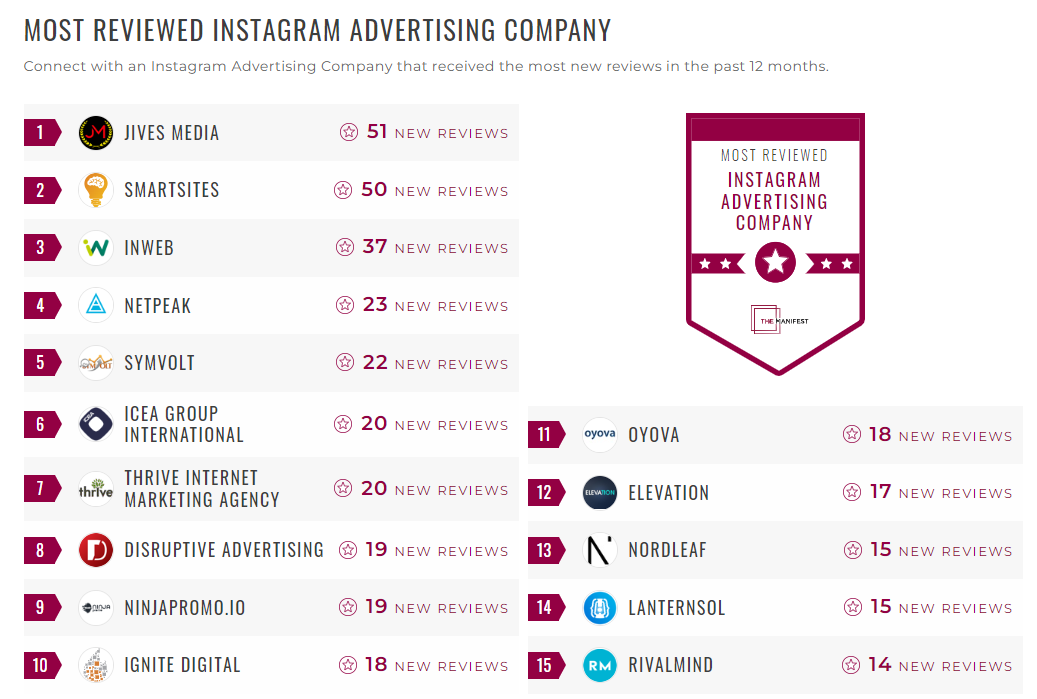 Lead Generation Companies
Link Building Companies
LinkedIn Advertising Companies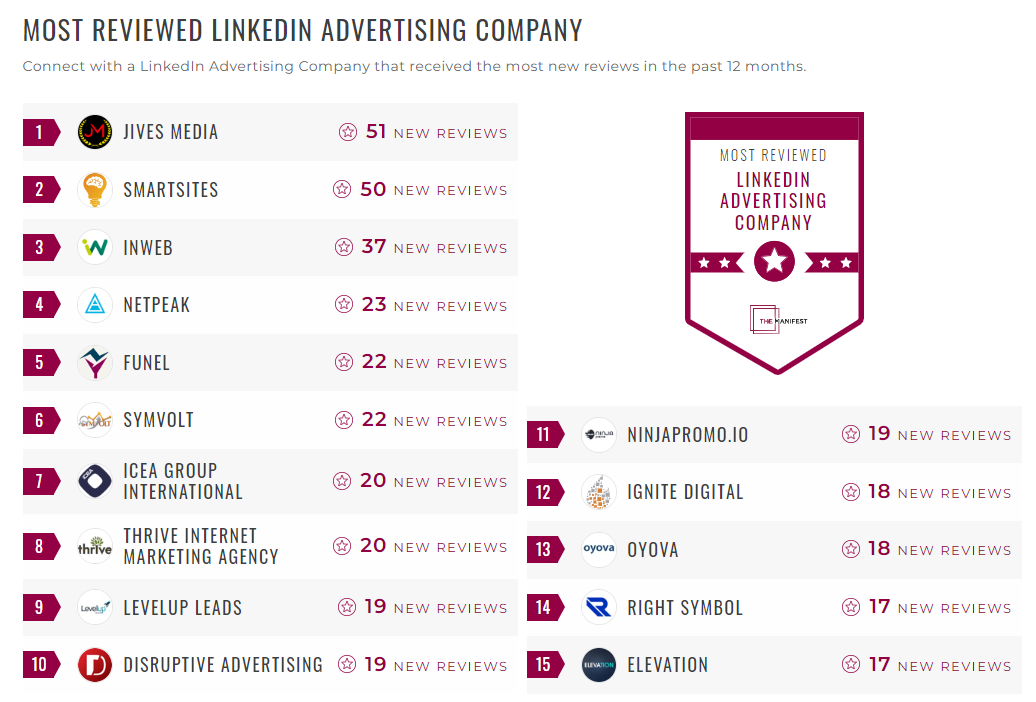 Mobile & App Marketing Companies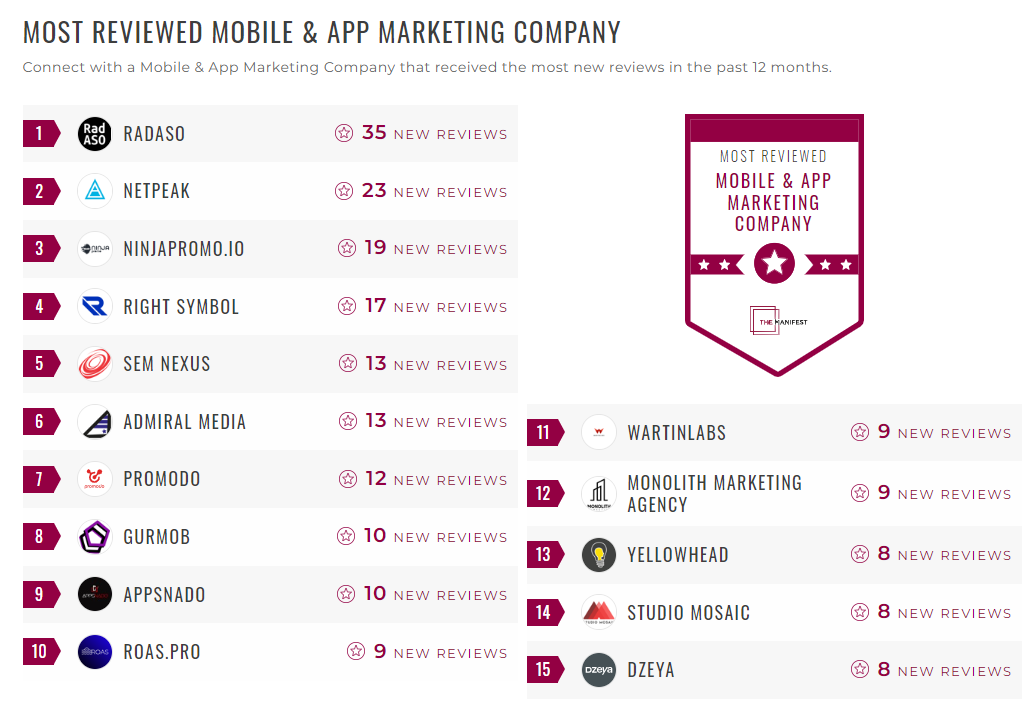 Naming Companies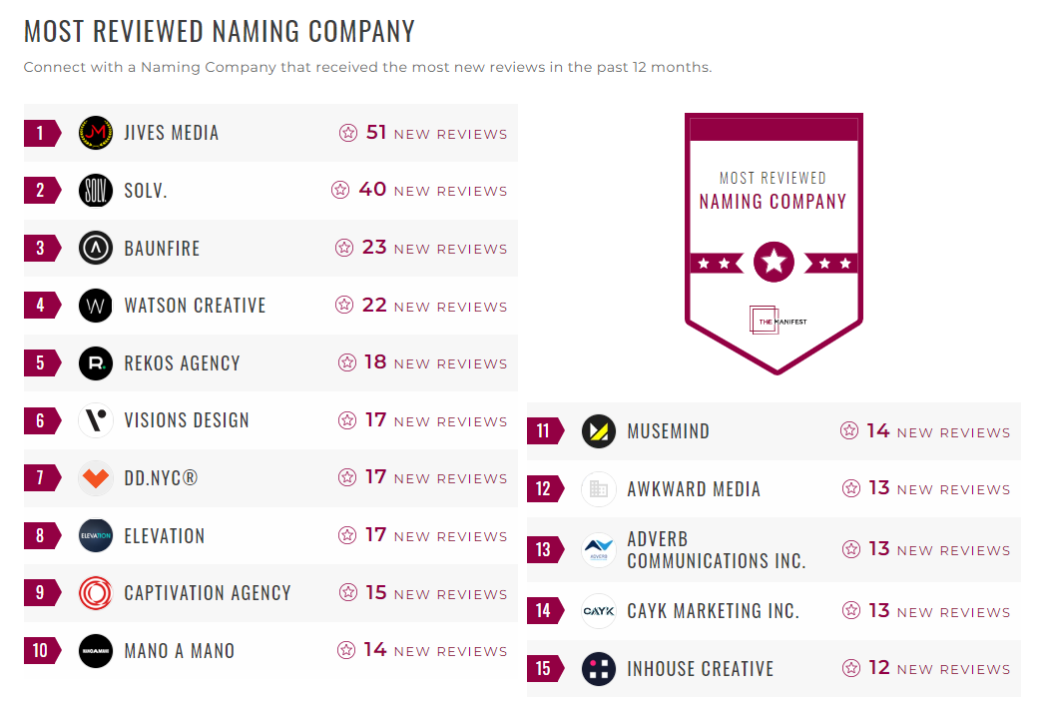 PPC Companies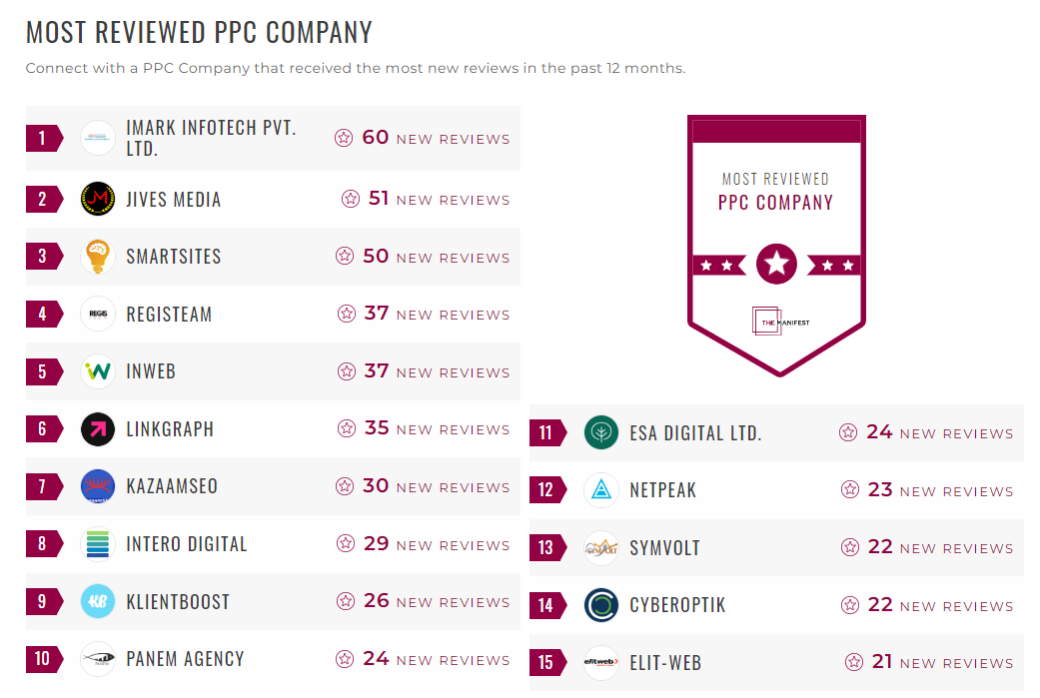 Public Relations Companies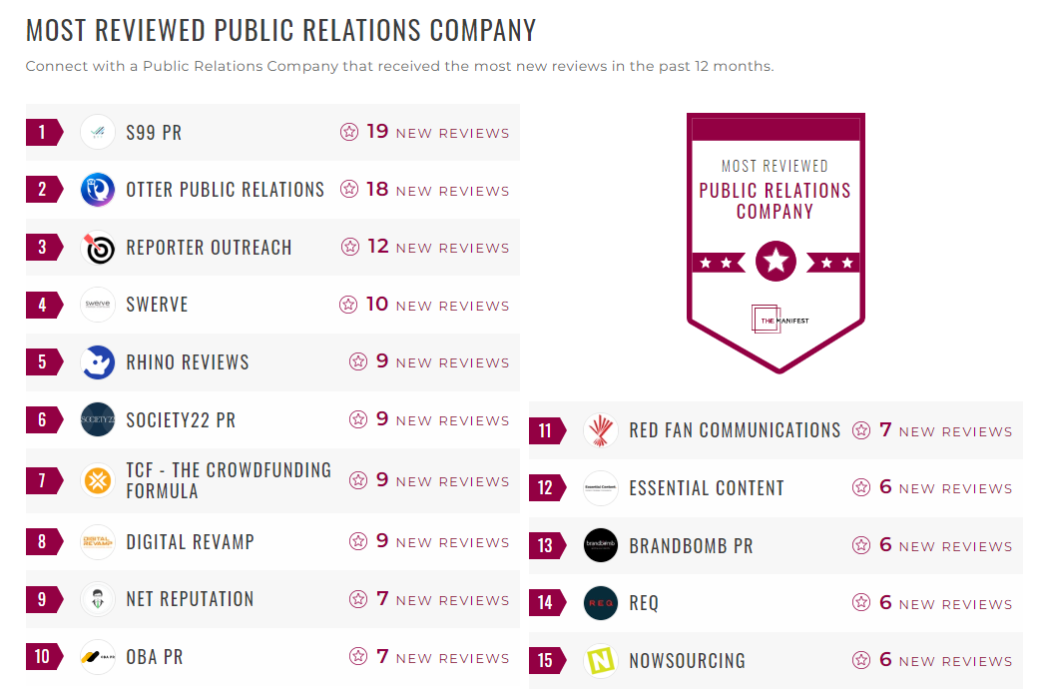 Reputation Management Companies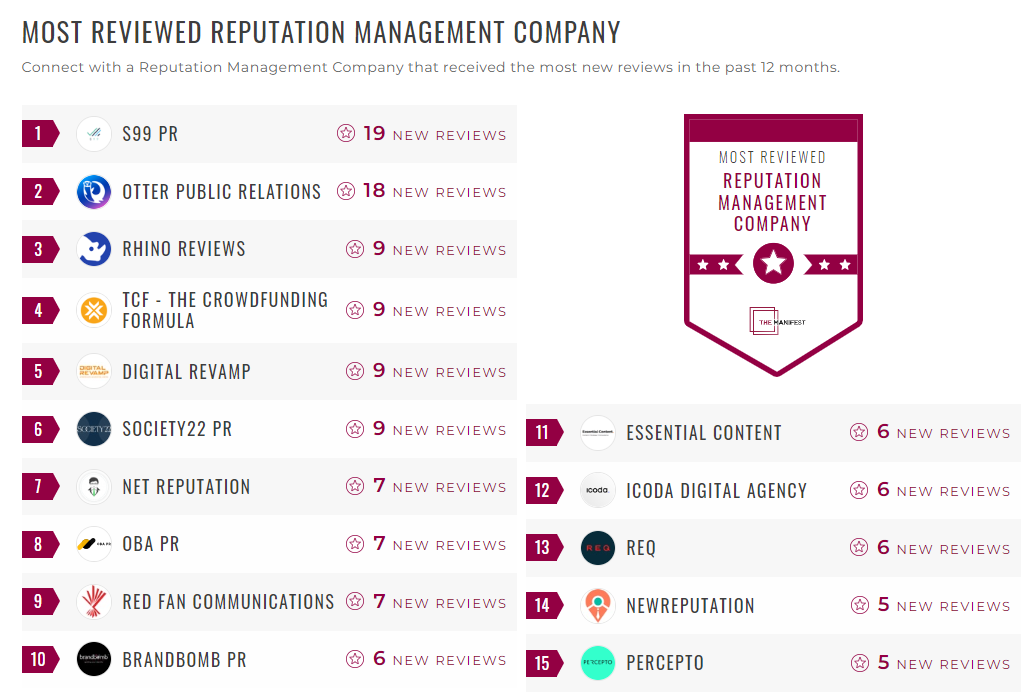 SEO Companies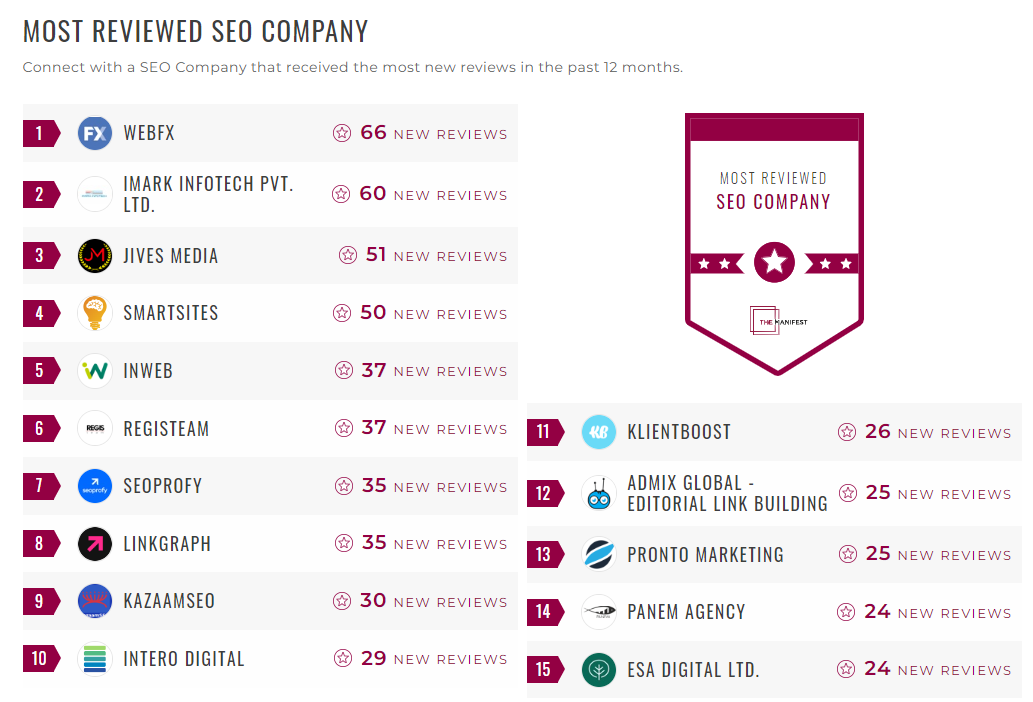 Snapchat Advertising Companies
Social Media Marketing Companies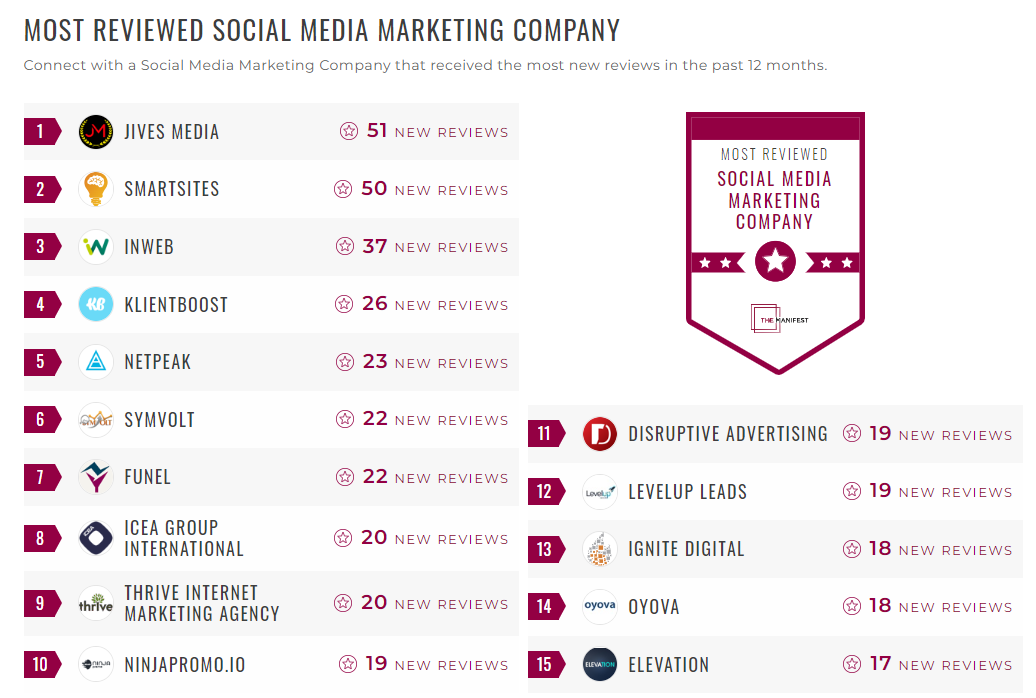 TikTok Advertising Companies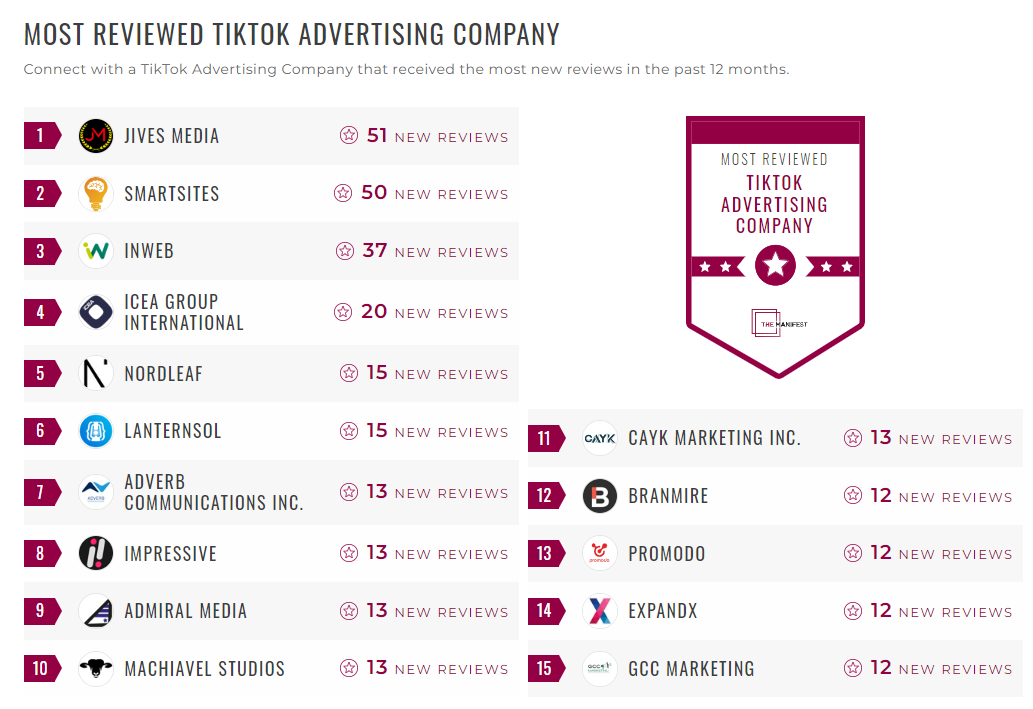 Twitter Advertising Companies
Results are a snapshot of The Manifest's most recommended companies on October 31, 2023. Rankings are dynamic, and this report may not reflect the rankings as they are currently listed.
About The Manifest
The Manifest is a business news and how-to site that compiles and analyzes practical business wisdom for innovators, entrepreneurs, and small and mid-market businesses. Use The Manifest as an approachable tour guide through every stage of the buyer journey. With three main offerings – data-driven benchmarks, step-by-step guides, and agency shortlists – The Manifest strives to make your business goals a reality.