More Small Businesses Are Choosing Online Tech Support, Here's Why
More Small Businesses Are Choosing Online Tech Support, Here's Why
When running a small business, building an in-house technical support team is hard, especially if resources are low. Costs can be hefty and recruiting can be a huge headache. Over recent years, more SMBs have had eyes on online tech support, opting to harness their benefits to help their growth.
Nowadays, a lot of small businesses are transitioning from traditional operations to seize the advantages of IT and other solutions. The demand for tech support has significantly soared in recent years due to the growing reliance of businesses and consumers on different technologies.
Your customers will expect you to have a tech support team available to them whenever they run into problems or issues. If there's a bug, an experienced tech support specialist can help them resolve it. If they can't log in to your platform, they reach out to seek assistance from your tech support team.
Without a dedicated tech support team, customers can be turned off by your product or services when they encounter a problem. In this piece, we'll break down the main reasons why more small businesses are choosing online tech support.
In need of a reliable tech support partner for your business? Connect with the leading IT services companies on The Manifest.
What is Online Tech Support?
Technical support is considered one of the many types of call center services provided by outsourced service providers to businesses. It primarily focuses on providing assistance and advice on issues related to technical products and services.
In the past, tech support was mainly provided over phone calls but in recent years, online tech support gained traction, allowing businesses to conduct it through chat.
Moreover, tech support is a broad service. Aside from customer-facing help, they can also provide employees with help solving common issues using various products rather than providing extensive technical training.
There are different levels of technical support, and professional teams either have different specialists for each or dedicate themselves to a certain tier. These levels can have variations depending on what the product is but usually, these are the following:
Level 0 — A self-service option that doesn't require any human interaction or assistance.
Level 1 — The first line of support deals with basic solutions. If level 1 specialists can't handle the concern, they escalate the matter to the next tier.
Level 2 — The second line of support that deals with more in-depth problems. These professionals assess and handle issues that the first tier cannot handle. If they cannot solve the matter, they also escalate it to a higher tier.
Level 3 — The third line of support that's composed of product experts. These specialists are knowledgeable on advantaged and highly technical problems. They know how to identify the root of the problem in products and certain specifications. Usually, they are the head engineers, chief architects, and main creators of the product.
Level 4 — This final tier refers to outside support for problems that the main organization or team cannot handle. They are contracted or outsourced for specific services.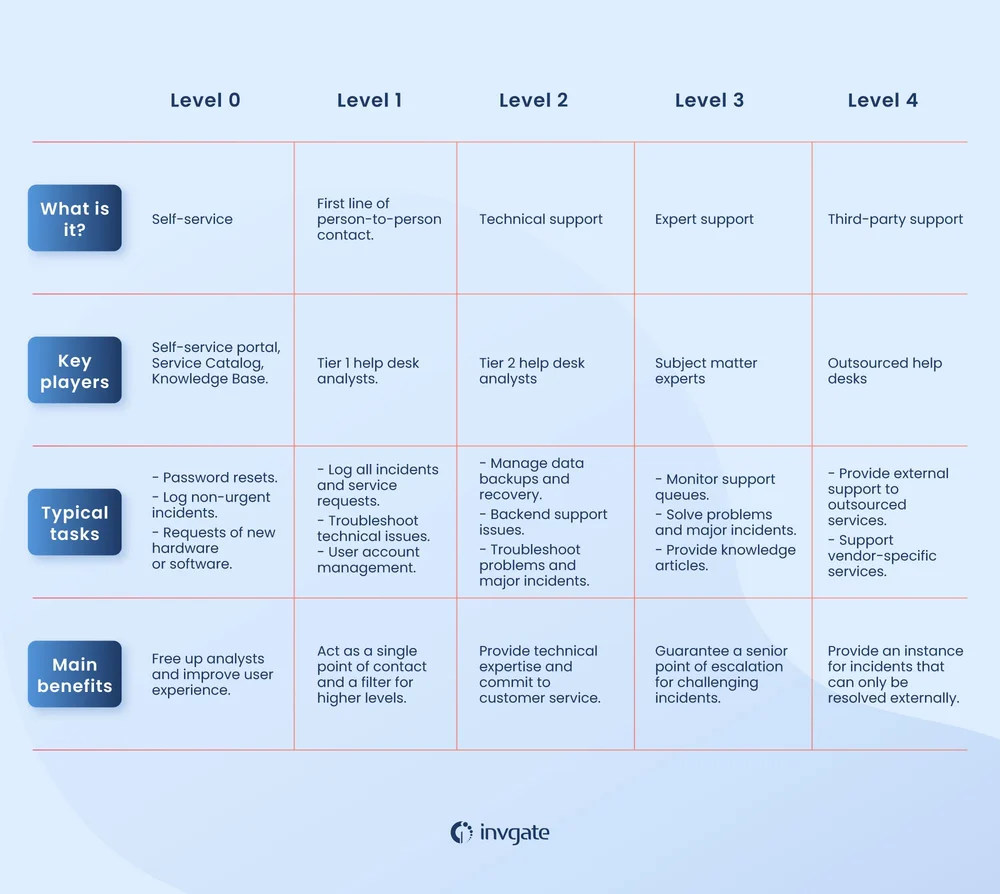 Source: invgate
Tech Support vs. Customer Support
Technical support is essential to ensure any issues are resolved quickly. However, there are some who don't know the differences between it and customer support. Both technical support representatives (TSR) and customer support representatives (CSR) provide quality customer services but their roles are distinct.
A TSR is responsible for helping anyone with product-related problems; this includes technical deficiencies and determining what features are not functioning seamlessly.
Meanwhile, A CSR will help with customer service issues or experiences.
Some professionals consider technical support as a different type of customer service. Fundamentally, both are equally important to provide a better journey for stakeholders.
6 Main Reasons Why More Small Businesses Choose Online Tech Support
Now that you know what online technical support is and what is the difference between a CSR and a TSR, it's time to understand the reasons why small business owners choose to invest in it. Here are the biggest reasons that entice SMBs to outsource online tech support services:
Save Time and Resources
One of the main benefits of outsourcing online tech support services is that it's cost-effective. Startups and small businesses that are looking to scale don't have a boatload full of funds available. The money you save from hiring, training, and keeping in-house TSRs can go to other projects and needs.
You won't need to worry about the cost of expanding your HR department to accommodate more internal TSR, the space you'll provide them, and their hefty wages. Small businesses can have access to entire teams without having to actually invest in hiring them.
Usually, online technical support services have fixed monthly costs, regardless of the number of incidents and problems that arise. Because of that, you can avoid the additional expenses that come with having your own internal team.
Additional reading: 'How to Create an IT Budget [With Template]'
Better Productivity
Technical support isn't just for your customers, it can apply to every stakeholder. In this day and age, technology and different digital products are used to streamline important business workflows.
Problems come in varying degrees of difficulty, and your employees may not have the knowledge to resolve them immediately. A reliable technical support team can help your employees identify functions that are not working properly, understand features that have issues, and resolve them.
With their help, doing business can be easier. They are integral to improving productivity and allowing you to make smarter business decisions. Their knowledge can make sure everything your employees need to perform at their highest level is working smoothly.
Reduced Downtime
For companies that rely on one main product or service, downtime means trouble. Every business doesn't want to face downtime because it brings a plethora of headaches.
If your customers experience downtime, it can deter them from further engaging with your product. If your employees face downtime, they might not be able to use the necessary tools they need to do their job.
Downtime can drive away existing and new customers, affecting your retention rate and sales. That's bad news for everyone.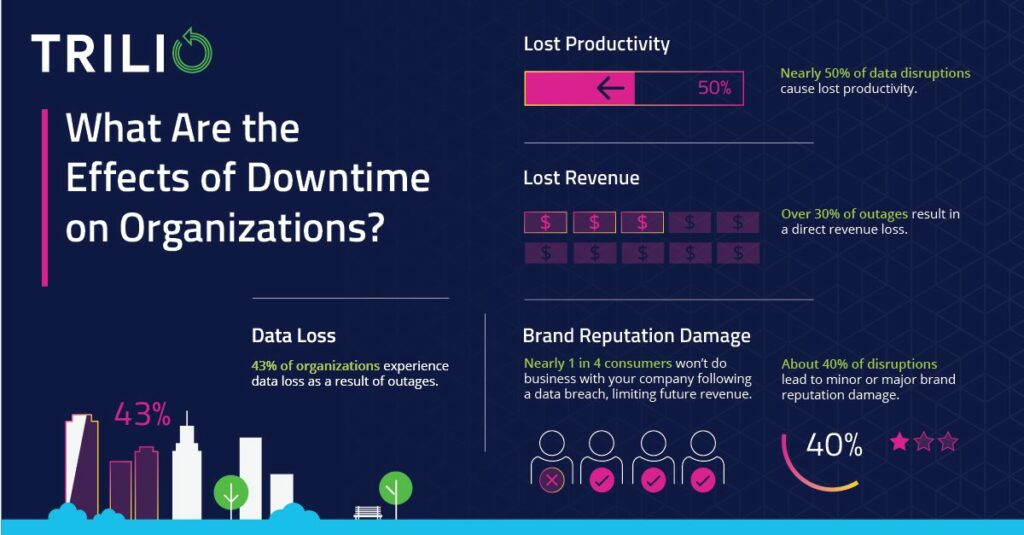 Source: trilio.io
Technical support services can minimize downtime. A reliable team can help you choose the best tools and applications, make sure they run flawlessly, and avoid disruptions.
Data Security
In recent years, dependency on cloud-based solutions and storage has significantly increased. The convenience of storing your customer data on the cloud allows businesses to operate more efficiently.
Unfortunately, if you don't have a clear grasp of how cybersecurity works, you risk the safety of your data. The current era of cloud computing is plagued by cybersecurity attacks and risks. Companies must stay on their toes to avoid vulnerabilities.
A dedicated technical support team can help you identify pain points in your IT infrastructure and safeguard your business data. They can give insightful advice on how to best improve the integrity of your cloud solutions and determine security protocols that need upgrades.
Access to Advanced Expertise
When you have a tiered technical support team, you gain access to a broad range of expertise and advanced technologies that weren't available to you then. Usually, an outsourced online tech support team is made up of professional engineers, developers, agents, and consultants.
These professionals come in with all sorts of technical experience on projects they've worked on in the past. Their collective expertise can help you select the best technologies to integrate to leverage your small business' performance. You can bounce ideas off and even gain the know-how to boost profitability.
More Room for Scalability
Scalability is among the biggest factors that encourage small businesses and entrepreneurs to outsource their technical support teams.
Most new businesses or small businesses want to maximize their resources to accelerate their growth. With a third-party vendor, you won't need to worry about scaling your technical support team and assigning your HR staff to recruit more team members. They scale their operations up or down depending on your current business needs.
Scalability can also be interpreted as maximizing time and effort. Technology can be a double-edged sword. It can be a key player in supporting your business or preventing it from expanding. As your technical support team helps make sure every tool and app runs smoothly, your internal team can have more time to focus on their responsibilities.
Online Tech Support is a Small Business' Best Friend
Not everyone has the time to wait for a technician to come in person to solve a certain problem. For businesses that operate remotely, it's impossible to have an expert go to your employees just to fix their IT problems.
Online tech support is more accessible, cutting waiting time, and ensuring your uptime.
They can do almost anything that an onsite and internal tech support team can do. Online tech support firms have the necessary tools, training, and certifications that give them the edge they need to help your business. You can rest assured that they are knowledgeable on the best practices for maximum results.
To know whether you need to hire online tech support, take your time to evaluate your business and ask yourself the following questions:
Is your productivity affected by IT issues?
Is your team well-equipped to resolve tech-related problems by themselves?
Is your team as competitive as it should be?
Are you having trouble with computer viruses and data loss?
Are your employees struggling with outdated systems?
If you said 'Yes' to one or more of those questions, maybe it's time to consider looking for an online tech support partner. Find the leading IT services companies on The Manifest.
Additional Readings: