Call Center Onboarding Checklist for Small Businesses
Call Center Onboarding Checklist for Small Businesses
Call centers are critical in scaling sales, lead generation, and customer service operations. However, they won't start out knowing the ins and outs of your business on day one. They need thorough and clearly communicated onboarding and training, which may not come naturally to your team. To overcome this challenge, we've broken down the onboarding process into attainable phases and steps.
Human resources professionals could tell you that new employee onboarding isn't always a walk in the park — there's a lot to plan and understand when helping employees settle into a new role. The same can be said for external service providers like call centers.
Effective onboarding of new employees, especially in a contact center environment, is crucial to ensure they are well-prepared to deliver an exceptional customer experience.
When onboarding new call center agents and center managers alike, be sure you have an onboarding plan ready. Inputting this project management effort upfront most effectively ensures plenty of successful calls from your team down the line.
Are you looking to find your next call center agency? The best call center companies are listed and ranked on The Manifest.
Call Center Company Onboarding Checklist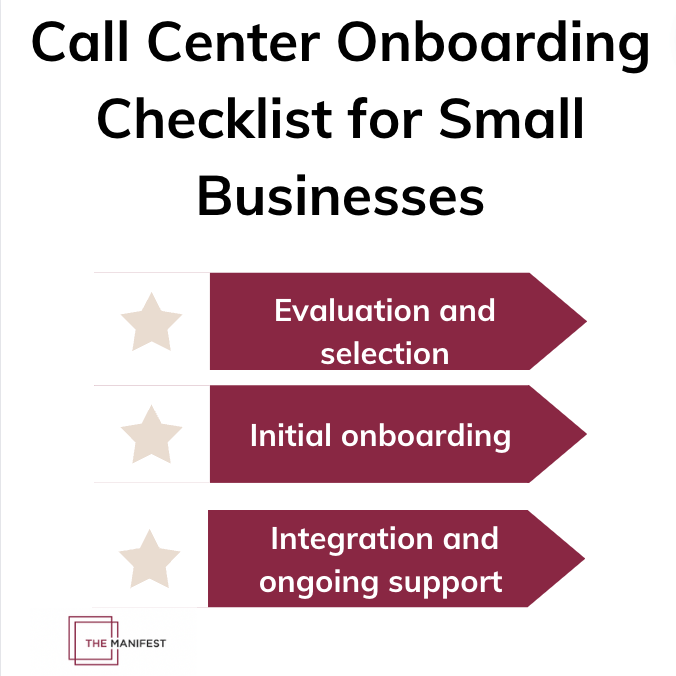 Evaluation and selection
Initial onboarding
Integration and ongoing support
1. Evaluating and Selecting a Call Center Service Provider
A robust new hire onboarding process is predicated on a good selection process. Companies need to be sure that they're choosing the right company to meet their needs before diving into onboarding of any kind.
Generally, you'll be able to find all the information you need to handle this phase of the process on verified review sites, through word of mouth, and through interviews with potential providers themselves. Utilize these options to move the process forward.
When engaging in these early conversions, check the following boxes:
Research Potential Providers: Explore directories, reviews, and industry publications to identify potential service providers.
Review Credentials: Assess the provider's customer support or sales experience, certifications, and knowledge of your industry.
Contact References: Reach out to current and former clients to gather insights on the provider's performance.
Discuss Technology: Ensure compatibility with your systems and technology infrastructure.
Service-Level Agreements (SLAs): Define clear SLAs and expectations for response times, resolution rates, and customer satisfaction.
Consider Legal Processes: Carefully review and negotiate contracts, ensuring they cover responsibilities, pricing, and data security.
2. Onboarding Your Call Center Service Provider
Starting with the first day of a new employee, it's essential to have a structured onboarding program. This program should include a mix of training, orientation, and introductions to the company culture and work environment.
For your call center agents, the beginning of their time at their new job should consist of plenty of training and clear communications regarding metrics, KPIs, and expectations. Now's the time to level set.
Kickoff Meeting: Organize a meeting to introduce key team members, discuss project specifics, and establish communication and reporting procedures.
Training: Offer training materials, guidelines, and access to product knowledge to familiarize the call center agents with your business.
Performance Metrics: Define key performance metrics, such as call handling times, first-call resolution rates, and customer satisfaction targets.
Quality Assurance: Implement processes for monitoring, reviewing, and improving call center agent performance.
First Week and First Month Milestones: Set clear milestones for the first week and first month of a new agent's tenure. These milestones should include measurable objectives, like achieving a certain level of proficiency in handling calls or using CRM systems.
Company Culture and Training Programs: Introduce new hires to your company's culture, values, and mission. Incorporate training programs that cover not only customer service techniques but also the specific tools, software, and workflows they will use.
Communication Channels: Introduce new employees to the communication channels used within the call center. This may include tools like Slack, CRM software, or internal messaging systems.
By following these steps, you're taking the first steps in streamlining workflows. Ensure that new hires understand the functionalities of their desktops and software. Streamlined workflows help optimize the average handle time and improve the customer experience.
3. Integration and Ongoing Support
Onboarding is not a one-time process; it's ongoing. To ensure a successful collaboration with your call center service provider:
Goal-Setting and Check-Ins: Frequent check-ins with supervisors and mentors are essential during the initial weeks. Use these check-ins to discuss progress, address questions or concerns, and set goals for improvement.
Feedback Loop: Encourage feedback from the call center agents and your team to continuously improve processes and customer service.
Performance Review: Regularly evaluate and adjust performance against SLAs and critical metrics.
Knowledge Base and Resources: Provide access to a knowledge base or documentation that new agents can refer to for common customer inquiries and troubleshooting. Ensure that they are familiar with the resources available to them.
Knowing they have continuous support in their journey with your company, call center agents will feel more connected to your culture, increasing retention and reducing turnover rates. A positive support system and onboarding experience can help retain star employees long-term.
Call Center Onboarding Sets the Stage for the Partnership
A well-planned and executed onboarding program for new call center employees is an investment in the success of your contact center. It not only contributes to a positive work environment but also directly impacts the quality of customer experience delivered.
In keeping each phase of the onboarding process top of mind when working with new call centers, you're playing a direct role in bettering your onboarding program. Tailor each step to the needs of your company to get the most out of onboarding and to attain enhanced performance, customer satisfaction, and happy new customers.
The best place to find and start conversions with call center agencies is on The Manifest.