12 PPC Budgeting Tips From Advertising Professionals
12 PPC Budgeting Tips From Advertising Professionals
PPC budgeting is necessary for developing a successful PPC campaign. Traditionally, advertisers pay a set rate for each instance their ad is clicked. It's easy to spend a good deal of money without seeing returns using this model, so we've compiled a list of the top PPC budgeting tips from experts in the advertising industry.
What is a PPC Budget?
A PPC budget defines how much money a company is willing to spend on pay-per-click advertising. Companies determine their PPC budgets by outlining key metrics and goals they wish to achieve via online ad campaigns. Possible PPC goals and priorities include:
Cost per acquisition (CPA) targeting
Return on ad spend (ROAS) targeting
Maximize traffic
Maximize click-through rates (CTR)
Maximize overall conversion rates 
Once a company has selected its target metrics, it can establish a PPC budget to accompany its campaign. This will likely involve a bidding process — which can be either automatic or manual — where advertisers aim to outrank each other for advertising spots associated with relevant keywords.
PPC bidding requires teams to determine the maximum cost per click for desired keywords and weigh that against their expected spend to make PPC budget decisions.  
Need help setting a PPC budget? Find a top PPC agency on The Manifest to guide your decision-making process.  
How are PPC Costs Calculated?
Traditional PPC advertising platforms charge businesses a set rate each time their ad is clicked. This means that the following equation yields the total cost to advertisers for this type of campaign:
Number of clicks  X  Cost per click  = PPC costs
By multiplying the cost per click (CPC) by the total number of clicks an ad receives, companies can determine their total spend on a PPC ad. 
12 PPC Budgeting Optimization Tips from Advertising Pros
The Manifest connected with PPC optimization experts to compile 12 PPC budgeting tips relevant to any industry. Here are our top PPC recommendations:
Each of these 12 tips offers companies unique strategic benefits that promote the health of PPC programs. 
1. Examine PPC Spend History and Trends
After the initial goal-setting stages of PPC budgeting planning, advertisers will benefit from looking at past PPC efforts. 
Joel Sellentine, CEO of digital marketing agency KARMA jack, finds that it's best to take some time to learn from the outcomes of past campaigns before launching anything new.
"Once you understand your goals, the next best thing a beginner ad buyer can do when creating a PPC Budget is to look at history. This helps you determine successes and failures of past campaigns," Sellentine said. "History is your friend!"
It's worth noting that not all companies have experience in paid digital advertising to work with. Newcomers to the PPC space can still learn from past campaigns by examining the PPC campaigns of others. Sallentine says that businesses can gain insights on PPC optimization in their industries by studying competitor efforts.   
"There are dozens of tools that can help you see the PPC spend patterns of your competition. Using their history will give you a better idea on how to budget your first PPC campaigns."
2. Use Search Volume to Inform Your Keyword Research
Research is a critical part of the establishment of any PPC campaign. Experts recommend looking at search volume for target keywords as part of that research process. 
Vasilii Gamov, CMO of online advertising company Richads, highlights the direct importance of search volume to PPC budgeting.  
"The number of times your adverts can be displayed is entirely determined by the search volume of your chosen keywords or how many people are looking for your goods at any one time," Gamov said. "Google won't even show your advertising if there isn't enough search volume."
Despite this, Gamov finds cost-saving benefits to companies that target keywords with lower search volume.
"Smaller search volumes can be favorable, particularly for small enterprises, as they usually imply reduced expenses and little or no competition," Gamov said. "This could indicate that creating a campaign to ensure you're always visible for these search terms is both feasible and profitable."
On the flip side, Gamov also notes that high search volumes typically come with higher costs and more competition. For instance, if a car company wants to advertise its products, it'll see that high search volumes accompany difficult keywords.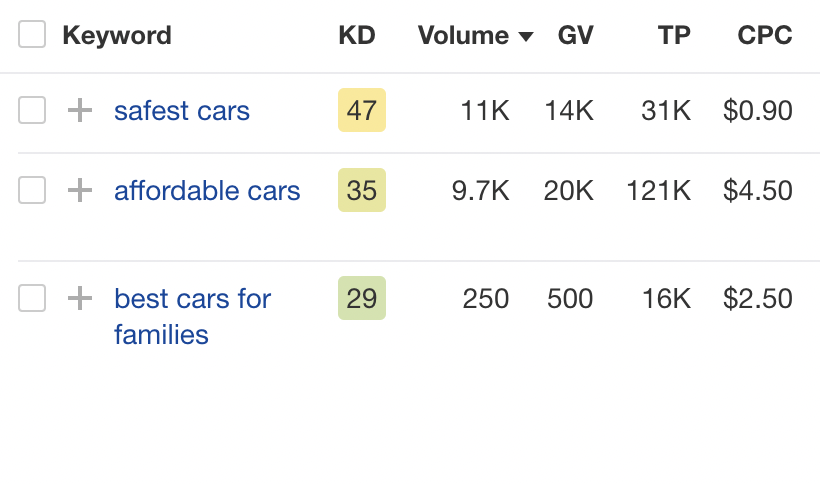 Source: Ahrefs  
Here, we see that "safest cars" has the highest search volume at 11,000 monthly searches. However, the keyword difficulty is 47 (out of 100), making it more challenging to rank for than "best cars for families" with a keyword difficulty of only 29. 
This means companies will likely have to allocate more money in their PPC budgets to keywords with higher search volumes to secure a solid ad slot.   
Search volume can be a strong indicator of potential ad spend. Companies should consider it when embarking on the PPC budgeting journey.
3. Only Bid on What You Need
Especially for those new to the PPC space, casting a wide net in the bidding stage can be enticing. 
Experts urge companies to find their niche and stick to bidding only where their products and services are most relevant. Otherwise, you'll be more likely to spend money on clicks that won't lead to conversions.  
Roger Huangis the director of growth operations at Springboard, a service provider that connects people with the resources they need to make career changes. Huangis recommends limiting spending by refining goals and targets early.
"Don't waste money on clicks that you don't need," Huangis said. "Figure out what you need to spend and set your bids around that. Don't go for this: 'We'll bid on anything we can and see what sticks.'"
To some, this may sound easier said than done. In addition to prep during the research phase, Huangis suggests that companies set up automated rules in their Google Ads account to help your team stick to their PPC budget.  
"I find that if you don't have at least one rule set up, you're going to waste a lot of money on clicks that aren't converting and don't meet your 'quality' score."
Even those new to PPC can easily set up automated rules on Google Ads. If you get stuck at any point in the process, Google outlines how to add, adjust, and preview new automated rules.
4. Bid to Win on Highly Relevant Keywords
While companies should only bid on keywords that make sense for their campaign, they shouldn't be as conservative regarding highly relevant keywords. 
Jonathan Fashbaugh, president Pro Impressions Marketing, says that placing competitive bids on essential keywords is essential to a business's return on ad spend (ROAS). 
"We always tell our clients that we do want to start with a strong foundation. Google wants to know that you came to win- not just to play," Fashbaugh said. "The top spot is usually pricey, but it's where the choicest conversions tend to come from." 
Companies don't have to forego strategy and forecasting to do this, either. Fashbaugh suggests that advertisers can maintain control over their PPC budgets in this scenario by multiplying the top-of-page cost per click (CPC) by the number of clicks it may take to secure a conversion. 
Then, companies can assess whether the cost will be worth the return on investment. This will depend on the product or service offered.  
"Your budget should also correlate with how stringent your targeting will be and how much a sale can mean in terms of revenue," Fashbaugh said. 
For instance, when Pro Impressions Marketing works with clients in the dental industry, competition for keywords is high, but so is the cost of dental services. Knowing that a significant revenue boost will follow a competitive bid should make clients feel confident about their ROAS. 
Each company working through this process will have to consider the returns on conversion to determine how to structure their PPC budget. 
5. Get Creative with Keyword Targeting  
When brainstorming keywords, you may find yourself going down rabbit holes in search of something that fits your business. Low-competition keywords that are also high-intent aren't always easy to find. 
Will Haire, the co-founder of marketplace management agency BellaVix, is committed to helping his clients position themselves effectively on platforms like Amazon and Walmart. Haire notes that PPC budgeting is primarily done at the keyword level and includes the following types of keywords:
Zero sales 
Low potential (low click-through rate)
Profitability 
Over-optimized (profitable keywords with low volume)  
On their search for perfect-fit keywords, companies do not immediately think about longer phrases or terms relevant to your services. However, though people still search for long-tail keywords, fewer competitors typically fight for them.
Haire finds that companies can do effective keyword research by focusing on long-tail keywords and terms used by direct competitors.  
"When analyzing your campaigns, it's important to note the relevancy of the keyword and how your products stack up against top competing products," Haire said.
"If you are a new seller, consider advertising on less competitive and longer-tailed keywords. For competitive products, consider targeting complementary, substitutable, and competitor products."
There are plenty of creative ways to approach keyword targeting that will help you manage a PPC budget without stretching yourself thin. 
6. Prioritize Mobile Optimization
At this point, it's not news that people are spending more and more time on their smartphones rather than on traditional desktop computers. In 2021, it was estimated that about half of internet traffic is now coming from mobile devices.
Michael Nemeroff, CEO and co-founder Rush Order Tees, says that buyer preferences for mobile web browsing should be top-of-mind when structuring PPC campaigns. 
"It will only harm your budgeting when you do not consider mobile users," Nemeroff said. "When making a campaign optimized for mobile phones, you should also consider using short-tail keywords as it is more suitable for mobile users who use shorter keywords."
Just as a mobile-first platform should orient its UI/UX to suit mobile users, these companies should extend the same consideration to PPC campaigns. 
"It will only harm your budgeting when you do not consider mobile users."
Advertisers focused on more attainable long-tail keywords may benefit from searching out shorter tail options that will bring in those doing quick mobile searches.  
7. Maintain a Negative Keywords List
Negative keywords are those you don't want your ads to appear for when searched. 
For instance, if a company only sells new cars, it wouldn't want to be found for keywords such as "used cars" or "vintage cars." Experts recommend that all PPC budgets keep a list of negative keywords excluded from all PPC ads. 
  
Paul Romancsak, advertising manager of flipbook making platform Flipsnack, says that negative keywords shouldn't be overlooked while PPC budgeting.  
"Setting negative keywords can be crucial for advertising budgeting, especially when targeting broad or phrase match keywords," Romancsak said. "Every advertiser needs to create negative keywords lists and update them regularly." 
There are platforms online, such as Wordstream, that manage negative keywords lists, which makes getting one started pretty straightforward.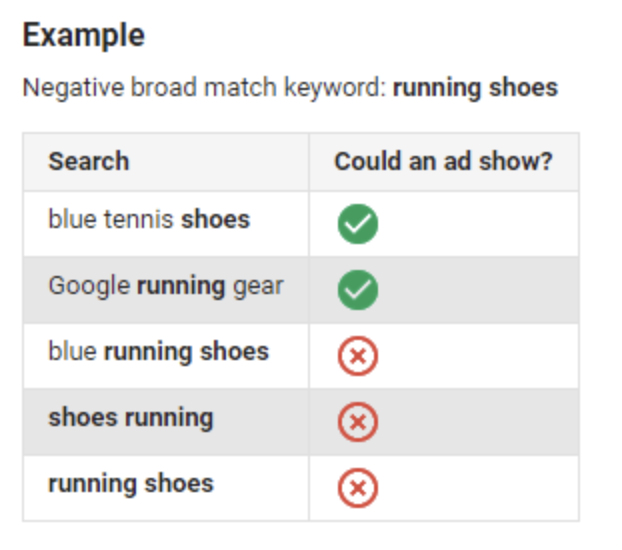 Source: Wordstream
By maintaining this list and prioritizing data-centered decision-making, companies can stretch their advertising spend further by boosting their quality score and showing up for relevant terms only. 
8. Hire an Experienced PPC Agency
Even with all the tips and resources at your disposal, PPC optimization and management skills take experience to cultivate and refine. 
Oliver Andrews, the owner of OA Design Services, notes that it's easy for PPC newcomers to spend and lose money without guidance.  
"Google and other platforms make getting started very simple, and they are improving and making maintenance easier for individuals with limited time and skill," Andrews said. "However, it's all too simple to spend money, become frustrated, conclude that it's not a good fit for your company, and close it down."
While companies may be initially deterred by the cost of hiring an agency to manage their PPC budgeting and advertising tasks, their wealth of experience in the industry will wind up saving money and increasing ROI in the long term.  
"However, it's all too simple to spend money, become frustrated, conclude that it's not a good fit for your company, and close it down."
Companies can learn more about trusted PPC agency options on The Manifest and hire the one that best fits their requirements and budget.  
9. Set Measurable Goals
Goal setting is an integral part of any digital marketing strategy, and it's no different for PPC budgeting. For companies to understand their success throughout a campaign, they need to be weighing actuals against clear, numeric goals. 
Chloe Addis, head of marketing and Headley Media, has done her fair share of goal setting. Addis emphasizes the impact setting goals can have on a PPC budget. 
"You need to determine precisely what you are trying to achieve with your campaign and set a clear and measurable goal for it. Only then can you start to determine what your budget might look like," Addis said. "To get started, there are various free calculators available online which can help you calculate your actual budget based on your goal."
Addis recommends using a PPC budget calculator to guide the goal setting and budgeting process holistically and simultaneously. 
Addis also notes that it's essential to understand your audience to set the correct goals. The more you know about how your audience behaves online, the more effective your goal-setting exercises will be. 
10. Try Geotargeting 
Geotargeting is an advertising approach that allows companies to target an audience based on their location. 
Many experts agree that geotargeting can be vital in connecting with the right audience. If companies connect with the right audience, they'll be able to set more impactful budgets. 
Manick Bhan, the founder of SEO company linkgraph, recommends geotargeting to companies looking to make the most of their limited PPC ad impressions. 
"If you understand where your target market is located, or you want to earn new customers from a specific region, geotargeting is the easiest way to direct your ad impressions to those specific audiences," Bhan said. 
"Geotargeting is key for local businesses or those business owners with a brick-and-mortar store, but it is also beneficial to national brands wanting to make their campaigns more efficient by blocking regions where lower-value clicks or fewer conversions come from." 
Bhan encourages advertisers to try geotargeting through Google Ads, which allows you to target the following location attributes:
City 
State
Country
Zipcode
Latitude and longitude 
Location radius
PPC advertisers can also adjust bidding based on location, supporting PPC budget accuracy. 
While geotargeting on Google helps refine ad campaigns, Bhan urges advertisers to remember that IP address geolocation is imprecise.
In other words, Google doesn't know exactly where your target audience is located, but it's making its best guess based on IP address.
11. Adjust Your Budget Regularly According to Forecasting
PPC budgeting requires continuous hands-on work — it doesn't end once a campaign is launched. Strong PPC budgets react to changing company goals and forecasting. 
The more agile you can be with your PPC budget, the better. David Aylor, Founder and CEO of David Aylor Law Offices, suggests that companies use tools to predict and adjust ad spending. 
"Your PPC budget shouldn't be a static number every month but ebb and flow according to your forecasting. Using Google Keyword Planner traffic estimates, monthly performance trends, mobile trends, and news organization insights, you can forecast a monthly spend for the year with the right spending peaks and valleys," Aylor said. 
"If you're expecting a boom in the second quarter, you may want to push more of your marketing dollars there to take advantage of the swing."
"Your PPC budget shouldn't be a static number every month but ebb and flow according to your forecasting." 
Aylor recommends that advertisers make monthly checks on Google Keyword Planner to examine their forecasting accuracy. That will help companies make data-driven PPC budgeting decisions.
12. Schedule Your Ads Strategically
When PPC budgeting, it helps to consider precisely when your ads will run. Limiting the time your ads spend online to times when they'll be most impactful will make the most of your ad spend. 
Ryan Stewart, managing partner at SEO agency Webris, suggests that tight budgets experiment with strategic ad scheduling. 
"When preparing an ad spend budget, companies need to only run ads on particular days and at specific times. You can do this during the hours your business remains open," Stewart said. "This means that you won't be spending much on ads. As a result, you'll be saving a lot of money."
Once businesses find out which times are most effective, they can stick to those and eliminate times that aren't generating solid leads. Scheduling ads for the most effective performance times can make your PPC strategy more effective. 
PPC Budgeting is Essential to Advertising Strategy 
An accurate, malleable, and well-researched PPC budget is one of the keys to successful campaigns. PPC programs that are budgeted effectively are more likely to sustain the test of time and bring in leads that convert. 
Newcomers to the PPC arena should structure their budgeting and overall strategy around expert tips and recommendations to begin their online advertising journey.  
Additional Reading