How Businesses Use Content Marketing
How Businesses Use Content Marketing
Over half of businesses spend time and money on content marketing, according to a survey of more than 500 digital marketers. The majority of businesses publish content daily in a variety of forms, including videos, blog posts, and data.
Content marketing began in 1732 when Benjamin Franklin created Poor Richard's Alamanack to promote his printing business.
In the nearly 300 years since, content marketing has grown from printed publications to online videos, blogs, and infographics.
The Manifest surveyed 501 digital marketers at businesses from across the U.S. with more than 100 employees to discover how they use content marketing.
Companies use content marketing to promote their business and spread awareness of their brand.
Businesses can use this report improve their content marketing strategies and learn the optimal frequency and types of content businesses publish.
Our Findings
More than half (53%) of businesses spend time and money on content marketing, a number that is continuously growing.
Fifty-one percent (51%) of the businesses that invest in content marketing publish content daily.
Companies produce a variety of content, but videos (72%), blog posts (69%), and research and original data (60%) are the most popular.
Marketers identify creating more original content (22%) and making content more visual (22%) as the top ways to improve content.
Most Businesses Invest in Content Marketing
Content marketing is an essential part of a growing number of companies' digital marketing strategies.
More than half (53%) of businesses invest time and money in content marketing.

Content marketing's popularity has increased in recent years – in 2016, just 36% of enterprises invested in content marketing.
"Even 10 years ago, content marketing was seen as a new buzzword," said Lauren Fairbanks, partner and CEO of S&G Content Marketing. "But over the last few years, it's really moved into the marketing mainstream. Marketers know that content marketing is essential in reaching consumers in a very organic way."
Content marketing helps businesses of all sizes reach consumers and become thought leaders.
For example, LendEDU, an online marketplace for student loan refinancing, credit cards, and personal loans, regularly publishes data-driven content to establish authority in its industry.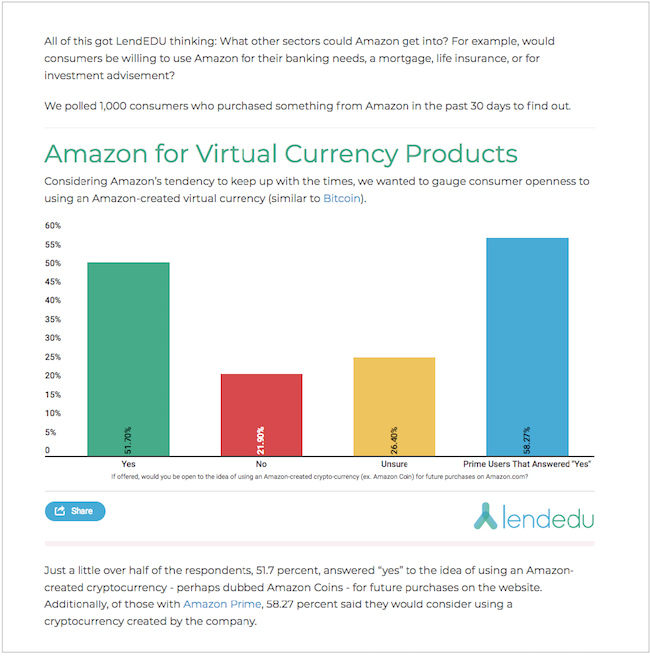 Because of LendEDU's content marketing efforts, the company has been featured in outlets such as the Wall Street Journal, New York Times, Washington Post, and CNBC.
"Content marketing is a great way to promote brand awareness for LendEDU, drive traffic to our website via links, and most importantly, improve the overall health of our website and our SEO rankings," said research analyst Michael Brown.
Because LendEDU publishes content, it reaches a wider range of consumers and increases brand awareness.
Most Businesses Publish Content Daily
Most businesses publish content every day, but the appropriate frequency of publishing content varies by company.
Of the businesses that participate in content marketing, 51% publish content daily.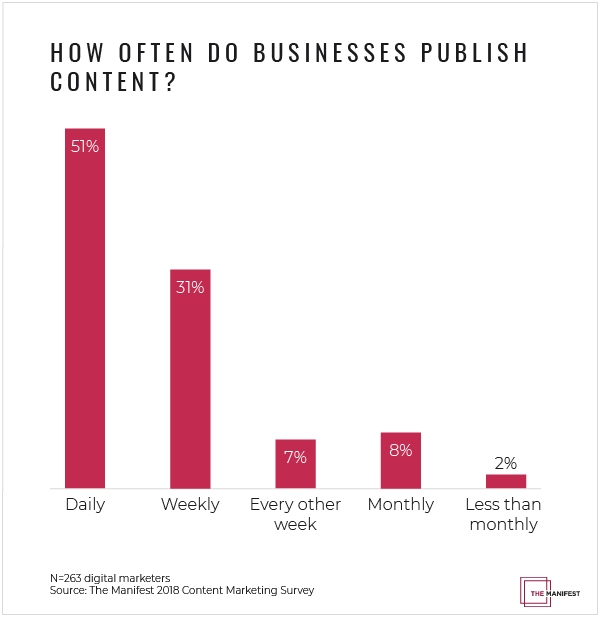 Nearly one-third (31%) of businesses publish content weekly, and just 2% publish less than monthly.
Head of Content Marketing Aylin Cook at digital marketing agency Single Grain, recommends companies focus on the quality of their content over the quantity.
"It's all about putting out really good, thoroughly researched content," she said. "If companies can publish that content every day, great. If not, rather than frequency, it's about quality and depth."
It's more important that companies publish good content instead of a lot of content.
Ideally, companies should publish daily, but that's not always possible.
"Publishing daily is the gold standard, but it's hard to do," Fairbanks said. "It takes a lot of internal resources and time to be able to manage that type of content creation and publication rate."
Companies with requisite means should publish content daily, but those with less resources should publish as often as they can.
For example, James Pollard, founder of The Advisor Coach, which helps financial advisors with their marketing, creates all of his website's content.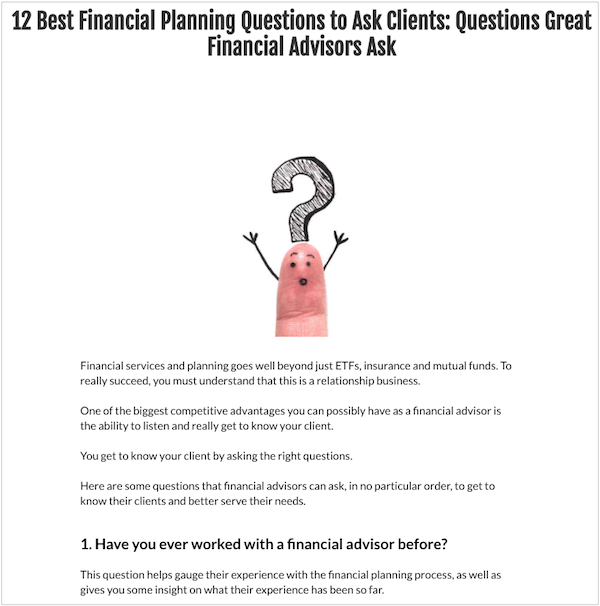 Because Pollard is a one-man content development team, it is unrealistic for him to publish content daily. Instead, he publishes weekly but works on content creation every day.
"I set an hour aside every single day to write," Pollard said. "It could be an outline, or it could be a first draft. Either way, I am writing something. Nothing has helped me more than disciplining myself every single day to create good content."
Although Pollard can't publish content every day, he still sees the value of content marketing and publishes the realistic amount for The Advisor Coach.
Larger Companies Publish Content More Frequently
Larger companies publish content more often than smaller ones.
Nearly two-thirds (62%) of companies with more than 5,000 employees publish content daily.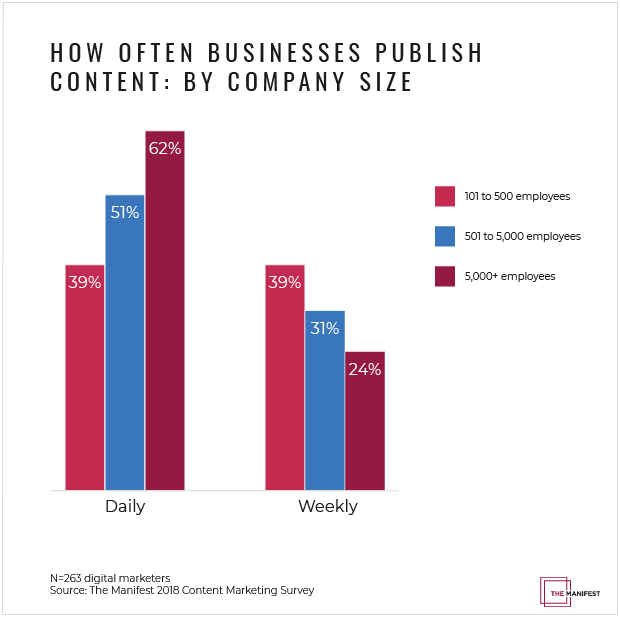 Just over half (51%) of companies with 501 to 5,000 and 39% of companies with 101 to 500 employees publish content daily.
Larger companies publish content more often because they have more human and financial means.
"Larger companies have more resources like bandwidth and manpower," said Jody Birch, director of marketing and communications at digital marketing agency Avalaunch Media. "They also have a lot more to say and a lot more at stake. Larger companies need to position themselves as the thought leader in the industry."
Content marketing helps larger companies promote themselves and become industry leaders.
Businesses Publish a Variety of Content to Appeal to a Wider Audience
Most businesses' content marketing strategies include multiple content types that reach a variety of audiences.
The most popular content types are videos (72%), blog posts (69%), and research and original data (60%).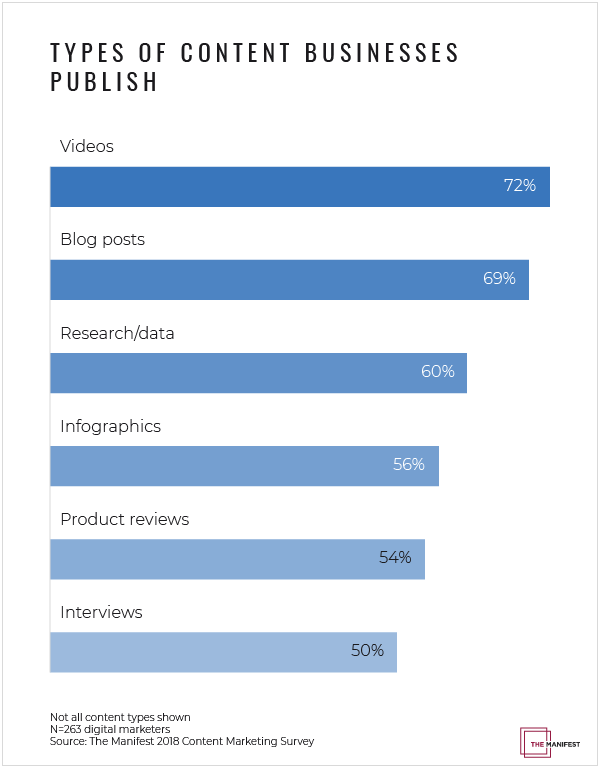 At least half of businesses also publish infographics (56%), product reviews (54%), and interviews (50%).
Businesses that publish different types of content appeal to different types of people.
"There's a lot of content out there, and it's a good thing to mix it up a bit and diversify it," Birch said. "Diverse content reaches the widest range of consumers."
Some consumers prefer to watch videos, while others prefer reading blog posts; publishing a mix of content ensures you reach the most consumers possible.
Videos Entertain Consumers
Video is the most popular content type because it is engaging and entertaining.

"Video content is a fast and engaging way of communicating any kind of concept or topic, no matter how complex it is," said Victor Blasco, owner and CEO of video content company Yum Yum Videos.  "With a good script and the right audiovisual tools, you can get across anything and engage your audience."
The combination of audio and visual components in videos engages consumers, which helps companies successfully get their message across.
For example, Yum Yum Videos created an explainer video for DocuSign, a technology for customers to securely submit an electronic signature to services such as banks.
This DocuSign video explains the concept of the company in an engaging way. It makes a complicated topic easier to understand.
"With video content, you can educate, entertain, and communicate a product and your company's values and culture," Blasco said. "Even when you are looking for information and data, you want to be entertained."
Videos entertain consumers and help promote a product or service in an easy-to-understand way.
Blog Posts Answer Consumer Questions
Blog posts are the foundation of any content marketing strategy. Effective blog content addresses audience interests and answers their questions.

"Blog posts are crucial," Fairbanks said. "You have to have written content on your website."
Blog posts are necessary for content marketers because they educate followers about topics they are interested in.
"Blogs are a great way to both increase organic traffic from search and educate prospects and leads on your products and services," Fairbanks said. "We always connect with a brand's sales team early on to find out what questions customers are asking over and over again and use that as a starting point for creating targeted how-to content."
Successful blog posts include relevant information that consumers want to read.
For example, GreenPal, a website that lets customers find, schedule, and pay a lawn professional, regularly publishes blog posts about customer pain points, such as pets eating grass.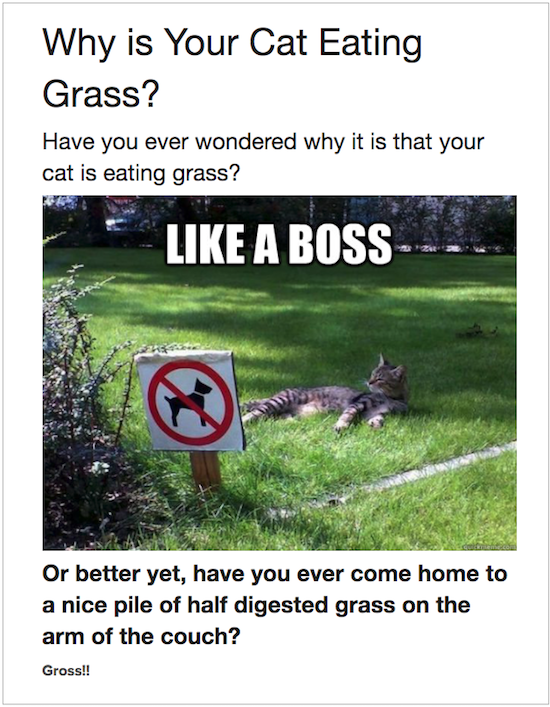 To create relevant content, GreenPal visits Facebook groups to discover what people want to know about lawn care.
"We monitor the chatter in those groups – what people are saying, what questions people have, what topics people are interested in, and what's upsetting or annoying people," said GreenPal co-founder Zach Hendrix. "Then, we create content around those questions. This has really helped us stop wasting time on creating blog posts that nobody cares about."
GreenPal creates content based on what consumers want to read – like why their pets are eating grass.
Consumers Respect Original Research and Data
Research and original data help increase the legitimacy of a company.

"Data reports show thought leadership," Cook said. "People see companies that do their own research as more authentic and trustworthy."
Companies that conduct research and publish original data are seen as more reliable than companies that simply write blog posts citing other statistics.
For example, ReviewTrackers, a software company that helps businesses monitor their reviews, conducts research on the online review industry.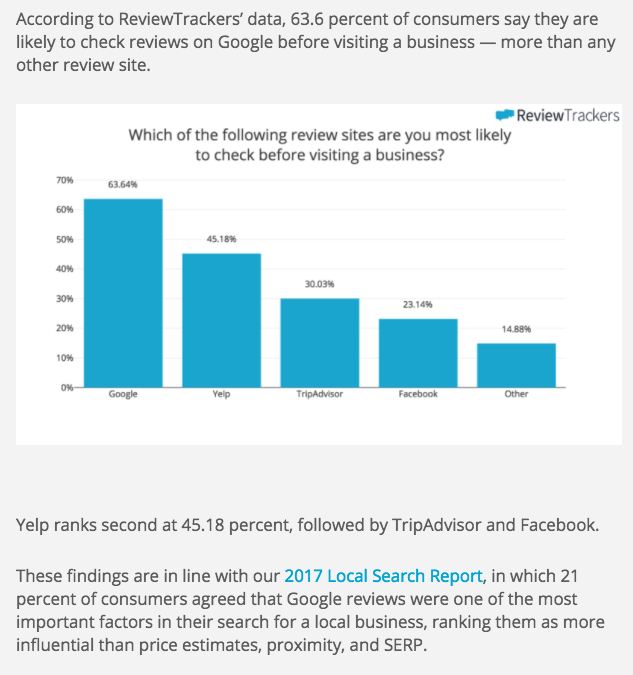 Publishing original data helps ReviewTrackers spread the word about its research, which, in turn, spreads the word about its company.
"We think it's important to educate people on the online review industry," said ReviewTrackers Associate Editor Megan Wenzl. "If we didn't conduct this research, we wouldn't know all this information, and therefore, we wouldn't be able to start a conversation about it. Publishing our own data is great because we can spread the word."
Research and original data help companies like ReviewTrackers stand out from the competition by educating consumers.
Learn from 3 examples of successful content marketing campaigns.
Businesses Want to Improve Their Content Marketing
Businesses want to make improvements to their content marketing strategies.
Most businesses said they would like to create more original content (22%) and include more visually appealing components (22%) when asked about the main improvements they would like to make to their content.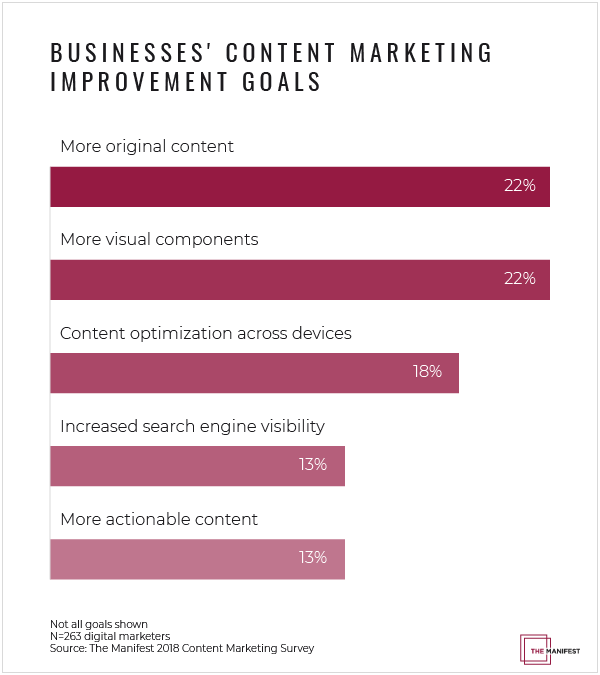 Other businesses want to optimize content for easy access across devices (18%), increase content's search engine visibility (13%), and make content more actionable (13%).
Improving content helps businesses accomplish their goals of increasing awareness and engaging consumers.
Original Content Increases Brand Awareness
Businesses want to create more original content because it helps spread the word about their company.

Content is best at engaging your audiences when it's published by your company.
"A big part of content marketing is creating brand awareness and positioning yourself as an industry expert," Cook said. "Putting out more original content builds that thought leadership so people come back to your site."
Publishing original content helps companies stand out from the competition.
For example, travel agent Nanak Flights is in a very crowded industry, with countless blogs dedicated to travel.
Not every post from Nanak Flights can be completely original, but the company tries to cover each topic in a unique way.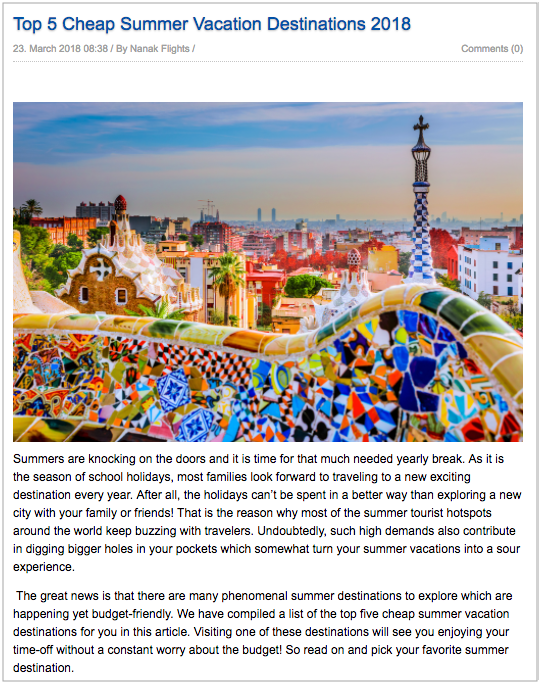 Although many travel websites post about topics like summer vacation destinations, Nanak Flights still publishes original content on vacation destinations, rather than simply publishing curated content.
"As you continue to add content to your website, you are essentially telling readers and search engines alike that you have something valuable to say about your field," said Nanak Flights CEO Rishi Kapoor. "The more you produce, the more you solidify yourself as a leader in your sector."
Publishing original content helps establish Nanak Flights as a go-to source for travel information.
Visual Content Engages Consumers
Visual content, such as videos, images, and infographics, engages consumers and keeps their interest piqued for the whole post.
Visual content stands out among other text-rich blog posts.
"It's always nice to break up text with visuals because we're all such visual learners," Birch said. "Our attention spans keep decreasing, so visuals keep a reader's attention. It breaks up the monotony and leads the consumer through the content pieces."
Consumers are more likely to read and stay engaged with your content if it is visual.
For example, social media marketing agency Social Chain breaks up its blog posts with visual content.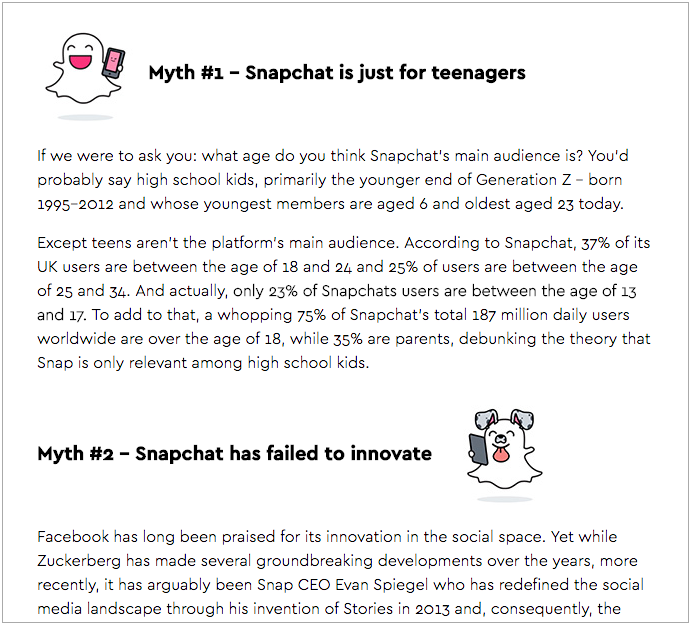 Social Chain connects with its audience by including visuals.
"Humans are innately visual creatures, so highly visual content helps create an emotional connection with the reader," said Social Chain U.S. Creative Director Catty Berragan. "Every time we post or share a piece of content, we're competing for the attention of our readers in an extremely oversaturated, cluttered space. Using images or videos in your content marketing will provide you with extra real estate to capture that elusive attention."
Consumers don't want to read content that is just text; they will easily become bored and will likely move on to another, more visual blog post on a different website.
Content Is King
Content marketing is a successful digital marketing strategy that can reach consumers and spread brand awareness.
More than half of businesses spend time and money on content marketing, a number that will grow as more companies recognize its utility.
Most businesses publish a variety of content frequently, but many still want to make improvements to their content, such as creating more original and visual content.
Content marketing is a powerful marketing tool that can help grow businesses, increase customers, and, ultimately, raise profits.
About the Survey
The Manifest surveyed 501 digital marketers from companies across the U.S. with more than 100 employees.
Most survey respondents are managers (36%), associates (15%), C-level executives (13%), senior managers (12%), and directors (12%).
Nearly three-fourths (73%) of respondents are from B2C companies; 27% are from B2B companies.
About 29% of respondents' companies had a 2017 revenue of less than $50 million; 32% $50 million to $500 million; 39% more than $500 million.