How to Identify Content Gaps With an SEO Audit
How to Identify Content Gaps With an SEO Audit
Search Engine Optimization (SEO) is a powerful tool in any business's marketing arsenal. An effective SEO strategy can increase your online visibility, drive organic traffic to your website, and strengthen your brand's reputation. 
SEO and content go hand in hand. You can't launch an SEO strategy without content. And high-quality content is a huge factor in boosting your search engine rankings. This makes constantly improving your content critical. 
That's where an SEO audit comes in. An SEO audit can enhance your content tremendously. We'll explain why and how to run an effective audit later. But first, let's explore the relationship between quality content and SEO in more detail. 
The Relationship Between Quality Content and SEO
As mentioned above, content and SEO are inextricably linked.
SEO strategies can help you become a force online. But you need a vehicle for those SEO strategies. 
That vehicle is content. It's where your keywords and phrases go. It's where link-building happens.
Most of all, high-quality content is what keeps visitors on your website longer and inspires them to engage with your brand — both of which are integral for consistent results from SEO. 
How a Content Gap Analysis and SEO Audit Can Help 
Improving your SEO strategy is critical. But elevating your content is just as, if not more, crucial for the effectiveness of this dynamic duo.
It may not be the first thing that comes to mind when brainstorming ways to improve your content, but an SEO audit can be incredibly productive. 
Direct Content Marketing Efforts for New Content
An SEO audit can guide your future content creation strategies.
You'll get insight into what content categories, formats, and publishing platforms you should move forward with to benefit your SEO strategy. 
Clarify the Buyer's Journey
An SEO audit also helps you determine how well your content resonates with your audience. 
For example, your high-ranking content may appeal to various individuals in your target audience, while your low-ranking content only attracts a particular group. You can then mimic your high-ranking content's structure, tone, and so forth in future content so that it doesn't alienate anyone in your audience. 
Ultimately, an SEO audit can help you identify gaps in your content and find the best ways to fill them. 
6 SEO Audit Best Practices 
After reading about how your content can benefit from an SEO audit, you're probably wondering how to conduct one.
These six best practices will ensure you perform an SEO audit that supports the improvement of your content:
These best practices will help you identify and fill content gaps using SEO audit tactics.  
1. Refer Back to Your SEO Goals 
One of the first things you'll want to do in your SEO audit is refer back to your SEO goals. This can involve answering the following questions:
Why did you launch an SEO strategy in the first place? 
What results were you hoping for? 
What kind of content did you want to create to support your strategy?
Are there new types of content or content opportunities you are hoping to try?
What was your list of target keywords?
Revisiting your SEO vision will help you determine whether you've made progress when reviewing your current strategy results. 
2. Review Current Results with a Content Audit
Going over the results you're getting from your current SEO strategy is critical for improving it. If you don't analyze how well you're doing now, you won't have a clear direction for getting better results in the future. 
So, look over your data on your SEO strategy's effectiveness, particularly how your content helped or hindered it. 
For example: 
Which pieces of content are ranking high for specific keywords? 
Which ones are underperforming for search intent or traffic? 
How is your audience engaging with specific content? 
Which website pages are visitors staying on the longest?
These are just a few examples of the types of data that you can dive into using tools for SEO and user activity. 
Consider Analyzing Competitor Content
Another way to evaluate the effectiveness of your content is through a competitor analysis. Examining competitor content is a great avenue for finding new content ideas. 
Using SEO tools like Ahrefs, it's easy to find competitors' keywords for their current content. Once you know what competitors rank for, you can identify content gaps within your own niche. 
This will lead to an increase in your share of voice in your field, which will likely generate more conversions.  
Do New Keyword Research
One of the main perks of auditing existing content performance is that newly trending keywords can be introduced to your content marketing strategy. 
Creating your own content, it's easy to focus exclusively on metrics like traffic and backlinks of different content types rather than searching for opportunities for new content. 
Keyword research is an essential step in filling content gaps at every stage of the customer journey.  
3. Dig Deep Into the Content That's Doing Well
It's wise to dig deep into the content that's doing well for various reasons. One of those is that you want to understand what in that content is contributing to a high rank in search engine results. 
For example, ask yourself why it's doing well with questions like: 
Is it the topic of the piece? 
Is it the length? 
Is it the accompanying visuals? 
Is it the internal and external links you're using? 
Are other high-authority sites linking to this content regularly? 
Is it your tone, messaging, or calls-to-action (CTAs)? 
Or is it a little bit of all of these things?
If you can learn the formula for high-ranking content, you can create more of it. And that means better rankings, more organic traffic, a lower bounce rate, and increased engagement. 
SEO Tools for Website Content Analysis 
Looker (previously Google Data Studio)
Google Search Console
Google Analytics 
Ahrefs
Moz
Source: Google Search Console
These tools will help you take your digital marketing efforts to the next level through SERP analysis and keyword insights. 
4. Analyze Off-Page SEO
If you're doing an SEO audit to identify content gaps, you will naturally focus on the content itself and what's going on there. However, it's wise to analyze your off-page SEO too. 
This is because what's going on off the page SEO-wise may affect how visitors access, view, and use your content. This can determine how long they stay on your site, ultimately affecting your SEO strategy's effectiveness. You could be making some critical SEO mistakes from the jump.
For example, if your pages load slowly because you have a lot of visuals in your content, visitors won't stay long. If your URLs don't match the content displayed on the page, it could turn people off. Or, if other sites aren't linking to your content, it could signify to visitors that your site isn't trustworthy, so they don't engage. 
Examine your off-page SEO tactics to reveal clues about your content's effectiveness. 
5. Don't Limit the Keywords and Phrases You Use
Your keywords and phrases may be the reason your content has gaps. If you're only using a select few keywords and phrases, it limits what kind of content you can create and the topics you create that content around.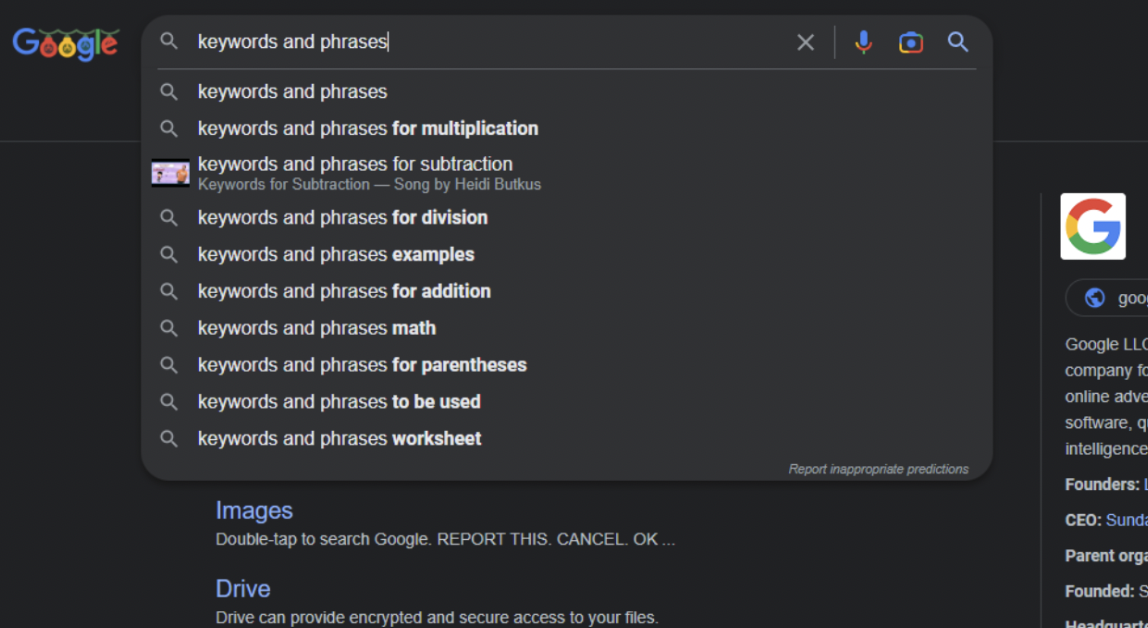 Identify the keywords and phrases you're using and what kind of content you've created for them. Then, explore keywords and phrases you're missing out on by analyzing what your competition is using or doing deeper target audience research. 
This will help you determine content topics and types that you aren't taking advantage of but should for a more robust strategy. 
6. Publish Content on a Consistent Cadence
It's no secret that search engines like it when people and businesses post fresh content consistently. So, if you aren't doing that, this could be the problem. 
Determine how often you publish high-quality content. Even if you can't post original content daily, you should still be churning it out consistently, whether twice a week or thrice a month. 
Your content gaps may not be within the content itself. Instead, it may be how you use that content once you create it. 
SEO Audits Alleviate Major Pain Points
An SEO audit can be the best thing for your content. With it, you can elevate your content in a way that captivates visitors and keeps them on your site longer. 
This way, you'll more directly appeal to potential customers. And that, in turn, will lift your SEO strategy to new heights. 
Need help ranking for certain web pages? Find your ideal SEO company on The Manifest.