The Popularity of Google Maps: Trends in Navigation Apps in 2018
The Popularity of Google Maps: Trends in Navigation Apps in 2018
The majority of smartphone owners use navigation apps and most prefer Google Maps, according to new survey data. Our report explores why Google Maps succeeds and how navigation apps can detract from humans' natural navigational abilities.
Any smartphone owner who ever has been lost can attest to the usefulness of navigation apps, such as Google Maps and Apple Maps. 
Take a wrong turn? If you have a navigation app, you no longer need to pull out an unwieldy paper map or drive around aimlessly until you find the right route. Navigations apps instantly guide you on the correct path to your destination.
The Manifest surveyed more than 500 smartphone owners to understand how people are relying on technology more to get from point A to B. This is the last in a series on popular categories of apps, including social media apps, peer-to-peer payment apps, and food delivery and restaurant loyalty apps.
As more businesses integrate location-based features and functionalities into their apps, they can use The Manifest's data to better understand what consumers prefer when it comes to mobile navigation.
Our Findings
Over three-fourths (77%) of smartphone owners regularly use navigation apps.
Google Maps (67%) is the most popular navigation app by a wide margin. It is the preferred navigation app for nearly 6x more people compared to the second-most popular app Waze (12%).
One-quarter (25%) of smartphone owners say they use their preferred navigation app because they believe it offers better directions.
Over one-third (36%) of smartphone owners use navigation apps prior to leaving their location; 34% use them en route, and 30% use them both prior to leaving and en route equally.
An overwhelming number of respondents (87%) use navigation apps for driving directions the most.
People use navigation apps for non-driving directions such as public transportation, walking, or cycling twice as much in the Northeast as in other U.S. regions.
Google Maps Dominates Among GPS Apps
The majority of smartphone owners regularly use navigation apps, with almost 70% of the 77% of navigation app users indicating that their go-to navigation app is Google Maps.

These apps make traveling more manageable, said Olexandr Leuschenko, head of mobile stack at Ciklum, a digital solutions company.
"Navigation apps are useful," said Leuschenko. "It's much easier to open your smartphone, open an app, and get from point A to point B. It's easier to use the functionality of apps than to talk to real people."
Google Maps is by far the most popular navigation app in the survey. Nearly 70% of smartphone owners say they use Google Maps most frequently.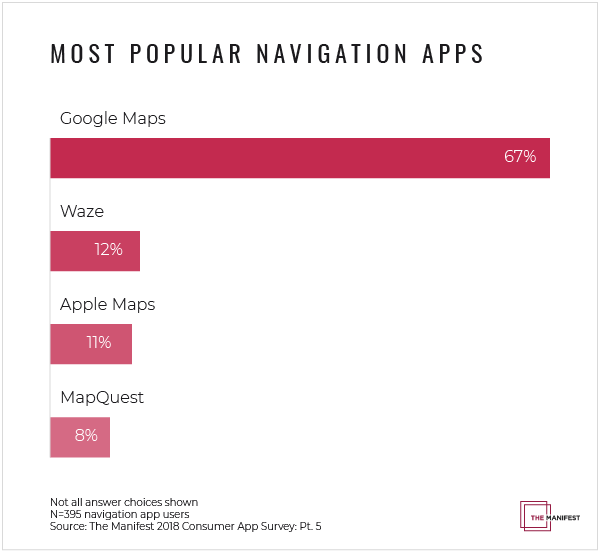 Google Maps reigns supreme among navigation apps largely due to the amount of information it offers.
Google Maps Data Provides Navigational Advantage
Google Maps' extensive data allows it to offer better directions than most other GPS apps.
The survey found that people primarily use their preferred navigation app because they believe it offers better directions (25%).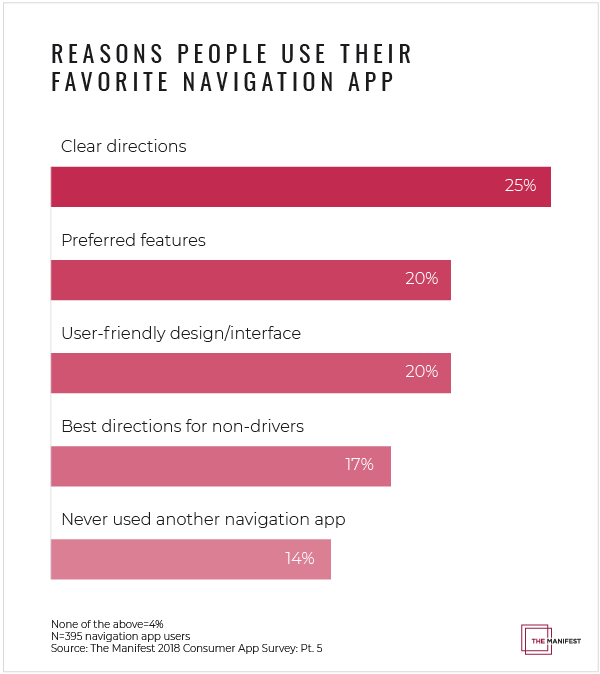 Since Google Maps is the preferred navigation app among the majority of smartphone users, it makes sense that users believe Google Maps gives the best directions.
Google Maps slowly has been documenting the world in increasing detail, which makes their directions more in-depth and precise.
Many people are familiar with Google Maps' Street View project, which sent cars equipped with 360-degree cameras across the world to document a street-level perspective of areas both metropolitan and rural.
The project has documented everything from Times Square to the Great Barrier Reef.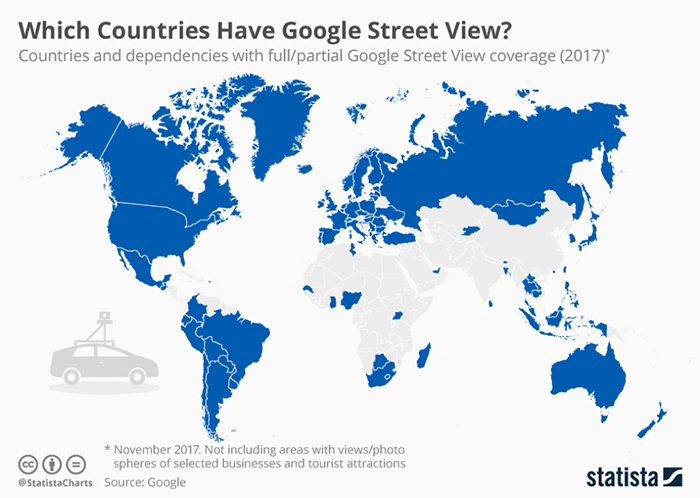 The Street View project is a clear example of how Google Maps collects enormous amounts of data for its navigation systems.
"Google Maps has better data," explained Zack Drew, head of business development at Blue Label Labs, an app design, development, and marketing agency. "It's the internet and knows everything."
Justin O'Beirne, who helped contribute to Apple Maps, wrote an in-depth essay on how Google Maps' strength comes from its attention to detail. 
For example, he explains how Google Maps features the outlines of houses, sheds, and footpaths in even the smallest rural towns – data it collects through satellite and aerial imagery.
Meanwhile, Apple Maps lacks these details for even larger cities, such as Pennsylvania's state capital, Harrisburg (below).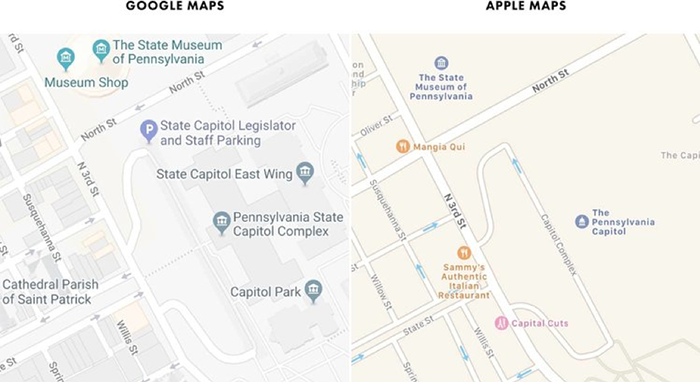 Note how Apple Maps lacks the building outlines and footpaths found on Google Maps.
"Apple Maps is still evolving and right now doesn't provide all the navigation," explained Sudeep Srivastava, co-founder and CEO at Appinventiv, a mobile app design and development company.
Google Maps' in-depth detail strengthens its stature as the leading source of online maps for most smartphone owners.
GPS Apps Change Our Navigational Ability, Sometimes for the Worse
What happens to our natural navigational ability when we no longer need to rely on our memory to get around?
According to our survey, smartphone users are more likely to look up directions before leaving their location (36%) than navigating en route (34%).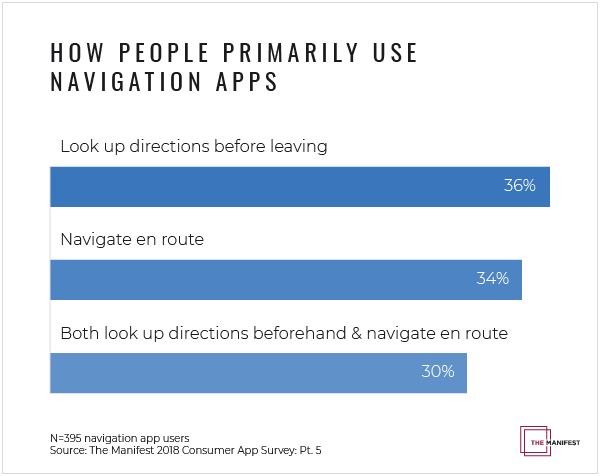 Meanwhile, 30% use navigation apps both before departing and en route equally.
People don't necessarily need GPS apps. We have an enormous capacity for memorizing directions. Consider "The Knowledge" – a grueling and extensive test that requires aspiring London cab drivers to memorize every street, store, and landmark in the sprawling city. The test has been given and successfully completed since the mid-1800s.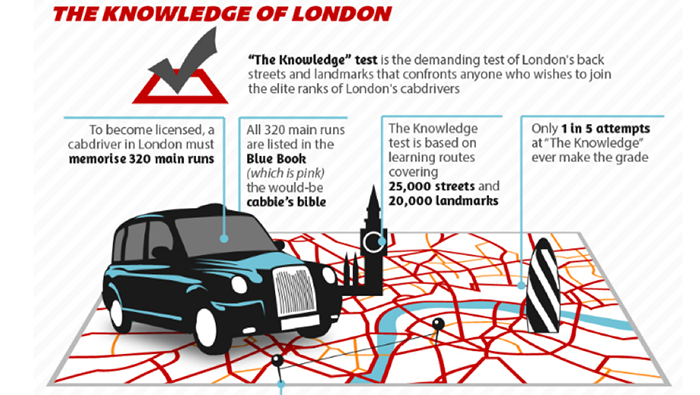 We use navigation apps because they seemingly offer a distinct navigational advantage.
"[Navigation apps] make you much more efficient in terms of your time, where you need to go, and how you need to get there," said Chris Hobbs, president of Two Tall Totems, a Vancouver-based mobile app and software development firm. "The biggest benefit is understanding the real traffic flow."
Yet, a blind adherence to navigation apps also can cause issues for individuals and communities.
There have been numerous documented instances of people becoming stuck, lost, and even dying because their GPS systems navigated them over abandoned bridges, into deserts, and off cliffs. While a GPS might route us on the quickest path from point A to B, it doesn't necessarily mean it's the best or safest path.
Roger McKinlay, former president of the Royal Institute of Navigation, warned in 2016, "Do you really want to encourage people to a point where, when it disappears, or when the battery goes flat, they are in total shock and can do nothing? Technology isn't magic - it is just a tool."
"Technology isn't magic - it is just a tool."
Even in terms of traffic patterns, people's increasing reliance on navigation apps has created issues in neighborhoods located close to routinely congested thoroughfares.
When traffic gets bad on a main route, navigation apps will often route drivers to less congested, secondary routes. These areas often aren't equipped to handle heavy volumes of traffic, though.
This can have unintended consequences for areas like Leonia, N.J., a suburb located across the Hudson from Manhattan. The borough now shuts down 60 streets during rush hours, allowing only residents to drive through during the morning and evening. Officials blame GPS apps for routing drivers through the area when the nearby George Washington Bridge becomes clogged.
While navigation apps often make life easier, they can have unintended negative consequences.
Non-Driving Navigation is Most Popular in the Northeast
Driving directions dominate how people use navigation apps, but variability exists among U.S. regions.
Nearly 90% of respondents use GPS apps primarily for driving directions.

Yet, non-driving directions (walking, cycling, and public transportation directions) are more popular in the Northeast than in the Midwest, South, or West.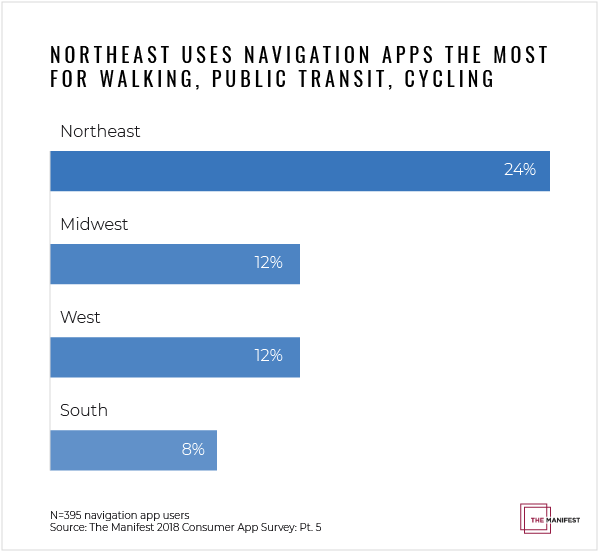 Given the Northeast's concentration of dense urban hubs, this makes sense. A prior survey by The Manifest also found that the Northeast uses food delivery apps more than other U.S. regions, possibly due to its low rate of car ownership.
Apps like Transit (public transportation) and Lanespotter (cycling directions) cater toward these specialized directions.
For example, after inputting a destination, Transit shows users a variety of choices for public transportation, including bike-share options and walking directions.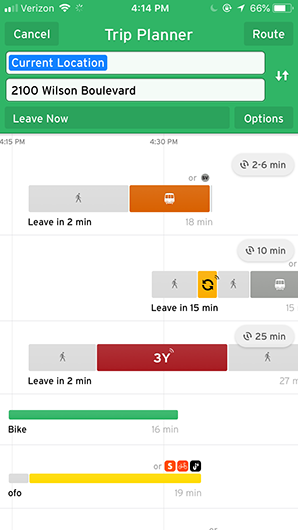 Once a user selects her transit route, the app specifies directions.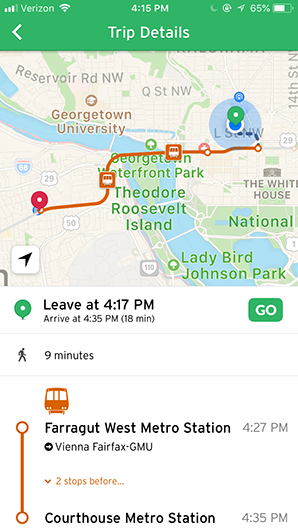 Non-driving navigation apps find unique ways to present alternate transportation routes.
Navigation Apps Make Traveling Easy But Should Be Used With Caution
Navigation apps help our increasingly accessible world feel more manageable.
Over three-fourths (77%) of smartphone owners use navigation apps regularly.
Google Maps is the most popular navigation app by a wide margin: Over two-thirds (67%) of respondents say they use it most frequently. Waze comes in second at 12%.
Most people use their preferred navigation app because it offers better directions, so it makes sense that most think Google Maps offers the best directions. This is largely due to Google Maps' curation of data, collected from its Street View program and satellite/aerial imagery.
Despite their advantages, GPS apps potentially have negative consequences on how humans navigate. Experts and anecdotal evidence caution against a blind reliance on your GPS, which has caused people to drive along dangerous routes and unintentionally clog secondary routes not meant for heavy traffic.
Lastly, while people overwhelmingly use navigation apps for driving directions in the U.S., the Northeast has the largest use of navigation apps for non-driving directions, such as walking, cycling, and public transit.
About the Survey
The survey includes responses from 511 smartphone owners who use at least three different apps daily.
The respondents were primarily female (72%). Age was split among respondents: 18 to 24 years old (15%), 25 to 34 (28%), 35 to 44 (21%), 45 to 54 (18%), 55 to 64 (12%), and 65 and over (5%).