4 Reasons Your App Needs a Privacy Policy
4 Reasons Your App Needs a Privacy Policy
Data privacy is increasingly important to consumers. If your business is developing a mobile app, there are some key things you need to know about adopting a privacy policy. This article will explore the reasons why you need a privacy policy and provide some insight into how to create an app privacy policy.
Updated on 06/13/2023
For anyone doing business in the digital space, watching as Facebook CEO Mark Zuckerberg testified before the U.S. Senate about the Cambridge Analytica scandal was uncomfortable. The normally affable Zuckerberg looked very flustered as he explained why user data from 87 million Facebook users was inappropriately obtained through his platform's apps.
Ever since news of the scandal broke, app users have been increasingly concerned about their privacy. What kind of contact information does an app collect? Is that data shared? If so – why is it shared and who is it shared with? What actually goes into privacy laws?
To alleviate consumers' fears, and to meet the standards set by third-party distributors, many developers have had to create an app privacy policy or risk losing users and downloads. 
What is an App Privacy Policy?
A privacy policy for a mobile app discloses legal requirements for how companies use any personal information collected from users. It's no secret that web and mobile apps collect information and gather user data. That user data is used for a multitude of purposes, and it's the privacy policy that is supposed to explain the following:
What information is being collected
Where the data is stored
Who the data is shared with
What data is used for
For instance, TikTok clearly lays out that the app collects profile information, contact information, and behavioral information in its privacy notice.

Source: TermsFeed
The remainder of the policy showcases how information is used and how the company works to keep all user information secure from harm or loss. 
What Kinds of Data Collection Warrant a Privacy Policy? 
A mobile app privacy policy pertains to all personally identifiable information. If your app collects any of the following information, you may want to create an distribute an app privacy policy to establish a transparent relationship with customers that will fit in line with legal obligations:
Name
Phone number
Location
Social Security number
Credit card information
Birthday
Cookie information
Search history
Race
Gender
Medial information
Email address
Before the Facebook scandal, there were only a handful of app developers who were concerned about spelling out the users' right to data privacy. After all, what data could be extracted from a simple app download?
As we learned during Mr. Zuckerberg's uncomfortable testimony, there is quite a lot of data that can be gleaned from even the most innocuous app usage. This usage data can range from generic (e.g., amount of screen time the user averages) to the very personal (e.g., identification, financial, or location data).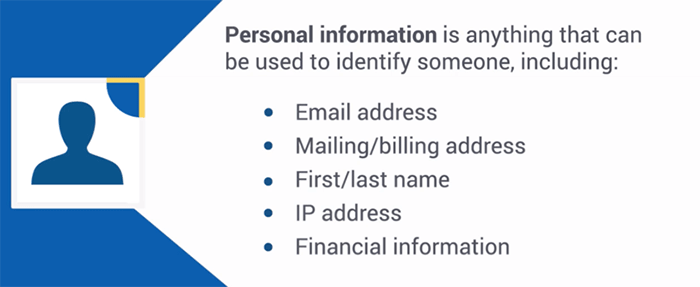 Additionally, anonymous data can also be classified as "personally identifiable information" if the data is used in connection with another type of data that can result in identifying a user.
For example, you may believe that your profile in a mobile application allows you anonymity if you don't use your real name. However, if the profile includes your your age, hometown, or other interests, someone can compare the profile information to another list that has similar information and reasonably deduce who you are.
If your app collects any type of personal or identifiable data, whether you intend to use that information in-house or share it externally, then you need to have an app privacy policy.
There's plenty of information that your app may collect, and it's helpful to let your customers more. Why reveal this information to customers? 
4 Reasons Your App Needs a Privacy Policy
The article will also provide guidance for businesses that need to develop a clear, concise, and effective app privacy policies.
1. Abide By Privacy Protection Laws
The most important reason for developing an app privacy policy is because many governments require it. 
Here are a few of the main countries that legally require an app privacy policy:
United States: There is not a single federal law that requires companies in the United States to have an app privacy policy. 

Instead, various federal and state laws have provisions on user data privacy, including:
The Federal Trade Commission (FTC) is the main regulator of data protection within the United States.

European Union: The General Data Protection Regulation (GDPR) standardizes data protection law across all 28 EU countries and imposes strict new rules on controlling and processing personally identifiable information. GDPR replaced the 1995 EU Data Protection Directive and took effect May 25, 2018.
Australia: The Privacy Act 1988 is the law that governs data privacy down under. The act regulates the handling of individuals' personal information and governs the collection, use, storage, and disclosure of that information. The Act groups 13 principles that an app privacy policy should follow.
Canada: The Personal Information Protection and Electronic Documents Act (PIPEDA) requires that companies from Canada have an app privacy policy. PIPEDA also defines personal information and the types of businesses that are required to take extra measures to protect consumer data.
If you collect, store, or share personal data, then you need to understand that almost every state, country, and state-sponsored organization will require you to explain what you plan to do with that data.
2. Recognize Third-Party Distributors Require App Privacy Policies
Once Facebook demonstrated how a third-party platform could misuse consumer data, other third-party app platforms and distributors began taking steps to protect themselves from lawmakers and the courts.
Both Google and Apple store listings require that app developers develop and display a privacy policy, even if the developer is not planning on collecting sensitive or personal data. 
What Does Apple Require?
Apple's app privacy policy requirement protects the tech giant from litigation or legal action. That way, an iOS app developer that shares data will be held accountable by the terms of its own privacy policy.
What Does Google Require?
Google Play Store, on the other hand, wants the app privacy policy to help users understand what data the app developer collects,  why the Android app developer collects it, and what the developer is going to do with it.
This is especially important for a company that will use a third-party service provider to collect data or display ads using the Google Analytics or Ads tools.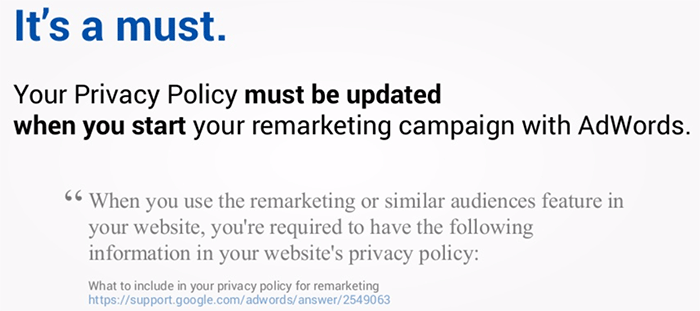 The privacy policy for Google Ads must also include instructions for consumers to opt out of remarketing activities.
3. Develop a Trusting Audience Relationship
Facebook lost a lot of consumer confidence after the data scandal. Usage didn't necessarily decrease, but the types of information changed drastically as people scurried to regain what little privacy remained.
In fact, much of the social media platform's post-scandal marketing efforts centered on regaining consumer trust with the promise not to share user data. Instead of following Facebook's reactive crisis management approach, companies should take more proactive steps to maintain users' trust.
How Do Mobile App Privacy Policies Build Trust?
When a user sees that an app has a privacy policy, there is a subconscious belief that the user can trust the company/developer's functionality. Regardless of what the fine print of the policy says, the sheer notion that such a policy exists can increase the level of trust between an online business and its app users.
Also, an app privacy policy can effectively provide peace of mind to app users and potential users. The policy will need to explain in plain language what the app developer plans to do with personally identifiable information.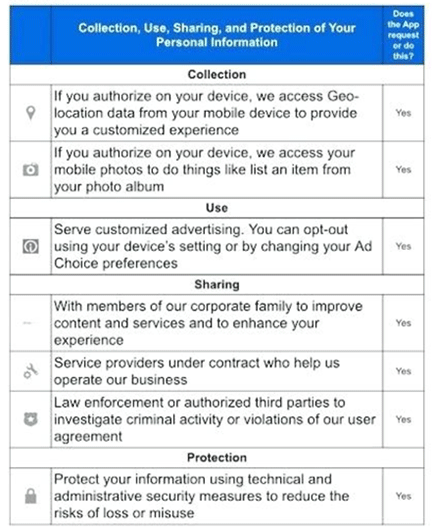 This can make a user or potential downloader feel comfortable having the app on their mobile device, use the app more frequently, and even recommend the app to others.
4. Make (and Keep) More Money
Numerous studies (like this and this) have shown that a company being honest and upfront with consumers by providing an app privacy policy can better persuade those consumers to follow the desired call to action. In fact, a privacy policy has even proven effective in getting people to fill out surveys, complete online forms, or sign up for emails. 
To that end, a clear and concise app privacy policy can drive consumers to the point of purchase.
Also, the app privacy policy can pay dividends by ensuring your app continues to be available for download rather than suspended (or worse). Google Play and the Apple App Store now require developers to have privacy policies linked to their apps before they are approved, and any updates to the app need to be accompanied by a revised privacy policy. 
How Privacy Policies Avoid Costly Lawsuits
Along with making money, an app privacy policy can help a company protect its bank account in several ways. For one, a company without a comprehensive privacy policy runs the risk of being sued by a consumer or group of consumers and dealing with law enforcement.
For example, Delta Airlines, Snapchat, and Google are prime examples of large companies that faced lawsuits over questionable privacy policies. 
In today's litigious society, one lawsuit can lead to many others, exponentially increasing the amount a company will pay in legal fees and settlement costs.
Finally, significant fines from government agencies can be another consequence of not having a clear mobile app privacy policy. As mentioned earlier, the FTC acts as the consumer watchdog for developers that don't display an active privacy policy.
In 2013, the social app Path agreed to pay an $800,000 fine to the FTC for privacy violations – an example of the hefty cost of neglecting a thorough and honest mobile app privacy policy.
How to Create a Privacy Policy for an App
The components of the app privacy policy will differ depending on the type of app and the type of company, as well as the types of consumers (i.e., minors, students) the app specifically targets.
This is why many developers may find it useful to use an independent privacy policy generation service. 
Top Privacy Policy Creation Resources
Here are a few popular privacy policy generation platforms:
Privacy policy generation services can help a developer navigate through the legal language and state/federal statutes to create a clear app privacy policy.
Learn how to rank your app in Apple's App Store versus Google Play.
Privacy Policies Are Must-Haves for Mobile Apps
An app developer needs to have a privacy policy if the app collects any form of personal information, from names to addresses to financial information.
A clear privacy policy will explain to app users what happens to the personal or contact information they give to the company. Without this important verbiage, a developer could be violating the law, which could incur hefty financial and reputational penalties.
There are a number of third-party services that can assist a developer in producing an app privacy policy, since there are numerous elements the developer is obliged to disclose and differing governmental statutes that may apply.
For those reasons, the privacy policy may be the most important part of a mobile app. Without it, the damage caused by consumers, government agencies, and litigious parties may be too much for a developer to bear. 
Additional Reading: