How Businesses Collect Mobile App Reviews
How Businesses Collect Mobile App Reviews
Businesses are both challenged by and dependent on reviews for their mobile app success. To illustrate the critical need for gathering and implementing user reviews, The Manifest surveyed 301 app marketers from businesses of all sizes who were involved in developing their company's app.
Good customer reviews are vital to increasing your app's downloads and ranking in the app store. The app store is crowded, so the opinions of others help your product stand out and succeed.
According to Apptentive, a mobile feedback platform, 70% of people read at least one app review before installing an iPhone or iPad app, and 75% cited app rankings as a main motivation for downloading apps. 
Yet, it remains difficult to collect reviews. The same study by Apptentive found that only 36% of those surveyed had actually left a review in the last 12 months.
The Manifest surveyed 301 employees who are 'involved' or 'very involved' in their company's app development and marketing to learn how businesses collect and engage with mobile app reviews from app users.
We found that businesses use a variety of methods to gather user reviews on mobile apps – from push notifications to social media. The majority of businesses actively implement feedback from reviews into their apps, showcasing the importance of customer feedback.
Use this report to understand the challenges of collecting app reviews and how to use reviews to boost your app's downloads and engagement.
Our Findings
Businesses use a variety of methods to gather mobile app reviews, such as through their website (26%), in-app push notifications (25%), social media (21%), the app store (19%), and third-party websites such as SurveyMonkey (10%). 
Most businesses read reviews and actively implement the feedback (63%).
It's less common to read reviews and only sometimes implement the feedback (25%) and rare to read reviews and not implement the feedback (10%).
Larger companies tend to dedicate more time to reading reviews and implementing feedback. A little under half (49%) of companies with 11-50 employees read reviews and implement feedback, compared to 61% of companies with 51-200 employees; 67% of those with 201-500 employees; and 67% of those with 500 or more employees.
The most common incentives offered to encourage app downloads include a discounted item or service for downloading the app (71%), a free item or service for downloading the app (65%), or accrued in-app rewards such as points or coins (63%).
Companies Use a Range of Marketing Channels to Encourage App Reviews
App reviews are valuable because they help users make a choice. Collecting a high number of reviews can lead to more success for your app. 
Companies use a variety of methods to gather app reviews.
Companies most commonly encourage reviews through their websites (26%), through push notifications in the apps (25%), by posting reviews on social media (21%), by encouraging reviews in the app store (19%), and by using third party sites such as SurveyMonkey (10%).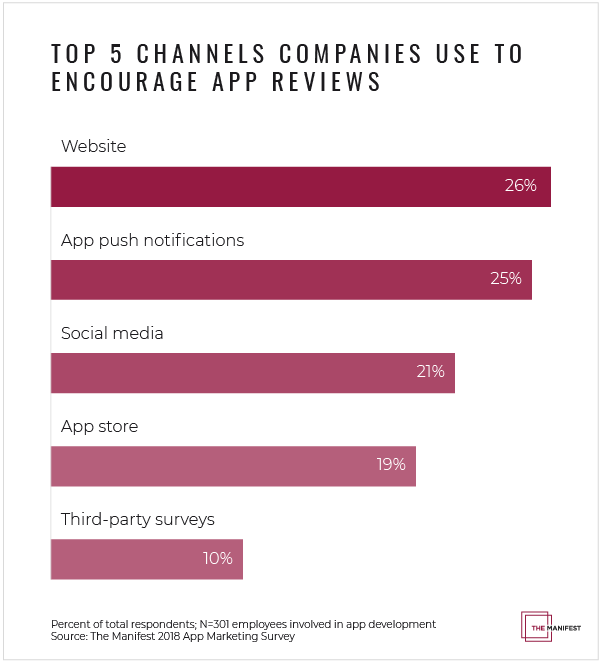 Mobile is increasingly customers' first choice when it comes to accessing content online. By focusing on your mobile app reviews, you better embody a mobile-first mentality. 
"If you think of your mobile app as secondary to the desktop or web experience, so will your customers," said Vik Patel, CEO and founder of Future Hosting. "Make mobile the heart of your business."
Highlight your influential reviews to boost your app's appeal and discoverability.
"The app should be the primary focus of development and marketing," Patel said. "This can be a difficult perspective change for many companies, but mobile is now the dominant computing platform, and it makes sense to put the mobile experience front-and-center."
Your app should focus on gathering continuous feedback, which can lead to a higher number of relevant reviews. This will require you to build feedback channels into the app. 
The optimal time to ask for feedback is after an in-app success, such as a level win or a completed transaction. While satisfied users are less likely to leave a review, asking at a positive moment will increase the chance of an enthusiastic response.
For example, the Trendy Street app asks for a review after a completed purchase.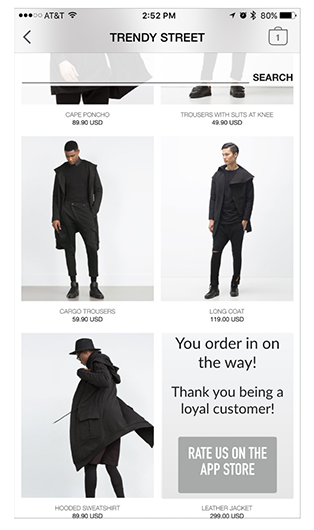 This review request is effective because it appears when shoppers are most excited.
The SKStoreReviewController API lets users rate or review your app during use, without being redirected to the app store. Keeping users within the app streamlines the review process and minimizes any potential frustration. 
An ideal in-app review process is personalized, preserves the user experience, and happens at appropriate intervals to avoid annoying users. In turn, it will help increase the number and quality of your reviews.
Most Companies Actively Listen to and Implement Feedback From App Reviews
Users want up-to-date and streamlined apps. A slow and buggy app experience will negatively affect your return on investment and damage your brand reputation. 
Regular updates allow you to fix errors and deliver a quality app experience that will grow and retain your user base.
Unsurprisingly, our research shows that most businesses (63%) read reviews and actively implement the feedback. A full 25% of businesses choose to read reviews and only sometimes implement the feedback, while 10% of companies read reviews and don't implement any feedback. Only 2% of respondents typically don't read their reviews.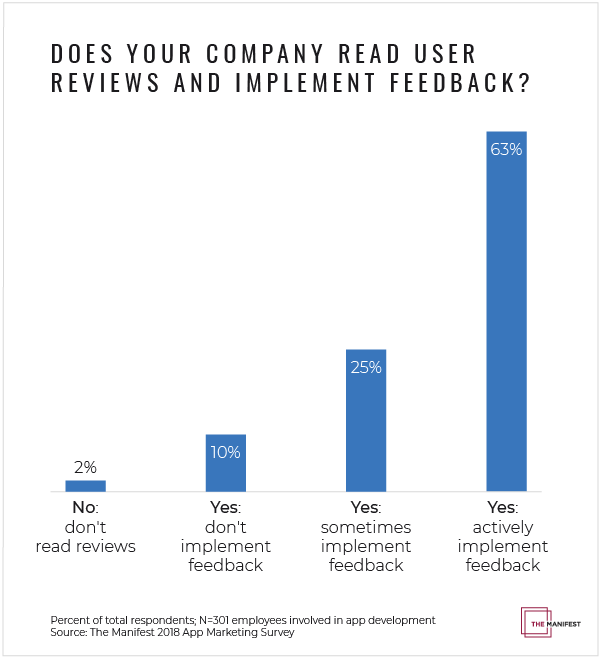 The majority of companies understand that reviews lead to a better product. Feedback informs future app updates, which in turn, impacts the total number of app downloads. 
"The best tip I share with my clients is to monitor and manage your online reviews," said Ian Blair, CEO and co-founder of BuildFire, a mobile app building platform. "Having a firm understanding of your customer's feedback and pain points can make a huge difference for mobile apps, as it allows a business to leverage customer feedback, track issues the customer may be having, and identify trends through data analysis and common phrases used in the reviews." 
You must be attentive to users' needs to maintain a positive app store rating. According to the app analytics company, Appfigures, the most frequently used words in one-star reviews are "work," "time," and "fix." Five-star reviews used descriptors such as "easy," "great," and "fun." Even the most disruptive apps must combine user feedback with innovation to stay relevant.
You may remember that Facebook was initially limited to Harvard students and even hosted course lists. Seen here, early versions of the app were limited and niche.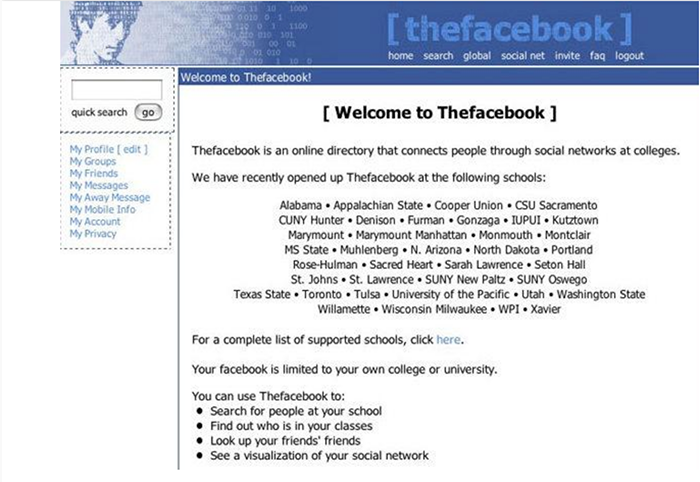 Now obsolete, Facebook's former functionality provided early users with a sense of ownership that led to growth. As the platform expanded, the features evolved to better service a wider market.
Do not think of your app as a static product. Reviews allow you to know what users want from you now and in the future.
How to Fix Your App Store Rating
Perhaps your app garnered bad reviews in the past, but you've been working diligently to implement feedback and improve it. Does your app still stand a chance?
You can opt to reset your app's total rating when you release a new app version in Apple iOS. The reset is not mandatory, so app owners may preserve their positive reviews and rankings. 
Releasing an entirely new app may appeal to some, though, as a single negative or one-star review can only be offset by 10 positive reviews.
A single negative or one-star review can only be offset by 10 positive reviews.
According to the mobile app marketing company Kahuna, moving from two to three stars will boost your app store conversions by 280%, while moving from two to four stars will increase conversions by 540%.
Unfortunately, Google Play does not allow this reset.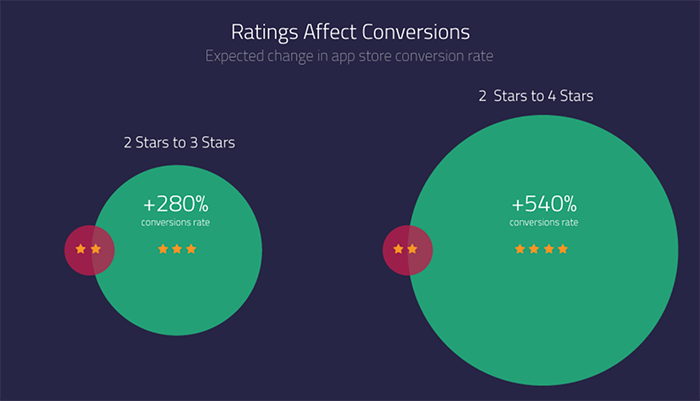 Fixing bugs and attending to feedback might require a small tweak or a complete overhaul. Determine what impact you hope to have on conversion rates and downloads and update your app appropriately.
Larger Companies Tend to Dedicate More Time to Reading Reviews and Implementing Feedback
The larger the organization, the more likely it is to engage with and implement user reviews. 
We found that 49% of companies with 11-50 employees read reviews and implement feedback, compared to 61% of companies with 51-200 employees; 67% of companies with 201-500 employees; and 67% of companies with 500 or more employees.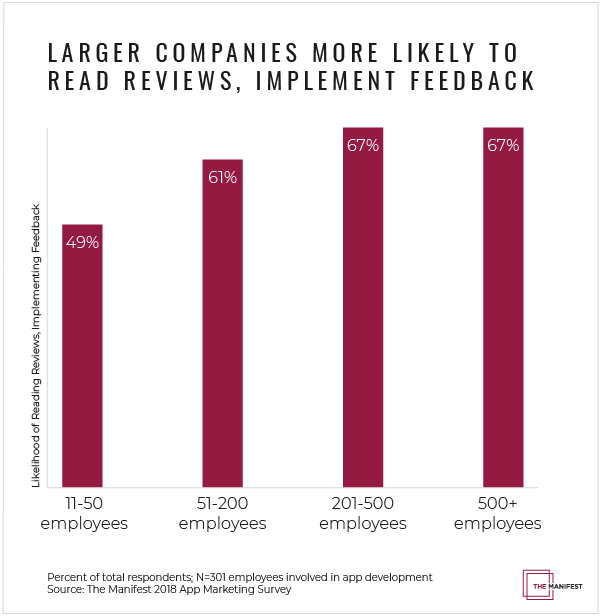 Though headcount may feel like a limiting factor, businesses of all sizes can easily implement feedback. Even fledgling startups have everything to gain by being hyper-attentive to their users. Paul Graham, CEO of the seed accelerator Y Combinator, calls this "doing things that don't scale."
"I have never once seen a startup lured down a blind alley by trying too hard to make their initial users happy," Graham said.

While it's important to note and respond to all negative reviews, pay close attention to those with specific criticism. For example, prioritize a review that says "the app didn't keep the sizing box the same as others" and "it's hard to read" over one that says "the box doesn't look right." 
Both reviews deserve attention, but the first provides a direction.
Once you've resolved the issue, let the user know. If they feel like their concern has been dealt with personally, they'll be more likely to post a positive review about the experience.
Likewise, you should leap at the chance to address repetitive feedback. Recurring issues indicate a widespread problem affecting most users. As a rule of thumb, for each customer that complains, hundreds feel the same. 
Apple recently made it possible for app developers to respond to user reviews. Already available to Android developers, these replies are visible to everyone. 
Responding to reviews publicly will encourage others to post their feedback. If a user knows their voice will be heard, they'll be more likely to speak candidly. This open forum format helps to:
Create a sense of community for the app
Defuse negative comments
Demonstrate your devotion to customer care
In this example, a developer for the ski and snowboard app Slopes, responds to a happy user and points them toward a relevant FAQ link.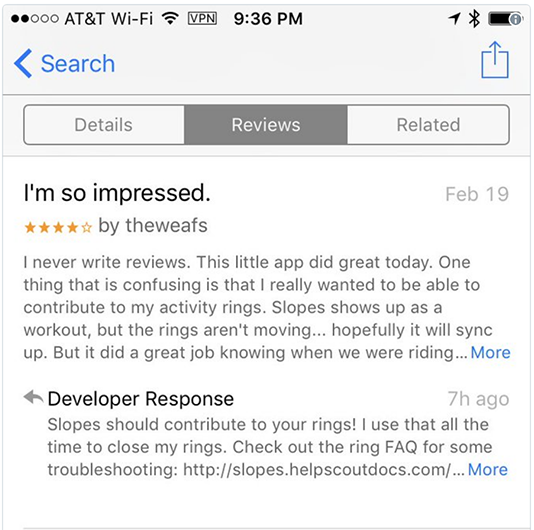 The personal touch helps to create camaraderie, reinforce engagement, and provide a valuable resource to other readers.
Apple and Google have both published guidelines on how to respond to reviews:
Prioritize and respond to all negative reviews in a professional manner
Never ignore a negative review
Reply to some positive reviews to generate goodwill 
Ratings and reviews boost your app's visibility and performance but only when recognized. You must properly manage and respond to feedback in a way that encourages a dialogue around your app.
Companies Use a Variety of Incentives to Drive App Downloads
While reviews are critical to downloads, you may need to try other approaches. In a market saturated with nearly 6 million apps, the "if you build it they will come" approach doesn't work. 
Unsurprisingly, 50% of marketers say that the primary challenge to app marketing is that app discovery is harder than before, according to Statista.
Most apps follow the freemium model, so incentives allow you to enhance your app's value to shoppers on the hunt for the next best app. 
We found that the majority of businesses offer a discounted item or service (71%), a free item or service (65%), or accrued in-app rewards like points or coins (63%) to incentivize a download.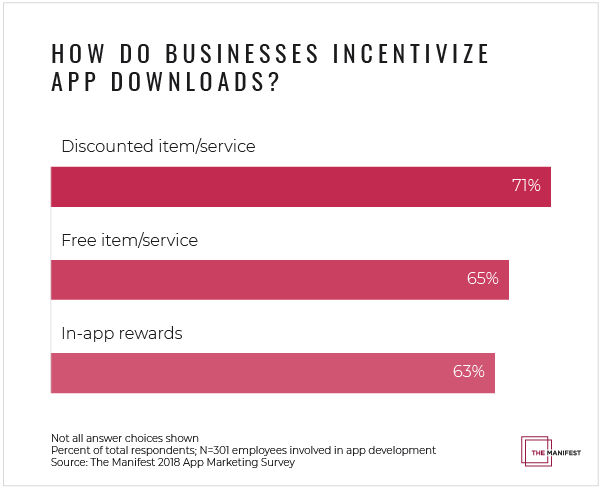 In this competitive space, obvious perks help you stand out from competitors.
Download volume is a key factor in app store optimization (ASO) – or the process of enhancing the visibility and appeal of your app in the app store. The more benefits you offer, the easier it is for potential users to make a snap decision about whether they should download your app.
"Why should customers download your app? Of course, they'll enjoy the benefits it offers, but only after they start using the app. How are you paying back for the effort of downloading?" said Pratham Mittal, co-founder of Outgrow, an interactive content app. 
"Give them incentives," Mittal said. "Offer a coupon, gift card, [or] trial service on every download. Introduce referral discounts. This will encourage consumers to share the app in their network, and you'll get more downloads." 
Be sure to mention any promotions in the app description. For maximum impact, you can showcase these benefits and discounts in your screenshots and creatives. Be resourceful about ways to differentiate your app's value at a quick glance.
Offering incentives will benefit other ASO ranking factors as well:
App starts – the number of times a user actually opens the app – will increase if you offer a free service upgrade, a premium trial, or a month-free subscription to premium content. 
Retention – the number of people who keep your app rather than uninstall it within 30 days – will also improve if you motivate users to engage more fully with the app. 
Keywords and benefit-rich descriptions are key for hooking shoppers and driving installs. Using keywords when describing incentives will maximize their appeal.
Be detailed about how you incentivize a download, and focus on delivering what users want from your app.
App Reviews Allow for Optimal Alignment Between Brands and Users
Collecting app reviews is challenging but instructive. For best results, ask for and collect feedback that helps you create a more rewarding brand experience for customers. 
According to research from B2B research, ratings, and reviews company Clutch, the primary reason businesses create a mobile app is to improve customer service (36%), increase sales (34%), or compete in a specific market (22%).
Prior to 2016, however, the majority of businesses focused on driving sales with their mobile app.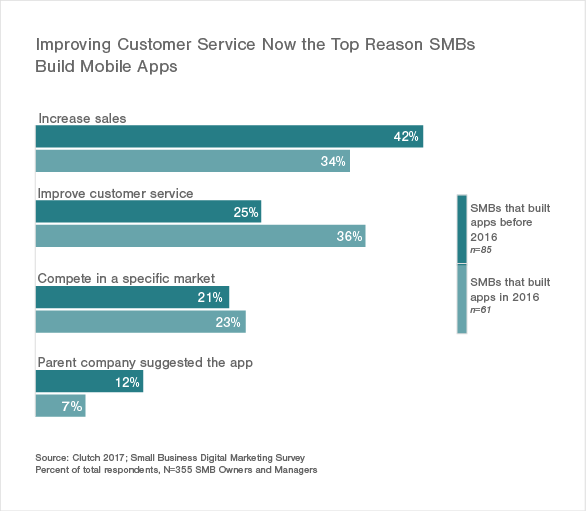 This shift toward customer care over revenue signals a growing awareness of why customers use apps. 
Consumers don't download apps to spend money. They use apps to access convenient features and perks, such as:
Social integrations
Mobile payments
Loyalty programs
Think of your app as a way to enhance the customer experience and secure customer loyalty, not as a sales driver.
"Your app should be more than just a conduit to your brand message; it should offer something that's vitally important to your prospects and customers," said Nicole Munoz, CEO and founder of the social media marketing company Start Ranking Now. "If they see your app as providing something of value they can't get anywhere else, they'll be more motivated to download."
Collecting and listening to app reviews helps you put your customers first and create the best possible product for their needs.
Customers will respond to a relevant and remarkable app. Approach app design and updates with the goal of optimizing the user's end-value. 
If you succeed in creating a unique resource available nowhere else in your or your competitor's customer experience, then you are far more likely to succeed in the crowded app marketplace.
The Challenge of Collecting App Reviews
Mobile app success hinges on the quality and volume of app reviews. Gathering feedback from users is difficult, but it requires diligence and care. Attending to reviews ensures you the best possible app store ranking, the greatest download volume, and an optimal user experience.
Companies use numerous incentives to drive app downloads. In the congested app market, perks and freebies allow companies to stand out and gain a competitive edge. 
Businesses use a variety of marketing channels to gather reviews from users. A comprehensive app marketing strategy gives you the best chance to encourage app reviews. For best results, ask for reviews in a way that does not detract from the user experience or annoy users. 
Most companies read user reviews and implement the feedback they collect. This ensures that their product works well and delivers a satisfying experience. Ultimately, all feedback is valuable and requires a professional response. 
Larger businesses are more inclined to listen to user reviews. Regardless of the size of your business, though, you must design and update your app to satisfy users. 
The best apps are tireless in their pursuit of perfection, crafting a product refined by an ear for feedback and an eye for value. 
About the Survey
The Manifest surveyed 301 employees either involved or very involved in the development of their company's app.
All respondents work at an associate level or higher. The respondent pool is 50% female and 50% male.
Most survey respondents are from companies of more than 500 employees (36%), 201-500 employees (27%), 51-200 employees (25%), and 11-50 employees (12%).