How to Tell When It's the Right Time to Launch an E-Commerce Business
How to Tell When It's the Right Time to Launch an E-Commerce Business
Contributed Content
Timing when you launch an e-commerce store can go a long way to determining how successfully your business performs. In this article, we reveal common signs that an offline business is due to launch an e-commerce store.
With all the hype around e-commerce and the potential of online retailers to eventually replace brick-and-mortar stores, it is tempting for businesses to want to jump on the bandwagon. However, timing plays an important role in the success of any business, especially ones seeking to launch an e-commerce offshoot.
I have built an agency (Magneto IT Solutions) that has worked with several startups to launch their e-commerce businesses within the last decade. As a result, I perfectly understand how critical timing is and will shed more light on the matter.
In this article, you can expect to learn about the actual size of the e-commerce industry as well as exploring signs that indicate when your business should or shouldn't start an e-commerce store.
How to Launch an E-Commerce Business at the Right Time
Check your industry's e-commerce market
Gauge customer demand
See if your product has a global audience
Weigh the benefits of sales automation
Be patient with revenue growth
Make sure you can afford development costs
Check the E-Commerce Industry Size
Understanding the real size of the e-commerce industry is one of the best indicators to consider for businesses looking to enter the online market for the first time.
According to Statista, the number of digital buyers (which includes e-commerce shoppers) is expected to reach 1.92 billion this year. That stat, in a more definitive term, means that roughly 25% of the world's population are digital buyers, although the number of buyers varies by region.
The following chart shows the growing trend of digital buyers worldwide from 2014 to 2021.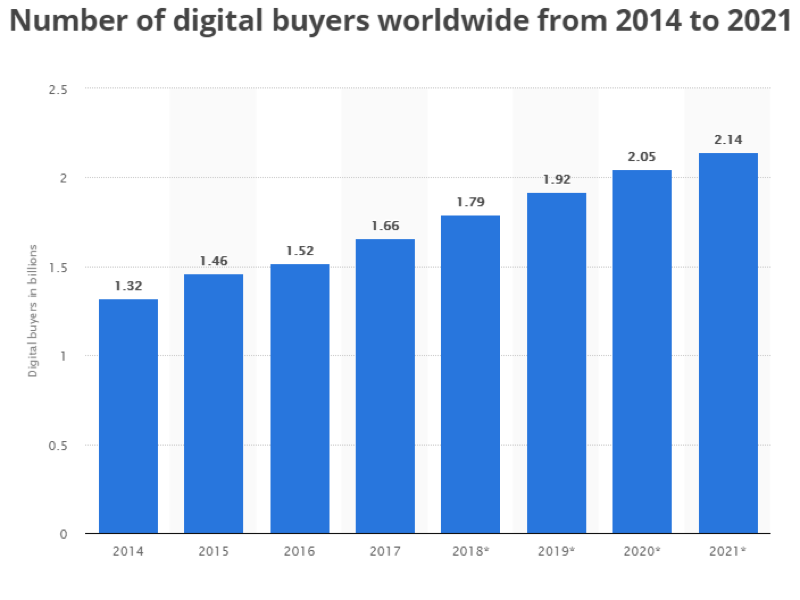 Compared to 1.32 billion buyers in 2014, there's been a significant uptick in buyers. 2020 and 2021 are projected to go even higher at 2.05 billion and 2.14 billion respectively.
In terms of sales numbers, a study by leading digital research agency eMarketer noted that the global e-commerce industry would hit $25.038 trillion in 2019, marking a 4% increase over the previous year and setting the tone for new highs in the years ahead.
Regarding the nations expected to spend the most on retail e-commerce in 2019, include:
The fact that these regions are the highest spenders on e-commerce doesn't signify that opportunities do not exist in other countries. Rather, it indicates which countries have markets that are ready for new e-commerce businesses to target.
Now that we have a simple yet reliable overview of the size of the e-commerce industry, let us discuss the signs that your business should launch an eCommerce store.
Gauge Your Customer Demand
If you're operating an enterprise with a significantly sizeable customer base, then you need to pay attention to the moment when it becomes near impossible to satisfy all client demands in-store.
For instance, regular overcrowding of a particular retail outlet during peak periods and a failure to answer customer demand for out-of-stock products within a reasonable time are both key indicators.
In those two scenarios, hiring an e-commerce development company to help you develop an online store can reduce traffic at the retail outlet. Meanwhile, you can incorporate drop shipping to meet customer demand for out-of-stock products.
However, if you're not sure how much customers will appreciate shopping from home via an e-commerce store, then you can conduct a survey and take action based on the feedback gathered.
See If Your Product Meets a Global Audience
If the products or services that you sell can serve a global audience (most can), then you may view this as a sign that you should launch an e-commerce store.
Having a business that is not restricted by location is one of the core benefits of an e-commerce store, and it's one that your corporation should consider after consulting with a trusted e-commerce development expert.
Weigh the Benefits of Sales Automation
If you're looking to cut down the number of people working at your retail store, then automating the process of meeting a customer's demand could go a long way.
Interestingly, launching an e-commerce store offers the perfect opportunity to automate processes such as invoicing, inventory checking, delivery tracking, and even customer support using live chat tools.
The bottom line is that launching an e-commerce website allows you to partake in automation growth. If your business needs attention in that area, then it is worth a try.
Now that we have considered the scenarios for when it might be right to launch an e-commerce store, here are instances when you should not even dream of venturing into e-commerce.
Be Patient When Growing Revenue
If your objective for launching an e-commerce store is to create a new revenue source for your business within a short period, then you may want to consider not going on with the plan.
As an expert who has watched several e-commerce businesses flourish and others fail within a few months, I think it is safe to say that operating an e-commerce store is a patient game and not a get-rich-quick scheme.
According to EnterpriseTimes, 90% of eCommerce startups in the UK fail within 120 days. You don't want to join that number by launching an e-commerce store at a time when you should be looking for other revenue streams
Make Sure You Can Afford Development Costs
Some e-commerce developers deceive clients by saying that the cost of launching a thriving e-commerce store is easily affordable. But, along the line, they begin to charge you heavily or threaten to abandon the project.
Others may even suggest Magento custom development or building with other platforms such as Shopify and WooCommerce as a way to cut down costs while keeping the store's performance at an optimal level.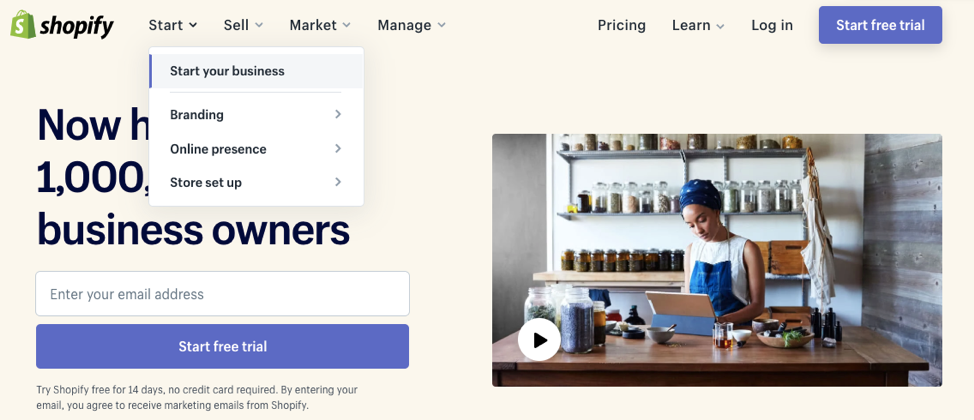 While there is some truth in what they say, the reality is you still need to spend a sizeable amount of money for your e-commerce store to take off. 
For instance, you still have to spend a portion of your budget researching e-commerce business models, branding, marketing, shipping management tools. You'll also need to recruit a backend manager.
With these factors in mind, I recommend looking well beyond the cost of just developing the e-commerce store. If your budget cannot foot the bill, then it is a sign that you shouldn't launch an e-commerce business yet.
Timing Plays a Critical Role When Launching an E-Commerce Store 
Our e-commerce agency receives a lot of requests from clients who want to launch an e-commerce store because they think it is essential. They don't want to miss out on the ongoing revolution.
However, taking the time to analyze the impact of an e-commerce store on an existing business is a core factor in deciding whether to proceed with the plan or not. 
If your business has the customer demand, can benefit from process automation, and has the budget to meet development and maintenance needs, then it might be the right time to start an e-commerce store. 
But if you're looking to make quick cash and can't back shop costs, then you should focus on your brick-and-mortar shop first.
Hopefully, you can take the facts we've discussed in this article into consideration and make the best decision for your business.