Graphic Design Agency Onboarding Checklist for Small Businesses
Graphic Design Agency Onboarding Checklist for Small Businesses
Unlike texts and blogs, graphic design is immediately striking. Professional graphic designers know how to create effective visual aids that can communicate clearly. Small businesses can benefit from having a dedicated graphic design partner that delivers professional and sophisticated designs. Keep reading this piece to know all the boxes you need to tick when onboarding a new graphic design agency.
Ever wonder what graphic design brings to brands? A lot. Visual aids and materials can allow brands to distinguish themselves, efficiently deliver messages, and build recognizable identities.
Most small businesses don't realize the value of good graphics and why they should invest in reliable graphic design services. It is a necessity but the concerns are understandable, especially for business owners that don't have prior experience working with graphic designers or service providers.
You may miss out on different opportunities if you overlook the significance of good graphic design. Visual communication will always be a constant factor regardless of industry, size, or business model.
If you plan to hire a dedicated graphic design agency soon, continue reading to know what to expect. Here's our detailed onboarding checklist to help you cover all grounds.
Ensure you're connected with agencies with the experience and expertise you need. Scroll through The Manifest's list of the leading graphic design agencies to match with the perfect firm for your small business.
Small Businesses Need Graphic Design
Markets across urban areas are increasingly becoming more competitive, and small businesses are understandably constantly looking for ways to show their uniqueness. Visual communication has the power to elevate brands when done correctly. Graphic designs can be used in many different ways, from social media posts to presentations and posters.
Some of the biggest advantages brought by compelling graphic design include:
Contributes to leaving a positive first impression
Allows consistency across all marketing and branding initiatives
Reinforces brand recognition
Helps customers understand or know more about the products
Supplements various communication channels
Helpful with relationship building and customer support 
Enhances customer experiences or buyer journey
Businesses with bland designs across their website, social media campaigns, and printed marketing materials don't make a memorable impression. Professional graphic designers know how to create eye-catching and impactful graphics that transform brands.
Graphic Design Agency Onboarding Checklist for Small Businesses 
Hiring and onboarding a new graphic design agency into your small business isn't a simple two-three-step process. Most startup and small business owners don't know what to expect, but the keys are research, organization, and proactiveness.
There are plenty of things to consider and prepare to ensure that your partnership's beginning runs smoothly. Breaking down the onboarding process into three main stages — selection, signing, and implementation — can streamline the process and make it less engulfing.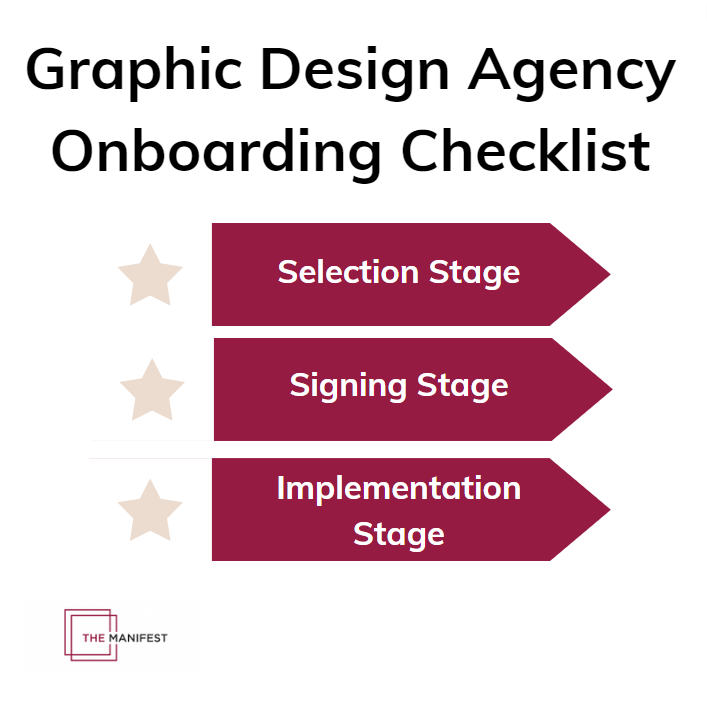 Selection Stage
Once you've identified the need for a graphic design partner for your business, the first stage is to select the right agency. It may sound simple at first but there are plenty of factors to consider in order to get the best value for your investment.
Check everything in our selection stage checklist:
Visit B2B directories like The Manifest and Clutch to access their list of the top graphic design agencies
Narrow the list by filtering according to your budget, industry experience, and location if needed
Look at their portfolio of past work and projects
Check if they have experience working on the type of designs you like
Consider the range of their services
Check their LinkedIn profiles to see more of their online presence
Read through their client reviews
Find out if there are any concerns with the agency, especially from their previous clients
Cross-check their references
Reach out to the agency to request a quote and the following:

Proof of tax compliance
Business permits
Business License
Certificate of good standing

Evaluate their quote
Inquire about their creative process
See what tools or software they use to create graphics
If they meet your requirements, request a proposal and their non-disclosure agreement if needed
During this initial stage, you're not obligated to stick to and only contact one vendor. By inquiring from two or three vendors, you'll get to compare their services and quotes. As a business owner, you're responsible for ensuring your business is connected with an agency that understands its needs and goals.
Additionally, non-disclosure agreements are for all businesses but it's a great measure to make sure any crucial information about your business remains confidential even after the engagement. It's not only beneficial for your brand but also for the designer.
Setting a budget can help you quickly screen the options. Know more about the costs here: "How to Make a Custom Graphic Design Budget [With Template]"
Signing Stage
After identifying which agency to go with, ask for a contract and take a moment to review everything again. Hiring an agency is a big investment, especially for small businesses that need to reap the maximum benefits for every penny spent.
Follow this checklist to ace the signing stage:
Dedicate time to carefully read and review the contract sent by the agency. Check for the following:

Clear contract language and transparent wording
Detailed terms and well-defined conditions
Metrics and benchmarks are clarified
Payment terms are stated clearly
Milestones and expected timelines are understandable
Retention previsions or renewal clauses are fair
The duties and responsibilities of both parties are clear

Before signing, hold a meeting with your co-owners or stakeholders to discuss the contract
If you're uncertain about some points in the contract, reach out to your lawyer for consultation
Negotiate terms if you feel they're not fair for your business
Don't sign a contract when you still have doubts or concerns in mind. It's best to feel confident about every box before putting ink to paper. Some businesses send out template contracts they have ready, so it's up to you as the business owner to guarantee that the contract is even. Remember, not thoroughly reviewing a contract is one of the cardinal sins in business.
If everything feels right, sign the contract and prepare for the next stage. Moreover, ask who will be the main point of contact or account manager who will be working with you. That professional will be responsible for helping you with any inquiries you have and sending you notifications about the project.
Implementation Stage
Finally, you're at the last stage. This period can be a little busy but you can also delegate some of the tasks to your team to make sure everything goes well.
Before you relax and focus on other matters, complete everything on this last checklist:
Assign responsibilities to your team

If you're busy, assign someone who will be the daily or regular contact of the agency
Assign a teammate who will keep track of the metrics
Inform your social media or digital marketing team about the partnership

Prepare a presentation with the following slides:

Introduction to your business
FAQs about your business 
Introduction of the graphic design agency
FAQs about them
Project outline
Project scope
Project objectives
Expected deliverables
Regular workflows
Point of contact for both parties
Ideal timelines

Identify the ideal cadence for holding regular check-ins or meetings
Decide on a communication platform for the project (i.e. Slack or Skype)
Select a project management tool/s for the project (i.e. Trello or Asana)
Prepare a spreadsheet with the contact information of every team member involved for easy access (e.i. Phone number and email addresses)
Prepare cloud storage for the graphics (i.e. Google Drive or Dropbox) if the agency doesn't provide it
Send out welcome emails inviting everyone involved to the kickoff meeting
Host the kickoff call
Prepare an exit strategy
The entire onboarding experience is crucial for a successful partnership. Just like with new hires, new agencies that come in should be welcomed and introduced well. Essentially, onboarding is important for retention, improving productivity, and acclimation to a company's culture.
Lastly, don't overthink the process. You're their new client, so they're also looking to impress you and help you through the onboarding experience. Just ask them if they need anything else from your end and enjoy the new partnership.
Companies Benefit from Graphic Design
Humans are visual learners. In business, leveraging the power of dynamic designs, striking visuals, and vibrant images is a must. A study found that 93% of all human communication is visual, showing how important it is for businesses to invest in impressive graphic design.
Hiring an experienced graphic design agency can help you position your brand appeal. Their skills are invaluable to helping your brand remain relevant and memorable, online or offline.
Find a partner with the best technical skills, experience, and know-how. Connect with the top graphic design agencies on The Manifest.
Additional Readings:
Graphic Design Glossary: 78 Essential Terms
4 Graphic Design Concepts to Improve Your Designs