BPO Firm Onboarding Checklist For Small Businesses
BPO Firm Onboarding Checklist For Small Businesses
When outsourcing BPO services, it's important to find a partner that is easy to collaborate with. Follow these steps during the onboarding process to set your partnership up for success and alleviate communication issues before they even begin.
Business process outsourcing (BPO) firms can quickly become an integral part of your business processes. Offering back-office and customer services such as document digitization, claims processing, data entry, billing, payment processing, and more, a BPO firm can streamline your operations process while granting your internal team more time to focus on core business processes.
Finding the right partner and onboarding them properly ensures strong cross-team communication and a smooth collaboration, but it can be challenging to get your project started on the right track.
This article will include how to evaluate, hire, and integrate your BPO firm to ensure a positive and productive partnership. Follow these onboarding tips to foster a strong, long-lasting relationship with your BPO provider.
Searching for a BPO provider? Begin your search on The Manifest — review leading BPO providers that offer high client-satisfaction ratings, industry experience, and great value for your budget.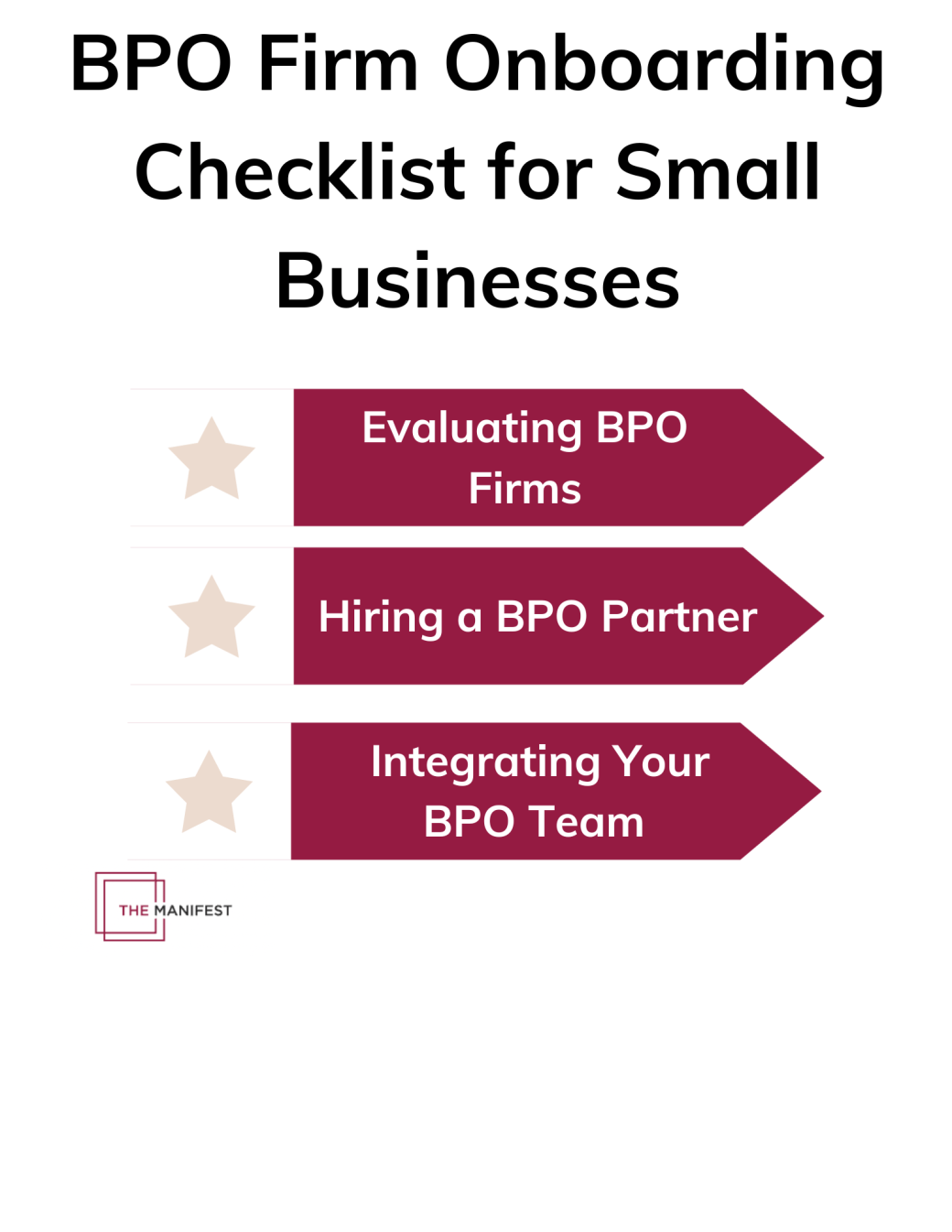 BPO Firm Onboarding Checklist for Small Businesses
Evaluating BPO Firms 
Hiring Your BPO Partner
Integrating your BPO Partner
Evaluating BPO Firms 
As you begin to look for a BPO provider, you may find that the process of hiring a partner is more complicated than you expect. Regardless of the services your BPO team is providing, you want to find a partner that is more than just competent. You want to hire a skilled professional who can streamline your operations, reduce costs, and improve efficiency.
To find the perfect partner for your business, consider consider these steps:
Create a budget & list of required services
Research service providers on review platforms like The Manifest and Clutch. 

Search based on industry, experience, location, and cost 
Review their portfolio and previous work 
Explore their website 
Verify their credentials 

Ask for referrals 
Shortlist potential partners
Interview top contenders. Be sure to ask about: 

Team size 
Experience 
Technical skills 
Previous clients
Communication & collaboration strategies 
Tools and workflows 
Pricing
With this in mind, you'll be able to narrow down your list of potential BPO firms before selecting the perfect partner for your project.
Additional reading, 'How to Choose a BPO Provider [With Checklist]'
Hiring Your BPO Partner
Once you've found an ideal partner for your BPO work, you need to make sure all stakeholders are aligned so you can go through the hiring process. The intermediate phase between when you've selected a partner and when the project starts is just as important to ensuring a smooth collaboration.
Be sure to check off these items at this phase of the process:
Carefully review your contract to ensure that your project is well-defined. 
Identify clear responsibilities and metrics 
Determine payment terms 
Consult with a lawyer, especially if you have specific concerns about your contract.
As long as your team feels like your contract is fair and your partner will be able to deliver, you are free to sign your contract and get your project started. At this time, the sales team will pass off your account to a project manager. From then on, they will be your primary point of contact. 
Integrating your BPO Partner
The final step of the onboarding process is when you begin to fold their team in with your own. This is when you establish the groundwork for the rest of your partnership. To eliminate issues before they even begin, complete the following:
Connect with your primary contact to recap the goals of your partnership and ensure alignment. 
Introduce business the services or products you offer, and describe your clientele to provide an overview of your organization. 
Provide a structured plan, complete with deliverables and a timeline for each team member. Make sure to provide any documentation they need for the project. Depending on the services they're offering, you may need to provide documents like financial statements or brand guidelines.  
Introduce your BPO team to your internal team. Spend time going through:

Team Introductions
Project overviews: including goals, tasks, and deliverables
Questions 

If they will be working in your office, give a tour so they feel comfortable working there and can find the materials they need. 
Establish lines of communication between internal and external team members. This means adding them to project management boards and communication channels like Microsoft Teams or Slack. This can foster collaboration and improve the likelihood of project success. 
Provide your BPO team with any hardware or software they will need to complete their work. You may need to ask if they need access to any other resources to make sure that they're able to work efficiently and effectively. 
Provide any needed training to get your team up to speed on internal processes and tools. This can also include process documentation, tutorials, and more.
You can tailor this onboarding process depending on the services you've hired the BPO firm for and the team's unique needs. Be sure to keep in mind that each BPO service provider may have their own unique collaboration or onboarding strategies to ensure that all clients are happy with their partnership.
Be flexible and focus on communication to keep your BPO onboarding process productive.
Foster Long-Term Partnerships with a Strong BPO Onboarding Strategy
BPO firms offer many services that can streamline your business processes and make your organization more efficient and (possibly) profitable. Still, the success of a partnership with a BPO firm largely relies on effective communication and cross-team collaboration.
By investing in the onboarding process, you can establish the groundwork for a long-lasting, successful, and productive business relationship. Take the time to find the perfect BPO firm for your company's needs. Then work through the hiring process to clarify the goals of your project and the logistics needed to complete these goals.
When finally onboarding the BPO firm, focus on integrating them with your internal team. Use team introductions to make sure that communication becomes the cornerstone of your business partnership.