3 Ways Google Can Compete With Apple in the Wearables Market
3 Ways Google Can Compete With Apple in the Wearables Market
Google recently bought Fitbit to compete with wearables giant Apple, which dominates the U.S. smartwatch market. According to our new survey, more than half of people (56%) own at least one wearable. Google could try to grow their share of the large wearable market with Fitbit's simple user experience, long battery life, and user data. 
"See you in hell, James," Alec Trevelyn says before leaping away from the bullets.  
The doors lock. The bomb ticks. 
Bond wildly looks for a way out. And then it hits him: "My smartwatch."
Bond uses his smartwatch to escape a train explosion in the 1995 film "GoldenEye." This movie foreshadowed the benefits of owning a wearable device long before big brands like Apple and Fitbit gave people fitness trackers and smartwatches. 
Apple and Fitbit may not expect 007-level danger, but these two brands have led the way in smartwatch developments. 
The Manifest surveyed 581 people across the U.S. to learn how many people own wearables. We found that more than half of people (56%) own at least one wearable, and 13% plan to buy one in the next year.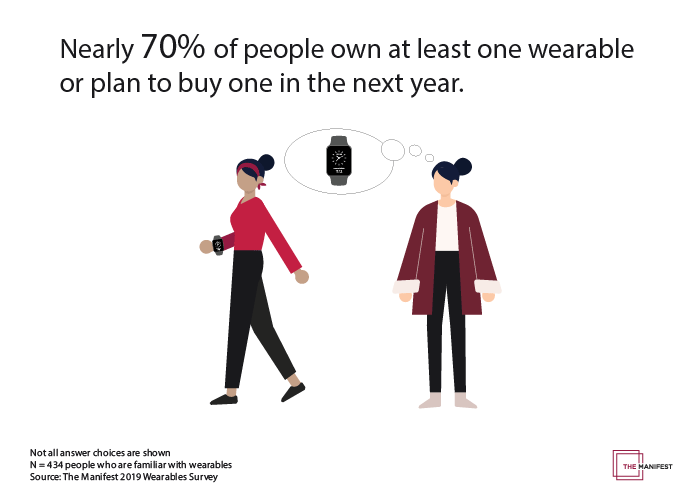 This data shows there is huge potential for businesses to make money in the wearables market. 
Apple dominates the American and Canadian wearables market with a 38% of the market. Fitbit follows with 24%.
Apple now faces a newer and potentially stronger competitor, though. Google bought Fitbit for $2.1 billion earlier this month, demonstrating its interest in the wearable market. Apple and Google may now compete for control of the wearable market. 
Still, Apple has proven to be the superman of the wearable competition so far. Google will have to compete with Apple on three fronts for wearable sales: 
Easy UX
Longer battery life
More consumer data
Round 1: Google Can Use Fitbit's UX to Compete With Apple Watch's Sleek Design
Google has not yet released a complete smartwatch. Instead, it focused more on software than hardware. With the purchase of Fitbit, however, Google now has a complete smartwatch product. 
In the past few years, Google released Wear OS, its wearable software in 2014. Google then offered Wear OS to other developers to use it in their own smart products, such as FOSSIL.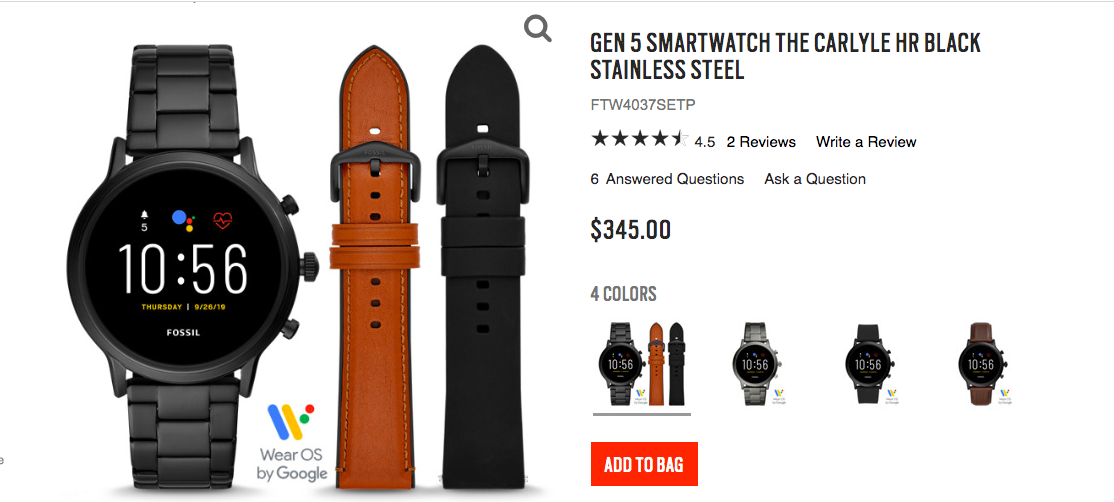 FOSSIL, however, only owns 5% of the U.S. and Canadian smartwatch market, much less than Apple Watch's and Fitbit's combined 62% share of the market.  
The purchase of Fitbit will improve Google's efforts to compete with Apple. Founded in 2007, Fitbit has more than a decade of experience. During these 12 years, Fitbit has been busy improving its hardware and design.  
Fitbit is known for its simple design. It has been recognized for its great user experience (UX).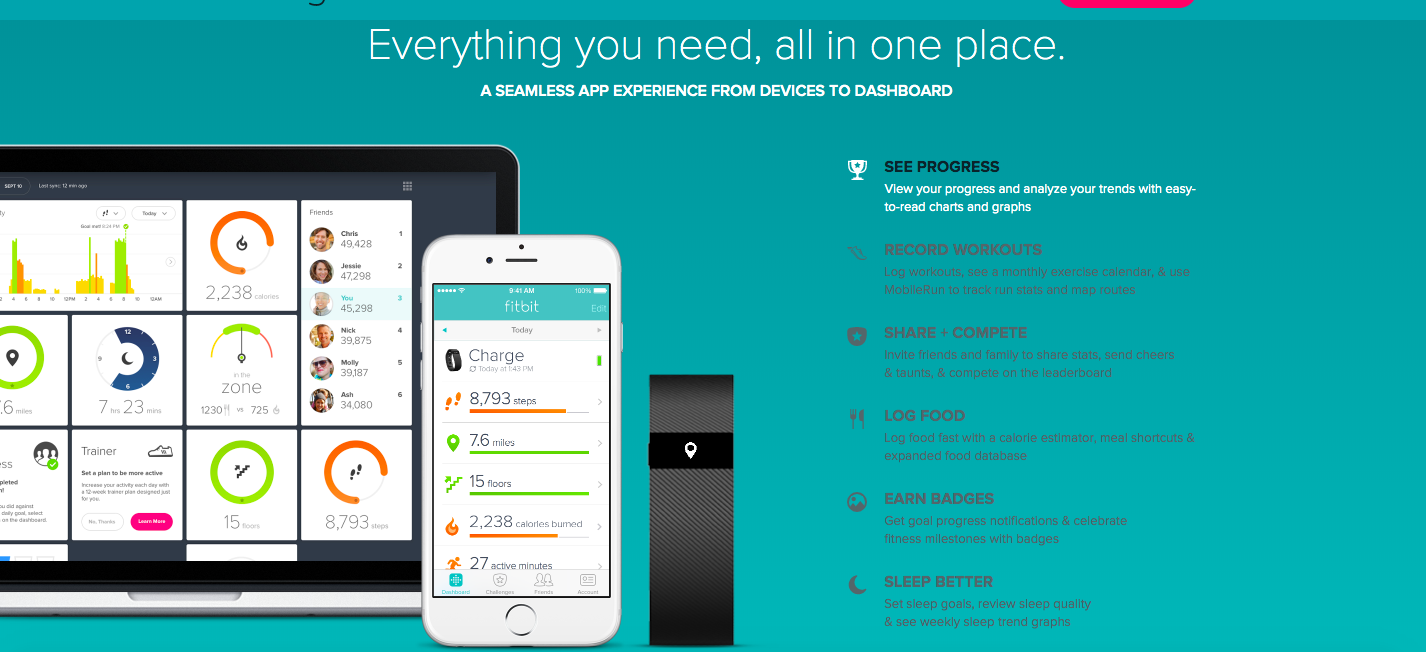 Fitbit has never been able to fully compete with Apple's software. Google's Wear OS software may take Fitbit's features to the next level, though.  
Google and Fitbit combined can create a powerful but simple smartwatch. This smartwatch could rival Apple Watch by placing Google's Wear OS into Fitbit's user-friendly design. 
At the moment, however, Apple remains king of both design and software. Google is left to catch up.  
Round 2: Google Can Capitalize on Fitbit's Longer Battery Life, a Benefit for Buyers
Extending battery life is a huge challenge for wearable brands. People want a smartwatch they can use for days without recharging. 
It can be frustrating to take your smartwatch off every day to charge it, because a smartwatch's primary purpose is to track your every move. 
Fitbit, however, has extended its battery life. While Apple Watches lasts 18 hours without charging, Fitbit lengthened its battery life to 4-5 days. 
While Apple Watches lasts 18 hours without charging, Fitbit lengthened its battery life to 4-5 days. 
This increase in battery life is a huge bonus for fitness-tracking users. They no longer have to worry about charging their trackers constantly. 
People may start switching from Apple if Google can offer a smartwatch that has both the longer Fitbit battery life plus more complex software. 
People largely like Apple Watch for its powerful features and sleek design. Apple, however, may be up against a tough opponent if Google can compete with these two benefits. 
Round 3: Data, Data, Data - Google Gained a Consumer Health Database That Rivals Apple
Apple has the wearable data Google needed to compete in the market. Buying Fitbit helped Google gain user data to create a better product. 
Fitbit has the location, health, and financial information of its more than 28 million active users. Below is a sample of the data Fitbit can collect from its users:

Google, a company that made money on ad targeting and personalized search, understands why it's helpful to have people's personal information. 
Google can use Fitbit's data to make a better smartwatch. Although Fitbit is against giving data for Google Ads, Google still has access to the information to improve its products and cater to customer needs. 
Understanding the average Fitbit consumer can help Google develop a better product. 
Apple, however, has built a database of its own. The company receives direct feedback from customers.

Apple knows when and how people use the Apple Watch. The company can then put suggested changes into its next watch release.
Both Google and Apple can now access a large amount of wearable user information. This data will help them build and improve future smartwatches. 
Apple Wins the Wearable Market Today, but the Future Is Bright for Google
Google has grown competitive in the wearables market by buying Fitbit, the second-largest brand in the wearable marketplace. 
The potential for Google to make money on smartwatches is huge. Half of the U.S. population owns at least one wearable, and 13% are looking to buy one in the next year.
Still, Google faces heavy competition from Apple. The wearables giant has far outpaced all other brands in the smartwatch industry. 
Google, however, shouldn't be discounted. It now has Fitbit's design skills, long battery life, and consumer data to help it compete. 
Apple may easily win the wearables competition today. Still, the future of the wearables market can definitely change with Google entering the fight.  
About the Survey
The Manifest surveyed 581 people in the U.S. who are familiar with wearables and other types of IoT technology.
Sixty-four percent (64%) of respondents are female, and 36% are male. 
Nearly half (47%) are ages 18-34; 35% are ages 35-54; and 18% are over the age of 55.