7 Steps to Launch Your First Social Media Campaign
7 Steps to Launch Your First Social Media Campaign
Launch your social media campaign in 7 steps. Learn how to set goals, choose the proper channels, and more.
What makes some companies so popular on social media?
Are you sitting on the sidelines watching other brands soar and wondering why your social media posts aren't succeeding?
The key to social media marketing success is the ability to create winning campaigns that spark growth, engagement, site traffic, or sales.
Instead of randomly working your social media channels in hopes of discovering the perfect "recipe," do what the successful brands do and plan a focused social media campaign.
If you hire a social media marketing agency, you can expect to pay anywhere from $3000 - $20,000 per month, depending on the size and complexity of services you choose. 
But, if you're a small-to-medium business and want to launch your first campaign DIY-style, it can be done with almost any budget.
The following 7 steps will guide you through the process of launching your first social media campaign, assuming you already created your social media profiles.
Step 1: Identify Primary Purpose of Your Social Media Campaign
Begin by defining the purpose of your social media campaign. Which of the following purposes will you work toward? 
Build community ("brand awareness") with page likes
Increase engagement (comments, likes, and/or shares)
Generate leads (email subscribers) for your website or landing page
Sell your product, brand, or service
Since this is your first campaign, chances are you need to build your community or increase engagement.
Should you choose a secondary purpose? Yes, if it aligns with your primary purpose.
For example, building community and increasing engagement are two purposes that work well together. Generating leads and selling your product also work well together.
Going forward, you must focus on your primary purpose. So, if you choose to grow your community, don't get excited by big numbers and decide to start pushing your products instead. Save that for your next campaign.
Step 2: Set Goals for Your Social Media Campaign
Turn your purpose into a goal by defining it with numbers. Once you've chosen the primary purpose of your social media campaign, set measurable goals.
Let's assume you chose the primary purpose of "building community" and a secondary purpose of "increasing engagement." Set specific metrics for these goals:
How many page likes do you aim to earn each day, week, month, and throughout the entire campaign?
What percentage of page likes are from people who match your buyer personas? (In other words, how many of those "likes" are from people who are likely to become customers?)
What percentage of your community is engaging with your content by liking, commenting, or sharing your posts?
Here's an example of metrics you can set for your company's social media campaign:
10 new page likes per day = 450 likes by the end of a 45-day campaign
90% of your likes come from potential customers
50% engagement rate from customers
| Goal Metrics | Social Media Campaign Results |
| --- | --- |
| 10 new page likes per day | 450 likes by end of 45-day campaign |
| 90% of likes come from potential customers | 405 likes are from potential customers by end of campaign  |
| 50% engagement rate from customers | 203 customers engage with campaign |
You should tailor the metrics to fit the goals that are appropriate for your brand. Even with a small goal like 10 page likes per day, you can gain insights into how your content performs and how your audience behaves.
Step 3: Select Social Media Channels
Even though social media campaigns are all about cross-promoting over different platforms, you shouldn't overextend yourself. Choose 2 or 3 social media platforms based on what's worked for you in the past.
If you don't have enough social media history to gauge what's working for your brand, then perform competitive research to see which platforms work best for your competitors.
If you're working with limited resources, consider which channels pair well together.
For example, LinkedIn and Facebook have such different personalities and content requirements that you may not want to combine them in your first campaign.
On the other hand, Facebook and Instagram work together seamlessly and share the same advertising platform, making them an attractive pair.
Step 4: Create a Social Media Style & Policy Guide
Define your brand's personality with a social media style and policies guide to keep your brand consistent across all social media channels.
Your guide should include instructions on:
Colors and logos
Wording to describe your company, brand, and products
Interactions with customers (casual, formal, polite, happy, trendy, mature, etc.)
Capitalization and punctuation
Post format
Interactions with customers
Customer service – response to questions and complaints
You should conduct a thorough audit of your personal and business social media profiles and pages before you launch your campaign.
Be sure that your business pages align with your style and policy.
Check your personal profiles for any public information that you might prefer to keep separate from your business.
Step 5: Plan Your Social Media Content
Schedule social media content for your campaign using a content calendar.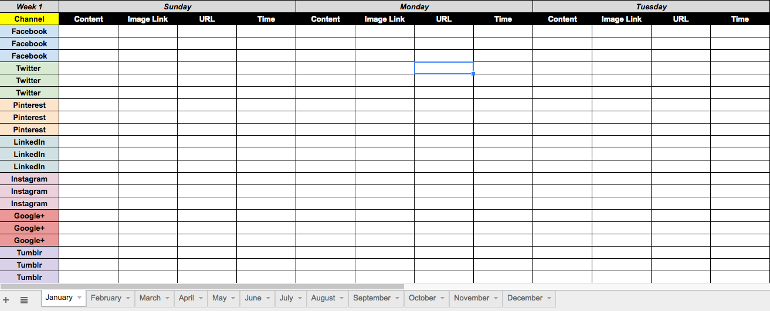 A social media content calendar keeps you on track to publish a variety of content throughout your entire campaign.
Mix up your content calendar by planning to publish different posts:
Graphics
Infographics
GIFs
Facebook videos
Curated content
As you develop ideas and choose a content for your campaign, keep the following in mind:
What's working for your competitors?
What keywords will you use?
What content will you share?
These questions will help you develop a consistent plan for your social media content.
Examine your previous media analytics or do competitive research to find out what types of content inspire your audience to engage with you.
Step 6: Set Your Budget for Social Media Advertising
For your social media marketing budget, you can start at as little as a $1 a day or scale your budget into the tens of thousands.
Facebook and Instagram are a great place to begin because once you choose an audience and budget, they give you an estimate of how well it matches your goals.
Here's a look at Facebook's Ad Manager after narrowing your audience to specific demographics and interests.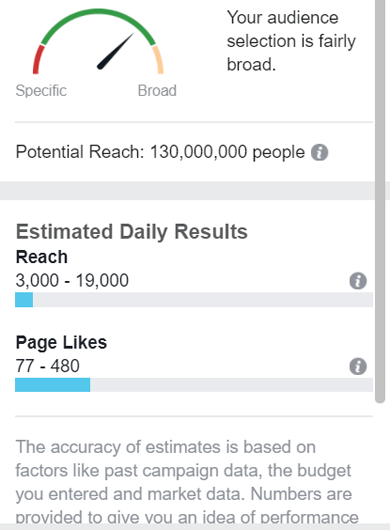 Remember the 10 new page likes per day we set as a goal back in step one?
In the results above, I notice that I can cut my daily spending to bring the estimated page likes down to my original goal of 10 per day, instead of the "77 - 480" I'm likely to get with this configuration.
Step 7: Get Your Stack Together
Prepare the stack of tools you need to assist you throughout your social media campaign.
For example, Canva is a great tool for creating social media artwork and CoSchedule can schedule social media posts ahead of time.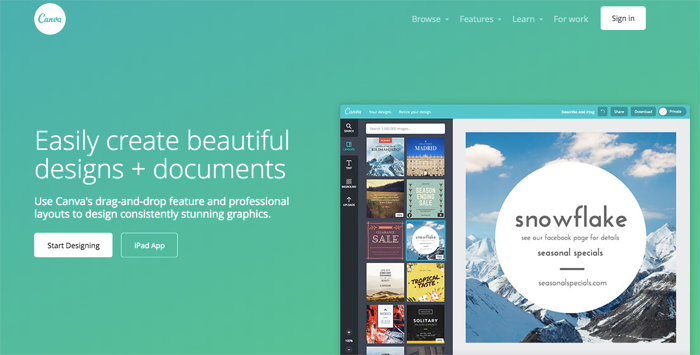 You'll also want to use insights or analytics programs. Will you use each channel's native data program or an app like Hootsuite that aggregates them into one area? Add them to your stack.
To cut down on the learning curve and potential for errors, use legitimate review sites that help you choose the best tools for each task.
Step 8: Measure Obsessively
Once you complete the steps above and launch your campaign, you're ready to begin the most important part of social media marketing – measuring the results.
Analytics are important to the success of your campaign and future social media efforts. You want to become best friends with the analytic and insight sections of your social media channels.
Additional Reading: How to Track and Understand Social Media Analytics
Continue to narrow your audience and tweak your content according to what works. Boost your most successful posts and watch for the ones with the best ROI. Boost those ones again.
Check and measure at least once a day (great marketers are analytics-obsessed), and use common sense to adjust your approach continually.
Get Ready to Launch Your First Social Media Campaign
You learned how to set social media goals, select your social media channels, and set your budget.
Planning your first social media campaign may be intimidating but knowing the proper steps to begin sets you up for success.
Need help creating a social media strategy for your business? Get started with our complete guide.