The Manifest Features Sydney's Best Reviewed Companies this 2022
The Manifest Features Sydney's Best Reviewed Companies this 2022
The Manifest identifies and spotlights Sydney, Australia's best reviewed B2B companies for 2022. The honorees from each field were selected based on the testimonials they've earned over the past year.
 
FOR IMMEDIATE RELEASE
Media Contact
Deesha Laxsav
Senior Manager, Brand Marketing
Washington, D.C., November 2, 2022— An independent B2B blog website, The Manifest announces its list of the best recommended and reviewed service providers from Sydney, Australia this 2022.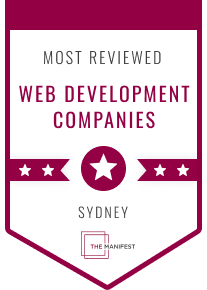 Even before the pandemic, Sydney has always been one of Australia's most robust economies, and it's proving that it has a bright future, generating $131.24 billion in GRP back in 2021. As employment jumps further these recent months, the growth is expected to help the Reserve Bank of Australia decide about raising interest rates.
This study from The Manifest showcases the diligent firms and businesses in Sydney's lively B2b market. The leaders come from a variety of backgrounds and sectors of experience, including creative, development, and digital marketing.
What are The Manifest Awards?
The Manifest's Most Reviewed Company Award recognizes the exceptional relationships built by B2B companies with their clients.  The top 15 firms for every class garnered the most ratings and testimonials in the preceding twelve months.
"Watching you achieve your goals and tackle the long road to success makes us proud. The contributions of Sydney's best reviewed firms are truly remarkable," said Clutch Director of Business Development Brandon Gargan. "This award is a curtain call for every dedicated and inspiring firm. Congratulations!"
To find out if you'll qualify for the distinction the next year, sign up on The Manifest and get good reviews.
Top Service Providers
App Development Companies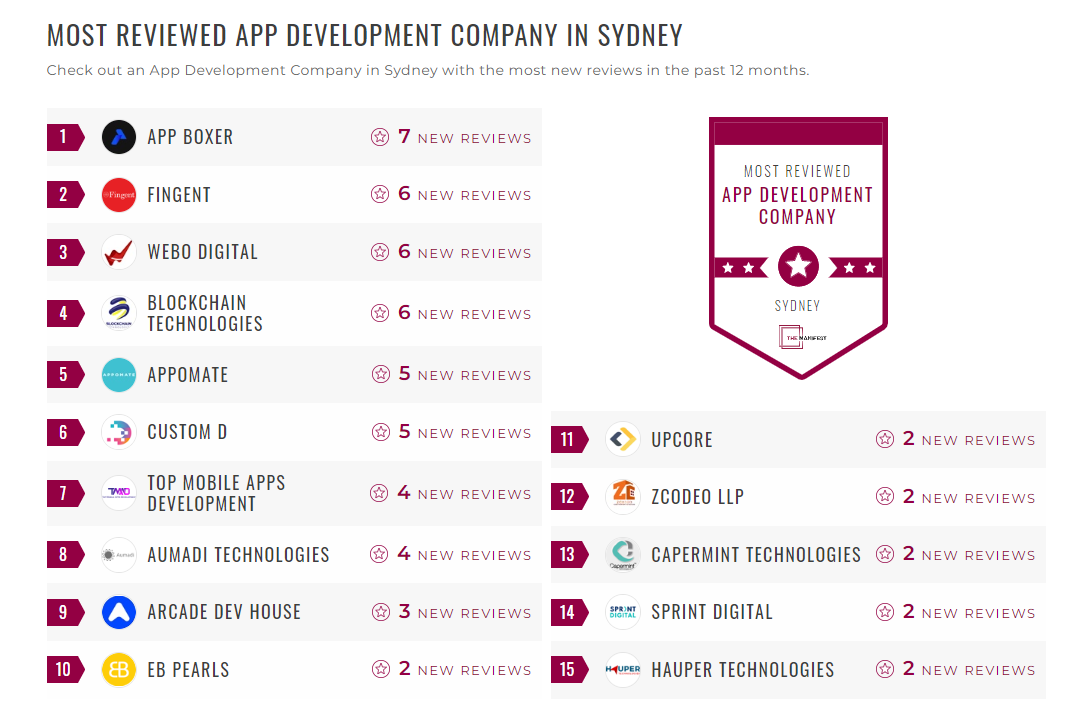 Branding Companies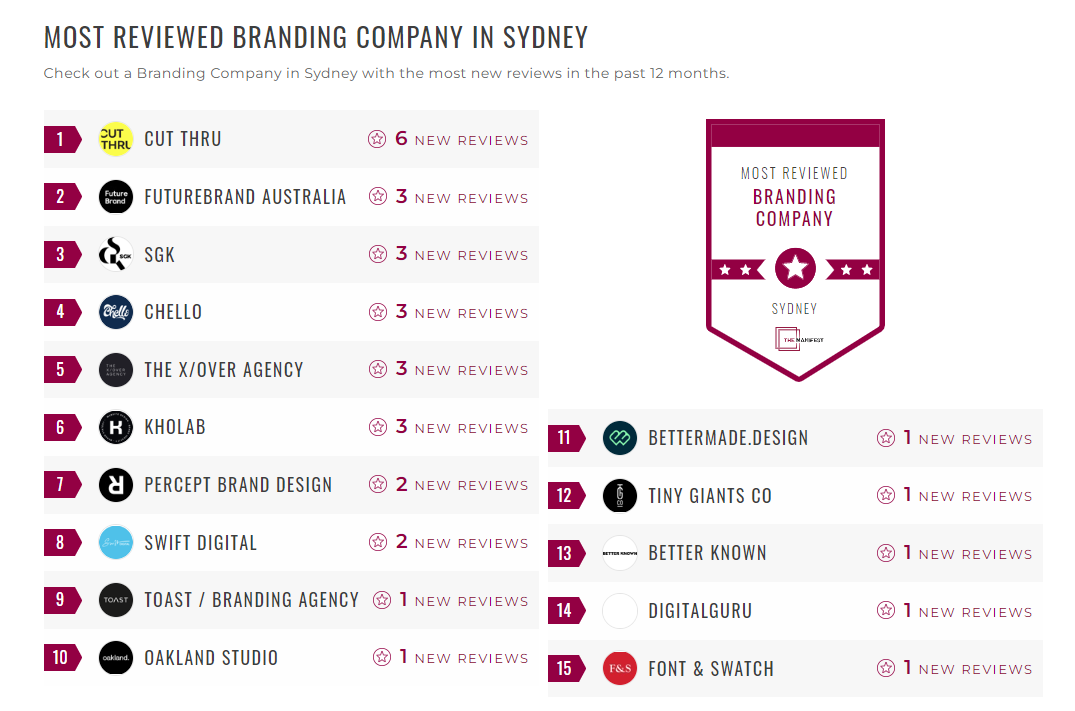 Consumer App Development Companies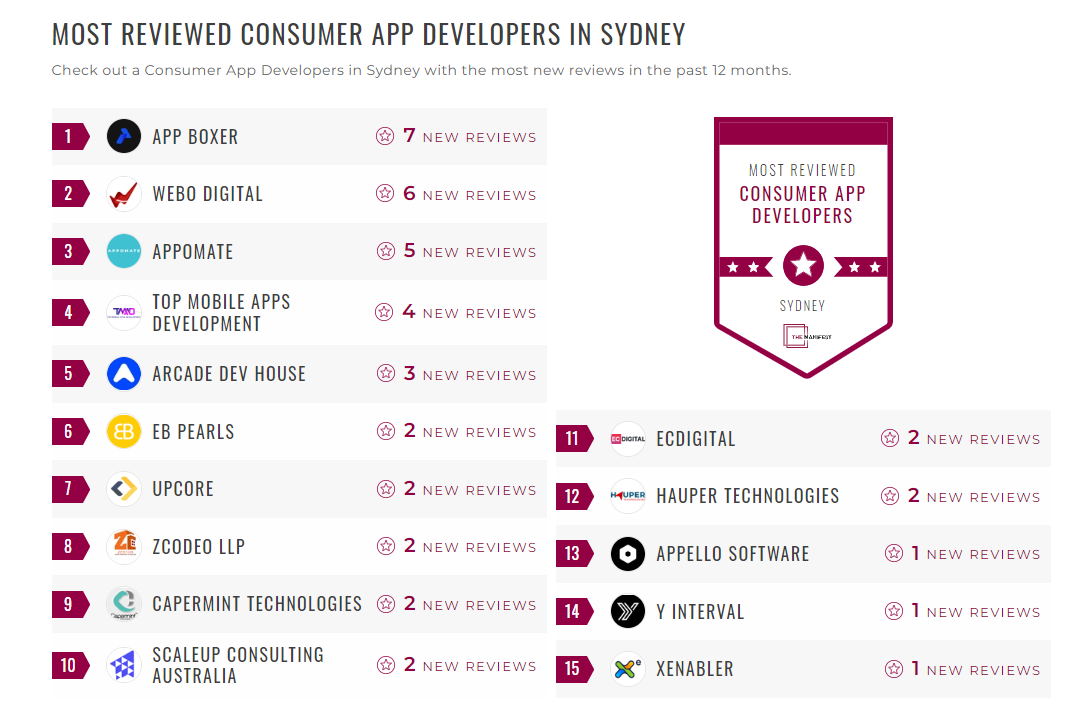 Design Companies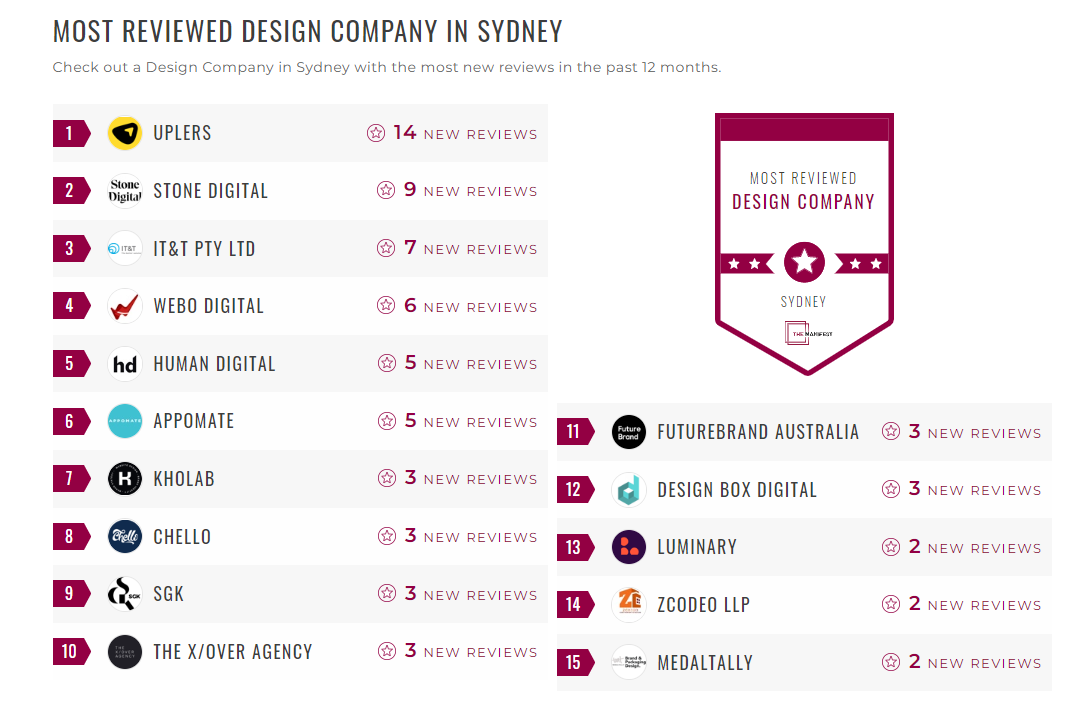 Digital Design Companies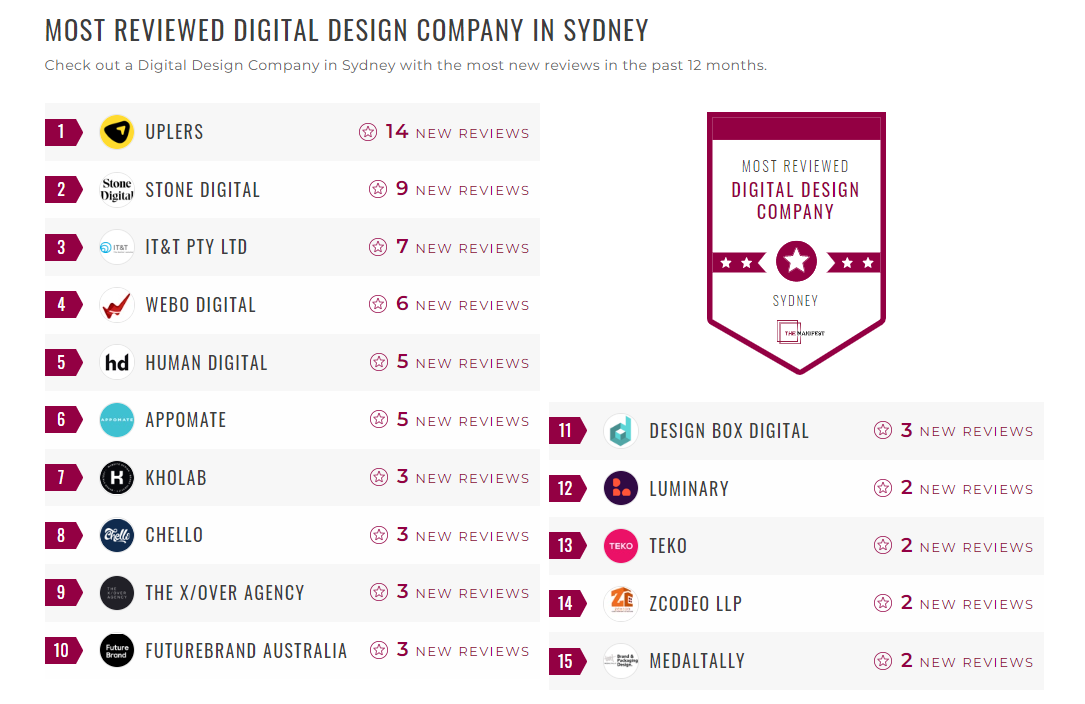 Digital Marketing Companies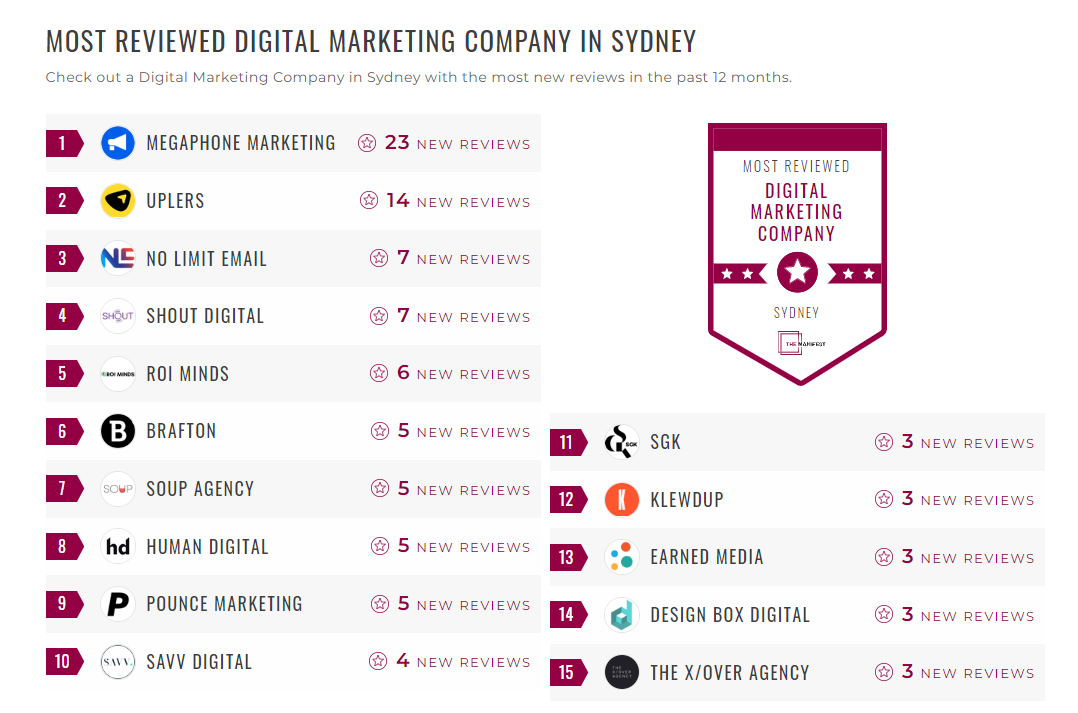 Digital Strategy Companies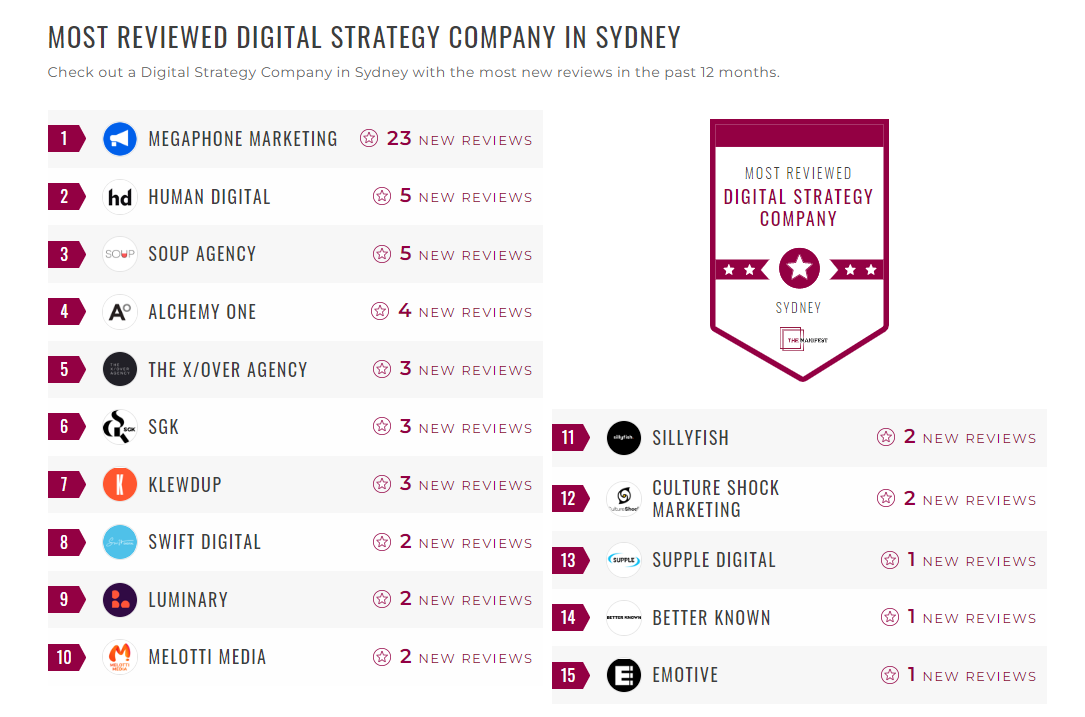 Full-Service Digital Companies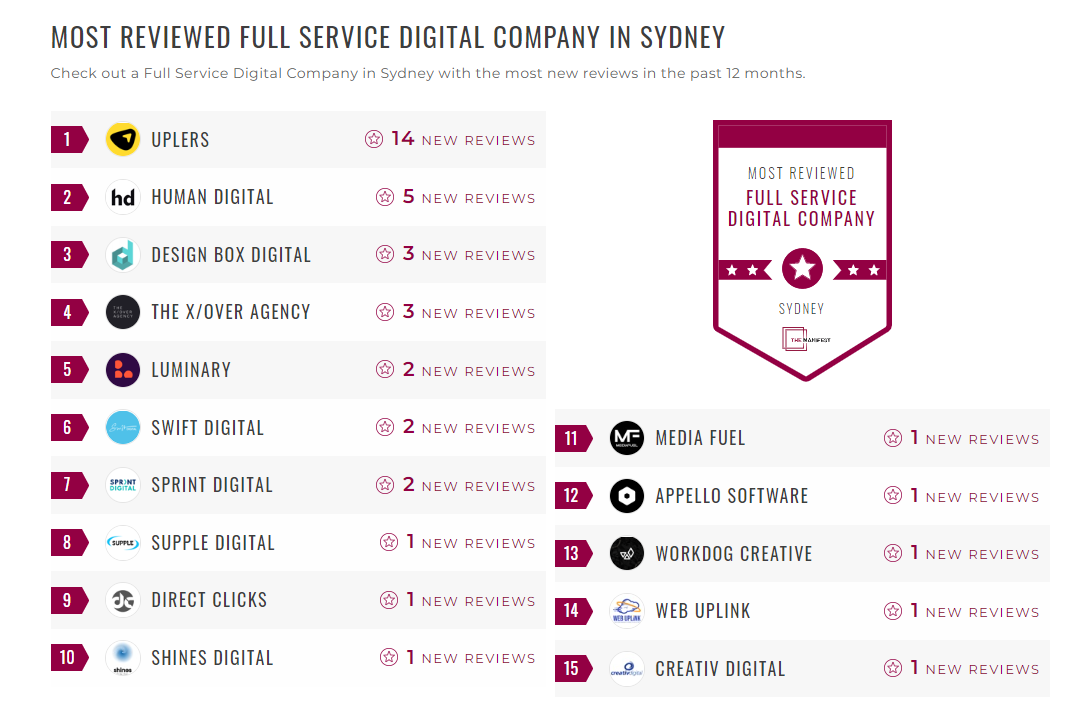 Inbound Marketing Companies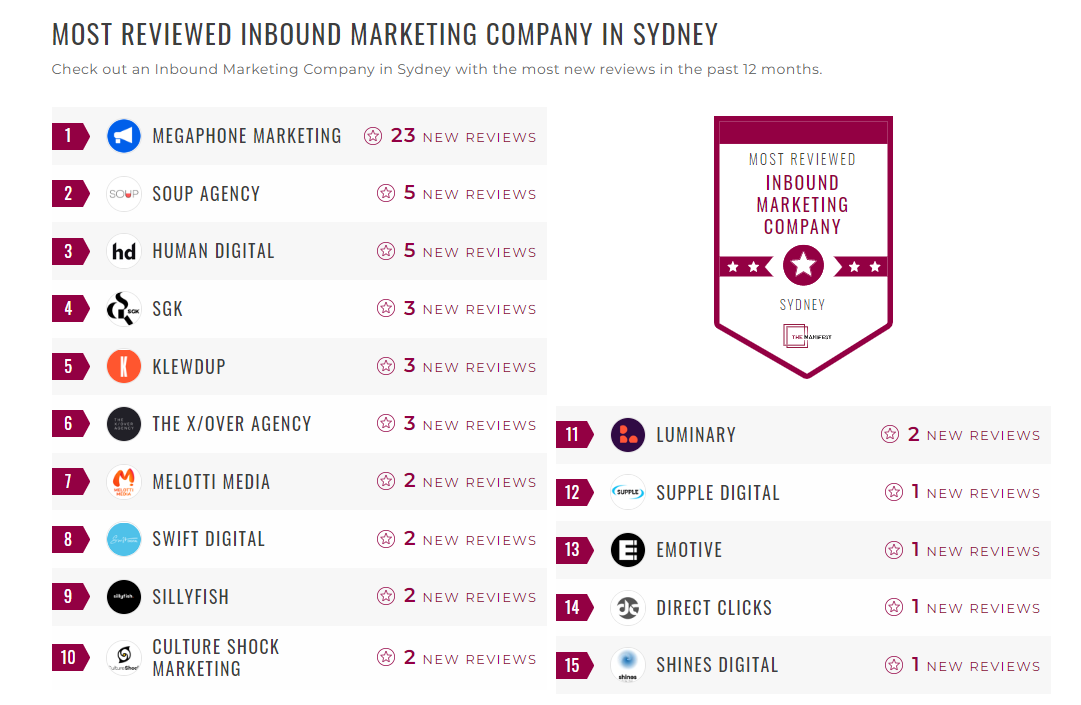 JavaScript Development Companies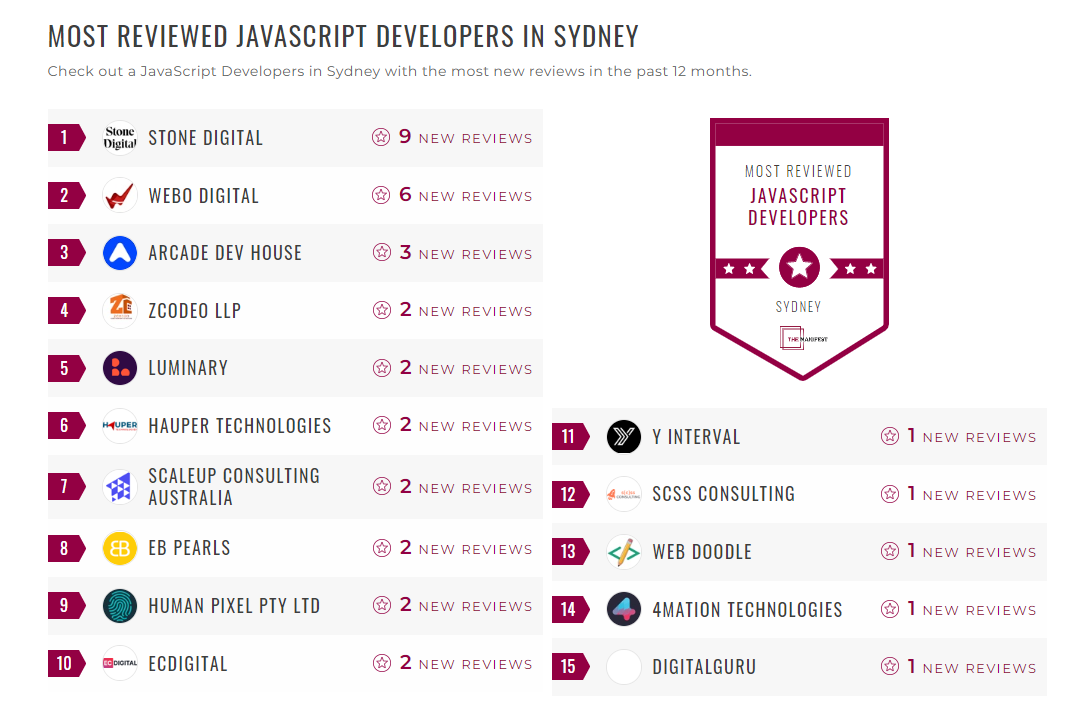 PPC Companies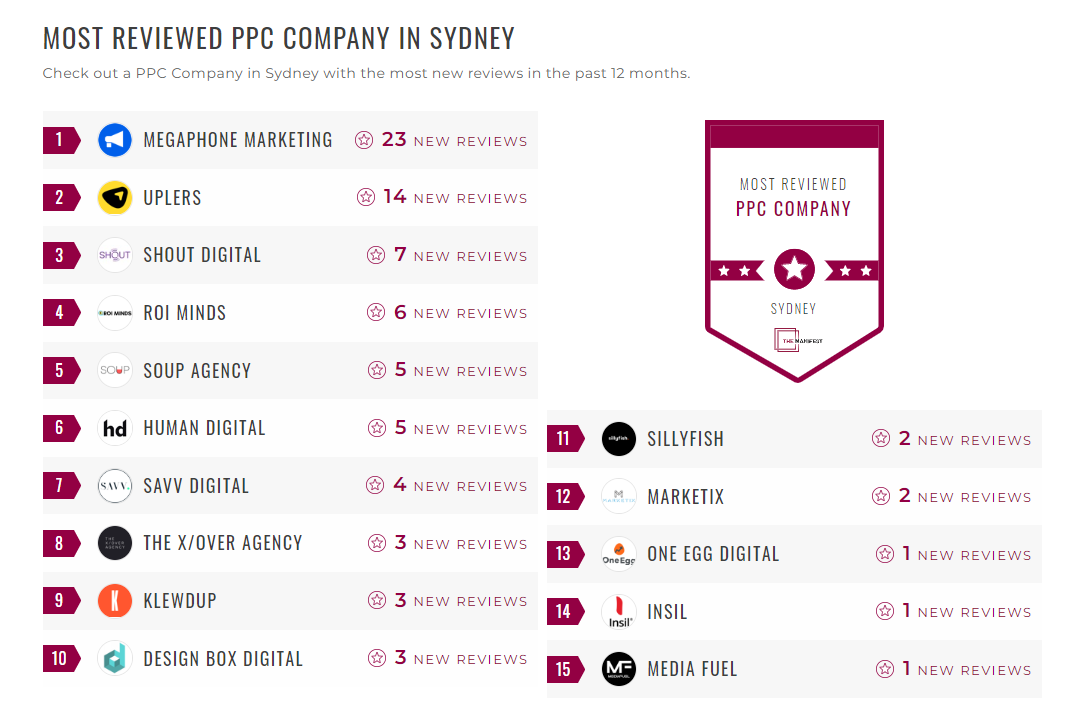 SEO Companies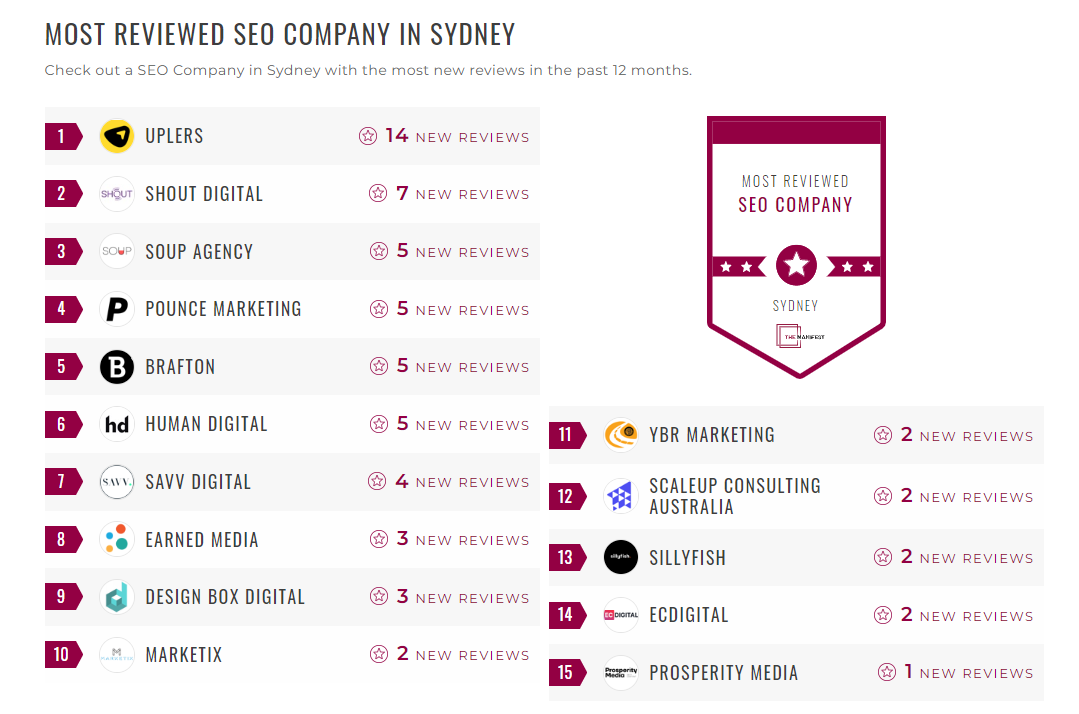 Social Media Marketing Companies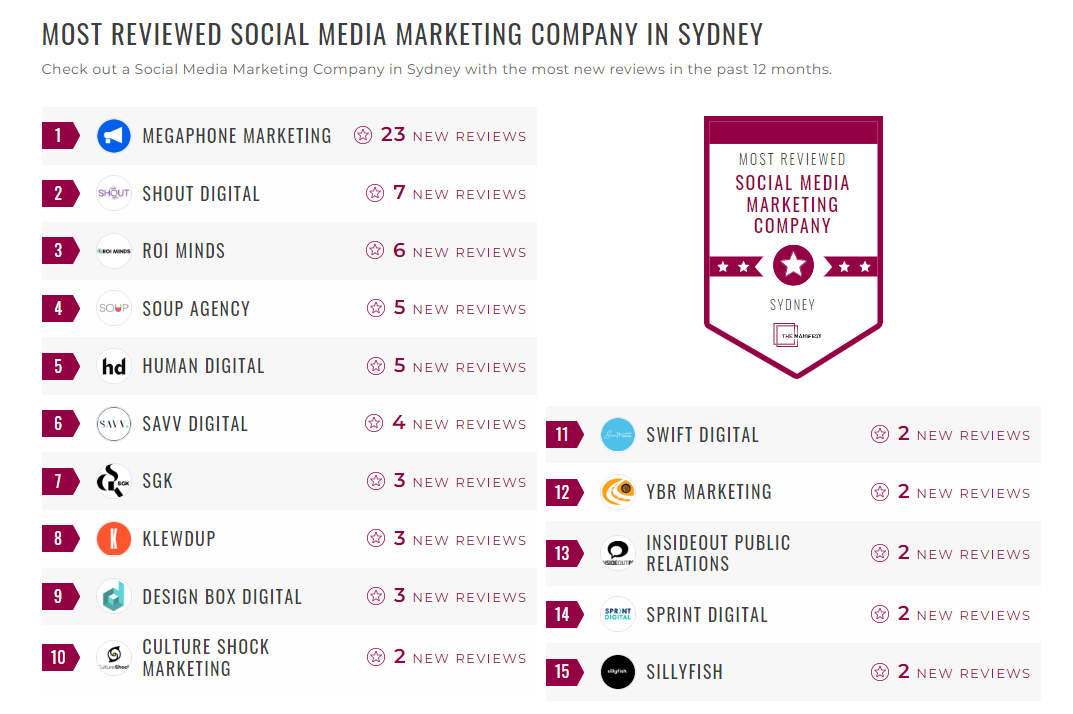 Software Development Companies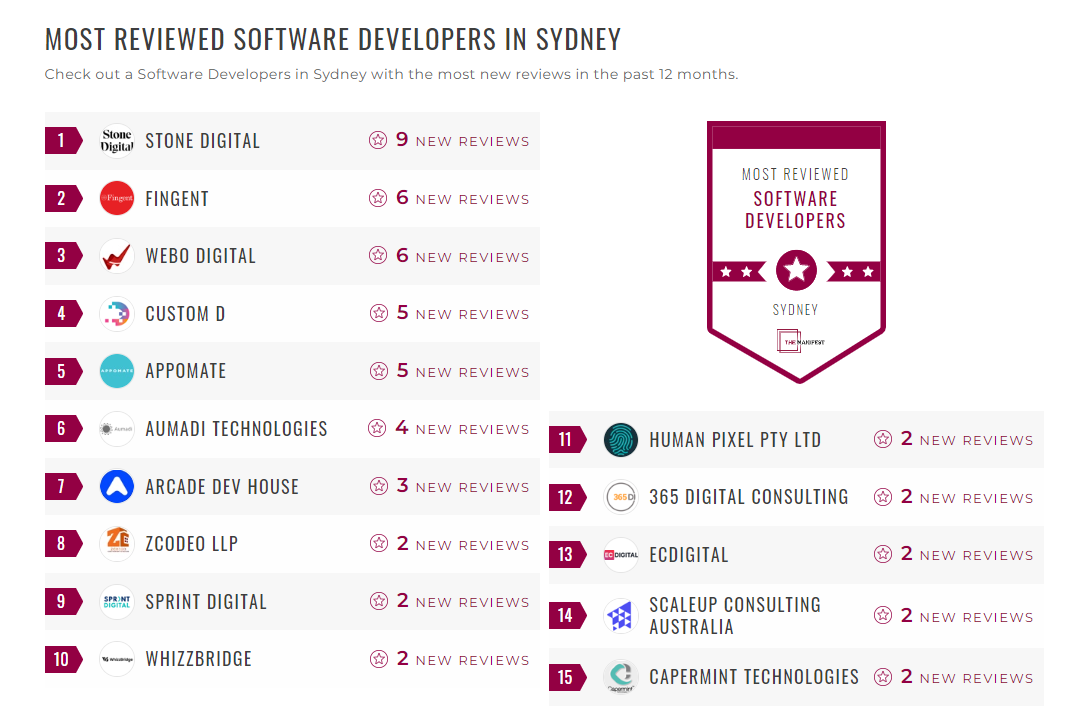 Web Design Companies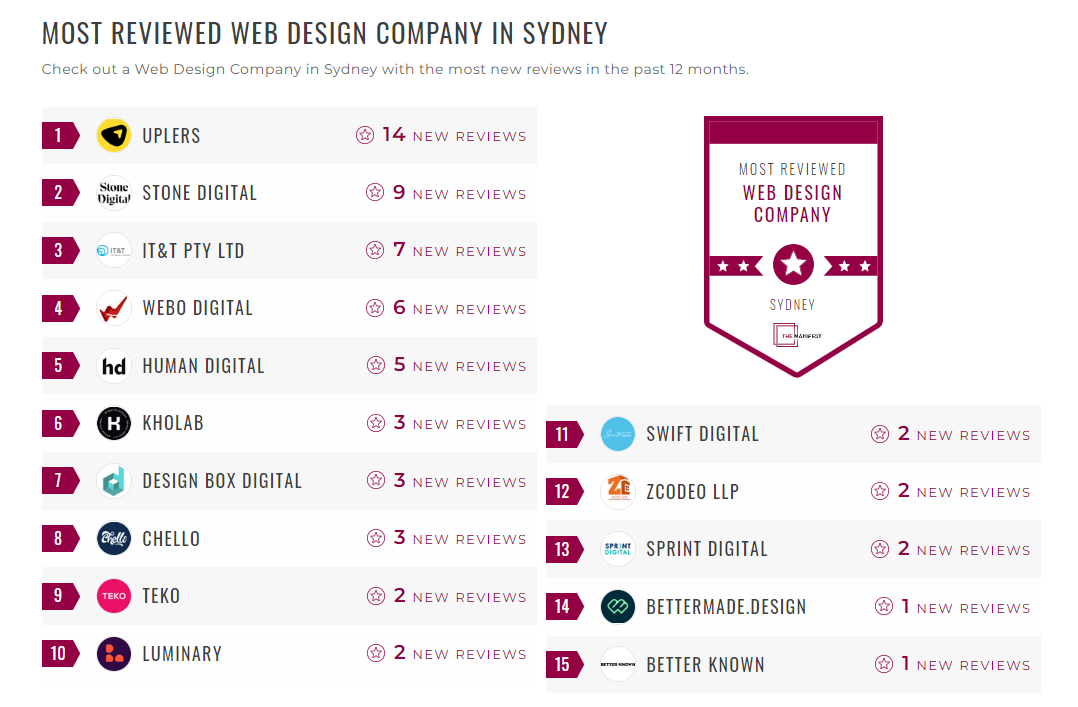 Web Development Companies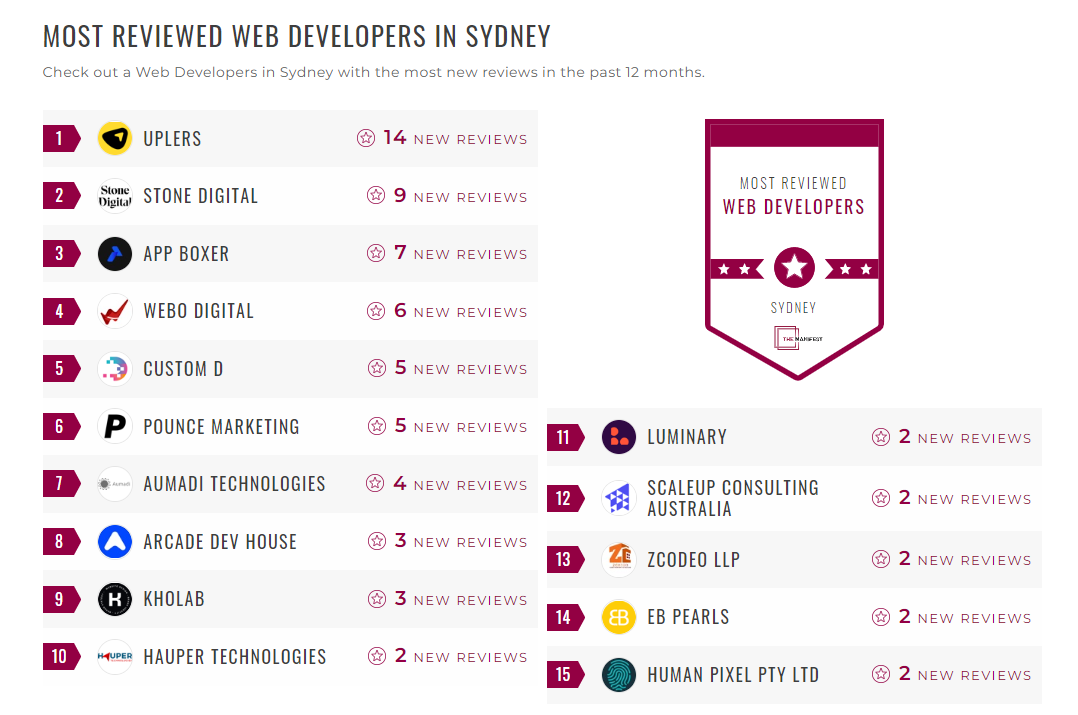 Results are a snapshot of The Manifest's most recommended companies on October 24, 2022. Rankings are dynamic, and this report may not reflect the rankings as they are currently listed. 
About The Manifest
The Manifest is a business news and how-to site that compiles and analyzes practical business wisdom for innovators, entrepreneurs, and small and mid-market businesses. Use The Manifest as an approachable tour guide through every stage of the buyer journey. With three main offerings – data-driven benchmarks, step-by-step guides, and agency shortlists – The Manifest strives to make your business goals a reality.