How to Make an Educational Video to Boost Your Marketing Strategy
How to Make an Educational Video to Boost Your Marketing Strategy
Contributed Content
Looking for a new way to further your company's marketing presence? Create an educational video that will benefit your business through teaching and engaging your customers. 
Have you ever stopped to think about how most people learn new things in this day & age? Whether they want to know more about professional photography or just learn how to fix their leaky faucet, more and more people are relying on educational videos.
In fact, videos that teach how to do things are among the most viewed categories on YouTube. 

 

As the CEO of a video production company, I've seen time and time again, the benefits that educational videos deliver to both brands and audiences.
Not only do the former get to establish themselves as reliable authorities in their niches, but the latter gets direct value for engaging with their content. Win-win.
A lot of people immediately think of live-action videos when they hear about adding educational videos to their content marketing strategies. However, there are plenty of reasons why animation gets to shine when it comes to educational pieces.
With animation, there are no limits when it comes to supporting your message. Characters can be customized to increase chances of empathy with viewers. Animated videos can also make it easier to grasp harder concepts. 
There is also an added flexibility with working with animated content. Not to mention, the special effects through colors and movements that you can add to captivate your audience. 
In this piece, I've compiled some of the most relevant elements to keep in mind when creating compelling animated educational videos and divided them into three categories. Hopefully, once you're done reading, you'll be better equipped to plan and execute effective educational videos that feed positively into your marketing strategy.
Three Steps to Craft an Educational Video to Further Your Marketing Strategy
Choose an idea
Prepare the video
Create the final product
1. Choose an Idea
Before you start creating your video, make sure you have an idea that reflects your company's mission and will speak to the right audience.
Know Your Company
It's likely that people that find your videos won't have heard about you before. You should think of that content as your introduction to them!
You need to be clear on what you want to show about your brand while doing it subtly. You're not overtly advertising yourself, but your brand should definitely be present. That affects the message, the topic, the tone, the color palette, the music (if any), and the characters.
You have to know how you want to present yourself, and include those aspects in the video.
Research Your Audience
Knowing how to portray your brand in the video is only half of the journey. The other half is understanding who your audience is to help refine your video's tone, message, and story.
You should know your audience's major traits, like age, sex, income level, ethnicity, and other key factors. Understand their interests, other companies they like, and their habits can help you in determining the right way to write the script and develop your piece.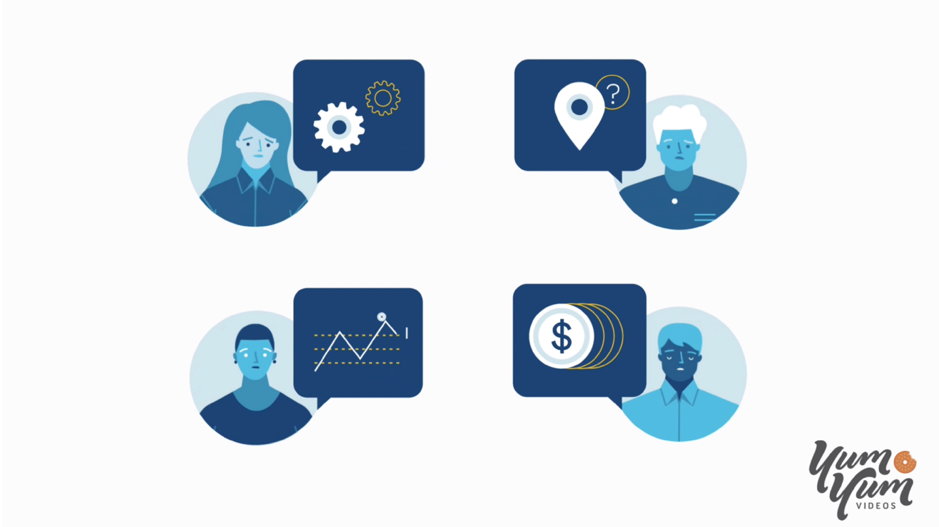 Take each target and group their interests and other information within their profile. What does each person want to see and/or learn?
This background research will help you identify a message for each audience.
Prepare the Video
Once you've done enough background research on your audience and your company, decide what you want your video to cover. 
Define Your Topic
Stick to what you know best. There's a whole range of approaches, from how to do certain things (like how to train your dog to stop barking when the bell rings) to insightful takes on a broader subject (like how the country's economy affects personal savings). 
Be sure to pick a topic that's relevant to your audience. Check out videos from the competition. What tactics are they using? 
If you want to look internally, review the most common FAQs about your products and services. You can easily tie those into a video since you're the experts.
Another tactic would be using social media channels and surveys to receive your customers' input. 
Write a Script
The script will help you get your message across in a way that appeals and provides value to your intended audience. You should start with an outline covering the basics:
What's the main topic?
What's the essential information you need to include?
What will your characters be like, look like and talk like?
With all those answers, you can work on a basic script. Getting your ideas on paper will help you refine the message, remove the unnecessary parts, and check what you truly know about the subject.
Create the Final Product
Once you have a script, it's time to start creating your final video. Choose and develop your characters, create a storyboard, and work with your video producers to creqte a quality finished product.
Develop the Characters and Scenarios
By now, you should have a pretty good idea of who your characters are, so it's a good idea to start working on some ideas and sketches. If you are doing this work in-house, the important thing to keep in mind is to never settle for the first characters you put on paper. Make some alternatives and see how you and those around you feel about them.
The same goes for scenarios. Try different things that fit your story and your audience, but that doesn't get in the way of the content or distract from the message. Remember, in an educational video, clarity comes before wowing effects.
Create a Storyboard
A storyboard is a series of key frames or pictures within your story that allow you to organize it visually, and help it come to life.
Take your main scenes, and sketch them quickly in chronological succession, alongside their main visual component, voice-over script, and a basic description explaining the scene and its elements.
You should put one of these together to get an eagle's eye view of your characters, scenarios, script, and pacing in front of you lets you evaluate the scene order, the information layout, and how it all comes together.
A detailed storyboard breaks down each scene in your video and the points each scene communicates.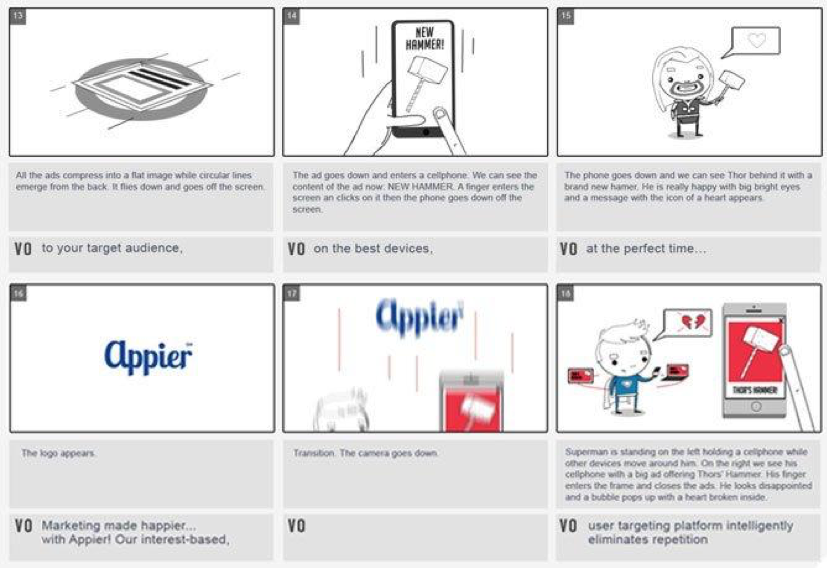 Along with images from the video, the storyboard goes into the actions that are taking place and what the voiceovers should be.
With storyboards, you can be as detailed as you want to be. It's the perfect way to structure your video project in a creative aspect that's easy to follow.
Begin the Animation
Unless your business has an animation team already, you'll probably have to reach out to a professional animated video company at this stage.
As animation involves working with complex software that needs experts to take advantage of it fully. 
Animating great educational videos is a craft that needs keen attention to detail, so work alongside your animator to ensure that everything is according to your vision.
Actions and visuals should support the explanations you are trying to make while keeping a degree of dynamism that keeps viewers engaged. 
Continue this process until you are satisfied with the results.
Focus on the Editing
The editing process is highly important because it's where you'll put all the video's components into their right place.
It's not just about putting one scene after the other; it's about having all the major elements – music, sound effects, texts, voice-over – make sense and work together.
One of the main things to keep in mind at this stage is: go for a dynamic pace, but don't get frantic! If you go too fast you might confuse your audience.
Educational videos are about teaching, so you have to find the right balance between conveying the information, and the time you have available to do it.
Be sure to make your video concise. People will only watch long videos if they love the subject, and even then, shorter pieces will often outperform longer ones. So, you have better chances if you keep your videos as brief as possible.
Of course, this doesn't mean you need to cut out essential material just for duration sake. But always strive to cover the essentials without overstaying your welcome.
Take this educational video we made to educate audiences about inbound marketing. It goes a little bit longer than the traditional 2-min mark, but we use other visual and narrative techniques to accommodate this increased length.
In a short-animated video, our company is able to go through the different stages of inbound marketing in a simple yet engaging way.
This particular video is also less than 3 minutes long, making it easy for viewers to get all of the desired information in a short space of time.
Share Your Video On the Proper Channels
Most people will only upload their educational videos to YouTube and call it done. And while I encourage you to upload it there, you also have to think if there are other suitable platforms out there for it.
For instance, uploading your video to Facebook can be a great idea, especially if you have a thriving following there already.
Facebook's algorithm favors native uploads over embedded content, so it's often a good idea to upload it to their platforms instead of just linking to it. Or maybe your business is more of a B2B type, and its video could benefit more from LinkedIn's ecosystem.
Basically, the proper channels depend on who you are and who your audience is.
Additionally, you can use your educational videos on your site, your email marketing, and even in events that you attend or organize.
Review Your Performance
Video platforms like YouTube and Facebook provide you with their own analytics tools to monitor your performance. Take the Facebook metrics in the image below as an example: you can see how many people watched it, the average duration, its retention, and other useful stats about it.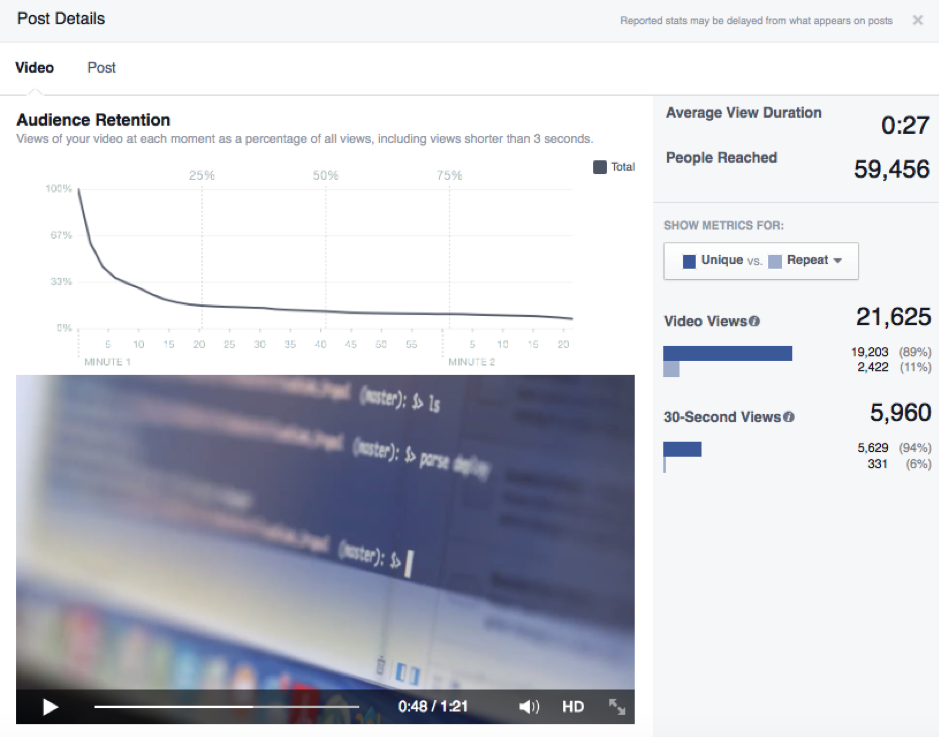 Keeping an eye on those metrics, and checking audiences' feedback (through comments, shares, and likes/dislikes) will give you a better understanding of your work's performance and help you adjust your process for your next piece.
Educational Videos are a Valuable Marketing Effort
Creating an animated educational video is a hard job. From an original idea and planning to actually shape all the pieces into a final piece, and then doing follow-up and tracking. There are plenty of tasks that need tackling.
However, when your account for the huge potential a great video piece holds, and audiences' penchant to interact and respond to them, it's an effort that's more than worth it. Especially in the case of educational videos!
Your audiences will appreciate the value you are giving them through content that not only helps but also entertains them. But what's more, you'll get to associate your brand as an authority voice in your niche that delivers quality content, and become the go-to reference in your sphere, building brand trust, and recognition.