Branding Agency Onboarding Checklist for Small Businesses
Branding Agency Onboarding Checklist for Small Businesses
Among the biggest mistakes small business owners can have is not paying attention to their branding efforts. Enlisting the help of a dedicated agency ensures everything stays cohesive and consistent for your brand. Here's our branding agency onboarding checklist to help you get started.
Your brand is one of your business's most crucial and influential assets. Without proper brand identity, your small business will struggle to gain market share and execute marketing strategies.
Creating a brand is one thing but cultivating a recognizable, relatable, and decisive brand is another. Hiring a dedicated branding agency to create, manage, and maintain your small business' brand is an excellent way to improve your odds of success. They are professionals that don't just aim to sell products but share unique experiences and feelings.
Branding services aren't just for big corporations like Coca-Cola and Apple. Small businesses and startups can also reap its benefits.
However, the entire process of finding and onboarding a branding agency can be intimidating, especially for those who don't have experience working with service providers. In this piece, we'll guide you through every stage and share our branding agency onboarding checklist for small businesses.
Vet the options easier and check out The Manifest's list of the leading branding agencies.
What Makes A Good Brand
Good branding can open many opportunities for businesses of all sizes. Essentially, it impacts a lot of aspects of your business. It's not only important for marketing to prospective customers but also for empowering internal stakeholders. You can combine it with other marketing and advertising efforts such as SEO, content marketing, and social media marketing.
There is no simple formula for creating a good brand but there are traits that all memorable brands share — uniqueness, relatability, quality content, consistency, and leadership.
All great brands bring value to every stakeholder, from employees to customers. They know how to create intimate messaging that touches their audience and brings them closer.
In order for them to connect, these brands take a moment to talk and listen to their audiences. Good brands pay attention to every detail. They conduct surveys, monitor social media engagement and opinions, and actively seek ways to increase their value.
According to a study conducted by SalesForce, more than half, 64%, of customers feel emotionally connected to their favorite brands. 74% of those customers say that transparency and honesty are the most important characteristics that draw them closer to brands since the pandemic.
Most businesses that invest and focus on their branding see an increase in revenue. All in all, customers appreciate consistent and high-quality branding.
Know more about its advantages here: "6 Good Reasons To Hire A Branding Company"
Branding Agency Onboarding Checklist for Small Businesses
Most small business owners feel intimidated when looking for and hiring a service provider. In fact, some are even deterred by their lack of experience, thinking that only big companies need to partner with branding agencies.
The onboarding experience is what sets the tone for your working relationship. It sets clear expectations between you and your chosen partner.
There are different variables to consider and look out for when onboarding a branding agency. To make the journey feel less daunting, let's break down the onboarding process into three stages — assessment, hiring, and integration.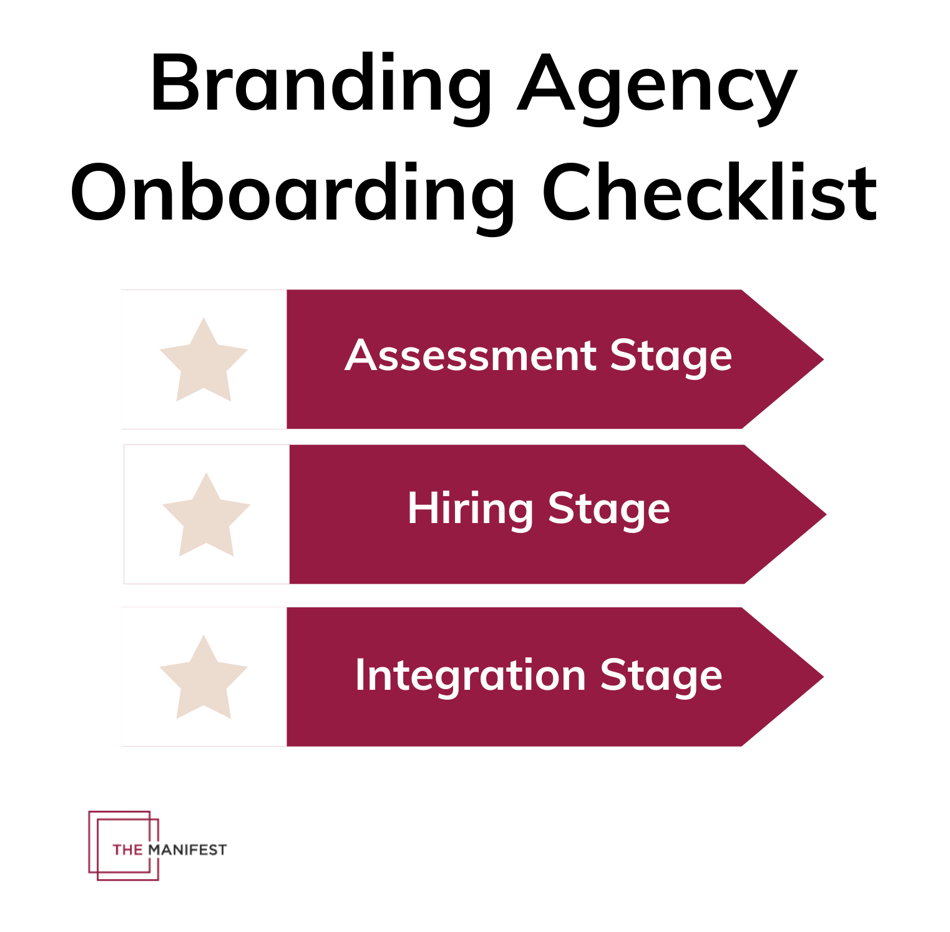 Assessment Stage
The first thing that commences your journey is always identifying and deciding that you need the help of a branding agency. After that, the assessment stage follows and it involves carefully considering, evaluating, and vetting the agencies in the market.
Each agency has its own strengths and expertise, and if you're planning to hire a partner, it's best to go with a service provider that has experience in your particular market.
Here's our checklist for this stage:
Check out The Manifest's and Clutch.co's shortlists to find the top branding agencies
Consider the range of services they offer
See if they fit your budget range
Read through their client reviews
Assess their portfolios
Look for recurring challenges or issues faced by past clients with the vendor
Cross-check their references and testimonials
Compare their work against other agencies
Do your due diligence and check/ask for the following:

Business permit and license
Proof of tax compliance
Certificate of good standing
Insurance 
Confidentiality agreement or non-disclosure agreement

Reach out and request a proposal 
Connect with us at The Manifest if you're still having trouble narrowing down the options
Ideally, the best partner you can have for your business can work within your budget limitations. For small businesses, getting the most value out of every penny spent is crucial and budget will always be one of their primary concerns.
There are plenty of agencies that offer different pricing structures and ranges. Go with an agency that doesn't have complicated pricing structures.
Read here: "Branding Price Guide 2023"
Hiring Stage
Once you've figured out which firm best fits your requirements and needs, the next step is to hire them. The first stage required you to be tedious, and this stage isn't different. Be meticulous with the contract and conditions before you put ink to paper and legally commit.
Take a look at our checklist:
Book an appointment with the vendor to request the contract draft
Negotiate the pricing and terms accordingly if needed
Take a moment to read the contract and consider these points:

Standard terms and conditions
Clear and unambiguous language
No blank spaces
Well-defined responsibilities for both parties
Indemnification and dispute resolution clauses
Clear and simple payment terms
Transparent KPIs and metrics
Set expectations for benchmarks and deliverables
Important dates and deadlines
Exit clauses
Renewal or retention provisions

Consult with your lawyer if needed

Ask them to review the contract if you don't feel confident

Discuss the decision with the rest of your leadership team or co-owners
Sign the contract
Most service providers including branding agencies have set templates for their contracts. Part of your responsibility as a business owner is to negotiate to make sure you avoid unfair risks and liabilities. Don't put your signature on that contract unless you feel confident with the terms.
Before or after you've signed the contract, the service providers will typically introduce you to the team or point of contact for your project. If they haven't, you can ask who will be your account manager or direct contact for any concerns, questions, or follow-ups.
Integration Stage
A signed contract doesn't mean it's time to celebrate and kick back yet. The last stage of the onboarding process is integration. This stage is important to ensure your partnership runs smoothly and avoid snags during the initial period.
This may be the busiest stage for your end but rest assured that being organized will make the journey less complicated. Here's our detailed checklist for the integration stage:
Assign necessary roles to your internal team members

Who will monitor the engagement and notifications
Who can the branding agency hop into a phone call for easy inquiries
Connect them with your internal marketing team 

Assemble a presentation for the kickoff call and includes the following in it:

Introduction and FAQs about your organization
Introduction about the branding agency
The partnership's purpose and objectives
Project scope
Workflows and responsibilities
Expected benchmarks
Target milestones and timelines

Coordinate the best schedule for holding check-in meetings and reports
Prepare a document that contains all important contact information of every individual involved i.e. phone numbers and email addresses
Create an access spreadsheet containing social media accounts and Google Analytics
Coordinate which communication platform will be used for the partnership i.e. Slack, Google Chats, or Skype
If needed, decide which project management tool/s will be used for the project i.e. HubSpot, Asana, or Zapier
Send out welcome emails and invite everyone to the kickoff call
Hold the kickoff meeting
Develop an exit strategy
Remember, even if your partnership just began, you can already come up with an exit strategy. Developing it doesn't mean you're expecting the worst. It's necessary to protect your small business because as much as we hope for the best, we can't predict what happens in the future. In the worst-case scenario, an exit strategy will help you avoid costly risks.
It's All About Being Ready
Hiring and onboarding a branding agency is not a sign-it-and-sit-back experience. The whole process can be easier and less stressful if you know what to expect, prepare, and look for.
In this highly-competitive digital and business environment, small businesses will benefit from strong branding initiatives. Hiring a branding agency can lay the foundation for your marketing and differentiation. Overlooking its significance will prevent you from maximizing your small business' potential.
Find the leading branding agencies that can help elevate your business on The Manifest.
Additional Reading: