How to Actually Drive Results With Facebook Ads
How to Actually Drive Results With Facebook Ads
Organic reach on Facebook is 6% and falling. To drive conversions in this saturated space, get the competitive tactics you need for your best campaign.
Imagine sharing a room with 100 potential customers.
The rules of engagement for this hypothetical marketplace are:
You pay each time you speak. And only 6 people can hear you at a time.
After all, you're not the only brand trying to engage these people.
Considering your budget … how does this dynamic affect your speaking strategy?
Yes, you've entered into the sparse reality of Facebook advertising, where organic reach is only 6% and continues to fall.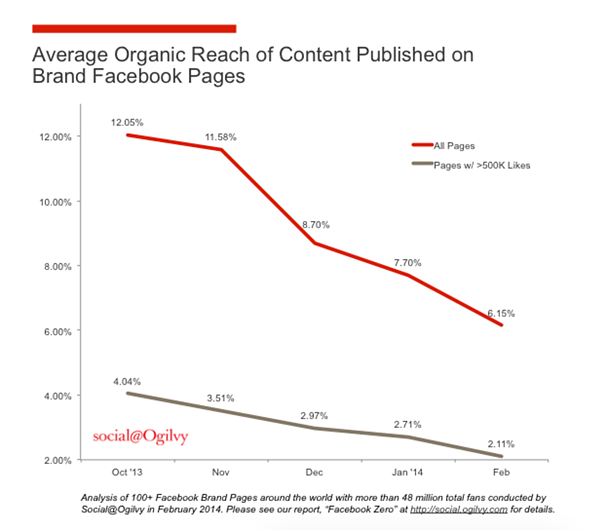 But considering that Facebook holds a monthly user base of 2 billion – 70% of whom log on every day – you take your chances.
You're keen to hook and convert your audience, but reach alone can't guarantee ROI for your ad spend.
As competition increases, your ads must be more engaging and strategic to achieve the same results.
Today, we discuss how to craft this winning Facebook ad campaign in 7 steps:
Define your strategy goals




Narrow your targeting




Write arresting copy




Stand out with relevant images




Align ads to landing pages




Optimize routinely




Track sales
Step 1: Define Your Strategy Goals
Facebook ad campaigns meet numerous business objectives such as post engagement, views, page likes, website conversions, and more.
To define your Facebook advertising goals, start by answering these four questions:
What are your objectives for Facebook advertising?
For example, you might want to generate leads, traffic to your blog, or sales on your web store.
Do you have consistent website traffic?
If not, you can direct people to your site to develop brand awareness and grow your email list. After installing the Facebook pixel on your website, you're free to build a custom audience of site visitors for targeting.
Do you have a robust and active email list?
If so, create a Facebook ad audience from this list and target these users with mid- to bottom-funnel offers. If not, aim to drive post engagement and website conversions to grow your subscribers.
Do you create original content for your audience?
Content marketing is a versatile and effective way to warm up cold audiences and differentiate your brand from the competition. Featuring posts on social helps you reach a wider audience for increased site traffic.
Step 2: Narrow Your Targeting
After choosing your campaign goals, the next step is targeting the right audience.
Being specific about your Facebook advertising audience will minimize campaign costs and help you write more persuasive copy.
Facebook provides a plethora of targeting criteria to help narrow your focus.
Aside from basic demographic information, you can overlap various built-in Facebook audience lists:
Custom Audiences




Lookalike Audiences




Behaviors




Interests




Connections
Facebook is an encyclopedia of user data that can be cross-referenced with your customer persona to improve targeting.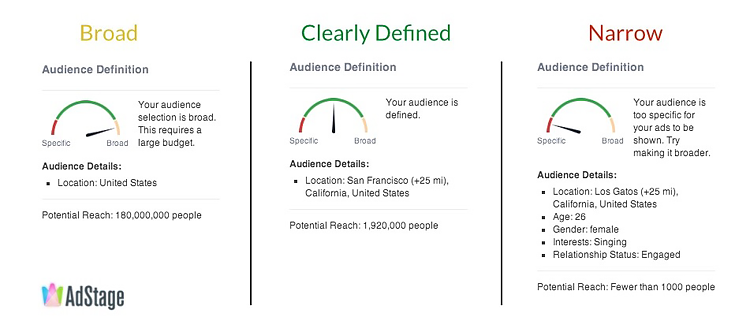 Choose from relevant interests and known behaviors, then narrow your audience by age, gender or location to deliver ads with pinpoint accuracy (and keep costs down).
Step 3: Write Arresting Copy
Have you heard of Facebook's "anti-scrolling" ad technology?
It's called great copy.
Your ad must arrest users. Only relevant and benefit-driven language will hook them instantly.
One study finds that 70% of people never read past the headline of a Facebook post prior to clicking. To compete within the newsfeed, start by writing knockout headlines.
Always write with your audience's desires in mind.
For example, Slack knows its customers want a streamlined work experience.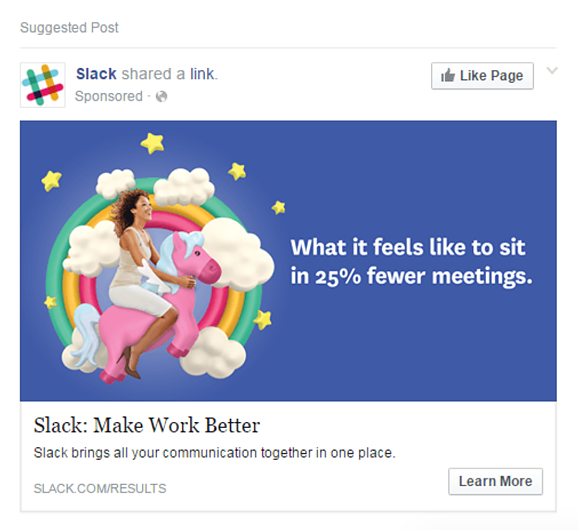 Slack's ad copy succeeds by promising a solution in a colorful way.
As people read your ad, they should immediately know:
What you're offering (statement of benefits)




How it benefits them (value proposition)




What to do next (call to action)
Consider that only 38% of consumers trust social media ads, making it the least trusted of all mediums. Earning ad revenues means packing this tiny space with unique benefits that reinforce your offer, compel a response, and overcome hesitations.
Step 4: Stand Out With a Relevant Image
A captivating image is critical to a high-converting ad.
It uniquely illustrates your brand message while exciting viewers toward action.
Images also provide the context needed to enhance ad recall and fuel brand awareness.
A study by LifeLearn found that the recall for text alone was 10% – but recall increased to 65% when the text was paired with a relevant image.
Mailchimp's visual complements its ad copy with a fascinating mix of prop fun and brand benefits.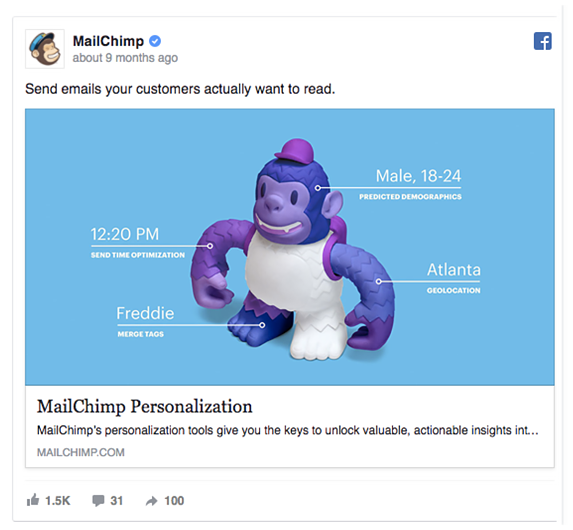 This sharp and balanced image catches the eye, adds information, and bolsters the overall brand image – even beyond the initial conversion.
Step 5: Align Facebook Ads With Landing Pages
When ads don't connect to a dedicated landing page, conversion rates suffer.
Websites and Facebook pages are cluttered with content that can distract from the next consecutive action in the conversion process.
A dedicated landing page is a streamlined tool that diminishes any unwanted friction in the conversion process.
The most effective way to signal that users have landed in the right place is to match the ad design with the landing page design.
For example, here's a Facebook sidebar ad for a piece of gated content on Wordstream.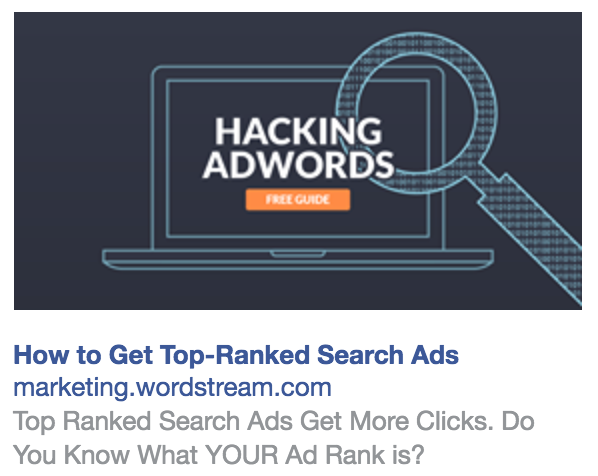 Below is the paired landing page.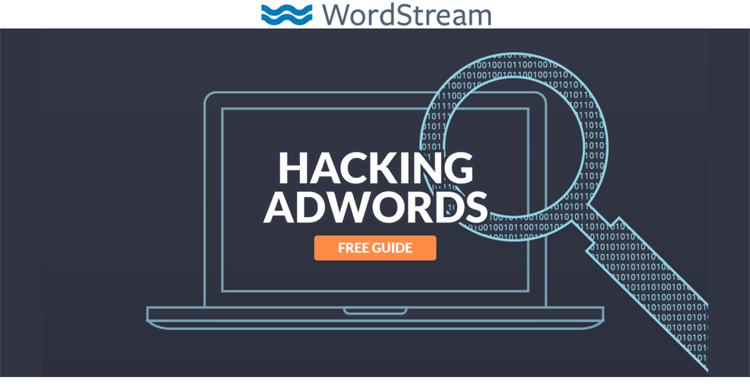 This transition is seamless, almost like we never left Facebook. Consistency within ad campaigns steers the audience toward a conversion and minimizes costly distractions.
Step 6: Optimize Routinely
The best ad campaigns aren't one-off masterpieces but works-in-progress. To forecast success, simply prepare to do more of what works and less of what doesn't work.
You'll want to regularly assess the performance of each ad element, so begin to test and optimize after 3-7 days of running your campaign.
To test the impact of each working part, break down your ad into its components pieces.
For example, this image from Kissmetrics shows how each major ad placement functions best.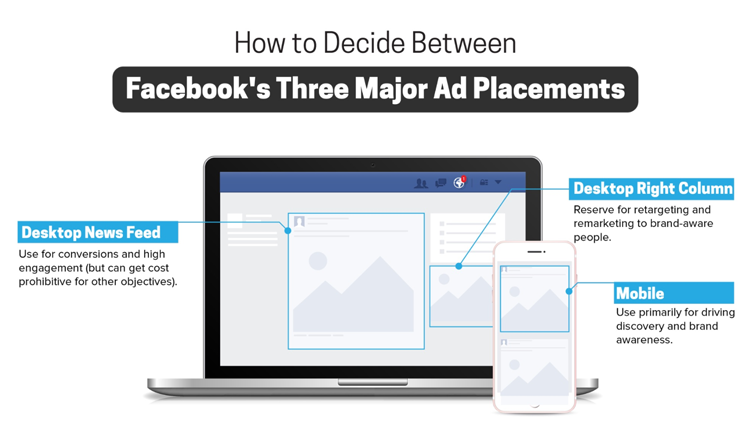 Once you've established a baseline for your ad performance, experiment to find the ideal way to target your audience.
You can also play with:
Ad type




Campaign objectives




Creative elements




Target audience
Step 7: Track Sales
Ad campaign success is tallied in dollars generated.
While clicks and social engagement are important, these are secondary metrics that create a false sense of ad performance (unless you're only aiming for clicks).

"If you don't use Conversion Tracking, you're going to have a hard time determining which ad is actually leading to revenue," says Jon Loomer, a leading Facebook advertising strategist.
Theoretically, clicks and shares will translate into sales.
But if your conversion funnel isn't achieving bottom-line results, you should halt your ad campaign. Reevaluate your audiences, landing pages, and creatives before spending another dime.
Speak to Your Audience
Facebook ad campaigns hinge on clarity. When it's time to speak, only the most aligned messaging gets a response.
Refine your audience segments to allow for superior targeting. The most precise and compelling advertisements will boost impact. Optimization and sales tracking will gauge if you're being heard and understood.
Since Facebook is such a noisy space, you can only achieve results by saying the right words to the right people.
Learn about other influential advertising mediums in 2018.