The Manifest Features Sweden's Top Recommended B2B Firms for 2022
The Manifest Features Sweden's Top Recommended B2B Firms for 2022
FOR IMMEDIATE RELEASE
Media Contact
Morgan Flores
Director of Performance Marketing
Washington, D.C., October 5, 2022— The Manifest, an independent blog-style business resource, announces its final list of the top recommended and reviewed B2B companies from Sweden this 2022.
Sweden is a prime launching pad for startups and technology companies, it ranks 4th among the 27 EU Member States in the latest Digital Economy and Society Index (DESI). Human capital has always been the country's strength, its general population has a high average degree of digital skills.
Today, The Manifest highlights the dedicated B2B businesses and agencies in Sweden. The top-rated and highly recommended leaders come from a range of industries, including design, marketing, and development.
What are The Manifest Awards?
The Manifest's Most Reviewed Company Award honors the exceptional relationships that service providers and their satisfied customers share. Over the previous 12 months, the top 15 companies in each category received the most earnest recommendations and reviews.
"We are thrilled to see how the power of trust prevails. The bonds built by these leaders are truly outstanding," said Clutch Senior Account Executive Kaitlyn Mesic. "Our team is honored to recognize Sweden's finest. We wish you well in your future endeavors."
To determine whether you'll be qualified for the distinction the next year, get started on The Manifest and earn good reviews.
Top Service Providers
Design Companies

Digital Design Companies

Software Development Companies

Web Development Companies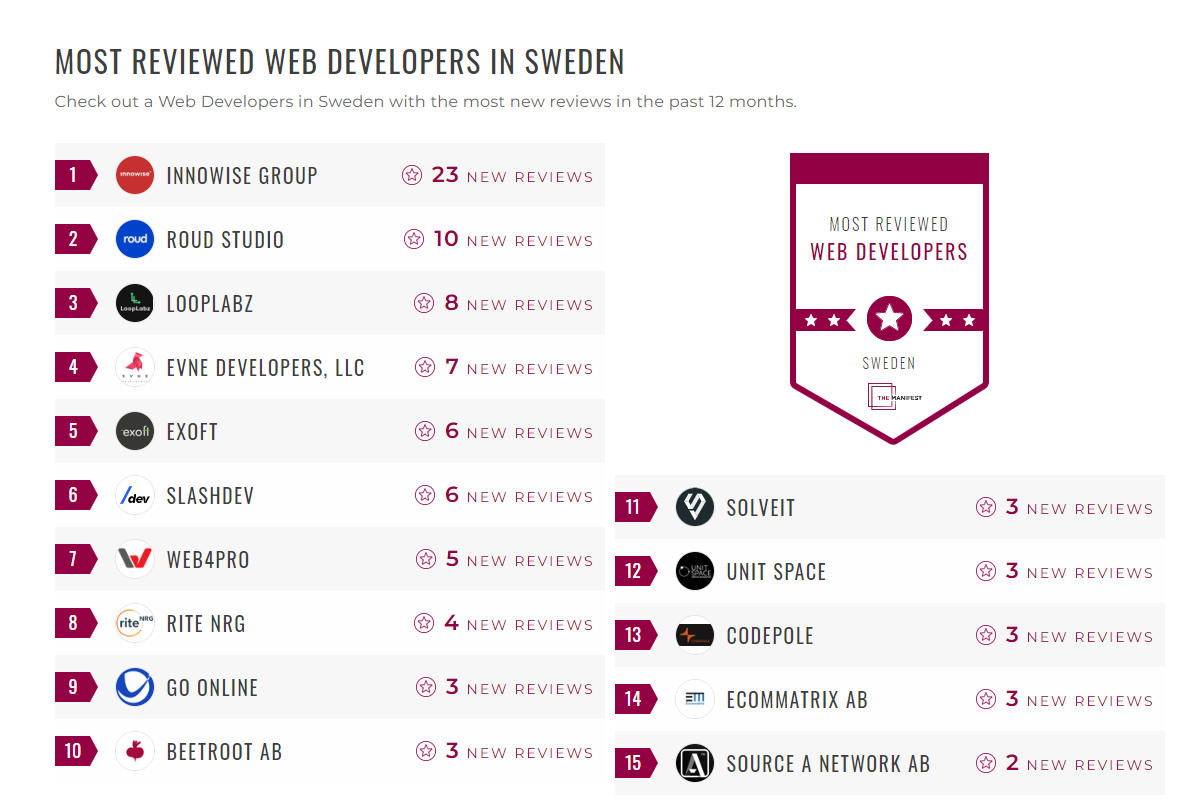 Results are a snapshot of The Manifest's most recommended companies on September 29, 2022. Rankings are dynamic, and this report may not reflect the rankings as they are currently listed. 
About The Manifest
The Manifest is a business news and how-to site that compiles and analyzes practical business wisdom for innovators, entrepreneurs, and small and mid-market businesses. Use The Manifest as an approachable tour guide through every stage of the buyer journey. With three main offerings – data-driven benchmarks, step-by-step guides, and agency shortlists – The Manifest strives to make your business goals a reality.