The Manifest Recognizes Singapore's Best Reviewed B2B Companies and Agencies for 2022
The Manifest Recognizes Singapore's Best Reviewed B2B Companies and Agencies for 2022
FOR IMMEDIATE RELEASE
Media Contact
Morgan Flores
Senior Manager of Content Strategy & SEO
Washington, D.C., May 04, 2022— The Manifest, the leading B2B review and rating website, takes a moment to unveil and celebrate Singapore's best recommended companies in 2022.
Singapore has always been known as one of the technologically advanced leaders among countries in Southeast Asia. The country's internet penetration reached around 90.0% as of last year, proving that it's a hub for scaling startups and enterprises.
In this report, The Manifest has compiled a data-driven list of Singapore's top reviewed  B2B leaders from a wide range of categories and sectors. 
What are The Manifest Awards?
The Manifest's Most Reviewed Company Award recognizes the top 15 service providers that have had a positive influence on their customers and partners. Each leader is picked based on the number and quality of evaluations they received during the previous year. The award aims to help these enterprises grow while also inspiring others to do so.
"This award is just a token to all the invaluable hard work put in by Singapore's most recommended B2B leaders," said Clutch Sales Development Representative Gilbert A. Saldana. "The entire team admires their dedication, prowess, and consistency. Thank you for your service!"
The Manifest's study across different B2B areas is ongoing; be a part of the rankings next year! Create a vendor profile to learn more about the qualifications.
Top Service Providers
Design Companies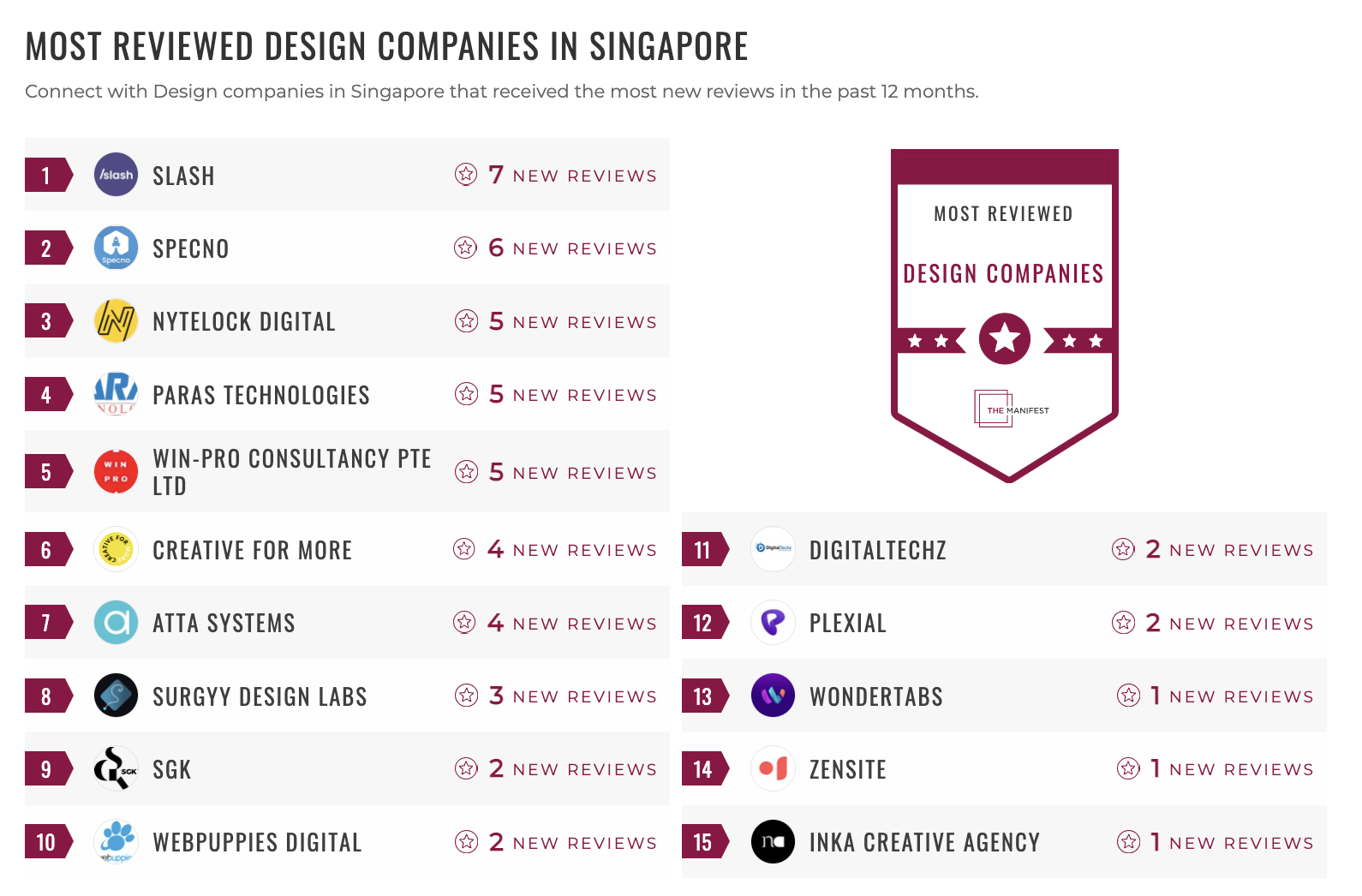 Digital Design Companies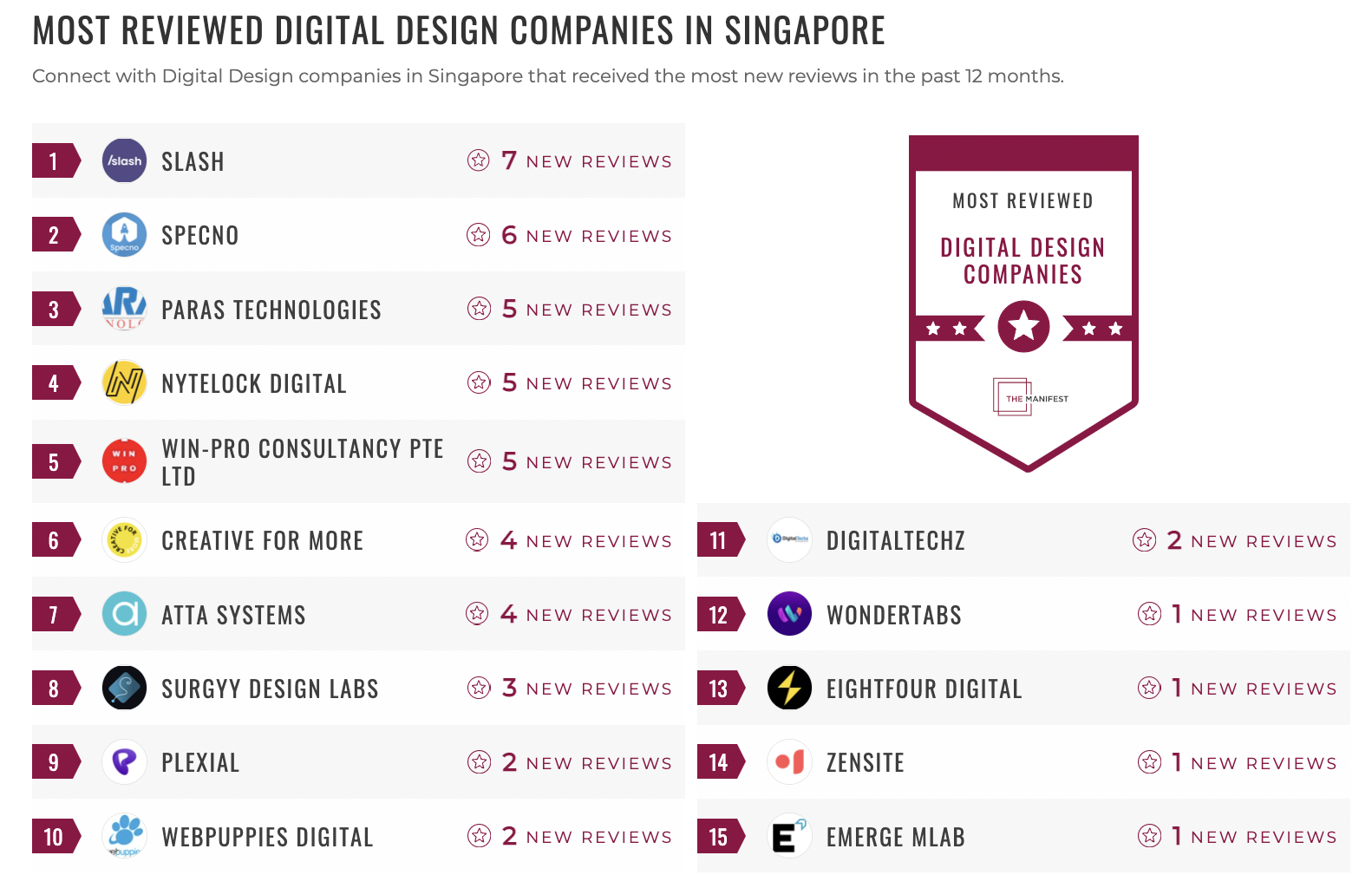 SEO Companies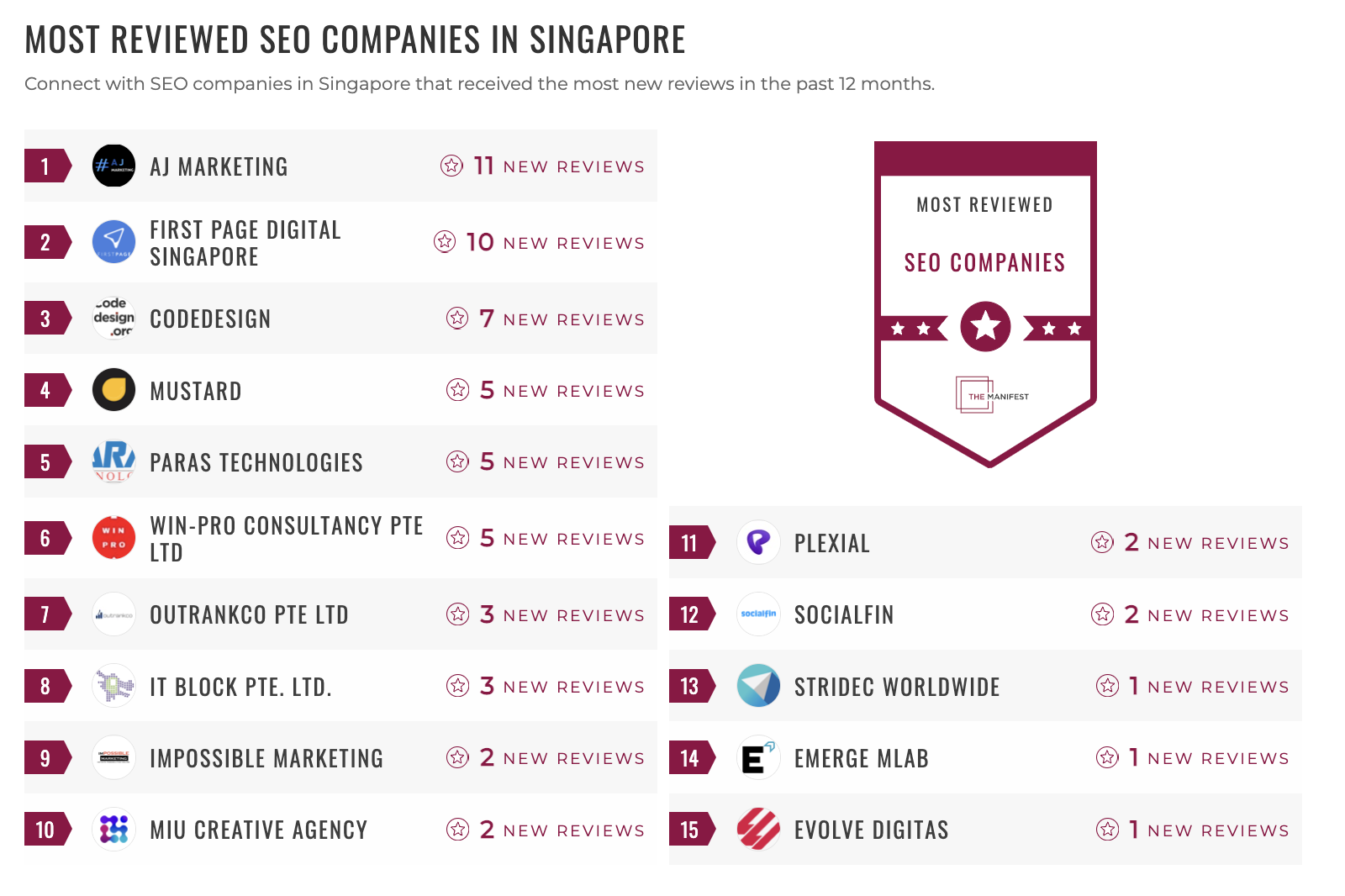 Results are a snapshot of The Manifest's most recommended companies on April 26, 2022. Rankings are dynamic, and this report may not reflect the rankings as they are currently listed. 
About The Manifest
The Manifest is a business news and how-to site that compiles and analyzes practical business wisdom for innovators, entrepreneurs, and small and mid-market businesses. Use The Manifest as an approachable tour guide through every stage of the buyer journey. With three main offerings – data-driven benchmarks, step-by-step guides, and agency shortlists – The Manifest strives to make your business goals a reality.