The Manifest Publishes its Rankings for Croatia's Most Reviewed Service Providers for 2023
The Manifest Publishes its Rankings for Croatia's Most Reviewed Service Providers for 2023
B2B buying resource, The Manifest presents its official rankings of the most reviewed and recommended service providers in Croatia for 2023.
FOR IMMEDIATE RELEASE
Media Contact
Deesha Laxsav
Senior Manager, Brand Marketing
Washington, D.C., August 30, 2023 — The Manifest, a B2B buying guide and how-to resource, announces its official list of the most reviewed and recommended B2B companies in Croatia for 2023.
Croatia's economic activity is trying to keep up with regional peers but is performing above the average in terms of global standards. The nation that became the 20th EU Member State is working on diversifying and expanding its economy to encourage more investments.
Today, The Manifest celebrates the country's diligent and trustworthy B2B leaders. The companies highlighted in this list offer a variety of services including design, IT services, and software development.
What are The Manifest Awards?
The Most Reviewed Company Award from The Manifest aims to underline the importance of building robust relationships between companies and their clients. The top companies celebrated in this report are chosen based on the number of testimonials they've received over the past twelve months.
"There is no secret to earning the trust of your partners. All you need is consistency, quality, and commitment, but all are easier promised than done," said Clutch Principal Account Manager Ricardo Real Preciado. "These leaders have all of those and more. We're proud to celebrate their milestones and contributions in the B2B scene."
Start your journey on The Manifest today by signing up and earning raving reviews to qualify for next year's rankings.
Top Service Providers
App Development Companies
Design Companies
IT Services Companies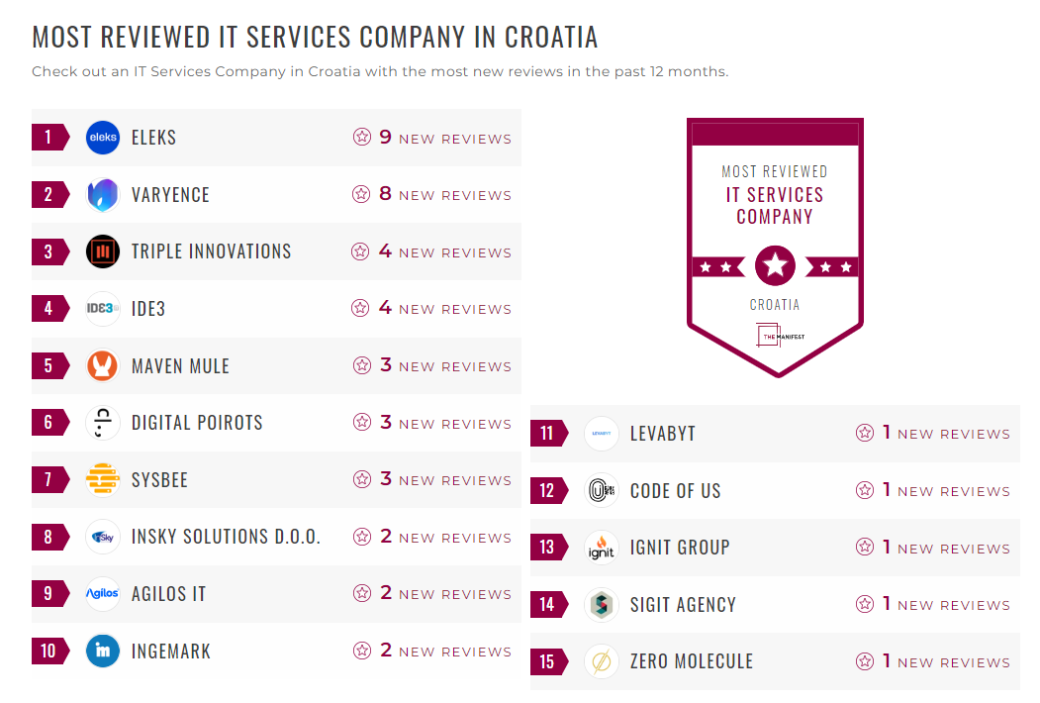 Software Development Companies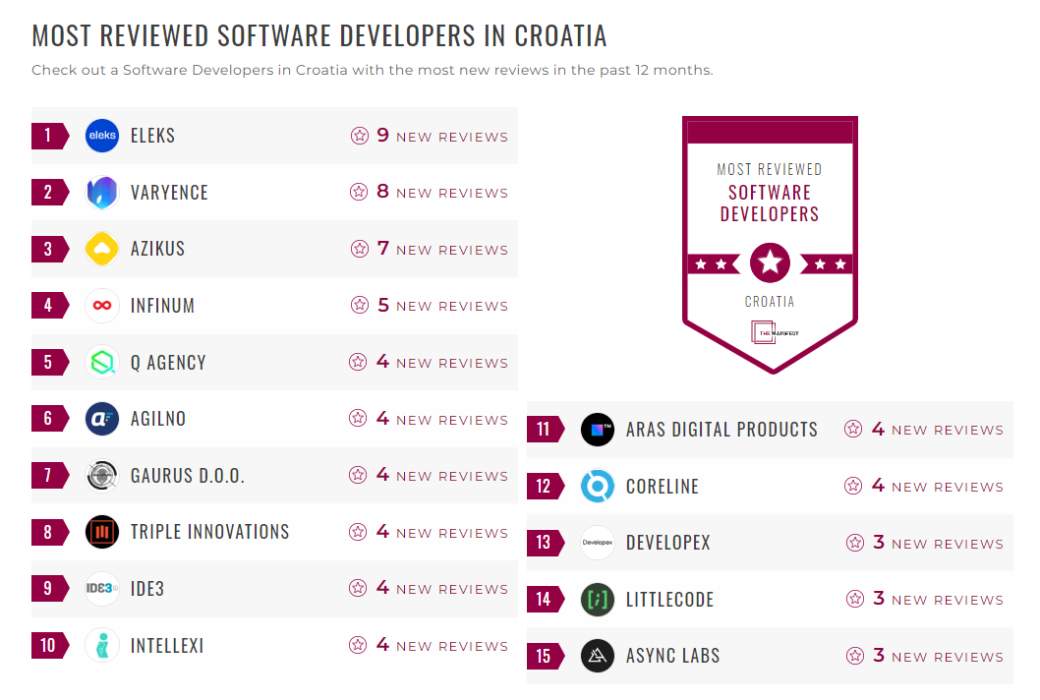 Web Development Companies
Results are a snapshot of The Manifest's most recommended companies on August 22, 2023. Rankings are dynamic, and this report may not reflect the rankings as they are currently listed.
About The Manifest
The Manifest is a business news and how-to site that compiles and analyzes practical business wisdom for innovators, entrepreneurs, and small and mid-market businesses. Use The Manifest as an approachable tour guide through every stage of the buyer journey. With three main offerings – data-driven benchmarks, step-by-step guides, and agency shortlists – The Manifest strives to make your business goals a reality.